Beautiful Amador County, with an elevation range of 250 feet to over 9,000 feet, is in the heart of the Sierra Foothills of California and is one of the 10 counties in the region known as Gold Country. All of Gold Country is often overlooked in favor of northern California coastal city and beach tourist destinations. As a result, you can enjoy activities in Gold Country without the crowds of the coast. I lived in Amador County for four years and did my best to see everything that there is to do, so you can trust me when I say Amador County has a lot to offer. Here are my recommendations of 25 extraordinary things to do in Amador County, in no particular order.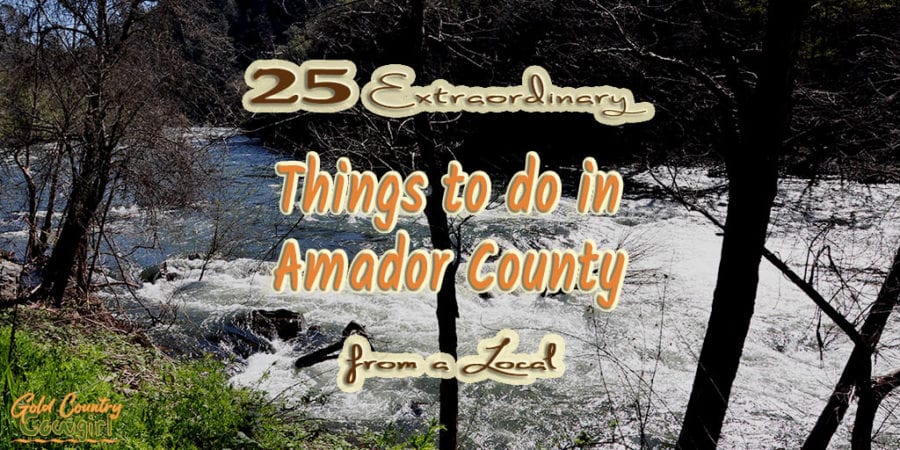 Gold Country is often overlooked in favor of more well known California tourist destinations. Avoid the crowds in Amador County!
Click To Tweet

Best Things to do in Amador County
1. Go Wine Tasting – the Premier Thing to do in Amador County
OK, you can see what is important to me! Seriously, though, wine tasting is one of the best reasons to visit Amador County. The wines are awesome and the experience is the way it was years ago in the Napa/Sonoma area. It's laid back, fun, informative and much less expensive. You'll likely meet the owner or winemaker, who may be both, and learn straight from them what fuels their passion.
Besides great, award-winning wine, there is fascinating history here. Of the approximately 3700 acres of grapes, nearly 600 acres of the vines are more than 60 years old and it is home to the oldest documented zinfandel vineyard in the Americas. The county is known for Old Vine Zinfandel, Barbera, Sangiovese, Syrah and Viognier but you'll find an amazing variety, maybe even some things you've never heard of before.
Where to Go
The majority of the wineries are in the Shenandoah Valley, near Plymouth. Visit Amador Vintners Association website for a list and map of their more than 40 member wineries. There are wineries that aren't members of the association so be on the lookout for them, too, when you are driving around.
If you want to be able to walk from tasting room to tasting room, visit Sutter Creek where you'll find at least 10 tasting rooms dotted along historic Main Street.
Amador County Wine Events
There are four huge annual wine events in Amador County. I have attended them all and volunteered at three of them, which is a great way to get a look behind the scenes. In addition to the large events, there are many smaller events throughout the year at individual wineries. Contact the Vintners Association for more information.
The four major events are:
Behind the Cellar Door in March at multiple wineries
Amador Four Fires in May at the Amador County Fairgrounds in Plymouth
Barbera Festival in September at Terra d'Oro Winery
Big Crush Harvest Festival in October at multiple wineries
I wrote about many of my wine tasting experiences in Amador County (and beyond) but not nearly all of them! And even after four years, I still had plenty of wineries I hadn't visited.
2. Explore a Cavern
Black Chasm Cavern in Volcano is one of several limestone caverns in Gold Country but the only one in Amador County. This was one of my favorite Amador County activities because the history was fascinating and the formations were amazing.
Black Chasm Cavern is open year round with cave walking tours offered every hour on the hour beginning at 10 am and ending at closing time. Tickets are sold on a first-come, first-served basis for the next available tour and tours often sell out.
3. Walk the Streets of a Historic Old West Town
Almost all the towns in Gold Country are "historic." Many of them have self-guided walking tour maps you can download from their website.
Amador City, Sutter Creek (which calls itself Amador County's most walk-able town) and Volcano are my favorite towns for a walking tour in Amador County but there are several others worth a look. A walking tour gives you the time to really take in the atmosphere and the maps provide wonderful insights into the history of the town.
4. Be Awed by the Beauty of Spring
In spring, especially after a rainy winter, the hills in and around Amador County are ablaze with colorful wildflowers. One of the best and easiest places to see them is on Electra Road on the north side of the Mokelumne River. It's so relaxing walking along the river looking at natures artwork. Click on the link to see a video of all the spectacular color.
For a more formal setting to view spring color, visit Daffodil Hill in Volcano. Daffodil Hill is a privately owned farm located in an alpine setting. Most of the year, this is a working farm but for a few weeks every spring it opens to the public to share the splendor of hundreds of thousands of blooms spread over seven acres. It is not formally promoted or publicized but still attracts thousands of visitors every year.
5. Tour a Gold Mine
There were a few settlers in the Sierra Foothills prior to 1848 but the boom really started with the discovery of gold when more than 300,000 immigrants descended upon Gold Country to seek their fortune.
Take a surface tour at Kennedy Mine. It is one of the deepest gold mines in the world with one of the tallest head frames in existence today. You'll learn how gold transformed California from an agrarian region into one of the most vital areas in the United States. In-depth, guided tours are available by reservation. You can purchase a self-guided tour book in the gift shop but you will learn so much more from a guided tour. The mine is only open on Saturday, Sunday and holidays.
6. Pan for Gold
If you are an experienced gold panner, I hear there are lots of places to try in Amador County. If you've never been and want to learn, I have the perfect place for you. Family friendly Roaring Camp, open May through September, offers tent camping, cabins, guided tours, a museum, an active placer mine, miniature golf course, a playground area, ping pong and horseshoe pits. You can hike the trails used by the 49ers and it's right on the Mokelumne River where you can swim, raft, fish or pan for gold. The trading post has all the supplies you'll need.
Roaring Camp is only accessible to folks who are staying there except for the Saturday Night Cookout. This five-hour adventure takes you into Mokelumne Canyon for an awesome meal and live entertainment. As part of the tour they take you on when you arrive, you learn to pan for gold and get to keep anything you find. This is definitely one of my Amador County favorites.
Must read post to see what is so unique about this location: Roaring Camp Saturday Night Cookout Experience
7. Revel in Invigorating Winter Activities
I don't ski but I know that Kirkwood Resort, with a base elevation of 7800 feet and peaks towering at 9800 feet, is a popular destination offering world-class skiing. The 2300 skiable acres include terrain from beginner to expert ("hair-raising cornices and cliffs").
In addition to the resort, there are other places where you can spend a day snowboarding, snowmobiling or snowshoeing. I'm not a fan of winter activities but I was convinced I would have a good time snowshoeing with a group of friends. It was a beautiful, sunny day and I have to admit, it was exhilarating! The views were incredible and it felt really good to be outdoors.
8. Try Your Luck at a Casino
Jackson Rancheria Casino Resort in Jackson has been family owned and operated by the Jackson Rancheria Band of Miwuk Indians since 1985 when the first bingo hall opened. The casino offers table games, slots, poker room, high limit room and Dreamcatcher's Club. If you are in the area at Christmas time, this is a must-see place. They decorate the grounds with lawn ornaments and thousands of lights. It is absolutely stunning.
Harrah's is building a new casino in Ione which is scheduled to open in May. Harrah's Northern California Casino is located on the Buena Vista Rancheria on 67 acres of reservation land where the Buena Vista Band of Me-Wuk Indians has lived since 1817. The casino will offer slot machines and table games.
9. Visit the First Serbian Orthodox Church on the North American Continent
This is one of the few attractions I didn't learn about until after I moved, so I have not personally visited Saint Sava Serbian Orthodox Church in Jackson. Even though I saw it many times, I didn't realize it was such a popular place to visit. The church was founded in 1894 to serve the large population of Serbians who lived in Jackson. The first burial in the graveyard occurred the same year. It seems to have very limited hours to actually see inside the church.
10. Marvel at America's Last Water-powered Foundry and Machine Shop
The Knight Foundry in Sutter Creek is America's last water-powered foundry and machine shop. The facility was established in 1873 by Samuel Knight to supply heavy equipment and do repairs for mining and timber operations. All the historic equipment is still intact and in place, just as it was during the gold rush era, much of it still operating. The facility has gone through a few hands and was finally donated to the city of Sutter Creek in 2016. You can take a self-guided tour the second Saturday of the month from 10 am to 3 pm. Admission is $10 for adults 18 and older, $5 for students age 5-17, free for children under 5. Docents are on hand to answer questions.
11. Get Outdoors Camping or RVing
Camping in Amador County ranges from dispersed (free) camping in the National Forest to RV parks with all the amenities. Some even allow horse camping. Whether you camp in a tent, out of your car or in an RV, you can find locations along lakes, in the forest or near historic towns. Many of the campgrounds also have cabins or motel rooms for rent.
12. See the Largest Collection of Bedrock Mortars in North America
This collection of more than 1,100 bedrock mortars at Indian Grinding Rock State Historic Park (IGR) in Pine Grove was created when native people ground acorns and other seeds against the rocks, slowly forming the cup-shaped depressions. The native name for the site is "Chaw'se," the Miwok word for "grinding rock." The Jackson Rancheria Band of Miwuk Indians has led and completed the restoration efforts, including the reconstruction of the traditional, ceremonial roundhouse. The Miwok Village is a registered California Historical Landmark and is one of the only known occurrences of mortars intentionally decorated with petroglyphs. The two-story museum has a large collection of Sierra Nevada Indian artifacts. The museum is open 10-4 and admission to the museum is free with your paid parking. The park is open sunrise to sunset.
The park also has 22 sites for overnight camping. Maximum trailer or RV length is 27 feet. The campground has drinking water, flush toilets and showers, but no hookups. Camping fees are $30 per night for the first vehicle (no charge for a second vehicle if it is towed in, like a trailer).
13. View History from a Different Perspective
I have mixed emotions about visiting cemeteries. I always wonder if it is disrespectful but I prefer to think it is really the opposite. What greater respect can you pay a person than visiting their grave and wanting to learn more about them and the kind of life they may have lived? Many town walking tours include a visit to the local cemetery.
14. Enjoy an Outdoor Play or Concert
Spring through fall you can find lots of outdoor concerts and plays. Many wineries have outdoor concert series, like Helwig in Shenandoah Valley and Bella Grace in Sutter Creek. Amador Arts puts on a summer concert series that is at a different outdoor location every Friday night, mid-April through mid-August. Volcano Theater Company in Volcano and Main Street Theater Works in Jackson both have outdoor venues. Wine and picnics are welcome at most outdoor events.
Related article: T.G.I.F. Summer Concert Series
15. Attend a Festival or Event
From early spring through fall there is always something going on. In fact, there are often so many activities going on at the same time, you have to pick and choose between several interesting sounding things. There are farmers markets, craft fairs, car shows, cook offs, historical celebrations, parades, winery events, art shows and more. In addition to the major wine festivals listed above, here are a couple of my favorite events:
Days of 49 Wagon Train
This is such a fun event! History comes alive when the Kit Carson Mountain Men bring their old west re-enactment to Amador County. For five days in April, the authentic horse-drawn wagons make their way from Ione to Jackson, where there is a parade and celebration on the final day. At the end of each day's journey, the public is invited to join them in their encampment for a barbecue dinner and casual entertainment around the campfire. There is a map and schedule on line so you can drop in on them along their route multiple times during the event if you so choose.
Sutter Creek Heritage Days
The Sutter Creek Heritage Days annual festival had its debut in September of 2017 and was quite a success. All the historical sights in town are open free of charge and self-guided tour maps are available at each location. Docents bring the history of each place to life with colorful stories of the past. There are lots of family-friendly activities like stagecoach rides and gold panning. The fire department serves up breakfast in the morning and all the restaurants along Main Street are open with delicious menu choices.
16. Hike Around a Lake
You can hike in Amador County at almost every turn in the road. I am especially happy when I am around water so I like to hike or ride my horse around lakes and rivers, like viewing the wildflowers along the Mokelumne. Amador County has lots of bodies of water including lakes, reservoirs, rivers and streams so a peaceful setting is never far away. In addition to hiking, many lakes allow fishing, boating, swimming and camping.
17. Take a Craft or Cooking Class
Craft and cooking classes have come and gone during my time in Amador County but Molly Allen is giving it new life with her relatively new endeavor, Made in Amador. She has been teaching craft classes around the county for a couple of years now and just recently opened a permanent location in Amador City. At the new location, you can join a workshop or shop for the perfect artisan gift. The occasional cooking class is held at Le Mulet Rouge wine tasting room in Sutter Creek.
18. Stay in a Historic Hotel
Most old west towns have a historic hotel, some might even claim to be haunted. In Amador County there are five of note:
Jackson
The National Hotel is a fully restored Victorian-era property that has stood at the end of Main Street in Jackson since it was rebuilt after a fire in 1862. Each of the hotel's 34 rooms was completely remodeled in 2011 and is decorated with antiques. The hotel has a steakhouse and bar.
Sutter Creek
The Hotel Sutter in Sutter Creek dates back to 1858 when it was known as the American Exchange Hotel. The hotel features 21 parlor-style rooms, a restaurant, outdoor balcony dining, two bars and live music.
Amador City
Amador City's Imperial Hotel was rebuilt out of brick after it burned in a fire in 1878. It has been known by a few names but became the Imperial some time in the 20s. The main building has six air-conditioned rooms with private baths. There are three luxury suites in a cottage a short distance from the hotel. The hotel dining room was one of my favorite places to eat in the county.
Volcano
Volcano Union Inn and Pub in Volcano has four rooms with private baths on the second floor above the pub. The hotel has a restaurant with patio dining and a bar.
The tiny town of Volcano also has the St. George Hotel which has 13 rooms in the main building and another six, more modern rooms in the annex. There is a dining room and Whiskey Flat Saloon is popular with locals.
Related article: Volcano, CA: Where to Eat, Stay and Play
19. Ride the Rails by Motorcar
This is a truly fun and unique experience and definitely one of my favorite things to do in Amador County. Motorcars replaced handcars in about 1910 as railroad maintenance vehicles. These privately owned, vintage motorcars run on 10 miles of track being preserved by two historical societies. You can ride the rails of the historic Amador Central Railroad the second Saturday of every month, March through November, weather permitting. Tickets go on sale at Lane Station, about a mile south of Ione, at 9:30 am and can sell out quickly for all the rides for the entire day.
Related article: Riding the Rails by Motorcar in Amador County
20. Eat, Drink and be Merry Around a Cowboy Campfire
Since 1972, when Ron and Marie Scofield purchased raw land, Ron has been building the Red Mule Ranch to resemble an 1880s old west town. The ranch is a perfect setting for a chuck wagon dinner, old west music and cowboy poetry. There are very limited events during the summer evenings so be sure to buy your tickets as far in advance as possible. I highly recommend experiencing the old west at the Red Mule Ranch in Fiddletown.
Related article: Old West Music at Scofield's Cowboy Campfire
21. Tour a Flower Farm
If you are looking for daylilies, or pretty much any plant for that matter, chances are you'll find it at Amador Flower Farm in Plymouth. The more than 1200 varieties of daylilies put on a spectacular display during blooming season. This 14-acre farm, surrounded by wineries and vinyards, has growing grounds, a potted plant area, and four acres of landscaped demonstration gardens. But plants aren't the only thing that make Amador Flower Farm worth a visit. They have many special events throughout the year including a pumpkin patch in fall and Santa at Christmas.
Related article: Amador Flower Farm Daylilies
22. Delve Deep into History at a Museum
Whenever I visit a new place, I always try to take in a museum. I find it to be the best way to learn about the history of the area and get a little insight into the culture. There are so many museums in Gold Country! Every town has one of some sort. The only drawback I have found about some of these really small museums is they have very limited hours. If you happen to be in the area when one is open, be sure to take advantage of the opportunity.
23. Search for Ghosts in a Castle
Spoiler here. Preston Castle in Ione is not, and never has been, a castle. The Preston School of Industry was one of the best known reform schools in the United States. The cornerstone was laid in 1890 and the school opened to the first wards in 1894. Famous wards include country musician Merle Haggard (who has a "PSoI" tattoo), actor Lee J. Cobb, and actor Rory Calhoun. It operated until 1960 when the school was moved to more modern buildings nearby. The facility stood empty and abandoned until 2001 when the Preston Castle Foundation received a 50-year lease.
Is the Castle Haunted?
There were several deaths at the Castle over the years and it is believed that it is haunted by Anna Corbin, a housekeeper who was found beaten to death in 1950. Although a student was tried two times for the crime, the jury was hung both times and Anna never got justice for her murder. The Castle has been investigated by many ghost hunters including the Travel Channel's Ghost Adventures.
Self-guided and guided tours are available most Saturdays, April through August. Special events include Plays on the Patio, ParaCon, and Movie Night on the Patio. And what better place is there to visit during Halloween than a haunted castle? Preston Castle Haunt runs Friday and Saturday nights for the last three weekends in October.
24. Raft or Kayak Down the River
Commercial rafting isn't allowed on the Mokelumne River but private individuals can raft and kayak certain sections of it. One of these spots is on the 6-mile Electra Run from below the powerhouse off Electra Road (see #4 above) to Middle Bar just above Pardee Reservoir. This section is suitable for beginning whitewater boaters.
25. Vacation with your Pet and Play with Llamas
If you are traveling with your dog or cat and looking for a unique place to stay in Gold Country, the Dog and Pony Ranch in Jackson will more than fill the bill. This awesome, 60-acre vacation rental was built from the ground up with your dog in mind but cats are welcome too! However, the pet-friendly accommodations are not the end of the story. During your luxurious farm stay, you can interact with llamas, cattle, mini donkeys, chickens and horses. You can even bring your own horse! You'll love the views, the hot tub and the luxury amenities.
Related article: Dog and Pony Ranch: Luxurious Gold Country Vacation Rental
RT Wine tasting, historic Old West towns, panning for gold, casinos, camping, outdoor concerts & festivals, cowboy cookouts, a haunted castle & more. #travel #california
Click To Tweet
Have you been to Amador County? How many of the things on this list have you done? What would you add to this list of things to do in Amador County?
Until next time…
(Visited 9,900 times, 1 visits today)