Although the Texas Hill Country AVA (American Viticultural Area) covers 9,000,000 acres (14,062 square miles), Texas Wine Country centers near the charming town of Fredericksburg. If you search the Internet for the best wineries in Fredericksburg, you'll find that each article lists different wineries. There are a few, however, that most seem to agree on and those are the ones I tried to concentrate on for this visit to Texas Hill Country.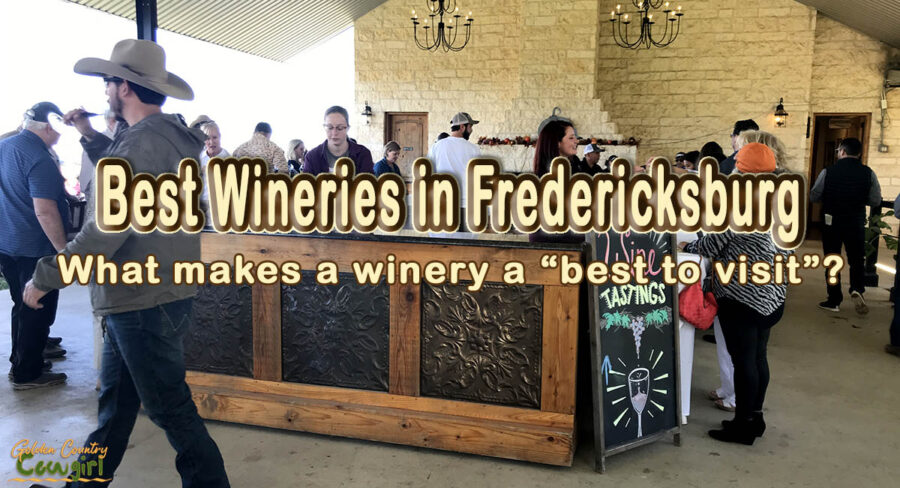 Fredericksburg is centrally located in Texas in the very heart of Texas Hill Country. Since it is only about an hour and 15 minutes north of San Antonio and 1.5 to 2 hours directly west of Austin, it is a perfect getaway location. Many of the wineries are located on Highway 290 between Austin and Fredericksburg.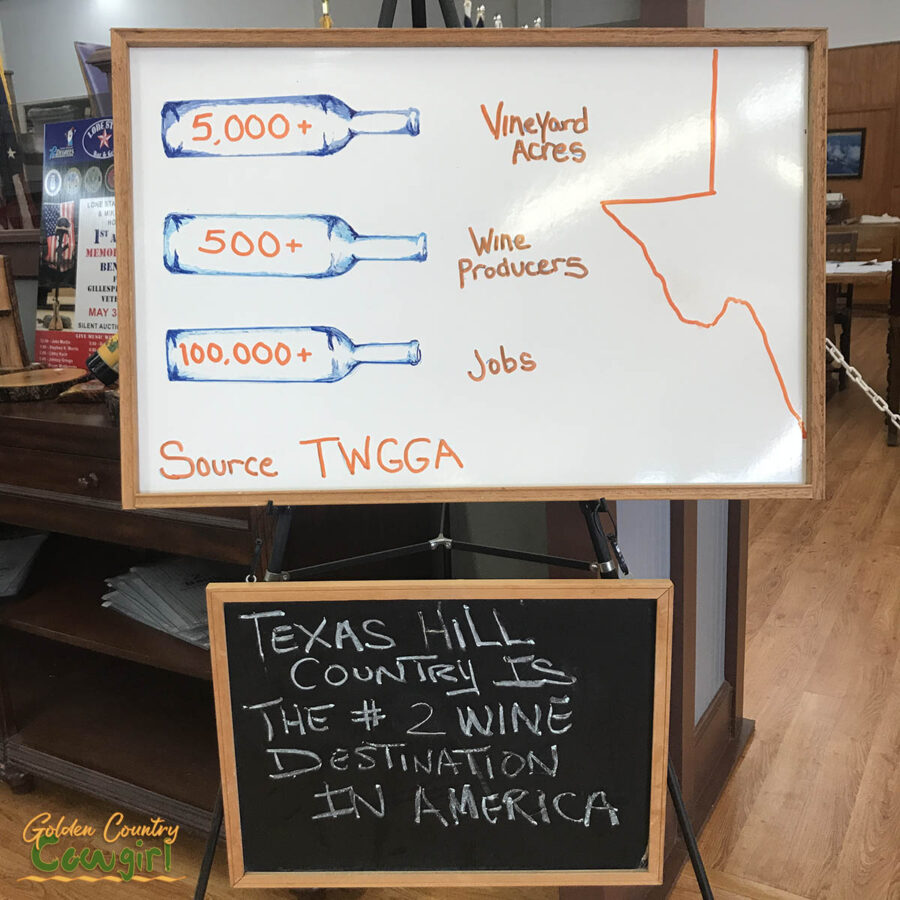 What Makes a Winery a Best to Visit?
With over 50 wineries located in the Fredericksburg area there's lots of choices, so what makes a winery one of the best to visit? Of course, amazing wine is a must but wine and wine tasting are extremely subjective. Each person has his own palate and taste preference. What might be delectable to one person may not be the next person's cup of tea.
In addition to the wine itself, what you experience at the winery influences your perception. What draws you to a particular winery might be a beautiful location, friendly staff, the wine education you get, and even other amenities like food or live music.
For wineries to be on multiple "best" lists, to me, means they consistently provide a memorable experience along with their award-winning wines. If you are not interested in the experience, but rather just drinking wine, you might as well go to your local liquor store.
For wineries to be on multiple best lists, to me, means they consistently provide a memorable experience along with their award-winning wines.
Click To Tweet
Fredericksburg Wineries that are Consistently on "Best" Lists
In addition to reading multiple articles, I listened to the advice of my wine loving friends on the Texas Wine Lover Facebook page. If you are interested in learning more about Texas wine, check them out.
Best Fredericksburg Wineries I Visited During Fall 2021 Trip
I rarely visit "touristy" type places on the weekend but my main wine tasting took place over a Saturday and Sunday. That's just the way my schedule worked out.
Becker Vineyards
I had no idea, until the night before, that Becker Vineyards would be having their Lavender Fest on Saturday when I planned to visit. I hadn't made reservations but figured if there was an outdoor festival going on, chances were I could get in. As luck would have it, I was able to get in and enjoy both the festival and wine tasting. They normally have their Lavender Fest in May when the lavender is in bloom but between the pandemic and losing most of their plants to the big freeze in February, they canceled it.
Due to the festival, the tasting was pretty crowded but they had several areas set up so you rarely had to wait. The servers did tell you about each wine but other than that, there wasn't a lot of wine or winery education. I still had a great time on an absolutely beautiful day!
Wines tasted: 2015 Prairie Rotie, 2017 Carignan, 2019 Tempranillo Reserve, 2016 Grenache Reserve, 2017 Cabernet Sauvignon Reserve, 2018 Petite Sirah Reserve
What I purchased: 2019 Tempranillo Reserve
Grape Creek Vineyards
I made the mistake of not making reservations for this winery. I had no idea how popular it is and did not get in at the vineyard. It was especially disappointing since Heath Sparkling Wine is part of the same property and I was really looking forward to that. On my last full day in Fredericksburg, since I missed visiting the winery, my final outing was to visit the Grape Creek Vineyards tasting room on Main Street. It was about 4pm on Tuesday and I was the only one there until a young couple came in. Mike was very knowledgeable about the wine and led us through a great tasting. Sadly, no Heath Sparkling Wine to taste here. You have to go to the winery for that.
Wines tasted: Merlot, Cabernet Trois, Bellissimo, Mosiac, Invention
What I purchased: 2018 Merlot, 2019 Cabernet Trois, 2019 Bellissimo – I also joined the wine club.
To avoid disappointment, be sure to make a reservation at the popular wineries.
Click To Tweet
Ron Yates
I think Ron Yates was my favorite winery I visited this trip. Their wines are awesome and so reasonably priced, but the experience I had there was priceless.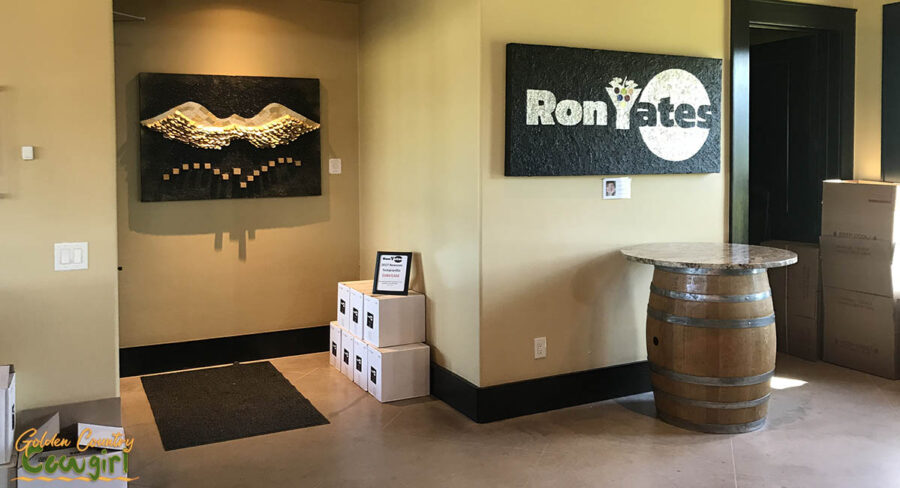 I was the first one to arrive for my 11am reservation and had Gabrielle all to myself for a while. She was fun, informative and attentive. I hadn't had breakfast so I decided to get a snack from their cooler. They had some great choices even for this carnivore. I got some local goat cheese and venison sausage! Gabrielle brought me a cutting board, knife and toasts (I had just a couple).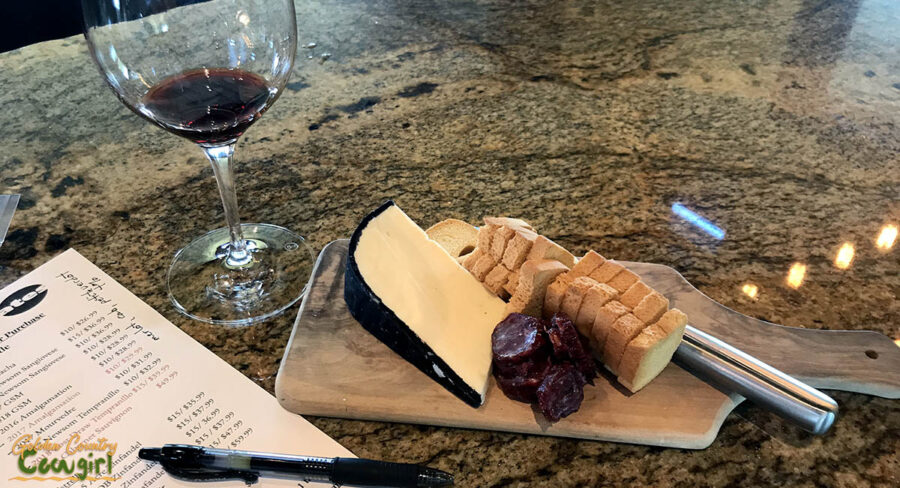 Eventually, more people started coming in, some without reservations. They were graciously accommodated on the patio since the inside tasting room was at (pandemic) capacity with reservations.
What made the visit even more fun was chatting with another couple and making a connection over wine.
Wines tasted: 2017 Garnacha, 2017 Newsom Sangiovese, 2017 Amalgamation, 2018 Lost Draw Tempranillo, 2018 Cabernet Sauvignon, 2016 DB Zinfandel, 2017 Pinot Noir
What I purchased: 2018 Lost Draw Tempranillo, 2018 Cabernet Sauvignon, 2016 DB Zinfandel
Oh, how I miss my big bold reds from Amador and El Dorado Counties in California! Ron Yates' Zinfandel grapes are shipped from California and the wine is made in Texas.
With the purchase of three bottles (which I was going to do anyway) they waive the tasting fee. That is a very common practice in California's Gold Country but something I don't see very often here.
William Chris Vineyards
The couple I met at Ron Yates told me that William Chris Vineyards was their personal favorite. I definitely enjoyed the tasting. The wines are excellent, the grounds are beautiful, the staff was friendly and knowledgeable.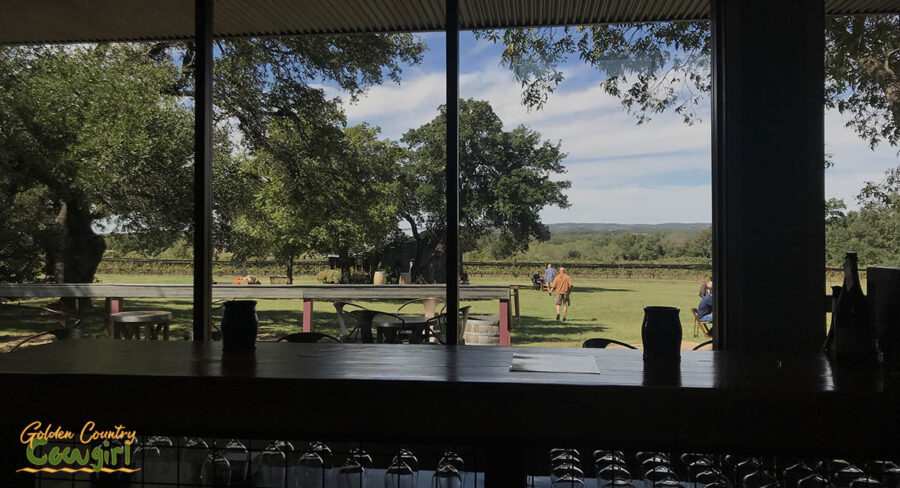 It was fairly crowded but the tastings were run efficiently (I timed my photos when there weren't many people in the tasting room).
There was absolutely nothing negative about my tasting but it just didn't give me the same fuzzy welcome feeling I got at Ron Yates. It is a perfect example of how your experience influences your perception.
Speaking of perceptions, I got a chuckle out of their restroom sign.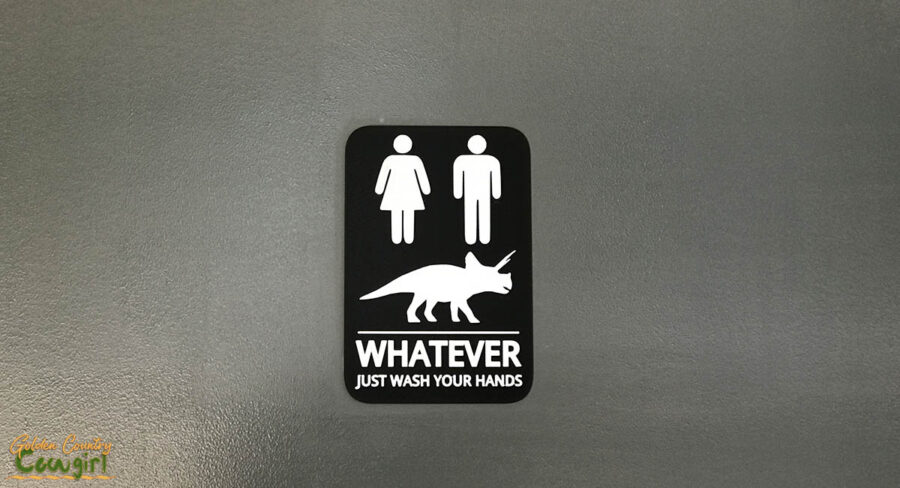 Wines tasted: 2020 Mary Ruth, 2020 Roussanne, 2019 Artist Blend (GSM+Tannat), 2017 Tempranillo Parr Vineyards, Malbec
What I purchased: 2017 Tempranillo, Parr Vineyards

---
Best Wineries I Visited on a Previous Trip
You can read more detail about these wineries in the post I wrote about my trip to Fredericksburg in 2019.
Becker Vineyards – Main Street Tasting Room
If you can't make it to the winery and vineyard located on Highway 290, just a little east of Fredericksburg, the downtown tasting room is a great alternative. In addition to wine tasting, you can shop for everything lavender as well as lots of fun gadgets and decorations.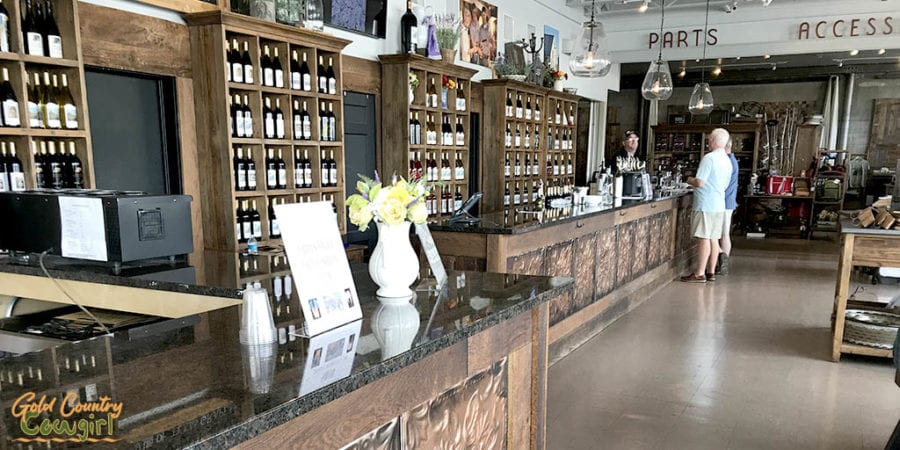 Kuhlman Cellars
In addition to regular tastings, Kuhlman Cellars does killer wine and food pairing tastings. I always look for something more than just a wine tasting and thoroughly enjoyed this very educational experience.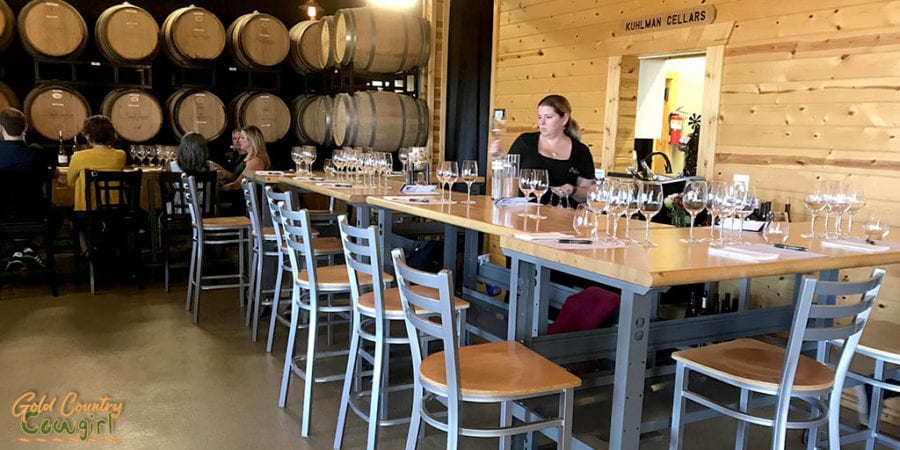 Pedernales Cellars
This winery comes out on or near the top of every list. You can enjoy the beautiful view from the patio while you sip a glass of 100% Texas wine. They offer tours by appointment only along with regular tastings.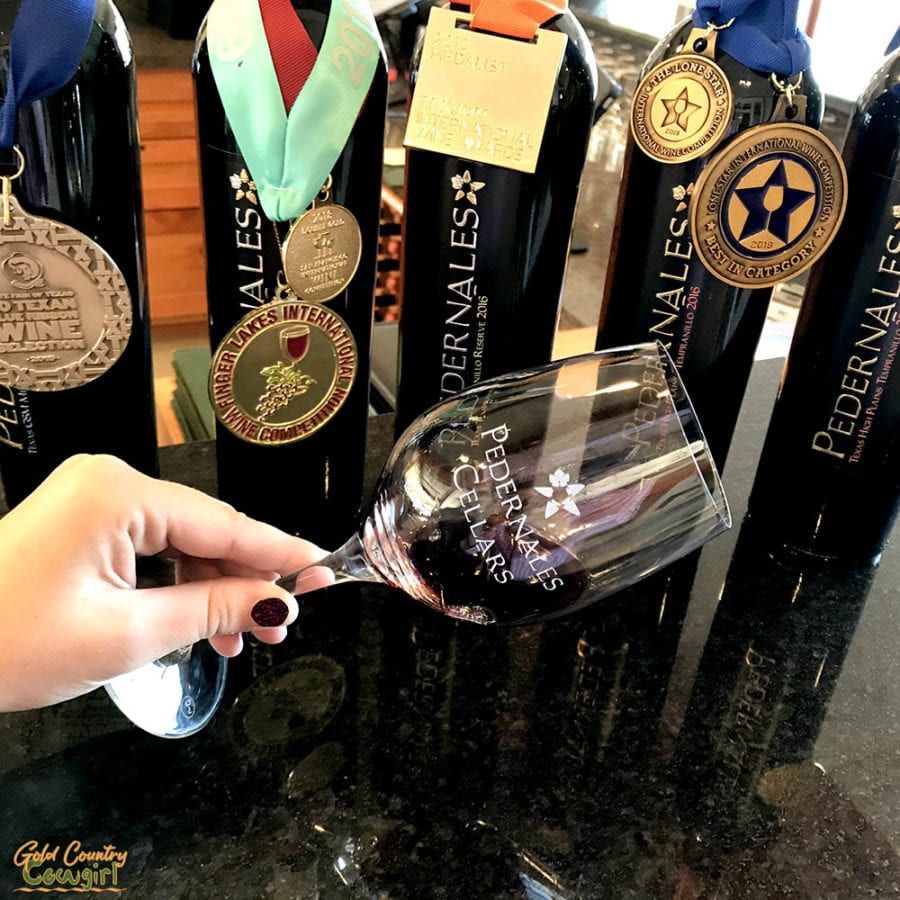 Signor Vineyards
Signor Vineyards is well known and loved for its beautiful grounds. I also enjoyed the feel of the interior. At the time I visited, their wines were from both Texas and Oregon. Their website only talks about the Texas vineyards and doesn't mention anything about Oregon wine so I don't know if that is still the situation.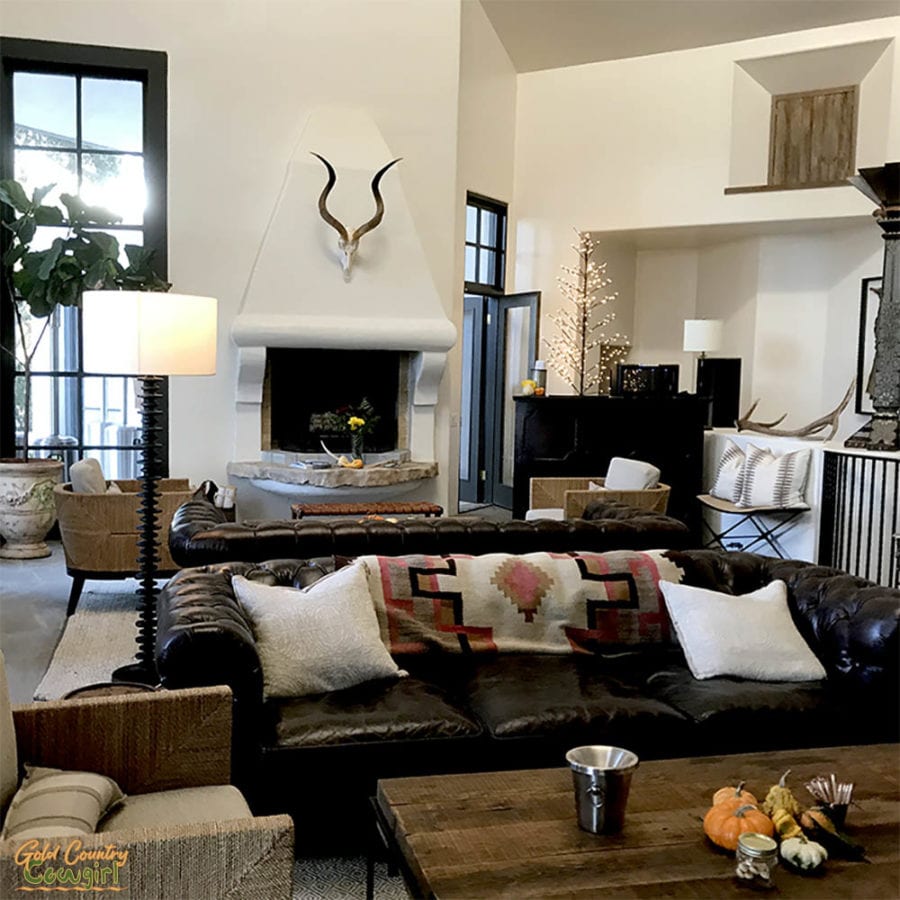 Wedding Oak Winery Fredericksburg
The Fredericksburg location is the third tasting room for Wedding Oak Winery which produces 100% Texas grown wine. They have a good selection of single varietals as well as some interesting blends.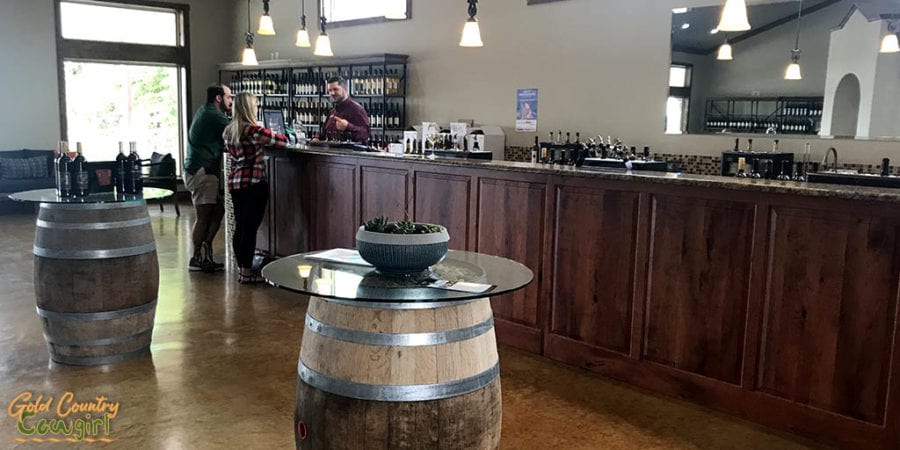 ---
Best Wineries in Fredericksburg on My List for Future Visits
Some of these wineries are occasionally on must-visit lists but they are always at the top of recommendations by members of the Texas Wine Lover Facebook page.
---
Other Wineries I Have Visited in the Fredericksburg Area
Chisholm Trail Winery
Chisholm Trail Winery is a Harvest Hosts host location. I tried for several days to get a response from them, both by email and phone message, regarding approval for a stay. I never heard back from them and had to make other arrangements. I wanted to go by once I was in Fredericksburg to see what is up with them. The owner apologized for the lack of response but didn't really explain why I didn't get one. He said he does want to continue to be a host so I suggested he might want to look into the online reservation system.
The number of visitors to their winery has been steadily declining. They are quite a few miles away from the majority of the other wineries and a fair distance off the main road. This, combined with the shutdown from the pandemic, has forced them to change their business model. The winery is currently open by appointment only and if they don't have any appointments they close. They will be concentrating on distribution rather than retail through the tasting room. So, if you want to visit this winery, be sure to make an appointment through their website.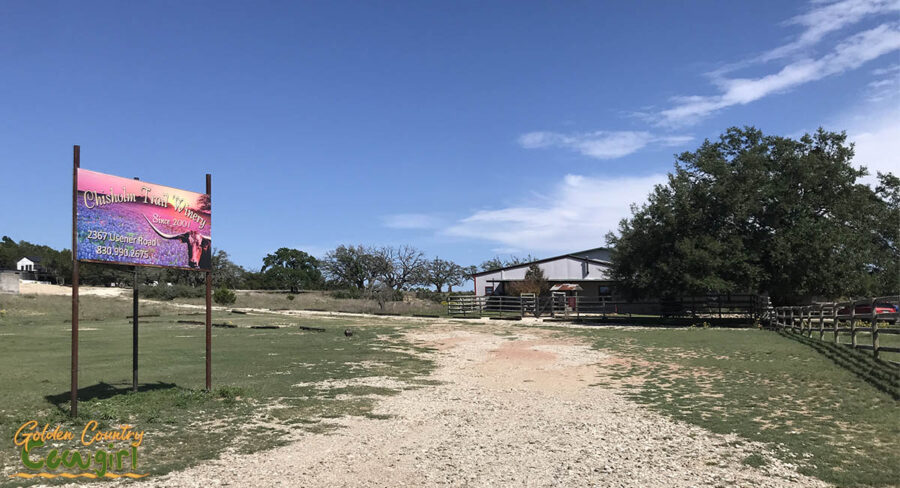 Wines tasted: Dry Rose, 2018 Cabernet Sauvignon, 2017 Syrah
What I purchased: 2017 Syrah
Fredericksburg Winery
Fredericksburg Winery was my first wine tasting when I arrived in Fredericksburg. The winery and tasting room are in downtown and I think they might get overlooked for the wineries on the 290 wine trail. Very modest owner and winemaker, who says everyone at the winery has input into the wines, Bert Switzer was fun and informative. They have been making wine at this location for 25 years and use all Texas grapes.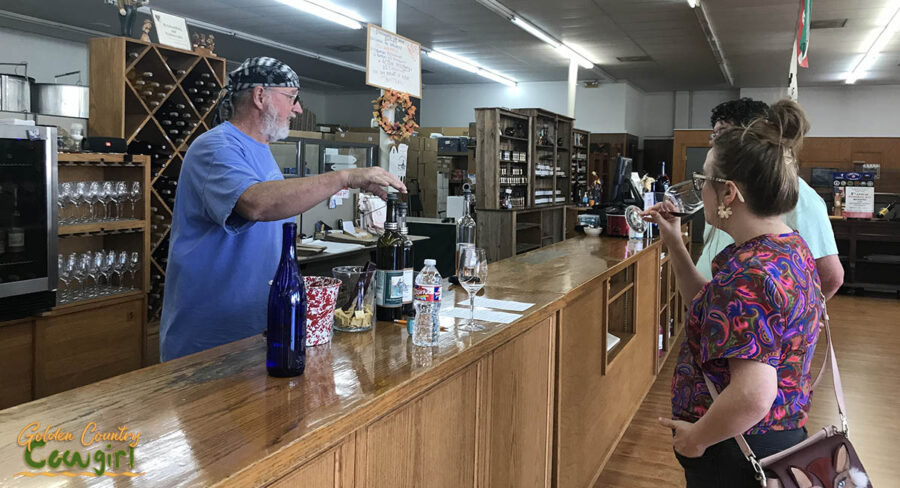 What I tasted: Winecup (Alicante Bouschet), Skeleton Plant (Montepulciano), Blue-winged Teal (a blend), Texitage (a blend), Main Street Christmas – Gluhwein, Erstfleigen – Late Harvest Riesling
What I purchased: Winecup, Main Street Christmas – Gluhwein, Erstfleigen
The Main Street Christmas is a spiced wine served warm. Hopefully, at some point, it will be cold enough at home for the fireplace!
Hye Meadow Winery
I kind of stumbled on a tasting at this winery, which does appear on some best wineries lists. I was across the highway at William Chris and asked for a recommendation for a late lunch. One of the hostesses said her boyfriend was the chef at The Meadow across the street. I apparently turned in the wrong driveway (or is this where she meant?) and ended up at the winery. Perhaps it was a happy accident but I did need something to eat if I was going to survive another tasting! They have cheese boards, toasted sandwiches and small plates. I didn't need more cheese. Nothing really suitable for a carnivore so if I was going off program, I decided to have something I love — risotto.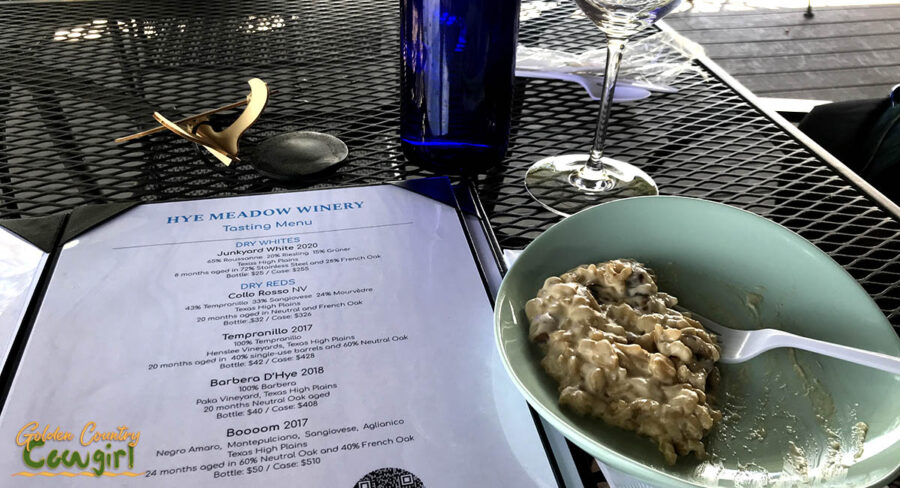 What I tasted: Collo Rosso (a blend), Tempranillo 2017, Barbera D'Hye 2018, Boooom 2017
What I purchased: Boooom 2017 (a blend of Negro Amaro, Motepulciano, Sangiovese and Aglianico
Safari Winery
When I couldn't get in to Grape Creek Winery, I was trying to decide on another winery to visit. As I approached Safari Winery, I decided to give it a try even though they don't have Texas wine. Safari Winery is different from any other winery in the area. They pour and sell only imported wine, mostly from Chile, Argentina and South Africa. They had Pinotage from South Africa and if it had blown my socks off I would have purchased some. However, I found it very pale in comparison to the Pinotage I've had in California so I passed on it.
What I tasted: Pinot Noir, Pinotage, Carmenere, Malbec, Celestial
What I purchased: Nada. They were letting you taste wines that were for club members only but you couldn't buy a bottle of the Pinot Noir or the last two, which of course, were the best in my opinion.
My Final Thoughts
I hope you enjoyed touring these best wineries in Fredericksburg with me. Have you visited Fredericksburg? How many wineries have you visited there? Did I miss your favorite? If you haven't been, why not? I'm looking forward to going again in a few months and trying some of the wineries on my list for future visits.
There are other things to do in Fredericksburg besides wine tasting and I'll be telling you about some of those things in future posts.

Until next time…
(Visited 2,302 times, 1 visits today)