The Rio Grande Valley has wonderful sub-tropical weather which makes for enjoyable outdoor activities — most of the time. Some days during the summer, though, it's just too darn hot to go outside, except in the early morning. If you are still itching to get out and explore, that's when it's time to find some entertaining indoor activities. Here are my recommendations for the best indoor activities in Harlingen, Texas.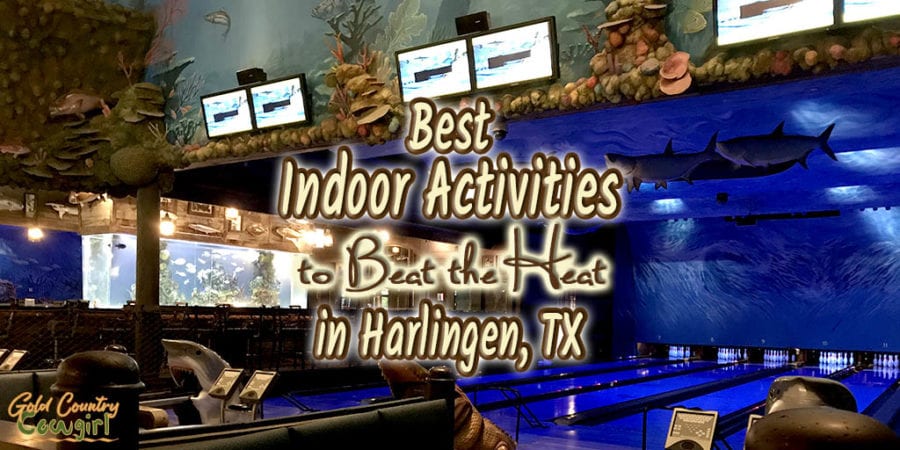 Best Indoor Activities in Harlingen
Whether or not you are looking for a place to beat the heat, there are some fun and interesting indoor activities in Harlingen. #texastravel
Click To Tweet
Texas Travel Information Center – Find all the Best Indoor Activities in Texas
I told you about this awesome location in a previous post. It's the perfect place to visit to learn more about the whole state of Texas and what there is to do anywhere in the state. They offer free wifi and have an area where you can study all those brochures.
2021 W. Harrison Ave.
Harlingen, TX
Daily 8am to 5 pm (6pm Memorial Day through Labor Day)
Related: Museums and Nature Top the List of Things to do in Harlingen
Bass Pro Shops
This may seem like an odd addition to the list of indoor activities in Harlingen but if you've ever been to a Bass Pro Shops, you know why it is here. Besides having an incredible selection of hunting, fishing, boating, water sports and camping equipment, they have the following fun amenities:
A 24,000 gallon aquarium that contains an array of native fish. It includes a running waterfall and is surrounded by a wildlife scene. People from all over stop to take their photos with the fish or moose.
Uncle Bucks Cabin Shooting Gallery is a replica cabin surrounded by wildlife and nature. Have fun shooting at the targets and watch things come to life in the gallery.
Step into the wilderness decorated, indoor archery range to get comfortable using your bow.
Put on your shoes and get ready to throw a ball. Yes, you can bowl at Uncle Buck's Fishbowl and Grill inside Bass Pro Shops. It's a fun atmosphere, with sharks and mermaids, that gives you the feeling of being inside a giant aquarium. Enjoy food and drinks while you are bowling, or just watching the bowlers. Sit at the bar and be mesmerized by the fish in the 3,000 gallon tank.
If you need a sweet treat, just follow your nose to the general store to try one (or more) of their more than 30 flavors of fudge. They have lots of other snacks as well as souvenir type items.
Sharks and mermaids give you the feeling of being inside a giant aquarium. #usatravel #texastravel
Click To Tweet
101 Bass Pro Drive
Harlingen, TX
956-291-5200
Mon-Sat 9am to 9pm
Sunday 9am to 7pm
Creasey's Bowl
Bowling is a great way to spend some time out of the house but indoors when it is just too hot outside to get any exercise. Creasey's Bowl has been family owned and operated for nearly 50 years. You can pay per game here or by the hour per lane for up to 6 people. Rates vary based on day of the week and time of day, starting as low as $1.95 per game during early bird Sunday. No matter your age, they have a league you can join. In addition to the 24 bowling lanes, there's a snack bar; arcade; and lounge (opens at 4pm, 5 pm on Saturdays) with a full bar, big screen TV and billiard tables.
644 N Ed Carey Drive
Harlingen, TX 78550
956-428-1899
Monday closed
Tuesday – Sunday 12pm to various closing times
Harlingen Public Library
When I visited the Harlingen Public Library for the first time, my GPS took me down a dead end street behind the library. If that happens, just go back out to Jefferson and you'll find the entrance.The entry courtyard has cute sculptures and a nice fountain. The views out the large windows on the back side of the building are relaxing and you can work on the second floor with a view of the lake.
Library cards are free for anyone 16 or over with a valid driver license or state ID. You must apply for your card in person as the application is done on their computer. The library offers free wifi to anyone, even if you don't have a card, but you do need a card to use one of the 40 computers. There are lots of stations where you can plug in and connect to wifi with your own computer.
In addition to their many online resources, available through the Libby app, they have over 112,000 physical books, magazines, CDs, DVDs and audiobooks. They have special programming for children and teens as well as classes and events for adults. Get out of the house and expand your mind!
410 76 Dr
Harlingen, TX
956-216-5800
Mon-Thurs 10am to 8pm
Fri-Sat 10am to 5pm
Sunday 1pm to 5pm
Movie Theaters
Sure, you could binge watch your favorite TV series or some great movies at home, but let's face it, at home you'll likely get distracted. And the whole point here is to get you out of your house. There's plenty to be said for seeing a film on the big screen with surround sound, tuning out everything else and being transported to another reality. Oh, and the popcorn at the theater is better than microwave popcorn! Going to the theater solo is one of my favorite indoor activities in Harlingen.
There's plenty to be said for seeing a film on the big screen with surround sound, tuning out everything else and being transported to another reality.
Click To Tweet
Related: Which Type of Baby Boomer Are You?
Cinemark 16
The Cinemark 16 XD opened in December of 1999. It has 16 screens showing first-run movies. Prices range from $5.50 (all day discount Tuesday) to $10 with discounts for matinees, seniors ($6.50 all day Monday, regular $7.75) and military. You can purchase your tickets online with assigned seating!
401 S. Expressway 83
Harlingen, TX
Cinemark 10
This theater was opened as a first run movie house in 1992 but when Cinemark opened the Cinemark 16 in 1999, it became a second run, discount theater. You can see a film here for as little as $1.20. You can't beat that! Purchase tickets online to avoid waiting in any lines.
629 N. 13th St.
Harlingen, TX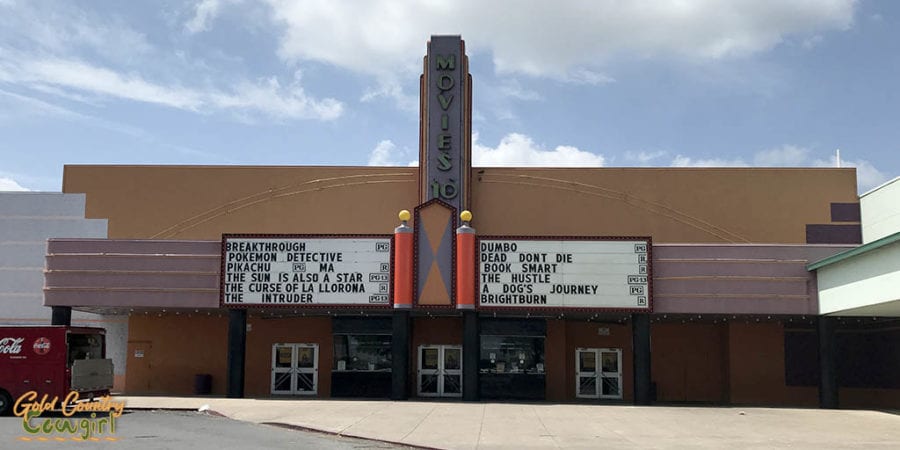 Pendleton Pool
Many people in the Valley live in RV or mobile home parks that have a swimming pool. If you don't have a pool or want to check out one indoors, try Pendleton Pool. Although not technically indoors in the sense that it is completely enclosed and air conditioned, it is covered and you can definitely keep cool here.
I had the hardest time finding good information for the pool. The only website link I could find goes to Harlingen Parks and Recreation which only provides information about their classes but nothing about the pool hours or rules, etc. A visit to the pool didn't reveal much more. I learned that they have nothing in writing, pool rules are listed on a sign on the wall outside, and hours on the website are very misleading. Hours on the website and on Google make it seem like the pool is closed from 1-4, but actually, that is open, public swimming. In the morning and evening, the pool is roped off into lanes for lap swimming. Entry to the pool is just $1 per person. For an additional fee, you can sign up for water aerobics classes through Parks and Recreation.
Once again, my GPS failed me a bit. It got me close but not quite there. The address on Morgan Blvd is at the front of the park which is a distance from the pool. I think there is a way to drive around but I went back out and accessed the pool off of Grimes, which is more direct. See the map below.
1427 Morgan Blvd
Harlingen, TX
956-425-4270
Mon-Fri 6am-9pm
Saturday 7am-1pm
Sunday 9am-6pm
Hit the Gym
You may not think of this as a great way to stay cool but the idea here is to get up, get out and go — somewhere out of the house even though it is hot. Not only will it get you out of the house but you'll feel great afterwards. There are several gyms in Harlingen including Gold's Gym in Valle Vista Mall and Planet Fitness in Sun Valley Mall near Cinemark 10.
The Bingo Ranch
The Bingo Ranch in Harlingen opened in March of 2018. They claim to pay out over $40,000 in cash prizes weekly. They have a bar and grill which opens two hours before the first session each day and folks say the burgers are awesome. Weekday sessions are in the evening but the first Saturday and Sunday sessions are at 2pm. Bingo fees range from $6 for 12 cards to $20 for electronics. Each session is five games. Everyone there must be playing — no gawkers.
1514 S. 77 Sunshine Strip 11 A & B
Harlingen, Texas
956-410-3946
Mon-Thurs Sessions: 7:00 and 8:30
Fri 7:00, 8:30, and 10:00
Sat 2:00 and 3:30
Sun 2:00, 3:30, and 5:00
Bar & Grill opens 2 hours before the first session
Valley Race Park
Valley Race Park opened in 1990 as Valley Greyhound Park. The park was renamed in 2000 when it was purchased by Sam Houston Race Park, a thoroughbred racetrack in Houston. The last time greyhounds raced here on a regular basis was in 2009. They were here for a couple of months 3 years ago and may be here for a couple of months late this year. The 91,000 square foot building now does year round simulcasting of horse and dog racing. It has a bar, snack bar and a restaurant, which is only open during certain events. The venue is available for all sizes of private events. If you enjoy watching and wagering on the races, visit Valley Race Park. I couldn't find any signs on the building so look for the marquee near Ed Carey Drive that still says Valley Greyhound Park.
2601 S. Ed Carey Dr.
Harlingen, TX
956-412-7223
Tuesday closed
All other days open 11am-1am
Admission Mon-Thurs (closed Tuesday) free, Fri-Sun $2
Valle Vista Mall
It's always a little sad visiting the mall and seeing so many storefronts vacant. But that's not to say that there aren't plenty of stores to tantalize any shopper. A couple of the big anchor stores, like Sears, have closed but JCPenney, Dillard's and Big Lots are still holding down the fort. You'll find lots of the familiar chains like Zale's, Kaye Jewelers, Lens Crafters, Victoria's Secret and others. There's also smaller local and specialty stores. Stop in the food court area for refreshments. Lots of the stores have wifi and there's even a charging station or two.
2020 S. Expressway 83
Harlingen, TX 78552
(956) 425-8392
Mon-Sat 10am to 9pm
Sun 12pm to 6pm
Urban Air
I hope you are still reading because I saved the newest and most exciting for last. When I read that Urban Air would include a ropes course and climbing wall, I imagined myself doing those things in a comfortable, indoor space. I have to admit, I was a little disappointed when I learned this attraction is for kids. If you have kids or grand kids, this is a great place to let them burn off some energy indoors when it is too hot outside and is sure to be one of your favorite indoor activities in Harlingen. You can pay by the visit or purchase a membership. Their are some perks for the adults, too. The massage chairs will sooth you wile you wait and the snack bar has a fairly extensive menu including beer and wine! Urban Air is located in the Valle Vista Mall and, hopefully, it will bring more life to the shopping center.
956-290-9379
Final Thoughts on Best Indoor Activities in Harlingen
There are two museums in Harlingen but the majority of the exhibits are outdoors so I haven't included them with these indoor activities. If you want to learn more about them, read the post below.
Related: Museums of Harlingen: Early Rio Grande Valley to WWII
Whether or not you are looking for a place to beat the heat, there are some fun and interesting indoor activities in Harlingen. Heat, or other inclement weather, is no excuse to hibernate at home. Get up, get out — just go!
Heat, or other inclement weather, is no excuse to hibernate at home. Get up, get out -- just go! #getoutjustgo
Click To Tweet
What are your favorite indoor activities in your area? Let me know in the comments. If you enjoyed this post, please share it with your friends on social media.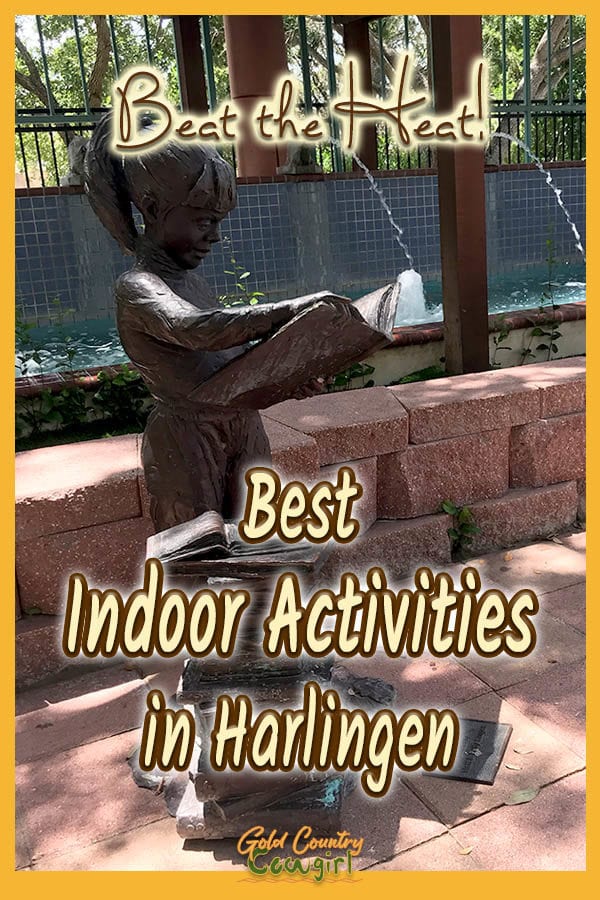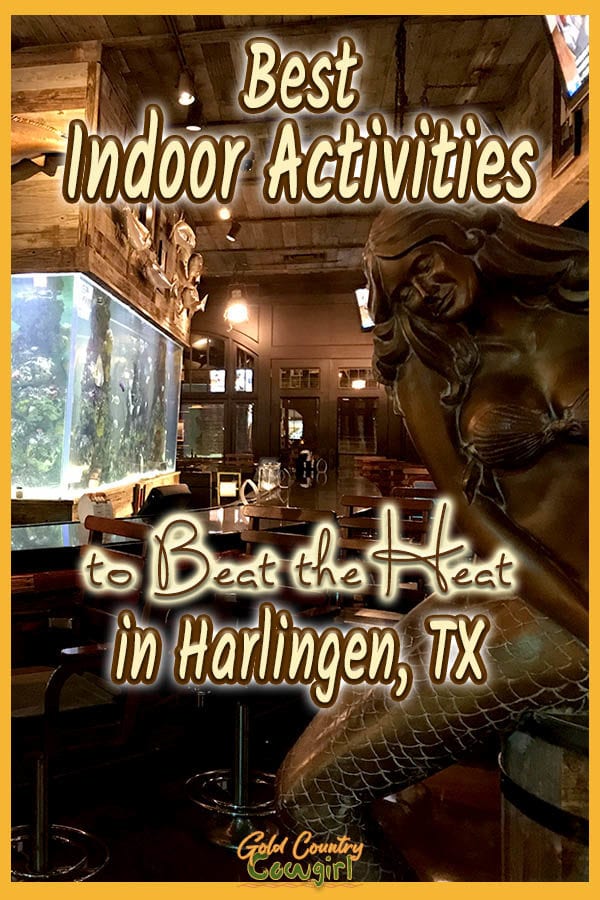 Until next time…
(Visited 3,391 times, 1 visits today)