Schulenburg is a small city (population under 3,000) in eastern central Texas about halfway between Houston and San Antonio. It is known as "The Gateway to the Rolling Hills." Immigrants who settled the area in the 1800s were of German and Czech descent and their influence can be seen everywhere. Even though I tried to visit all the best places while I was in Schulenburg, Texas, I just couldn't quite fit them all in!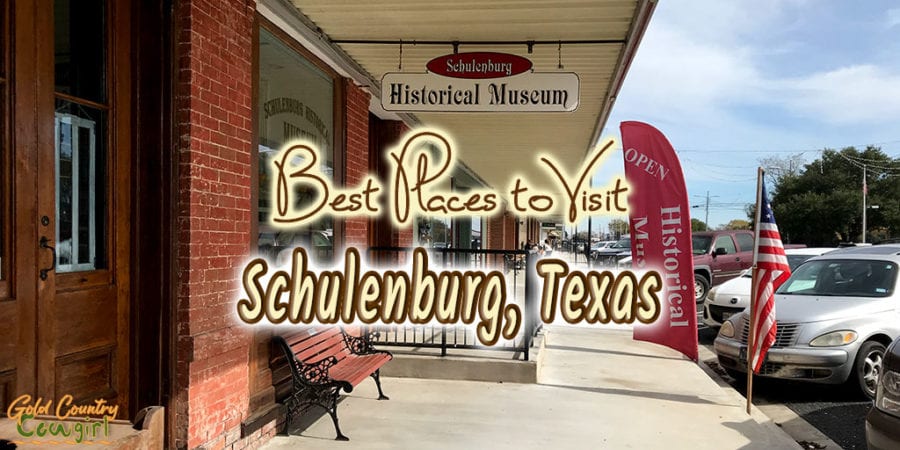 Schulenburg RV Park
Before I tell you about the best places to visit in Schulenburg, I want to tell you about Schulenburg RV Park.
During my 6-week RV trip through Texas, my plans changed several times as I headed back south towards home. This was mostly due to the weather but also because of my delay in the Rockport area. When I left Downtown Texas RV Park and drove down Highway 77, I was looking for a location somewhere between there and my next planned stop at Lake Corpus Christi State Park. Schulenburg sounded like it had some interesting things to see and do so I started my search for a place to stay.
Schulenburg RV Park was right on my route. The RV park website has very little information so I had to rely on reviews on other sites. The reviews were pretty glowing, especially about the staff. That part was no exaggeration. They were all delightfully friendly and helpful.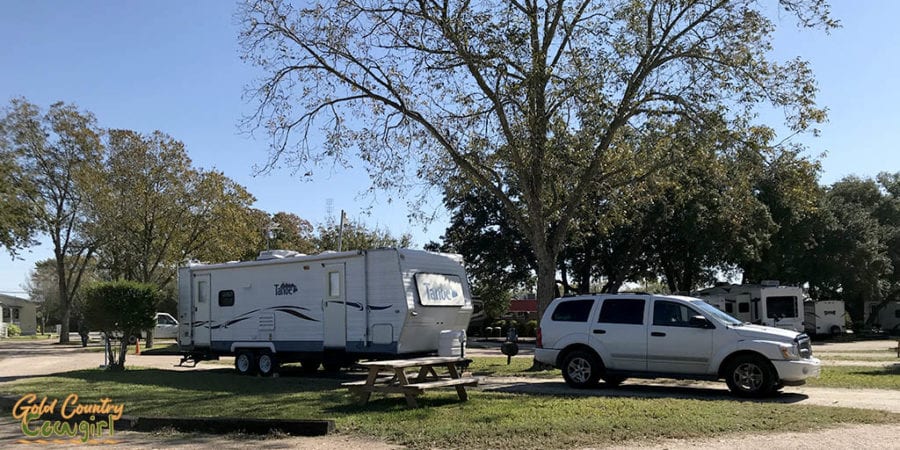 The park is small with just 49 sites. The sites are all pull-through with level, concrete slabs. There is a grassy area at each site and lots of trees. There are a few barbecue grills around the park but not one at each space. They have complimentary WiFi and cable TV but I got better stations from my antenna. The entire park was spotlessly clean, including the laundry room and showers.
I had an end site (space 21) that is across a huge field from the highway and railroad tracks. I didn't notice the highway noise at all except for an occasional big rig when I was outside. The train comes by a few times a day, but since I love trains, that didn't bother me. And, frankly, I didn't hear either one inside my rig with the doors closed.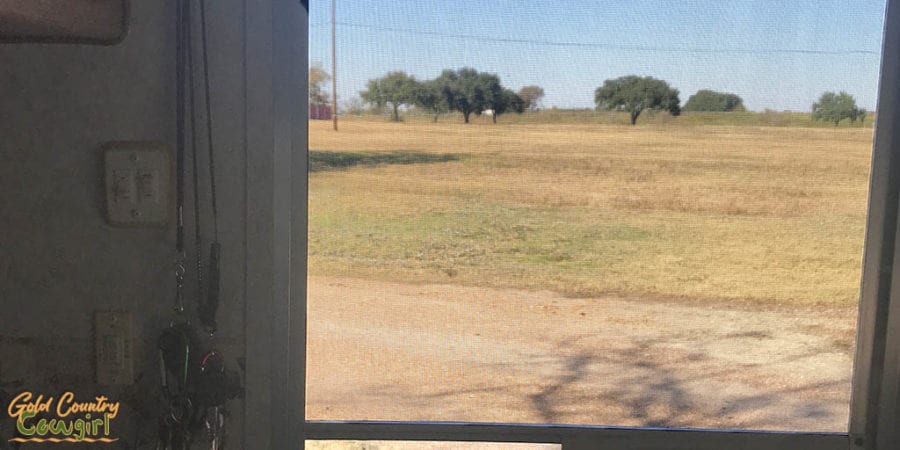 Address: 65 N. Kessler Ave., Schulenburg, TX 78956
I was delayed for nearly a week at Apache Pass near Rockport, Texas. You can read why at the link below.
Related: An Unexpected Delay — Car Trouble at Apache Pass

Best Places to Visit in Schulenburg, Texas
The Painted Churches
The Painted Churches are definitely the highlight of any visit to Schulenburg, Texas. These are must-visit places for your list of things to do while you are in the area.
Religion was very important to the early settlers. When they built their churches, they wanted to emulate the magnificent cathedrals they left behind in Europe but they didn't have the resources. Instead, they used paint to create "marble" columns and gold metal surfaces. Even the ceiling vaults (arches) are an optical illusion, created with paint.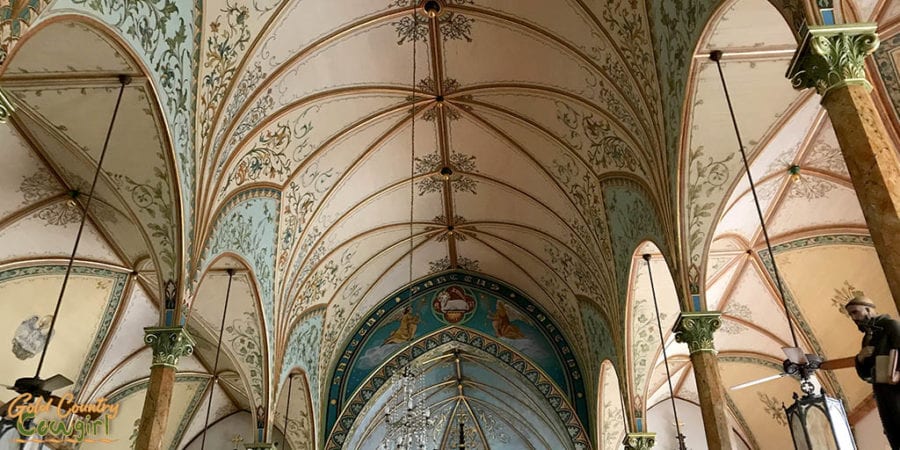 There are more than 20 Painted Churches throughout Texas Hill Country and 15 of them are listed on the National Register of Historic Places. Four of the churches are located in close proximity to one another in four unincorporated neighborhoods near Schulenburg. You can easily see them on your own in one day but I highly recommend you take the guided tour offered by the Chamber of Commerce. Just be sure to make your reservation well in advance.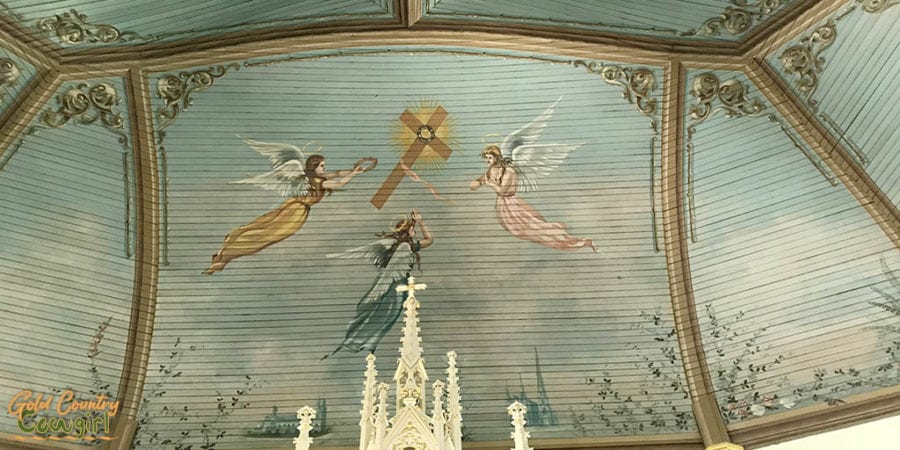 While you are touring the churches, be sure to check out Piano Bridge. Click on the related link below to learn more about the bridge and see a video.
Related: Home of the Painted Churches — Schulenburg, Texas

Schulenburg Historical Museum
As much as I enjoyed touring the Painted Churches, the Schulenburg Historical Museum was one of my favorite places that I visited in Schulenburg, Texas. I love delving into these small museums that have so much information about local history. The fact that I got more than an hour private tour didn't hurt either. The docent was so knowledgeable and had so many stories!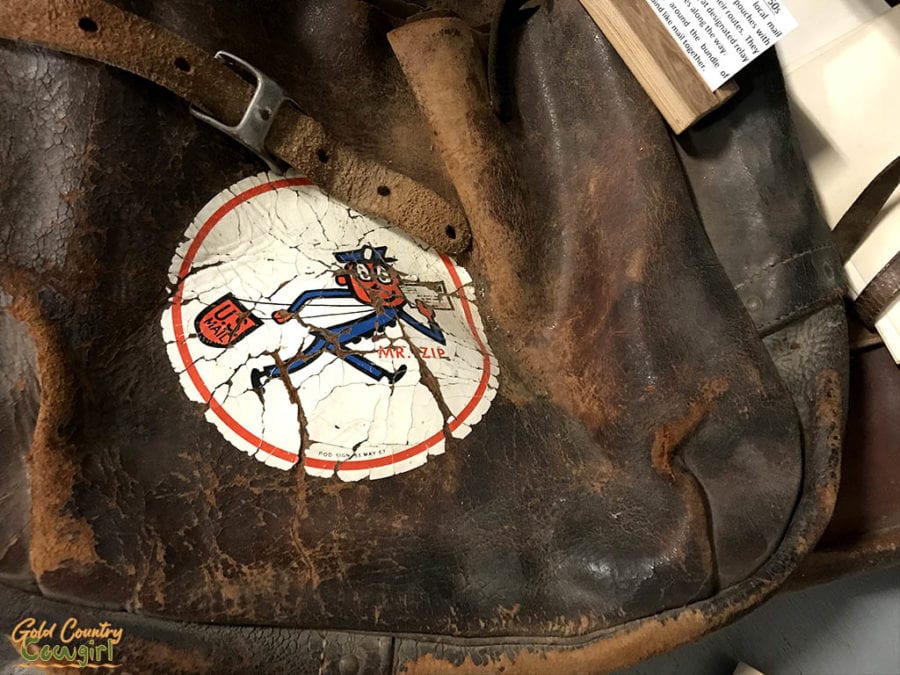 There were two exhibits in particular that fascinated me.
Allison Flour
Gus Baumgarten worked in the oil mill that his father built in 1883. He learned to refine cottonseed oil and demonstrated its good qualities for cooking. He then began experimenting with making food from cottonseed for human consumption. (The seeds of the cotton plant are poisonous. The oil refining process removes the harmful ingredient.) For 10 years he worked on perfecting a cottonseed flour. In 1910, Allison flour was tested by Texas A&M chemists and found to have five times the nutrition of wheat flour. In spite of widespread publicity, the demand for cottonseed flour expanded slowly. Gus promoted the product with his own funds and refused interference from larger food manufacturers.
The cotton plant produces more seeds than fluff. When the oil is pressed from the seeds, the remaining part of the seed is either turned into fertilizer or fed to adult cows. (Adult cows are not effected by the poisonous component of the seed.) I had never heard of cottonseed flour. I couldn't help thinking while I was reading this exhibit that, with all the alternative flours available now, maybe cottonseed flour will make a comeback.
Barbed Wire
Did you know that barbed wire is patented? The first patents were taken out in the United States in 1867 and there are hundreds of patterns. The wire was invented to protect crops from cattle free-grazing on the open range. Today, barbed wire is a popular collector's item.
Address: 631 N. Main Street, Schulenburg, TX 78956
Hours: Friday – Saturday 10:00 a.m. – 2:00 p.m., other times by appointment
Entry fee: None
Website: Schulenburg Historical Museum

Texas Polka Music Museum
If you are a polka aficionado, you should find this place very interesting. The museum is "dedicated to preserving the history and legacy of polka music in Texas by honoring Texas polka bands and musicians of Czech, German and Polish ancestry." The museum also honors the DJs who contributed to the preservation of polka.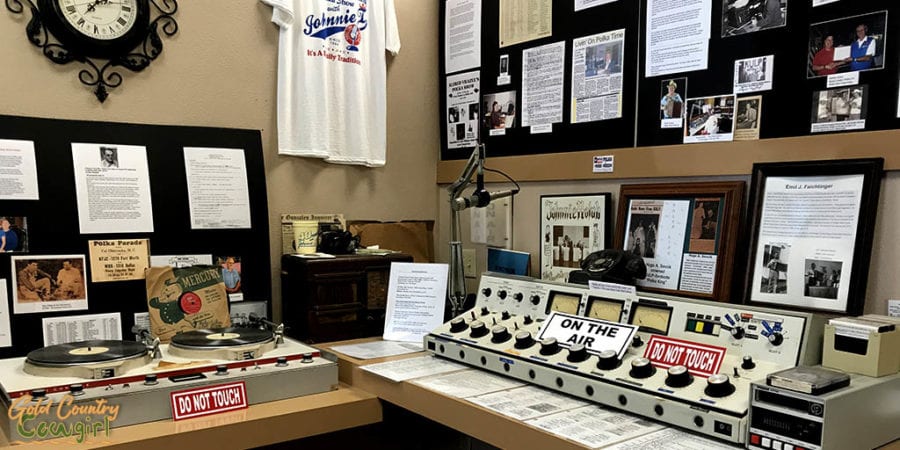 The Czechs claim to have invented polka music but the Polish also take credit for it – each with their own story. The accordion takes the lead in German and Czech polkas while the fiddle leads Polish polkas.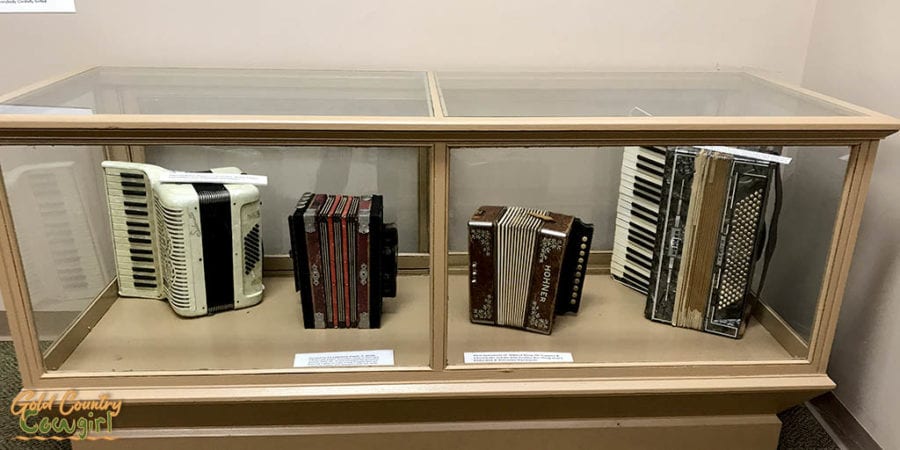 The museum displays posters, photographs, instruments, sheet music, and costumes chronicling the history of polka in Texas.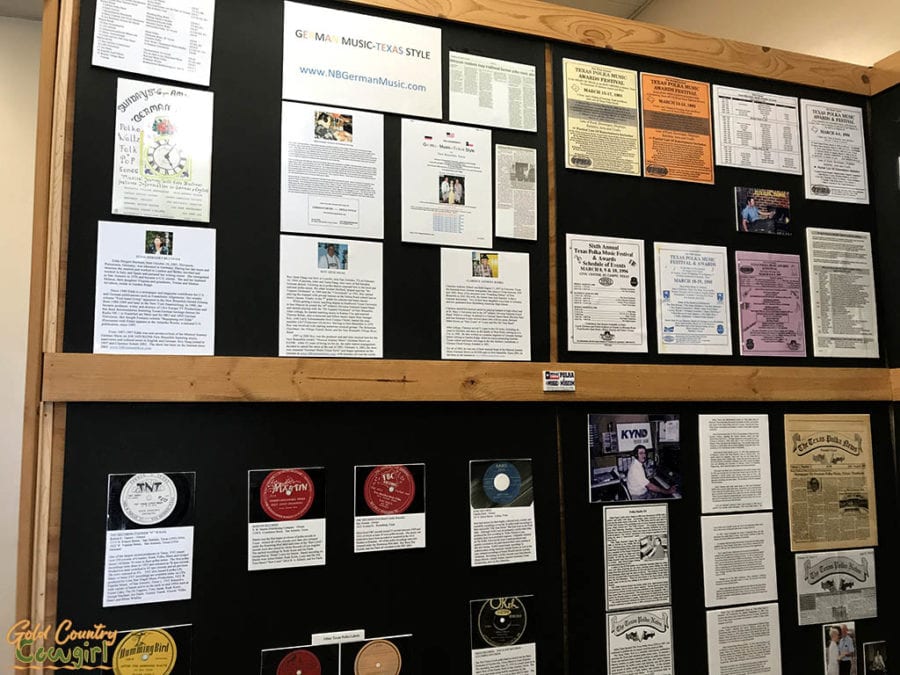 The museum produces CDs of polka music as a fundraiser. You can purchase these CDs at the museum.
Address: 625 N Main St, Schulenburg, TX 78956
Hours: Thursday – Saturday 11 a.m. to 3 p.m.
Entry fee: $2
Website: Texas Polka Music Museum
Check out the related link below to learn how the fusing of European accordion polkas and Mexican ranch music led to the creation of a music genre considered native to the Texas-Mexico region.
Related: Freddy Fender Museum is Just One of the Museums of San Benito

Sengelmann Hall
Sengelmann Hall is an 1890s Texas dance hall that was fully restored by Dana and Hana Harper. Fortunately, when Dana and Hana purchased the building in 2007, most of its original architectural features were still intact. While completing renovations, they were careful to preserve every detail they could, like the decorative stenciling on the walls that was underneath the paint. Carpenters recreated the mahogany bar from photographs. Finally, in June of 2009, the hall reopened.
You'll find that mahogany bar and a huge dining room downstairs. Momma's at Sengelmann Hall serves "home-cooked cuisine with a Euro-Texas twist." Handmade pizza and burgers get the top recommendations here. They also have some traditional entrees, like ribeye or salmon, for dinner. I had a hard time choosing but settled on the avocado burger and peach cobbler with, yes, ice cream.
The dance hall occupies the second floor. There's live music on Wednesdays and they have booked some legendary performers over the years. Sengelmann Hall is definitely one of the places worth visiting while you are in Schulenburg, Texas.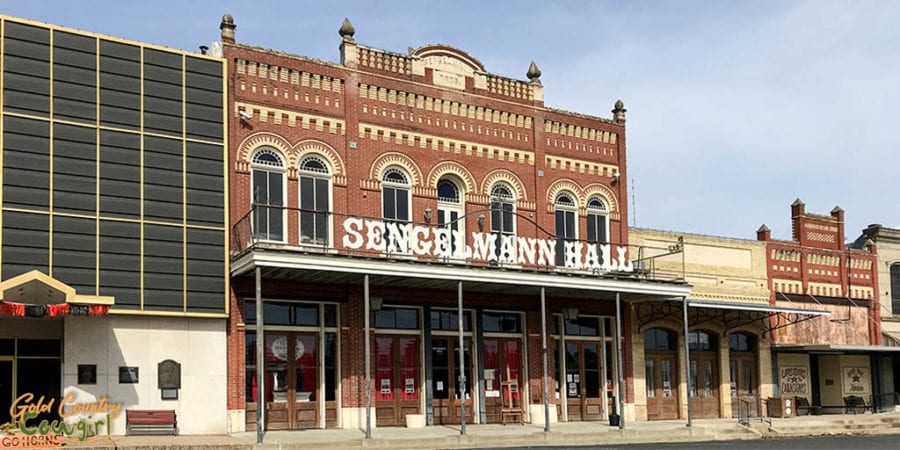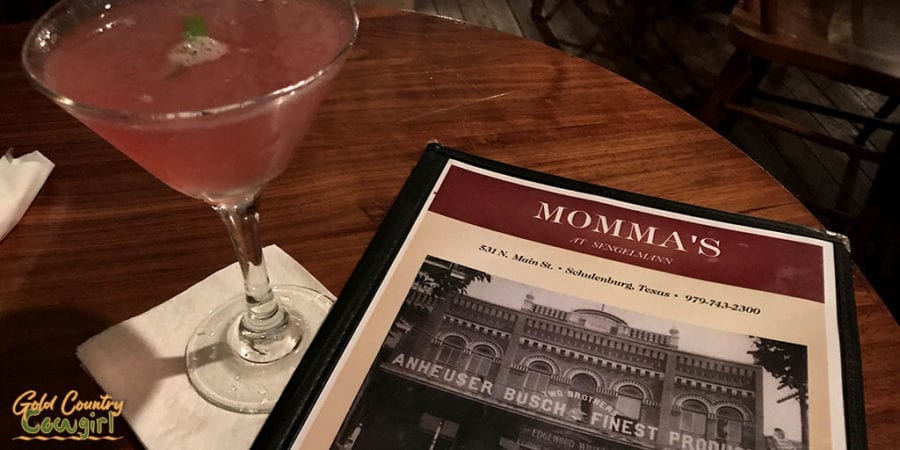 Address: 531 N Main St, Schulenburg, TX 78956
Hours: Check here
Website: Momma's at Sengelmann / Sengelmann Hall

Stanzel Model Aircraft Museum
In 1929, Victor Stanzel began building solid model airplanes and selling them to cadets and aviators. Later that year, he converted a bedroom in his Schulenburg home into a manufacturing center. In 1930, he began producing and selling model kits. The museum tells the rest of the story with interactive exhibits and displays. After a multimedia presentation, the tour takes you through the ancestral home.
Address: 311 Baumgarten St, Schulenburg, TX 78956
Hours: Mon, Wed, Fri, Sat 10:30 to 4:30
Entry fee: Adults $4, Seniors $2
Website: Stanzel Model Aircraft Museum


Potter Country Store
The Potter Country Store is known for its fresh Texas pecans that are grown at the family-owned farm in Schulenburg. They have a wide variety of flavored pecans as well as fudge and other sweet treats. There are two locations known at The Big Store and The Little Store.
Address: 16 N. Kessler Ave., Schulenburg, Texas 78956 (Little Store)
716 N Us Hwy 77, Schulenburg, Texas 78956 (Big Store)
Hours: Mon-Sat 9am-6pm, Sunday CLOSED
Website: Potter Country Store

Bonus:  Nearby La Grange
Texas Quilt Museum
La Grange is about 17 miles north of Schulenburg. I passed through it on my way to Schulenburg but I decided to backtrack to visit the Texas Quilt Museum while I was so close.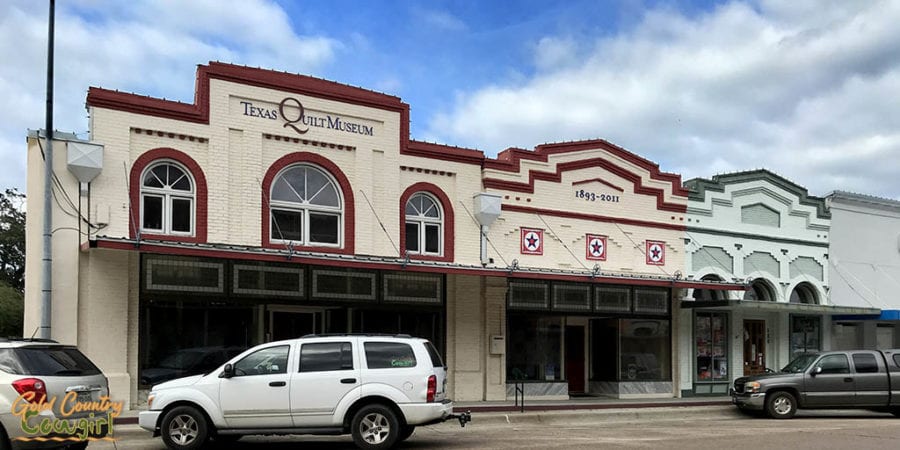 The museum features rotating exhibits. The main, historic exhibit was 22 indigo and white, antique American quilts. The quilts were collected by Merry Silber and on loan from her daughter, who has added a few quilts since taking over the collection.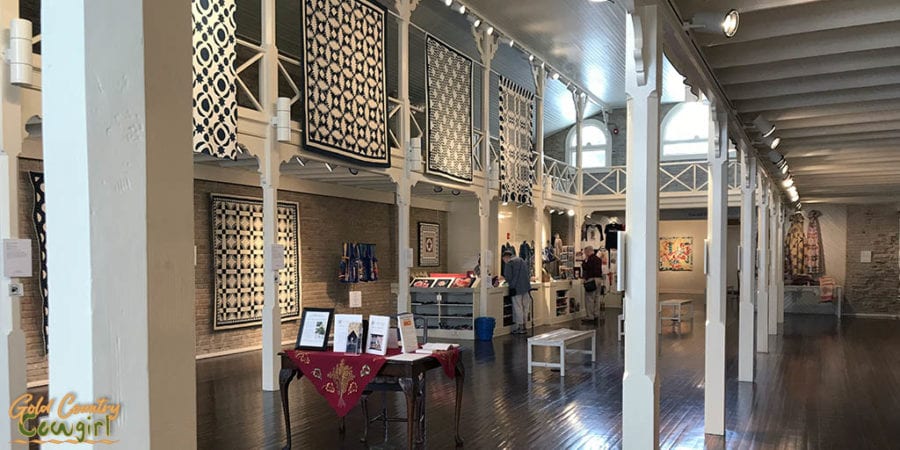 Photography is not allowed in the museum but I was given permission to take a couple of photos for the blog.
The second exhibit was colorful, modern art quilts by Katie Pasquini Masopust. All of her quilts were for sale and I really loved one of them. I couldn't bring myself to ask the price since I really didn't have a place for it but I was tempted.
Quilts are amazing, intricate works of art. I did a little quilting many years ago and I can't even imagine the time it took to do some of the antique quilts.
Address: 140 W Colorado St, La Grange, TX 78945
Hours: Thurs – Saturday, 10 a.m. to 4 p.m., Sunday noon to 4 p.m.
Entry fee: $10
Website: Texas Quilt Museum

Town Square and Fayette County Courthouse
I was totally enamored with the town square in La Grange. I think pretty much all old town squares are interesting and worth a visit but there was something a little unique feeling about La Grange. The imposing Fayette County Courthouse, which was completed in 1891, dominated the square. Four types of native Texas stone were used in detailing the exterior.

Have you been to any of these places in Schulenburg, Texas? If so, what was your favorite? What do you like to do when you arrive at a new destination? I'd love to hear from you in the comments below.
Until next time…
(Visited 5,029 times, 1 visits today)