I've been reading a lot lately about overtourism but who would think a sleepy little place like Volcano, CA, could experience such a phenomenon? But, indeed it has happened, and to a much-loved local attraction. Daffodil Hill in Volcano has closed to the public indefinitely, which I fear means permanently. The infrastructure of the area just couldn't handle its popularity and that is not likely to change.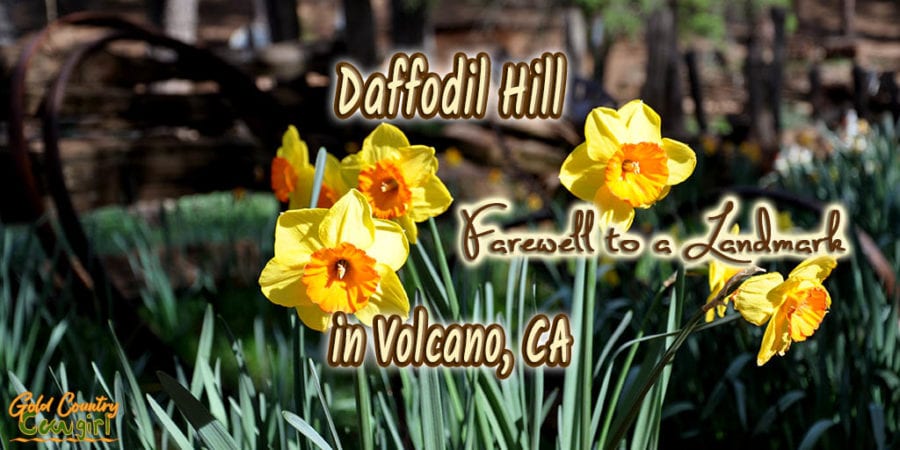 The family released a statement earlier in July making the announcement. In the statement, the family said, "Over the past 80 years, many thousands have visited Daffodil Hill in beautiful Amador County. While we, the Ryan family, have enjoyed sharing our serene and peaceful Daffodil Hill with the general public, it is with deep sadness that we announce our decision to close the Hill indefinitely."

I've been reading a lot lately about overtourism but who would think a sleepy little place like Volcano, CA, could experience such a phenomenon? #overtourism Click To Tweet

Why is Daffodil Hill in Volcano closed?
So, what happened? On opening weekend this year, so many visitors descended on the hill that, at times, it took up to two hours to get to the parking lot. Many visitors chose to park illegally along the narrow roadway and walk through traffic. This was a safety issue along with the fact that the illegally parked cars would have impeded emergency vehicles. Once at the parking area, there just wasn't enough space for everyone. In addition to frustrated visitors, the long line of cars kept residents from being able to get to their homes.
The family examined several alternatives, including shuttles and reservations for attendance. In the end, they decided that Volcano and the Hill just could not support the volume of visitors and decided to close Daffodil Hill to the public.
It is a sad loss for the community in more ways than one. Residents may be happy that they won't have to contend with the traffic, but Daffodil Hill brought thousands of tourists and tourist dollars to Volcano and Amador County each year during those 4-6 weeks it was open to the public. The Ryan family hopes you will continue to visit beautiful Amador County as it has so much to offer.
Related: 25 Extraordinary Things to do in Amador County from a Local
Here's what you will miss now that Daffodil Hill in Volcano is closed!
The following portion of this post was originally published on February 24, 2018.
When I moved to Pine Grove in Northern California's Gold Country, one of the first things to go on my spring bucket list was a visit to Daffodil Hill in nearby Volcano. The blooms of the more than 300,000 daffodils are legendary and people visit from all over the world to see the spectacular sight.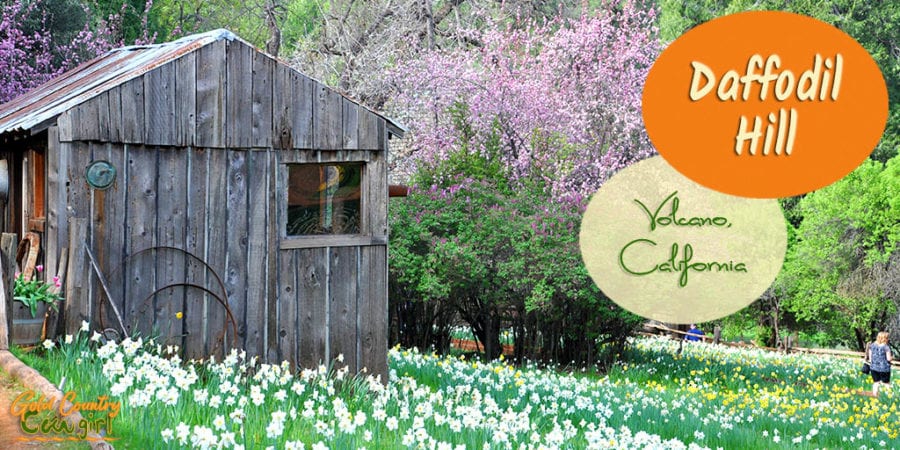 I got lucky that first year. We had a mild winter with little rain – we were at the height of the drought – and the flowers were amazing during the spring of 2015. I'm so glad I made it that year because in 2016, a huge hail storm beat down all the flowers and forced them to close after just a few days.
In 2017, it rained and rained. I was out of town when Daffodil Hill opened. When I got back, it was raining and never stopped. Again, they had to close after just a few days and I never made it.
This year, right after the Sacramento Bee reported that Daffodil Hill might open early due to our mild winter, it started snowing! So much for an early opening.
The daffodils love snow and cold weather so hopefully they will still be beautiful when the venue is able to open closer to their regular time. You can be sure I will be watching their Facebook page and the weather, along with hundreds of other people, so I can go as soon as they open!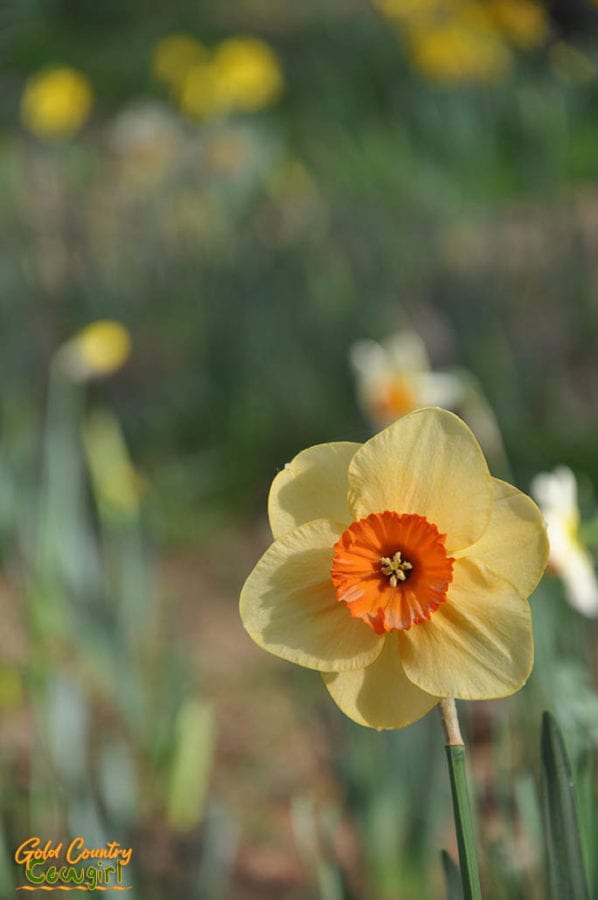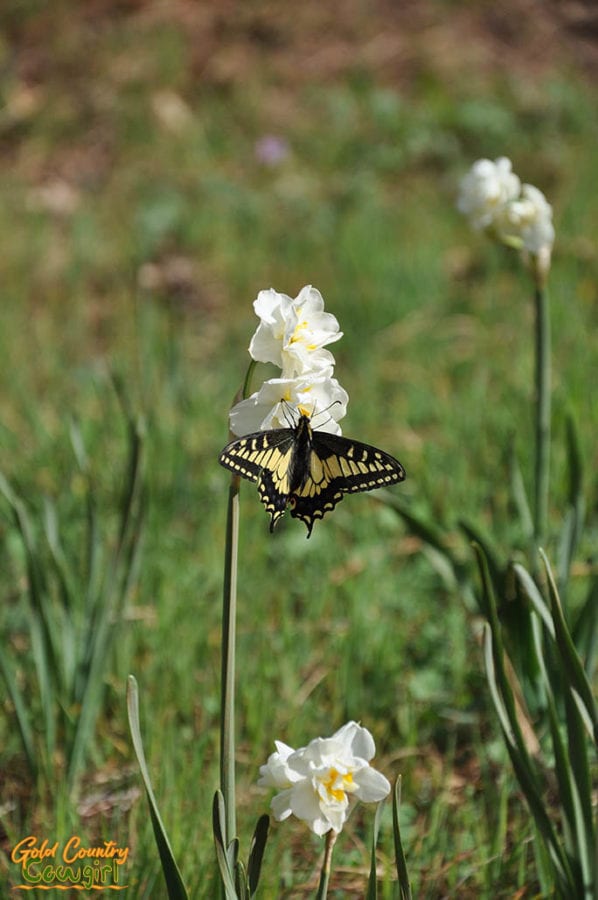 The Daffodil Hill Story
In the days of the Gold Rush, Daffodil Hill was a stopping point for wagons hauling wood to the mines and for eastbound travelers on the Amador-Nevada Wagon Road which is now Highway 88.
Arthur and Lizzie McLaughlin came west from New York and Ohio. In 1887, they purchased the Daffodil Hill property from Pete Denzer who had planted a few daffodils around the house to remind him of his home country of Holland. Arthur and Lizzie continued to plant daffodils to beautify the property.
The McLaughlin family descendants have continued this tradition by planting new bulbs every year for over a century. Over the past few years, as many as 16,000 bulbs have been planted each year.
I was lucky to see the beauty of Daffodil Hill before it closed!
The colors and variety of blooms is mind blowing if you love flowers and nature even a little bit. I took so many photos I just couldn't decide which ones to put in the post so I made a couple of videos. I hope you enjoy them.
The Details
McLaughlin's Daffodil Hill
Volcano, California 95689
(209) 296-7048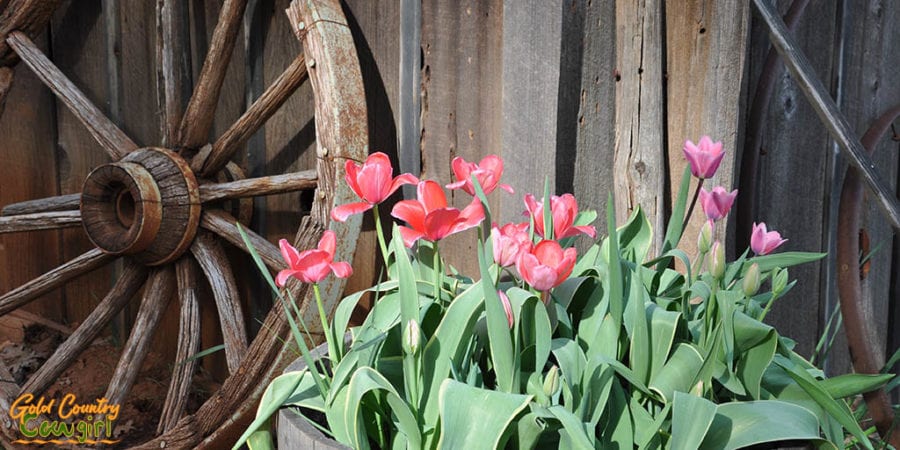 Daffodil Hill is a privately owned farm located in an alpine setting at an elevation of over 3,000 feet. It is not formally promoted or publicized but still attracts thousands of visitors every year.
Approximately 7 acres is dedicated to daffodils! If mother nature cooperates, as many as 300 varieties of bulbs put out more than 400,000 blooms annually.
Information prior to the closure of Daffodil Hill (just in case it reopens):
There is no entrance or parking fee but there are yellow teakettles and pots around for those wishing to make a donation. The amount of donations partially determines the number of bulbs planted each year! For the past few years, they have planted around 16,000 bulbs per year.
The farm is open daily from 10 am to 4 pm during blooming season which is usually mid-March through mid-April. It opens for public viewing when 25% of the flowers have bloomed and closes when only 25% remain. When blooming season is over, it returns to being a working ranch and is not open to visitors.
Daffodil Hill is closed when it rains and for a time after. Call ahead to be sure it is open the day you wish to visit if it has been rainy or snowy. I was so dismayed last year when I learned people were climbing their fences when they had to close early. Please be respectful and don't do that!
Handicap access is limited. Pathways are gravel and dirt with some steep inclines so use caution with wheelchairs and motorized chairs.
No pets allowed.
Stay on the paths and do not pick the blooms!
12 Interesting Daffodil Facts
Narcissus is the proper name for the daffodil family
Daffodils are synonymous with spring
They symbolize rebirth and new beginnings
They are some of the easiest flower to grow and naturally regrow year after year
Daffodils are one of the rare plants than can grow successfully through snow
Each bulb produces only one flower per year
All parts of the daffodil are toxic to humans, animals (not life threatening) and other flowers
The toxic alkaloid, called lycorine, keeps predators away
Don't mix daffodils with other cut flowers without soaking their stems for 24 hours first
They are the 10th anniversary flower
They are the symbol of cancer care in many countries
A single daffodil represents bad luck while a bunch is believed to ensure happiness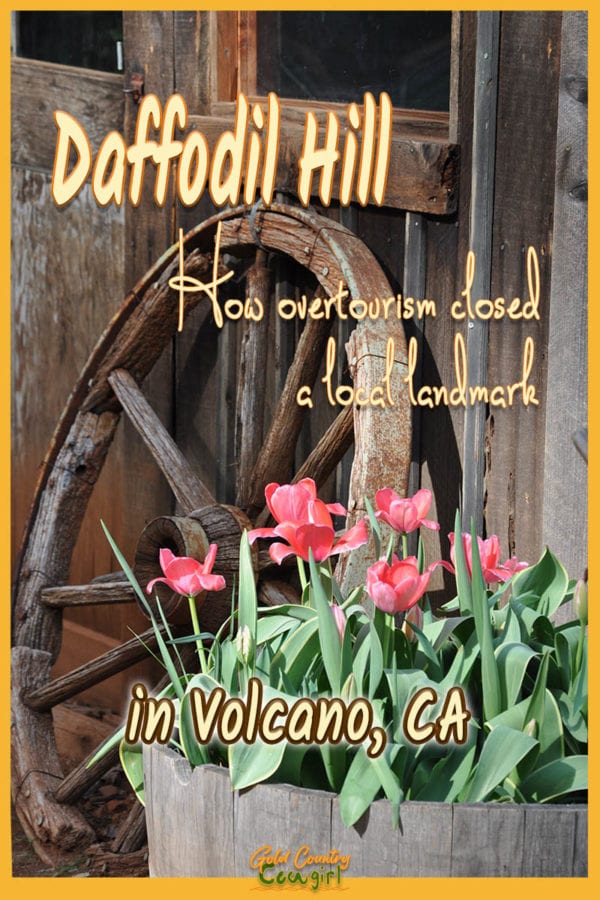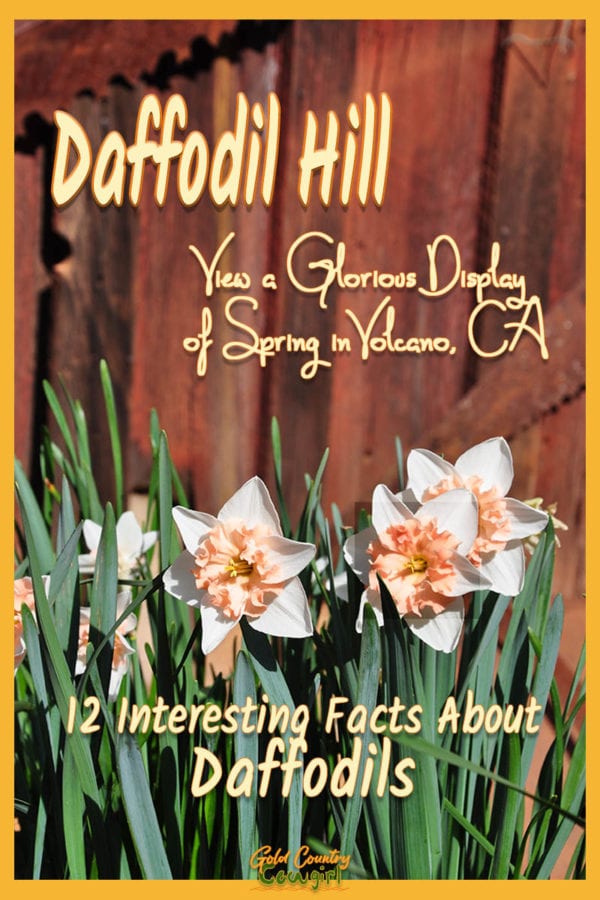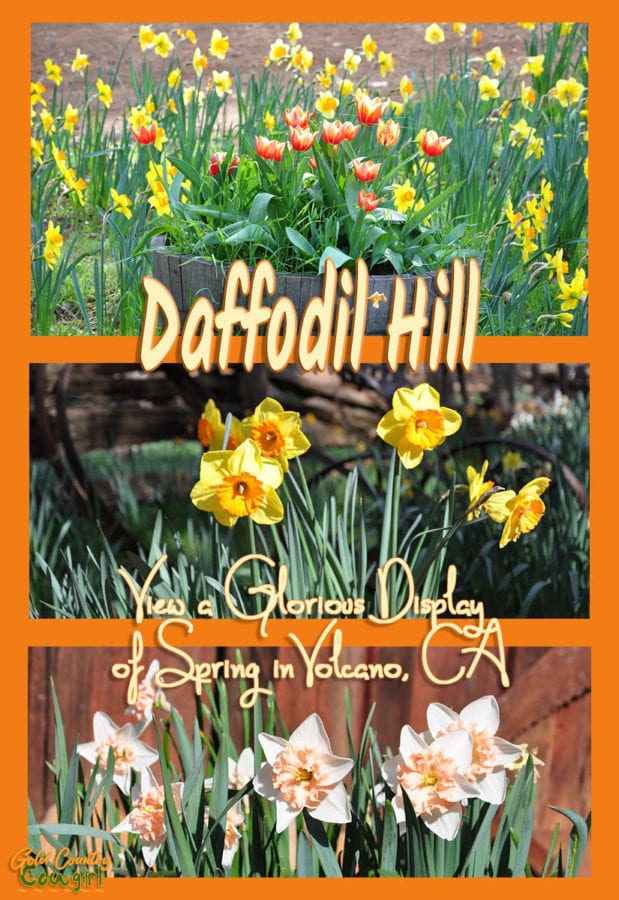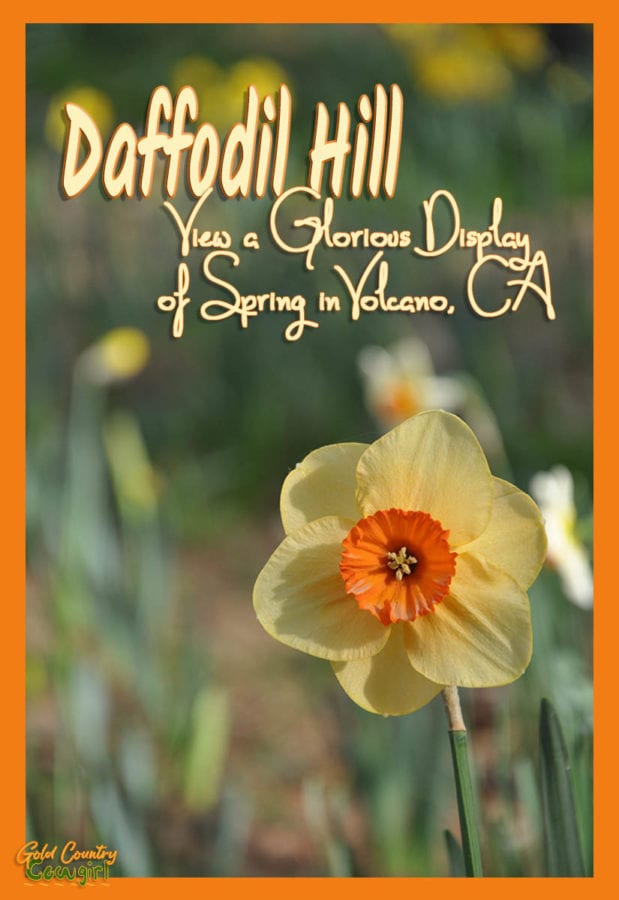 After you spend some time visiting the wineries, restaurants and shops in Amador County, you might want to check out some of these other nearby activities.
Were you able to visit Daffodil Hill in Volcano, CA, before it closed? What did you think of it? Do you have anything like this near where you live? I'd love to hear from you in the comments below!
Until next time…
(Visited 1,411 times, 1 visits today)