When I moved to Texas a few months ago and started researching where to go and things to do, I was almost overwhelmed. I knew Texas was a BIG state but I didn't quite realize how much there is to do here and how diverse the state is. My new home base is near the very southern tip of Texas in the Rio Grande Valley (in the South Texas Plains region) where nature and birding are king. I have started exploring this area and plan to slowly work my way north (and the little bit that there is farther south), exploring all the wonders of this amazing state. To help me in my exploration, I asked some fellow bloggers to give me recommendations of their bucket list things to do in Texas.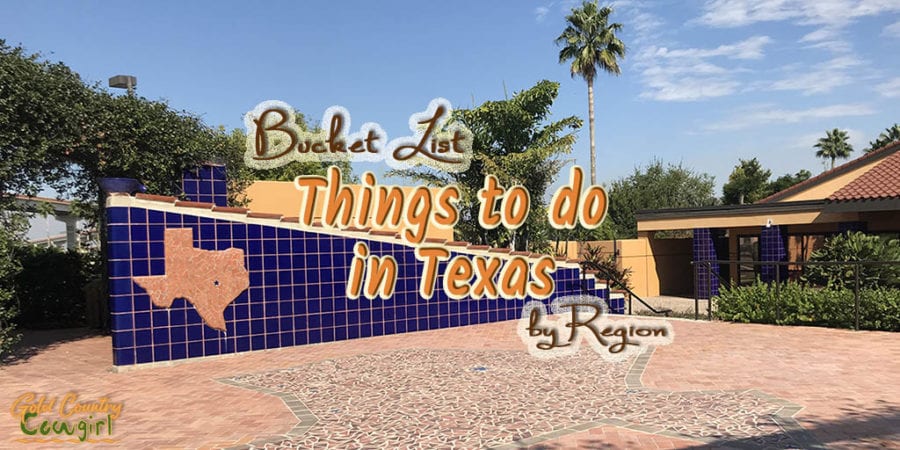 Geographic Regions of Texas
Texas is the second largest state in the US both in size (over 268,000 square miles) and population. Many people associate Texas with the southwestern deserts but less than 10% of Texas land is actually desert. The state is divided into seven widely different geographic regions that offer areas of prairies, grasslands, forests and coastlines. This list of things that should be on your Texas bucket list showcases at least one outstanding aspect of each region.
---
Bucket List Things to do in the South Texas Plains
Major Cities: San Antonio, Laredo, McAllen
Six Flags Fiesta Texas
Submitted by Rebecca of Adventures in San Antonio
When you visit San Antonio, you don't want to miss Six Flags Fiesta Texas. With nine amazing roller coasters and rides for even the youngest thrill seeker, Fiesta Texas is sure to please the entire family. Start your visit off with the world's first single rail coaster, Wonder Woman. It zips and turns faster and smoother than anything I've ever ridden before. Visit all the DC superheroes with a ride on Batman and Superman coasters as well.
If you're wanting to slow down for a minute and try a ride the whole family will enjoy, head over to the new Pirates of the Deep Sea on the boardwalk. It's the all new dark ride complete with blaster guns for the competitive members of the family. Stop and enjoy the history of the park with a ride on the train and wave to everyone as you pass them by.
Don't forget to enjoy some of your favorite theme park foods like churros, funnel cakes, hot dogs, pizza and an array of specialty seasonal foods. You're going to want to get the all-day dining pass deal.
If the Texas heat is starting to get to you, you can cool off at the amazing water park. It's included free with your park admission! There's a Texas shaped wave pool and a swim up bar, and slides in every size.
When the sun sets, head on over to Lone Star Lil's Amphitheater for the summer spectacular fireworks show. "Celebrate" is the perfect way to end an amazing day at this world class amusement park and it happens every night during the summer.
More about the South Texas Plains Region from Gold Country Cowgirl:
San Antonio Sightseeing: The Alamo, Pearl & River Walk
San Antonio Mission Trail: Visions of a New People and Culture
International Museum of Art & Science (IMAS) in McAllen
---
Bucket List Things to do on the Gulf Coast of Texas
Major Cities: Houston, Galveston, Corpus Christi, South Padre Island
Vietnamese-Cajun Crawfish in Houston
Submitted by Karen of Wanderlustingk
One of the best foods to try in Houston is Vietnamese-Cajun crawfish. This delicious fusion food was invented in Houston by Vietnamese chefs who moved from Vietnam to Houston in the 1970s. They came as refugees due to the Indochinese Assistance and Refugee Assistant Act of 1975. A large number of Vietnamese refugees ended up along the Gulf Coast where they became a large part of the Louisiana fishing community. Houston later became a hub for Vietnamese immigrants—and the influences of Cajun food came with them.
During crawfish season, which is between March and May, you can find various crawfish places around Houston popping up doing crawfish boils. Be sure to keep an eye out for Vietnamese-run crawfish boils.  If you've never had crawfish before, they're similar to shrimp* although a bit larger and live in freshwater.
Some of the distinctive flavors of Viet-Cajun crawfish are lemongrass, garlic, lots of peppers, lime, and onions. Be sure to bring your own gloves! It's generally extra to buy gloves and a good (and spicy) batch will make your fingers burn if you don't have gloves on. Still, it's worth the battle and there's absolutely nothing as delicious or distinctive as Viet-Cajun crawfish. So if you have the opportunity, be sure to try this delicious dish from Houston that is hard to find outside of this city. Crawfish is generally served with corn as well as bread, so come hungry as you're likely to come away stuffed after a pound (or two) of crawfish.
* Editor's note: Crawish are the freshwater cousin of lobster.
Experience Cajun Country in Beaumont
Submitted by Lauren of GoBeau
On the Lone Star-Louisiana border, Beaumont is really the best of both worlds – Southern charm with Texas-sized fun (and portions). A number of restaurants showcase the Cajun and Creole influences year-round. Dishes like gumbo, jambalaya, etouffee, shrimp and grits and boudin, are a mainstay on menus like Suga's Deep South Cuisine & Jazz where you get traditional cuisine and a soulful performance, also highlighting the musical roots of the region. For a more innovative take on the classics, Sweet Basil offers Vietnamese-Cajun fusion with seafood boils fresh from the bayou.
One of the best times to visit is during crawfish season (February – May) when tons of local haunts (some just open seasonally for the festivities) offer the option to pinch, twist and suck your way to a messy meal of mudbugs that just may double as foodie heaven. If you'd rather not get so hands-on, crawfish are featured in a number of dishes throughout the city from enchiladas to mac and cheese. Neighboring Port Arthur is the Mardi Gras capital of Southeast Texas so if you can make it down for Fat Tuesday, the festivities really heat up with a parade, carnival, pageant, and food festival with revelry running long into the evening. In short? It's the way to "Laissez la bon temps rouler" in Texas without having to make the trek to the Big Easy. And it's still totally acceptable to rock your boots and spurs.
More about the Gulf Coast from Gold Country Cowgirl:
The Murals of Downtown Harlingen
Museums of Harlingen: Early Rio Grande Valley to WWII
Geocaching with Harlingen Parks and Recreation
Gladys Porter Zoo in Brownsville, Texas
---
Bucket List Things to do in the Piney Woods Region of Texas
Major Cities: Nacogdoches, Tyler
Azalea Trail in Tyler
Submitted by Liz of eat move make
Nothing blooms brighter than spring in East Texas when the town of Tyler hosts its annual Azalea and Spring Flower Trail, a three week long celebration of spring's most colorful blossoms. People flock to Tyler for the chance to tour the city's largest historic district with its palatial homes and magnificent gardens.
With azaleas, dogwoods and tulips in full bloom, the spring splendor can easily be enjoyed by driving the ten-mile signed route, but since many of the homes open up their gardens to visitors during the event, people are encouraged to do some strolling and see the beauty up close.
Aside from the flowers, the celebration brings out the Azalea Belles, lovely young ladies dressed in antebellum gowns who serve as hostesses during the event. You'll find them greeting guests and posing for photographs throughout the neighborhood and gardens.
Get your cameras ready! This year's floral extravaganza takes place March 22-April 7, 2019.
---
Bucket List Things to do in the Prairies and Lakes Region of Texas
Major Cities: Dallas, Fort Worth
Perot Museum of Nature and Science in Dallas
Submitted by Jill of Lets Travel Family
If you find yourself visiting Dallas, you should make a stop at the Perot Museum of Nature and Science. Our full-time RV living family spent a week in the Dallas area last spring, and I was excited to bring our kids to this science museum.
During our travels, we have visited several science museums around the country. Yet this one stood out to me. Maybe it was the water features out front for the kids to cool off in that made it seem so special. Or it could have been the beautiful architecture. Or, it may have been the abundance of exhibits inside.
The Perot Museum has 11 permanent museum halls and several changing exhibits. If you enjoy seeing gems then you should really check out the Lyda Gems and Minerals Hall. You will walk up to see a 5-foot-tall purple geode!
Then climb the stairs to the top floor of the museum where you will fly like a bird in the virtual exhibit located in the Rose Hall of Birds. The museum is large and the lower level is often missed, but try not to leave without checking it out. You see, that's where you can find out if you have any Olympic-like running skills. Our son enjoyed racing the virtual T-Rex and I loved knowing that was not only exercising but also learning.
When you arrive at the Perot Museum of Nature and Science be prepared to pay to park. Parking is located across the street and under the freeway, providing covered parking out of the hot sun if you are visiting during the summer. Check their website for hours and prices.
Fort Worth Stockyards
Submitted by Anisa of Two Traveling Texans
To get a feel for what Texas would have been like back in the days of the Old West, you need to spend a day at the Fort Worth Stockyards. While the area has become more of an entertainment district now, it still holds on tight to its heritage. They have a cattle drive twice a day, a rodeo on the weekends, and a livestock auction once a week. You can also visit the Cowboys Hall of Fame, but the best way to learn about the history of the area is to take one of the 90-minute guided walking tours.
If you are looking for more things to do in the Fort Worth Stockyards, there are plenty of boutique shops. Kids (and adults) will love the Cowtown Cattle Pen Maze. On the weekends, you can ride the Grapevine Vintage Railroad. Plus, the Stockyards Museum has some interesting exhibits including the longest burning light bulb in the world.
In addition to those attractions, there are plenty of bars and restaurants in the area to choose from. Billy Bob's Texas is the world's largest Honky Tonk and even has live bull riding. Inside the old Stockyards Station, try the BBQ at Riscky's.
As you can see, the Fort Worth Stockyards is a great place to learn about the culture of Texas and have fun at the same time. That's why it needs to be on your bucket list of things to do in Texas!
The Sixth Floor Museum at Dealey Plaza in Dallas
Submitted by Sage of Everyday Wanderer
On a sunny November morning in 1963, President John F. Kennedy's presidential motorcade was following a slow, meandering route through Dallas.The sidewalks were thickly-lined with crowds of people who came out to greet him.
Protectively sandwiched between an unmarked white Ford hardtop carrying Secret Service agents and and a third car carrying presidential aides, President John F. Kennedy, Texas Governor John Connally, and their wives rode in an open-top convertible. As the motorcade approached slowed in front of Dealey Plaza, shots were fired from the sixth floor of the red brick building at the intersection of N. Houston and Elm. The president was killed and the governor was seriously injured.
Today the block-shaped building casting a shadow over the grassy knoll is home to The Sixth Floor Museum at Dealey Plaza. From Air Force One's arrival at Love Field to Vice President Johnson's swearing in, it leads visitors through the series of events that unfolded that fateful day. The self-guided tour includes an audio narrative by Pierce Allman, the first reporter to broadcast from the book depository the day Kennedy was shot.
In addition to the museum on the sixth floor of the Texas School Book Depository, take the time to explore Dealey Plaza. There you'll find a statue of George Dealey, the Texas businessman and newspaper publisher for whom the plaza is named. And just a few steps east on Main Street is the JFK Memorial Plaza that honors the assassinated president.
More about Prairies and Lakes from Gold Country Cowgirl:
Boondocking at Walker Honey Farm and Dancing Bee Winery
---
Bucket List Things to do in Hill Country
Major Cities: Austin, Fredericksburg, New Braunfels
Formula One US Grand Prix in Austin
Submitted by Michelle of Travel After Five
The United States Grand Prix is a Formula 1 race that takes place in Austin, Texas, each fall. The Circuit of the Americas track hosts the only Formula 1 race that takes place in the US, bringing in spectators from all over the world. At this race, you have the opportunity to see some of the fastest cars and most talented drivers on the planet!
The Formula 1 race is a three day event lasting Friday through Sunday, with smaller races and qualifying rounds throughout the weekend. You can purchase general admission tickets to the entire weekend for around $160, and while you won't have a seat in the stands, you have the flexibility of moving around the track. You can watch the race from different view points, to determine where your preference is for the main Formula 1 race. The main race on Sunday brings in a large crowd, so you will want to bring lawn chairs and set up a spot on a hill as early as you can.
In addition to access to the entire weekend, your general admission ticket also gives you access to concerts on Saturday and Sunday night. Even if everyone in your friend group isn't interested in watching cars speed around in record times, most people will look forward to the concerts at the end. In 2018, Bruno Mars and Britney Spears performed after the races – it will be interesting to see who they bring in 2019! The Formula 1 race in Austin has something to offer for everyone, and is a worthwhile weekend trip.
Wine Tasting in Texas Hill Country
Submitted by Jessica of My Curly Adventures
You really don't have to travel far with so much diversity of things to do in Texas. Texas even has its own wine country on the 290 wine trail throughout the Texas Hill Country including Fredericksburg, Burnet, Marble Falls, and other beautiful small towns. With over 70 wineries featuring Texas wines, California wines, and international wines, the Hill Country is the perfect Spring retreat and is quickly growing in popularity.
Grab a few girlfriends and make your way through some of the most popular vineyards in Texas, including Becker Vineyards and Chris Williams Vineyard. Another popular and fun winery is Fat Ass Winery with their mixture of fruity wines. Finish up your day watching the sun set over the hills at Arc De Texas with a glass of wine in your hand, of course.
You'll have to come back multiple times just to try everything. Go during the weekdays to be able to get a more intimate experience. Sommeliers are available to explain flavor profiles in greater detail and help you leave feeling like a wine aficionado. In addition to the vineyards, the Hill Country features some of the most adorable bed and breakfasts, beautiful places to hike like Enchanted Rock State Park, venues with live music, and historic German towns.
Hill Country Zip Line Adventure
Submitted by Julie of Chickery's Travels 
If you're looking for a new way to experience the beauty of the Texas Hill Country, Cypress Valley Canopy Tours is for you! This tour consists of a series of 5 zip lines that traverse from tree to tree with two sky bridges added into the mix. Named for the old-growth cypress trees, some over 100 years old, Cypress Valley offers the exhilaration of flying just 30 miles west of downtown Austin, Texas.
Most of Cypress Valley is a working farm and ranch owned by a family that is dedicated to conservation and natural preservation. The guides take their time to share their knowledge of the local flora and fauna adding to our enjoyment of the natural beauty of the ravine and surrounding area.
Don't worry if you've never zip lined before. Every participant is outfitted with safety gear including a harness, helmet, and gloves. After your gear is checked for fit and function, you'll head over to ground school to lean the course rules, hand signals, and techniques. Your first flight is a short and easy zip line across the valley. After the rush of the first flight, you should feel confident enough to continue the course, zipping over forty feet in the air, across lines that span up to 350 feet.
---
Bucket List Things to do in Big Bend Country
Major Cities: El Paso, Midland, Odessa
Hiking to Guadalupe Peak
Submitted by Jennifer of National Park Obsessed
Guadalupe Peak is the highest point in Texas. The mountain is 8,751 feet tall. Guadalupe Peak is part of the Guadalupe Mountain range and the centerpiece of Guadalupe Mountains National Park. The mountain is located in Western Texas.
Getting to the summit of Guadalupe Peak isn't easy but it is well worth the effort. To reach the summit, you have a 4.25-mile one-way trail with 3,000 feet of elevation gain. This trail is long and winding and takes the average hike between 6-8 hours. With the steep elevation gain, the trail features a lot of switchbacks in the first two miles. The trail is mostly open to the element but there are a few stands of trees along the trail.
The worst part of the trail is at the 3.25-mile mark. At this point, you reach a flat section that appears to be the summit. Don't be fooled. It isn't, it's a false summit. You still have another 1 mile to reach the summit of Guadalupe Peak. As you climb, enjoy the view of the surrounding landscape. You will be able to see the summit of Texas's El Capitan and the surrounding desert.
You will know you have reached the summit when you find the steel pyramid. The steel pyramid was placed on the summit in 1958 by American Airlines to commemorate the 100th anniversary of the Butterfield Overland Mail route. Don't forget to locate and sign the summit register. It's in a steel ammunition box.
A word of warning. Pay attention to the weather during your hike. Afternoon thunderstorms are common. Please descend if one is developing. Check with the visitor center before hiking. High winds are common and winds in excess of 80 miles per hour have been recorded on the summit.
Hiking Big Bend National Park
Submitted by Erin of Sol Salute
Big Bend National Park may be one of the least visited national parks, but it should be on the top of all Texans' bucket lists. This small but stunning park sits in the deep bend of the Rio Grande River in West Texas. It's the only national park to house an entire mountain range within its borders. The Chisos Mountains rise up from the desert and are host to miles of hiking trails. The best hikes in Big Bend make every second you spend in the car worth it.
There are 150 miles of hiking trails to choose from ranging from moderate to strenuous. There are three types of hikes: mountain hikes, desert trails and river trails. If you only have time to do one hike, I recommend the Lost Mine Train in the mountains. It's moderate in difficulty and the views from the top are priceless. Mule Ears and the Santa Elena canyon are popular hikes in the desert if you're visiting in cooler months.
Big Bend is most busy during the Thanksgiving and winter holidays. Schools are out and the cooler temperatures allow for you to better enjoy hiking in the desert. That doesn't mean you shouldn't visit in summer! We went in August and had a lovely time, but weren't able to do any hikes in the desert for obvious reasons. The hikes in the Chisos Mountains offered cooler temps with intermittent storms to cool us off. This park holds a special place in the heart of those who visit it. I for one have fallen in love with Big Bend and count the days until I can return!
---
Bucket List Things to do in the Panhandle Plains Region of Texas
Major Cities: Lubbock, Amarillo, Abilene
Palo Duro Canyon
Submitted by Kristen of Yonderlust Ramblings
Inconspicuously hiding in the panhandle of Texas resides the second largest canyon in the United States, Palo Duro Canyon. Palo Duro Canyon may be the smaller sibling of the Grand Canyon, but it easily rivals it in rugged, secluded beauty.
Palo Duro Canyon is located in Palo Duro Canyon State Park, just southeast of Amarillo, Texas. Entrance fees to this state park are $5 per adult. There are RV, tent only, primitive hike in, and equestrian camping sites, ranging nightly from $12-$26. If you are looking for more rustic lodging options, there are cabins available for rent, from $60-$125 nightly, which offer picturesque, panoramic views of the canyon.
Palo Duro Canyon is also home to some of the best hiking opportunities in all of Texas! There are sixteen designated hiking, biking, and equestrian trails that call this canyon home, ranging in length from half a mile to almost nine miles long! My favorite hike is the Lighthouse Trail, which leads to the iconic natural formation from which this trail gets its name. On this hike, visitors can witness cliffs, canyons, towering rock formations, hoodoos, and open desert expanses striated with various sediments and vibrant colors, and maybe even witness some of the wildlife that call this park home, including horned toads, king snakes, and deer.
Here in Palo Duro Canyon, hiking can take you everywhere, including caves etched by running water, "gardens" of rock formations, historic bridges and remnants of early Texas history, the banks of ruddy canyon rivers, and stunning scenic overlooks. Whichever trails you choose to explore, keep an eye out for some of the Lone Star State's most recognized residents, the official Texas longhorns herd!
---
What would you add to these bucket list things to do in Texas?
Is this an awesome bucket list of things to do in Texas or what!?! I can't wait to visit some of these places and this list barely scratches the surface. Have you visited any of them or have other recommendations? I'd love to hear about your bucket list things to do in Texas!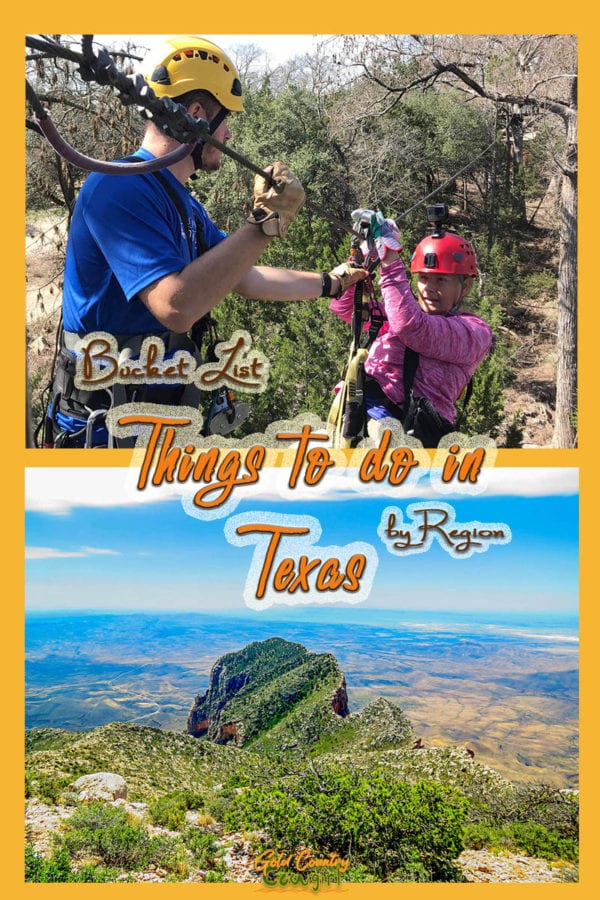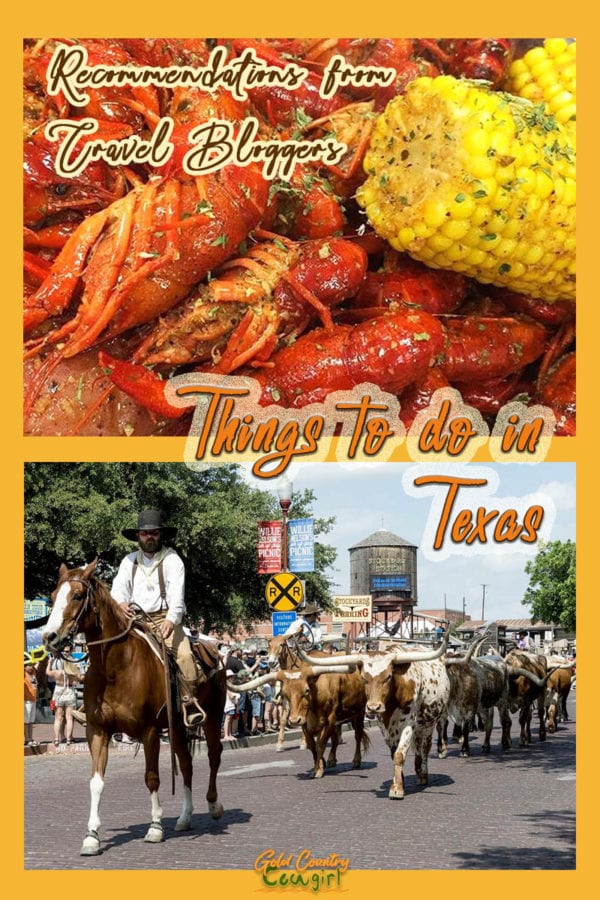 Until next time…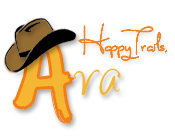 (Visited 2,060 times, 1 visits today)