Amador City, population 200, was a booming town during the California gold rush. The Keystone Mine was one of the highest producing mines in the area and as many as 5,000 people lived and worked in the town during that time. Most of the buildings, including what was to become the Imperial Hotel, were wood frame and, as with most mining towns, there was a fire that burned the majority of the town to the ground.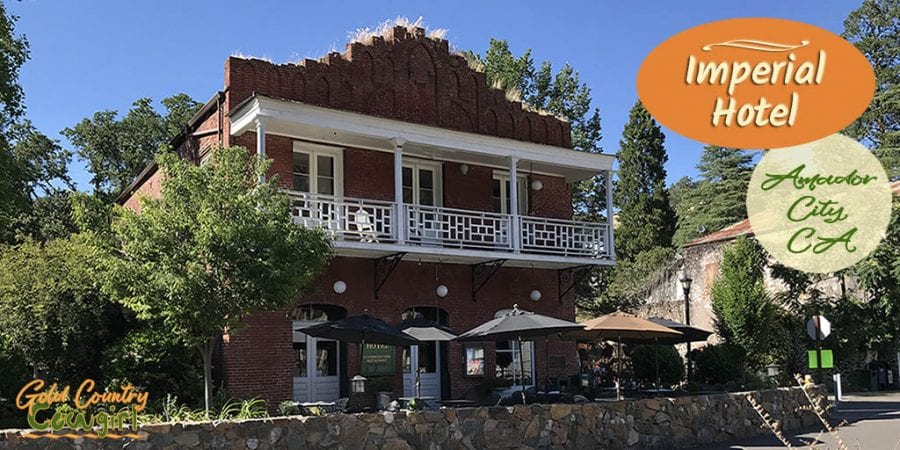 After the fire in 1878, the structure that would become the Imperial Hotel in Amador City was rebuilt out of brick. The owner at the time was Mr. Sanguinetti and the hotel was called The Italian. Some time in the 1920s the name was changed to the Imperial Hotel but no one seems to know exactly why. The Imperial operated as a hotel from 1878 up until about 1927 when it was boarded up and it remained boarded up for 40 years.
In the late 1960s, a family from Southern California bought up much of the town, including the hotel, and reopened the building with small shops in it and apartments upstairs. They renovated it back to a hotel and restaurant in the 1980s with an Edwardian theme, thus all the palm trees and camels you'll still see a glimpse of here and there. In 2004, they sold the hotel to their executive chef who operated it for a couple of years.
The current owners, Mary Ann McCamant and her husband Jim, purchased the Imperial Hotel in Amador City in 2006. They were bay area professionals on the verge of retirement and looking to buy a second home. They bought property near Fiddletown and built a house there. During this time, her younger son, his wife and three children moved up as well. They were the catalyst for the purchase of the hotel as they hoped it would be their career. It didn't take long for them to decide that the hotel wasn't for them and their career was more along the lines of making wine. You can visit them and taste their wines at Feist Wines in Sutter Creek.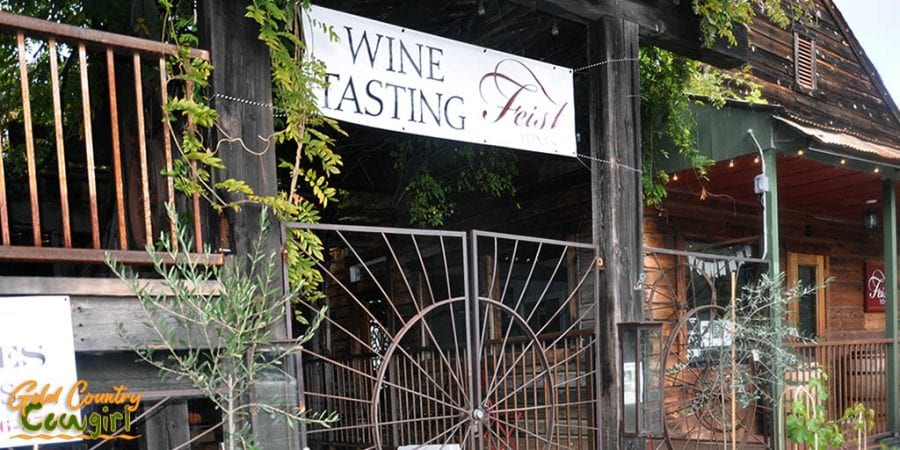 Mary Ann told me she and her husband thought they would run the Imperial Hotel for a couple of years and then sell it but they are still there nearly 12 years later. I asked her if it was because she was enjoying it so much. She said, "Every day is a different challenge and I love that about it."
Although nobody famous slept there, like John Wayne at the National Hotel in Jackson, Mary Ann says there are many wonderful stories about the history of the hotel. She has met people who were married or spent other important occasions there. She's even met a few who had shops in the building before it was renovated back to a hotel in the 1980s. Some say the hotel has a ghost or two, a cowboy and a young woman called "the White Lady" at least, but Mary Ann says she's never seen any sign of them.
The Amador City Imperial Hotel Rooms
Main Building
The Imperial Hotel sits on the curve of the road in Amador City, looking down what was Highway 49 before the bypass was built, and long before that, the Drytown wagon road. The view of the historic old town can definitely take you back a step or two in time.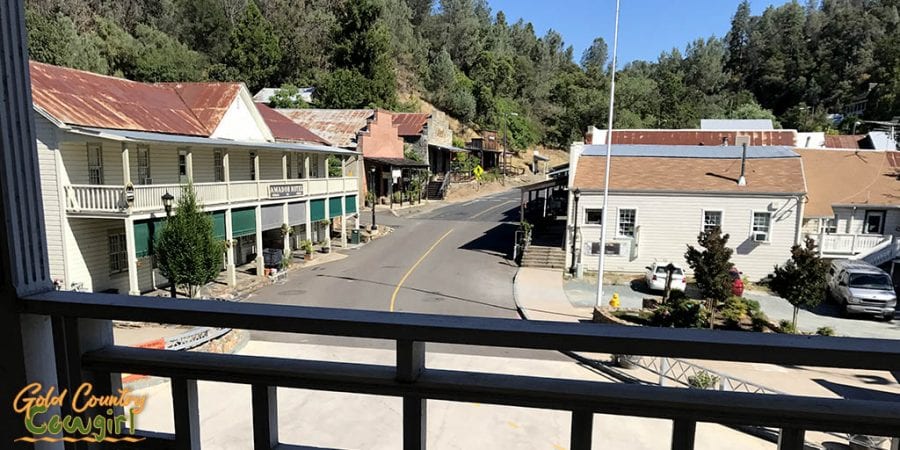 Six air conditioned rooms with private baths are located on the top floor. Each room has at least one original brick wall and awesome, high ceilings. You won't find any TVs or telephones here! Plan to listen to some music or read a book to relax when you aren't out sightseeing or wine tasting. Each room has a hair dryer, luxury amenities and fine-quality, all-cotton linens. Free wi-fi is available in the hotel. Rates range from $110 to $165.
Two rooms have direct access to the balcony overlooking Main Street where you can enjoy a cocktail or just relax and take in the view.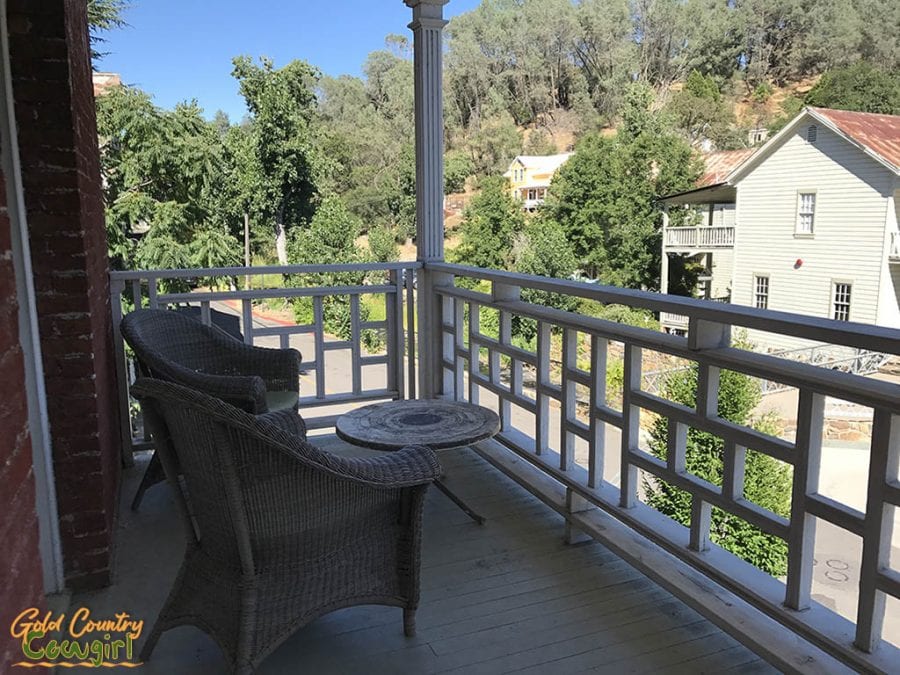 The Cottage Suites
There are three luxury suites located in a 1930s cottage a short distance from the hotel, high on a hill overlooking the town. These larger rooms have fireplaces, refrigerators, DVDs with a selection of movies, and two have jacuzzi tubs. The garden cottage suite is pet-friendly with a private porch and patio. Rates range from $125 to $195.
Visit their website for all the details and more photos.
Dining at the Imperial Hotel in Amador City
The Imperial Hotel is a bed and breakfast establishment so your room includes a full, hot breakfast served in the dining room every morning.
The dining room is open to the public for dinner beginning at 5 pm Tuesday through Sunday. They also serve brunch on Saturday and Sunday from 9:30 to 2:30. You can dine indoors or on the patio.
The Oasis Bar
Before you dine, be sure to check out the Oasis Bar. You'll see lots of history including the gaslights (now converted to electricity), antique bar stools and artwork.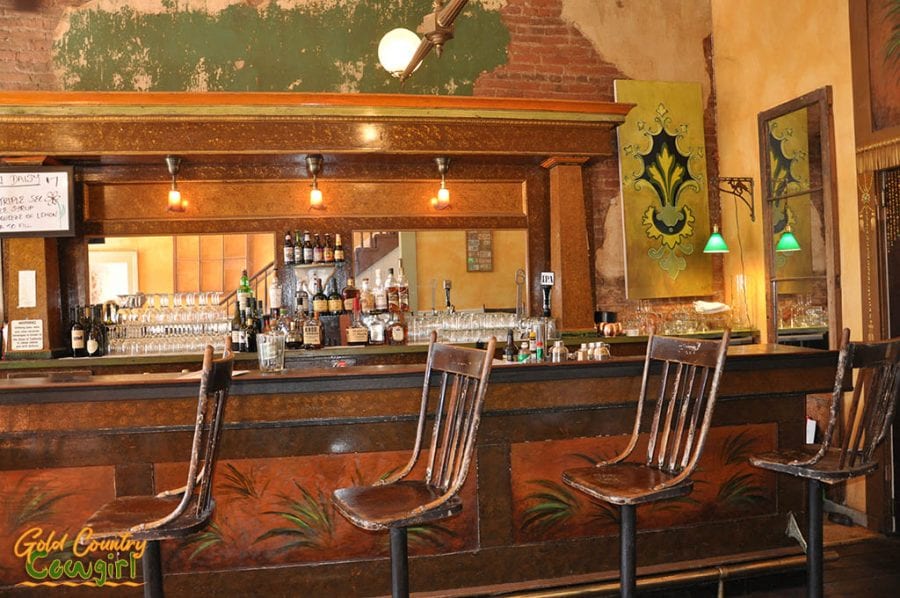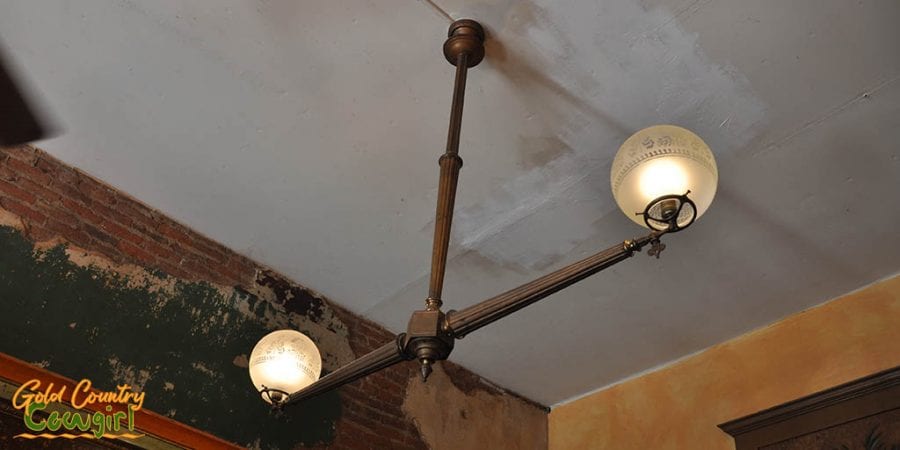 The bar is fully stocked with spirits, beer and wine. I stopped in a few weeks ago and Conner made me a killer Cosmopolitan! By the way, if you are on Instagram, be sure to follow me so you don't miss all the behind the scenes photos and things that don't make it to the blog.
The Food
The Imperial Hotel prides itself on featuring organic, locally grown produce, fresh meats and sustainably harvested fish and seafood. They don't have a huge menu but there is something on it sure to please everyone.
When I visited with Mary Ann to interview her for this post, I asked her what the most popular dish was in the dining room. She said the lamb is pretty popular. I hadn't had dinner and it was still really hot out so I didn't feel like cooking. I love lamb so I decided to treat myself and try it. It was AWESOME! Everything on my plate was well seasoned, the lamb was a perfect medium rare and the veggies were crisp tender. I was a happy girl.
I enjoyed meeting chef Kyle Silver and photographing him and the dishes he prepared the evening I was there.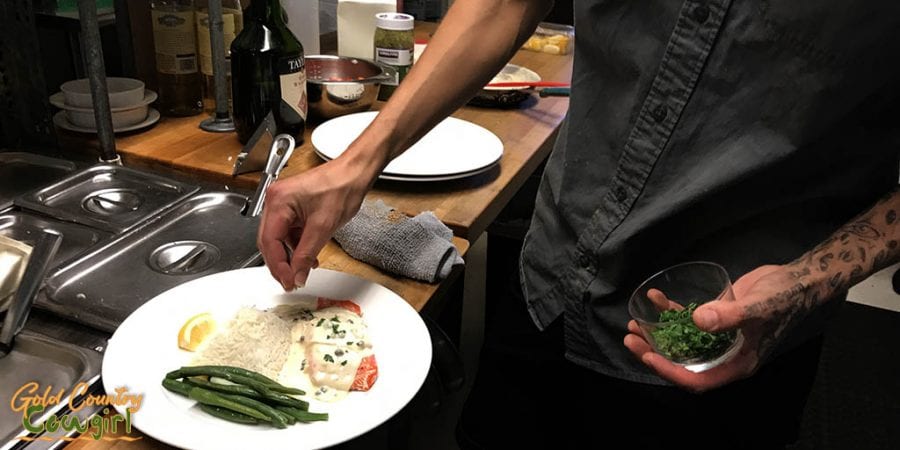 I was so impressed with the food that I had to take my out of town guests there for dinner. You know how it goes when you really talk something up. I had my fingers crossed that everything would go well and they did not disappoint. Service was impeccable and everyone raved about their meals. I had the duck breast, another favorite that I never make at home, and it was over the top.
Comfortable rooms, amazing food, a fully stocked bar and impeccable service!
Click To Tweet
Location
Although Amador City is the smallest incorporated city in California, covering less than a square mile, it has lots to offer. Main Street is dotted with unique shops, a wine tasting room or two and a museum. You can take a walking tour of the town or hike the back roads.
After you've explored Amador City, more shopping and wine tasting is just two miles away in Sutter Creek. Amador City is 15 minutes from wine tasting in the Shenandoah Valley with the Fairplay region just a little farther down the road. The quaint, historic town of Volcano and Black Chasm Cavern are 20 minutes away. 
Have you stayed or dined at the Imperial Hotel? I'd love to hear about your experience in the comments.
Until next time…
(Visited 1,227 times, 1 visits today)