March 7th was the 2nd anniversary of the Gold Country Cowgirl blog. I had intended to do a special post and a giveaway for the blog anniversary but between a three-day trip to Southern California, having company, lots of wine events, being sick twice and an especially busy couple of weeks of pet sitting, that special day came and went with hardly a thought. In fact, I haven't written a blog post since the end of February.
When I sat down and made a list of all the things I'd done over the past four to five weeks (and that list didn't include several personal events), I wasn't surprised that I haven't gotten much written and that I'm sick! The good thing is that several of the wine events provided inspiration for future blog posts.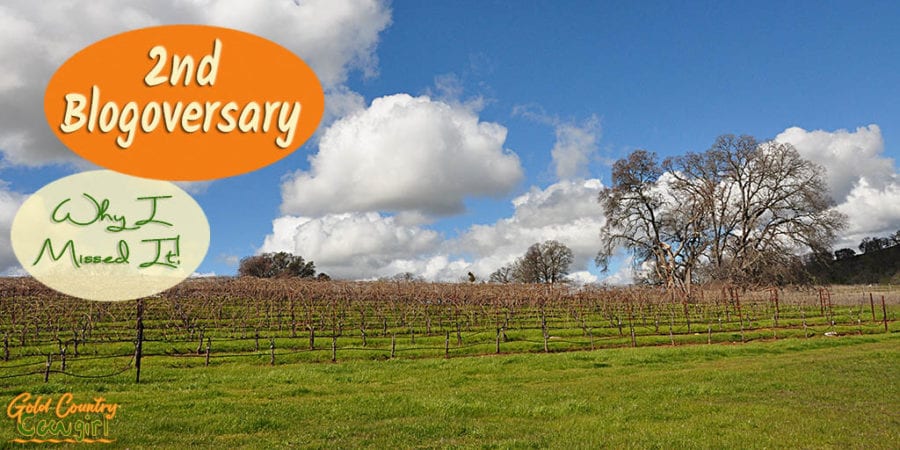 February: Travel, Wine Events, Sake and Beer!
February 3-5, I flew to Southern California to visit my friend Nancy who sold her horse property in Orange Park Acres. She was having a last hurrah party before down sizing and moving to the beach. It was a great party and I got to see some friends I hadn't seen in a very long time. Nancy and I got to share some quality time and I was able to spend some time around the water. I do miss the ocean at times.
After just a few days home, I had a crazy, busy four days.
On Friday, February 9th it was a day out in Amador City and Sutter Creek with the Mother Lode Newcomers' wine tasting group the Vineyard Vixens. We had lunch at Jamison's Ale House then headed down the block to Legendre Cellars. It was a beautiful day and owner Scott Mahon had set things up for us outside on the patio. He had prepared a barrel tasting for us of Syrah being aged three different ways. It was the seminar he was planning for his educational part of Behind the Cellar Door, one of the premier wine events in Amador County, so we got an advance preview. From there, we headed to Sutter Creek to visit our friends at Leoni Farms.
The next day, I went to the Cooper Vineyards release party with my friend, Celeste, who is a member there. They always throw a fabulous party with tons of food and wine. It was another beautiful day for an outdoor food and wine event in Gold Country – a little chilly but nice in the sun. 
We made a couple of other stops after lunch and on the way home I finally made it to Amador Brewing Company. I've been wanting to stop in there since I moved to Amador County.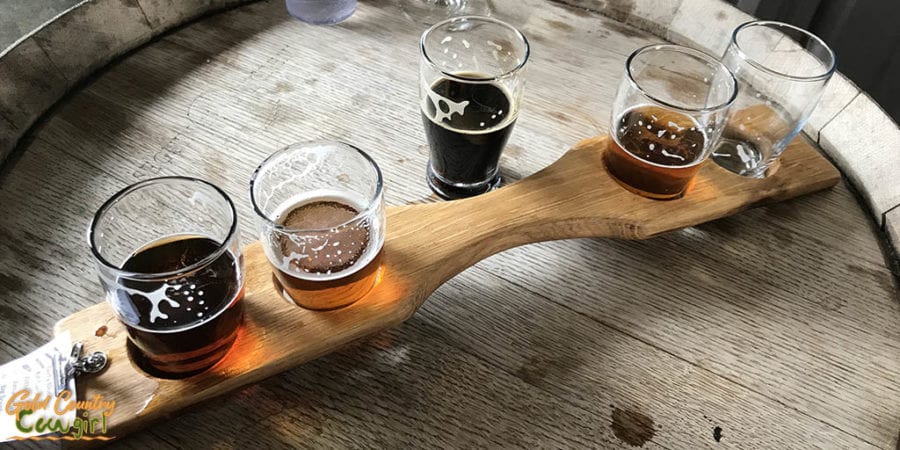 On Sunday, I took a few friends to the Terra d'Oro release party to pick up my club release. The weather had turned very cold and windy so the tasting room was pretty crowded with folks trying to stay warm. The soup they were serving was delicious—perfect for the cold weather. I thought I only wanted a small taste but it was so good I went back for seconds.
Since I changed the way I eat over a year ago, I haven't attended many Saucy Sisters' events. We always cooked up wonderful food, often involving sugar and lots of carbs, so it wasn't fun for me anymore once I quit eating those things. I do try to join them, though, when they do a field trip, so I was happy to tag along to the Gekkeikan Sake Factory on Monday. After a self-guided tour, we did a tasting. I think the most surprising thing to most of us who have ever had sake is that good sake is served cold. The warm house sake you get in many Japanese restaurants is lower quality.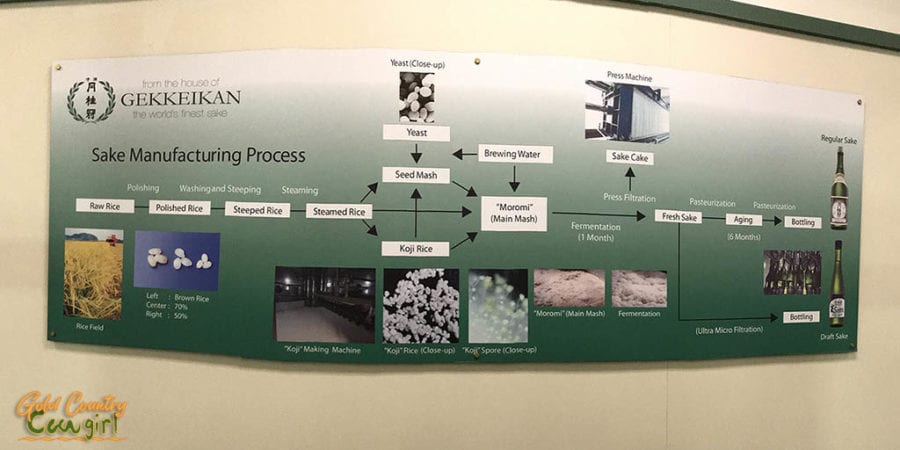 The next weekend, I had company from out of town who arrived on Friday night. It was my friend Joy's birthday weekend and she and her husband were here to celebrate. We had planned some things together for Saturday and Sunday and then they were off to Tahoe for Monday and Tuesday.
On Saturday, we went to a special Valentine's celebration at E16 Winery in Somerset. I love this winery and the owners. The tasting room is gorgeous and the owners are so gracious and welcoming. There was live entertainment at the event and lunch if you had pre-purchased it online.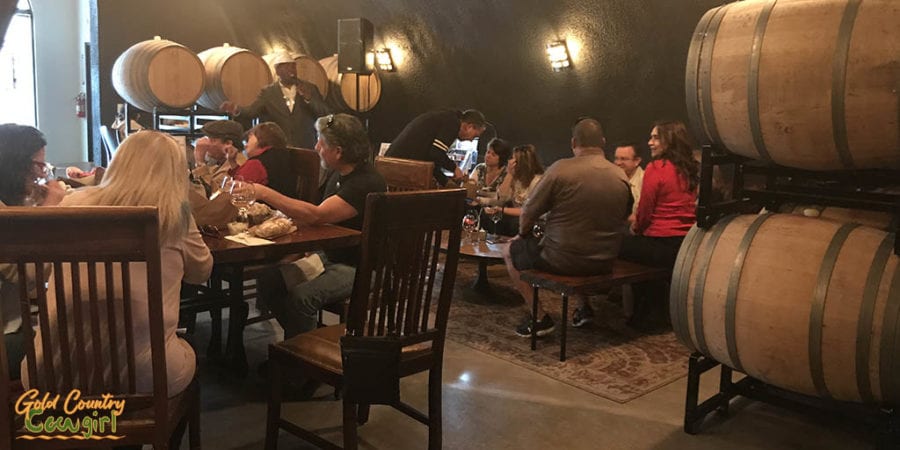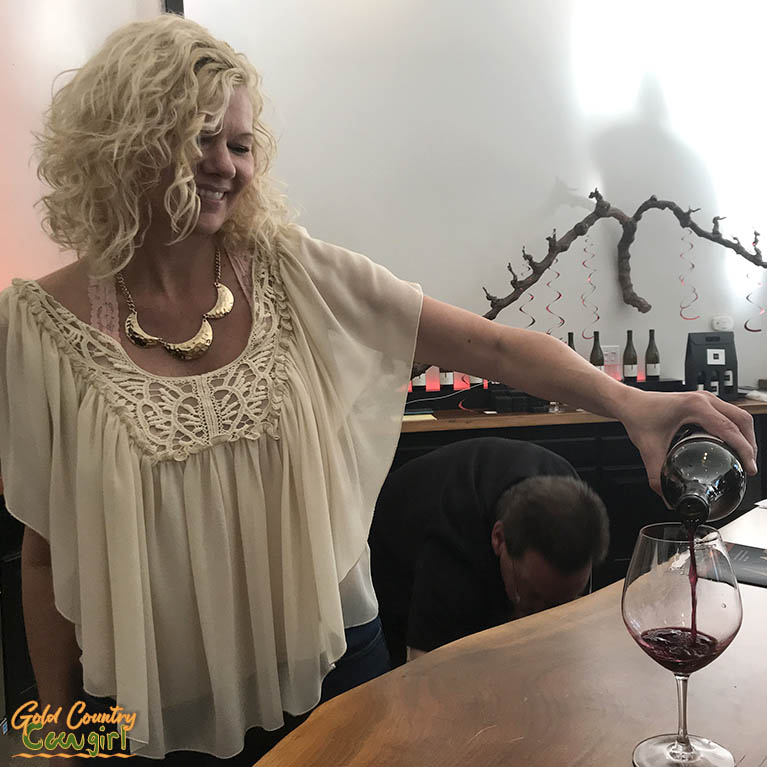 On the way home, we stopped at Jamison's Ale House, per Joy's request, for happy hour and some more live entertainment.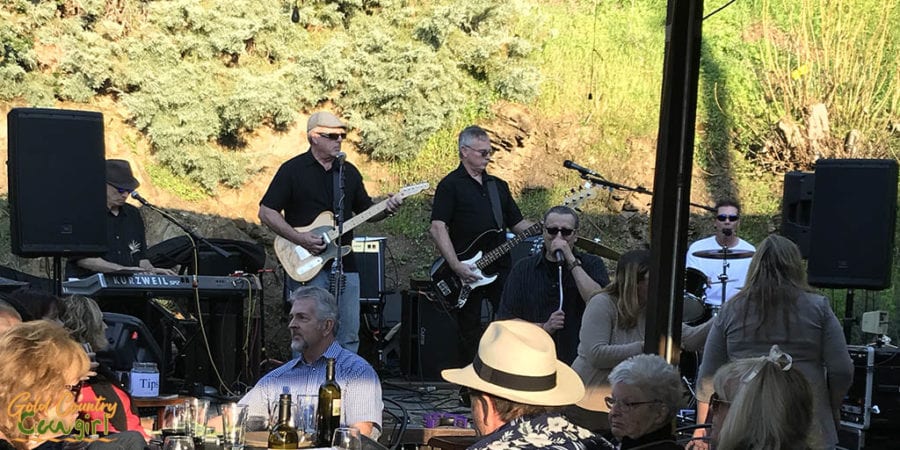 The next day, we headed out to Murphys where they were celebrating Presidents' Wine Weekend. We visited 10 tasting rooms but, of course, were careful to pace ourselves and only taste small amounts at each location. We had lunch at Firewood, a casual restaurant that serves burgers, pizza and salads. My bunless burger was so-so but the pizza looked and smelled amazing. Joy and Gaby said it was delicious.
Although there were lots of tasting rooms yet undiscovered, we were done with ten. It was still mid-afternoon so we went to visit Mercer Caverns which is just a mile out of town.
The following day, there was a chili cook-off in Ione that I really wanted to go to but it was the first day I was sick and I just didn't have the energy. I was sick for almost a week (I think it was a sinus infection) then I had a really busy 12 days of pet sitting during the rainy, snowy weather. I'm sure that didn't help me get well! While I was sick, I did get a couple of posts written and worked on a website for a client.
Early March Wine Events
Thank goodness, I felt my normal self by the time Behind the Cellar Door came around. I was scheduled to volunteer at Schmitz 24 Brix Wines on Saturday. Last year, I volunteered at Amador Four Fires and the Barbera Festival. I really enjoy volunteering at these wine events. You meet interesting people and get to see behind the scenes. You also earn free admission to the event, either for the rest of that day for a single day event or the day you don't work for a two-day event. I had a great time getting to know the folks at 24 Brix better.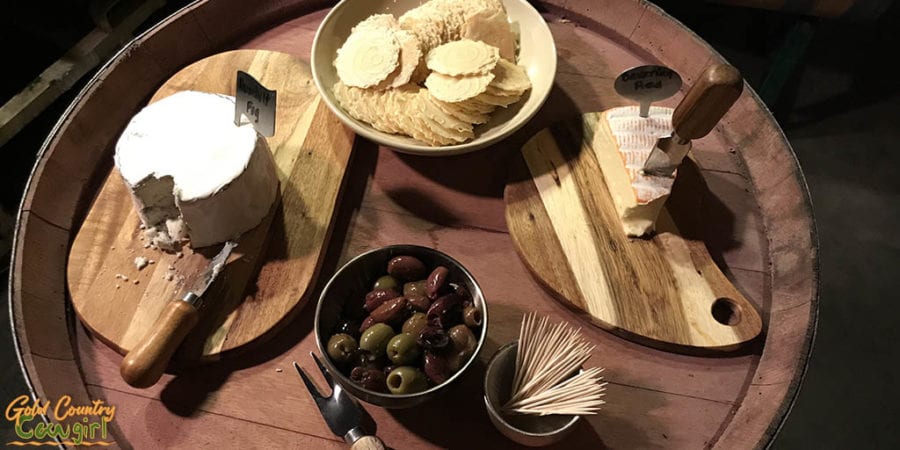 For my free day on Sunday, I decided to visit Convergence Vineyards and Rancho Victoria Vineyard which are not in the Shenandoah Valley with the majority of Amador wineries but rather off Highway 16 a little west of Plymouth. Since I am planning to bring the Vineyard Vixens to these wineries in June, I wanted to do a little reconnaissance beforehand. I was coming from Ione so this worked out perfectly. I visited Convergence a couple of years ago but Rancho Victoria is new to me. The location is stunning and I'm really looking forward to writing about them in the near future. I know the Vixens are going to love visiting here.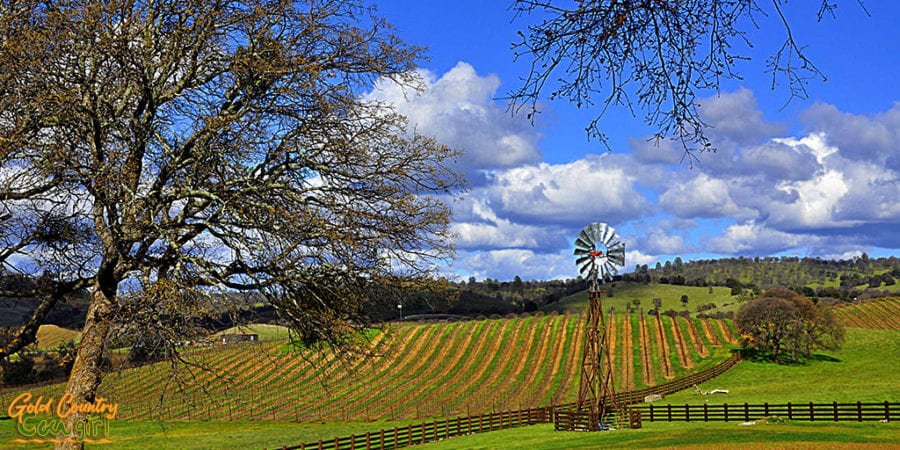 One of the best parts of my visit to Rancho Victoria was the educational seminar they put on. I met Diego Garcia who is the assistant sommelier at The Kitchen Restaurant in Sacramento. He walked us through a blind tasting of three different wines explaining all the aspects sommeliers use to evaluate wine. Of course, I had heard most of the terms but learned so much about what each means and how to use them when I'm wine tasting. I'll be interviewing Diego soon and telling you more about what I learned.
For a while now I have been hearing about Morse Wines/Il Gioiello Winery in Fiddletown and have been wanting to go but they are really off the beaten path. When I learned that Robert Morse is also the winemaker at Rancho Victoria, I decided that it was time to make the trek. It had been a beautiful but cool day and by the time I got there, it was quite cold and cloudy. The tasting was set up in the winery rather than the tasting room and the propane heater could not keep up with the chilly breeze blowing through. In spite of the cold, I had an interesting conversation with Robert Morse and got a bit of an insight into the wine industry in Amador County through the eyes of an owner.
By the time I got home that afternoon, I was exhausted. I woke up the next morning, sick again, this time all in my chest.
After a week of laying around, I couldn't wait to get out with the Vineyard Vixens. It was wonderful being outside in the fresh air! We went to lunch at Villa Toscano then wine tasting at Terre Rouge and Easton Wines.
We had planned to visit a second winery near Terre Rouge but Celeste had met a gal who worked at Iron Hub who told her they had moved the tasting room and invited her to visit. We all decided to go there instead. OMG! The old tasting room had a great view but the new tasting room is farther up the hill with an even more amazing view. The room is gorgeous and there's an enormous patio. I will be interviewing owner Beth Goodlin-Jones about the wonderful things they are doing there.
So, that's been my last four or five weeks. I was incredibly busy living the Gold Country lifestyle and things are just getting started here. There will be so much more going on in the Sierra Foothills of Gold Country in a few weeks. As soon as I'm 100%, I have a lot of follow up to do!
What have you been doing to keep busy? I'd love to hear about it in the comments.
Pin It and Save for Later
Until next time…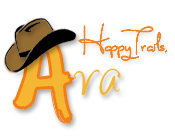 (Visited 254 times, 1 visits today)