If you haven't been to Murphys, you should definitely add it to your list of places to go in California's Gold Country. I have been there for special events like the Chili Cook-off, just to shop, and to stop for breakfast on my way to Calaveras Big Trees State Park. When you visit, it will be obvious why it was voted one of the top ten coolest small towns in America by Budget Travel Magazine. There are cool things to do in Murphys CA!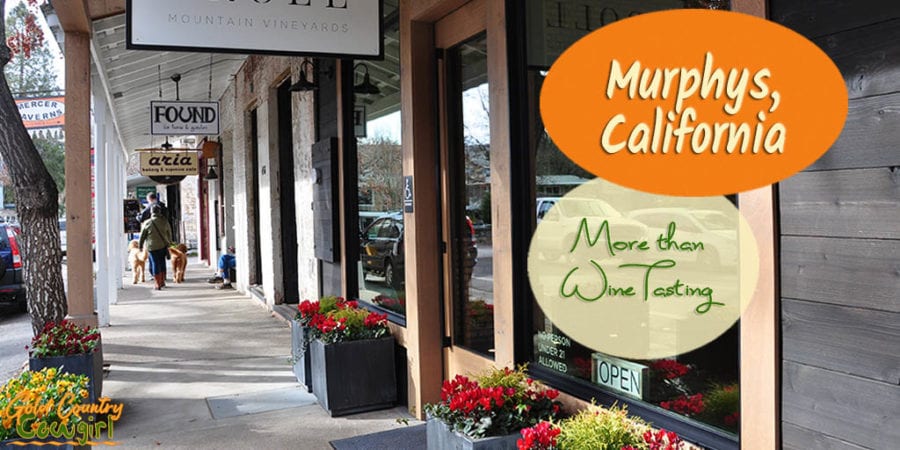 Murphys, California, is located in Calaveras County, about 3 hours east of San Francisco and a little less than two hours southeast of Sacramento. I'm only an hour away where I live in Amador County so I can visit often.
If you are planning to attend the Presidents' Wine Weekend coming up on the 17th and 18th like I am, I wanted to have a few things to recommend to you in addition to the wine tasting. I made another visit to Murphys and met up with Shelby French, Executive Director of the Calaveras Winegrape Alliance. She took me on a great walking tour of Main Street. Shelby used to own a walking food tour business in Murphys and she was a wealth of information.
Things to Do in Murphys CA
Murphys Historic Hotel
We started our tour at Murphys Historic Hotel which is the oldest, continuously operating hotel in the state. Lots of famous people have been to Murphys and stayed in this hotel. It was a stopping point on the way to Calaveras Big Trees, which was considered one of the Natural Wonders of the World at the time. The Ulysses S. Grant room is open for public view. Several other rooms are marked with the names of their famous guests which include William Randolph Hurst, Mark Twain and Susan B. Anthony.
The restaurant in the Murpys Hotel is rated #4 of 22 restaurants in Murphys on TripAdvisor. I've eaten there several times so can attest to the fact that the food is excellent. Every sauce, marinade, dressing and broth is homemade and made the classic way. Even the raviolis are homemade.
E Clampus Vitus
The E Clampus Vitus is an interesting organization with an unclear history so I am going to leave any research about them up to you. I'll just tell you that it is said they were created with "humor and absurdity in mind" and brought a lot of good will and cheer to the hard mining life. The fraternal organization is dedicated to preserving the history of the American West. They have erected many plaques throughout the West, often at sites overlooked by more traditional historical societies, like saloons and brothels. In Murphys, there is a wall with plaques honoring the local members along with some inducted honorees.

Murphys Community Park and the Murphys Pokey
Murphys Community Park is a great park with lots of picnic tables and barbecues. It even has a creek running through it. During the summer, kids and dogs play in the creek. The first Friday of the month from June through September, a popular local band plays in the gazebo. The entertainment is free. A local restaurant prepares dinner along with a wine pairing. Dinner tickets are available for purchase.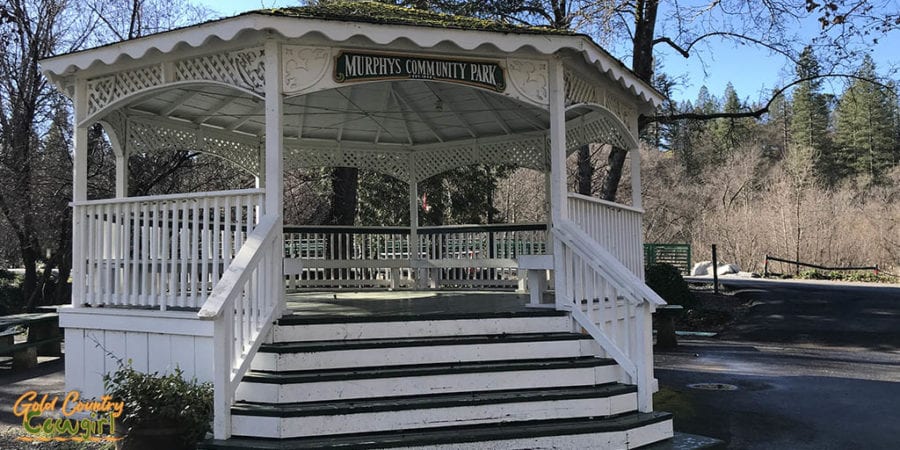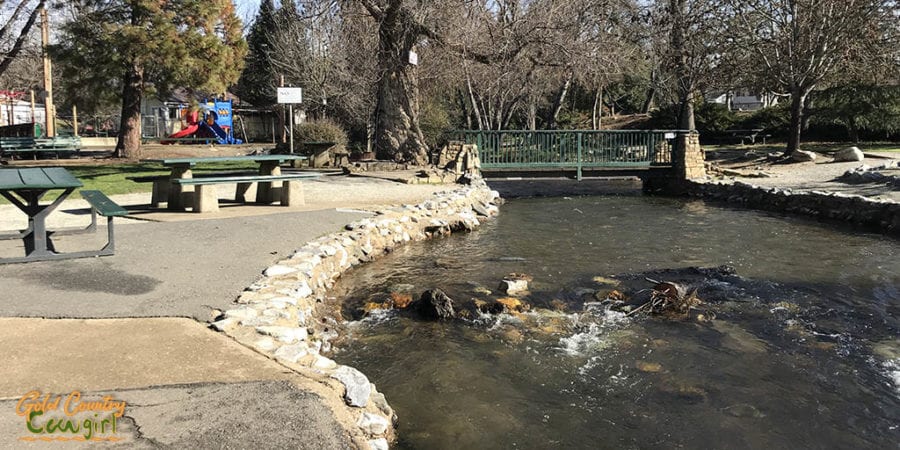 On the edge of the park, you can see Murphys Pokey, which was built around 1915. The previous jail was made of wood and located closer to the creek. Legend has it that the first inmate of this jail house was one of its builders who got too drunk and rowdy celebrating its completion.

The Michelson House
The Michelson House was the childhood home of Albert Michelson, the first person to win a Nobel Peace Prize for physics. His family came to Murphys from Prussia in 1855 when he was two. He was awarded the Peace Prize in 1907 for accurately measuring the speed of light. Einstein went on to discover ways to measure how light could be bent and manipulated many years later based on the discoveries set forth by Michelson.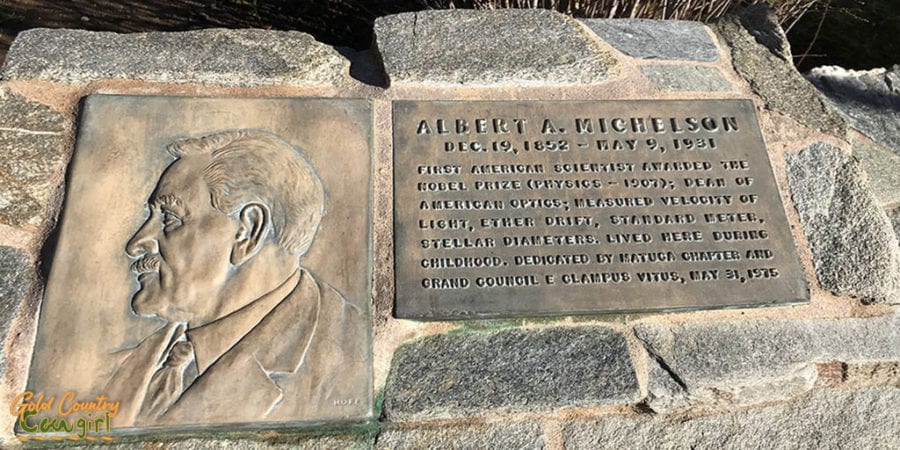 The house currently serves as the Hovey Winery tasting room. You can enjoy Hovey wines in the tasting room, on the porch, or at picnic tables (made by local high school students) on the shady lawn. The setting is very inviting.

Olive Oil Tasting
I have to admit, I'm a little jaded when it comes to olive oil. We have so much truly fresh, amazing olive oil in California that it's hard for others to compete for me. I like it pungent. That is the flavor I have come to expect and a lot of imported oils just fall short of what I like. I was a tad disappointed when we visited Marisolio Tasting Bar that they didn't have more California oils but they did say they were getting more. They have some recommendations of olive oil and balsamic vinegar pairings that are delicious together.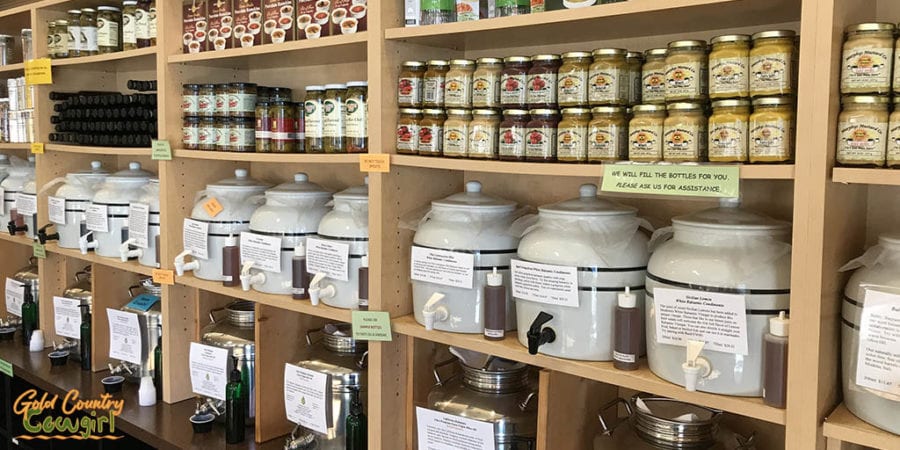 I may have been disappointed in the olive oil, but oh, the balsamic vinegar! There were so many flavors and I couldn't stop tasting. I couldn't decide what to get. I wanted one of each! Then I discovered the espresso flavor and knew that was it. I've been hooked on ice cream floats lately and the suggestion of using this vinegar for an "affogato float" grabbed my attention. An affogato (drowned) float is 1 part espresso balsamic poured over four parts vanilla ice cream. Of course, I tried it as soon as I got home and it was heaven.
The Spice Tin
If you like to cook, you won't want to miss The Spice Tin. They carry a wide array of herbs and spices as well as barbecue blends, sauces and dips, and accessories. Be sure to taste the pesto sauce which is locally made fresh and carried only at The Spice Tin. This is a popular spot with both locals and tourists. I love visiting spice shops and always pick up a new spice to try out.
Murphys Old Timers Museum
The Murphys Old Timers Museum has an extensive collection of mining artifacts, period clothing, photographs, news clippings and journals of pioneer families as well as superb examples of Miwok and other tribal basketry and tools. It would be easy to spend hours here.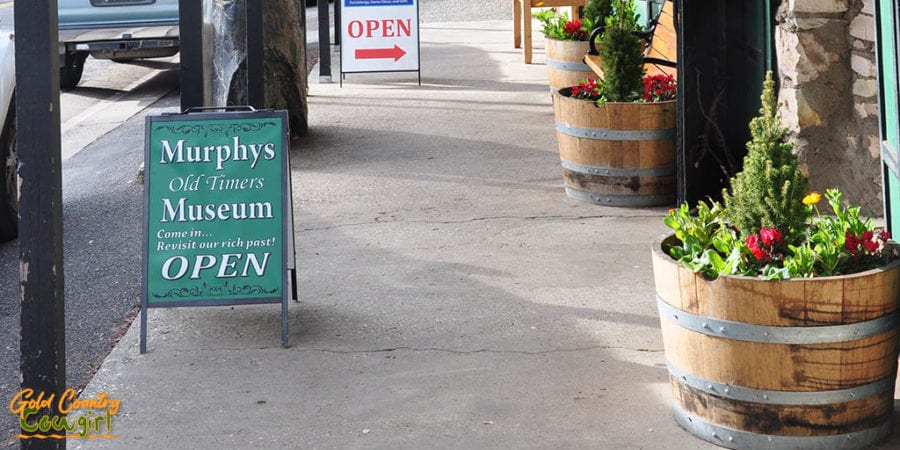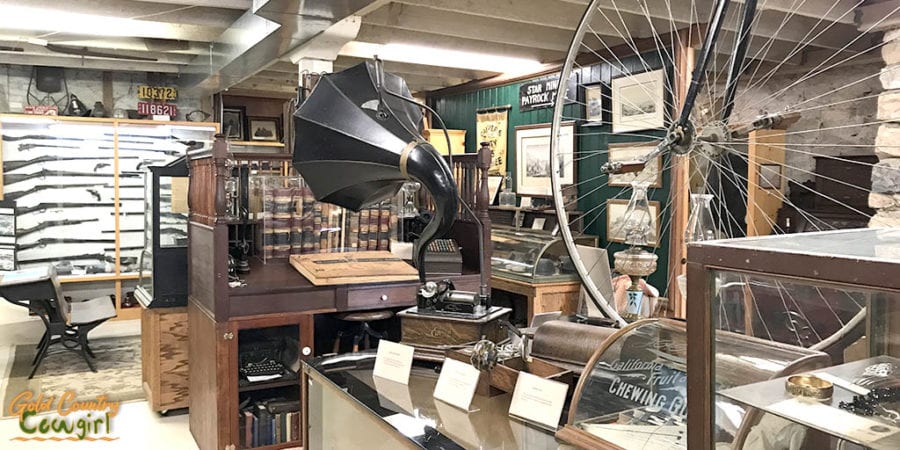 Wine Tasting in Murphys
I will admit that one of the most popular things to do in Murphys is wine tasting. After a fascinating and educational walking tour, Shelby took me to a few tasting rooms. I'll tell you about those after Presidents' Wine Weekend. There are more than 20 wine tasting rooms in Murphys but only one actual winery, Val du Vino. All the other wineries are located mostly along Highway 4. Click here for a map. Be sure to visit some of them during Presidents' Wine Weekend. They'll be less crowded than the tasting rooms.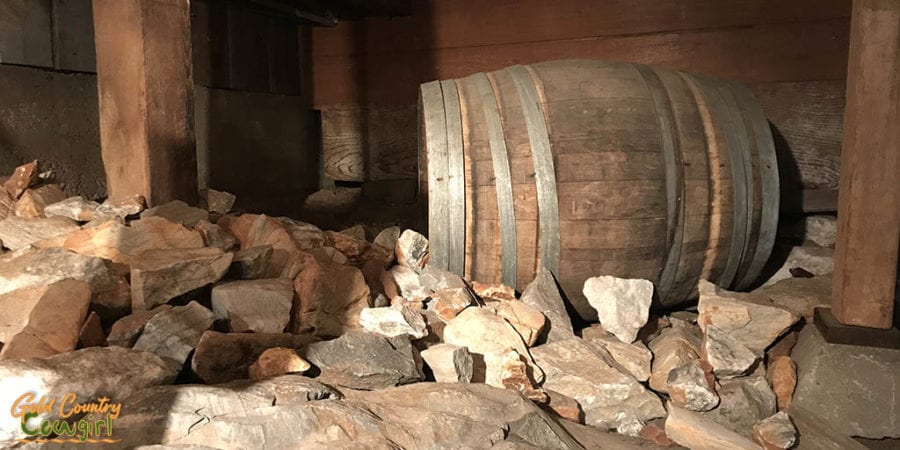 V Bistro & Bar and V Restaurant & Bar
After a fabulous day of touring and tasting, I had a late lunch at V Bistro & Bar (#6 of 22 restaurants on TripAdvisor) before I headed home. I had the roasted winter duck salad which was amazing.
V Restaurant and Bar (#7 of 22 restaurants) opened in 2004 and claims to offer the most upscale dining experience in Calaveras County. In 2011 the proprietors opened the V Bistro & Bar to offer a casual European style eatery. The two restaurants are next door to each other and adjacent to the Victorian Inn.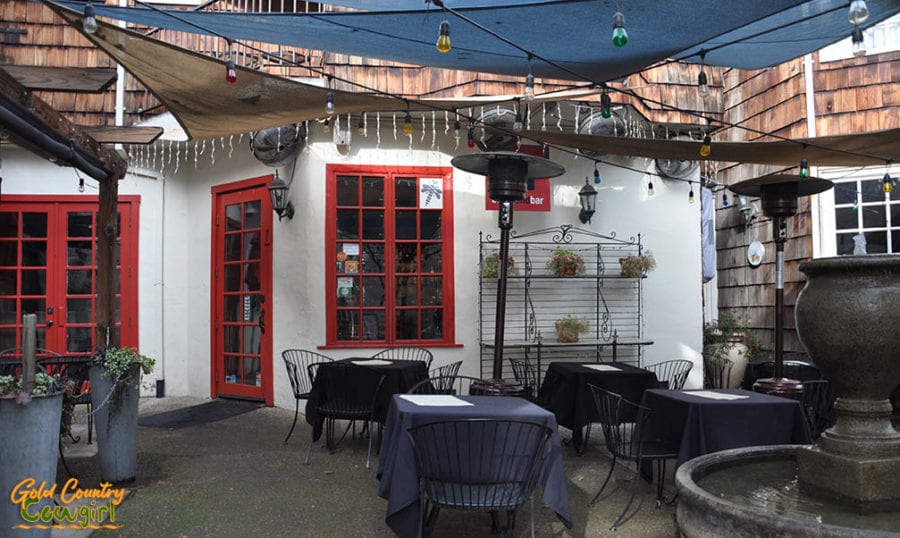 Murphys is a great little town and this is just a sampling of what it has to offer. Have you visited Murphys? Do you have a favorite spot to add to the things to do in Murphys, CA? I'd love to hear from you in the comments.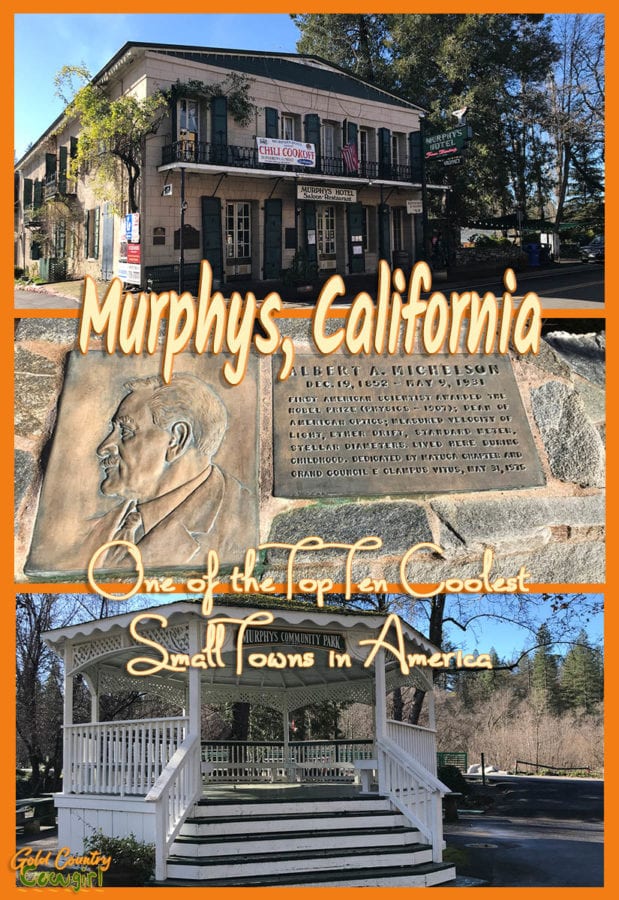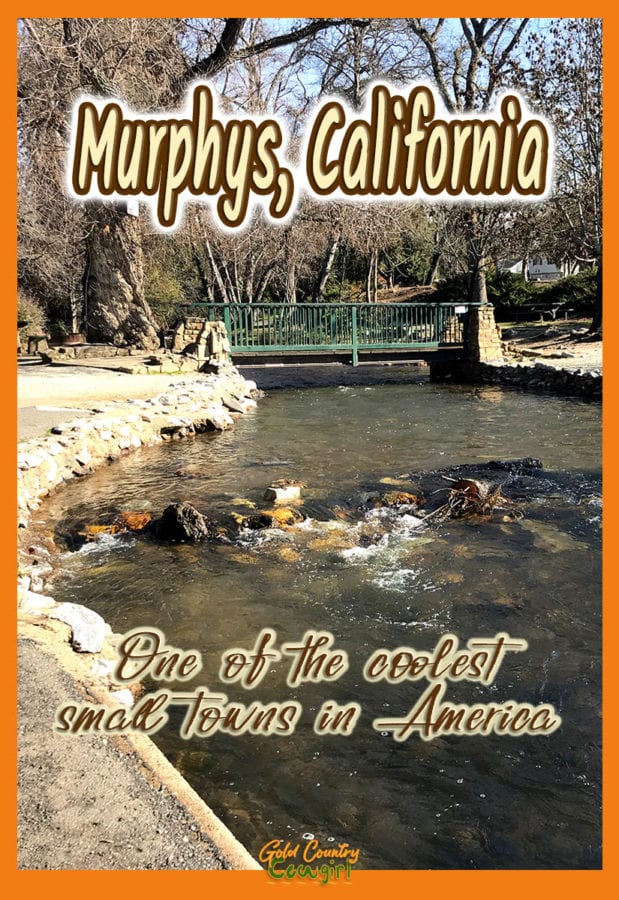 Until next time…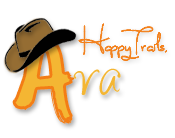 P.S. If you enjoyed this story, be sure to subscribe to the blog (in the sidebar) so you don't miss any future posts. While you are at it, leave your email below to receive my newsletter that contains behind the scenes stories and other exclusive content not found on the blog.

(Visited 4,150 times, 1 visits today)