One of the members of our wine tasting group, the Vineyard Vixens, had read some reviews of E16 Winery and suggested that it be one of our destinations for our September outing. It was a great choice but, sadly, the member who suggested it couldn't go! I guess we'll just have to go again.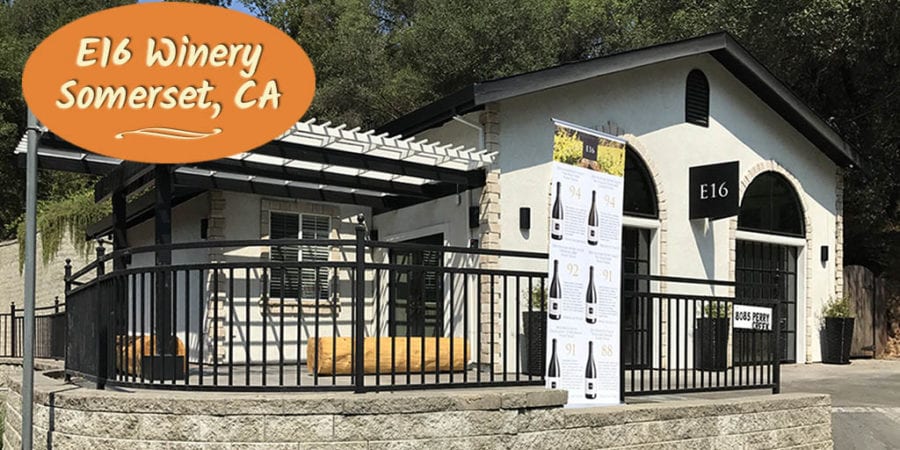 The E16 tasting room in Somerset, CA, has only been open for 7 weeks. Prior to that, they sold their wine to restaurants, including La Cave in Las Vegas where they had to pass a blind taste test to be accepted. In Amador County, you can enjoy E16 wine at Taste in Plymouth.
The E16 Winery Tasting Room
The E16 tasting room is located on Perry Creek Road up a little hill. The unassuming, rather stark white building gives you no hint of what you will find inside.
When we arrived, we were greeted outside and escorted inside. Beau and Mick, the two tasting room hosts, seemed quite happy to see us. Since the tasting room is so new, I imagine not a lot of people know about them yet.
Check out the urban-zen ambiance at this new tasting room in Somerset, CA. @e16wines
Click To Tweet
The bright and airy front tasting room reminds me more of a bistro than a tasting room. They call it an "urban-zen" ambiance. A couple of tables with seating compliment the tasting bar. The grape vines that are on the wall were in the vineyard eight weeks ago!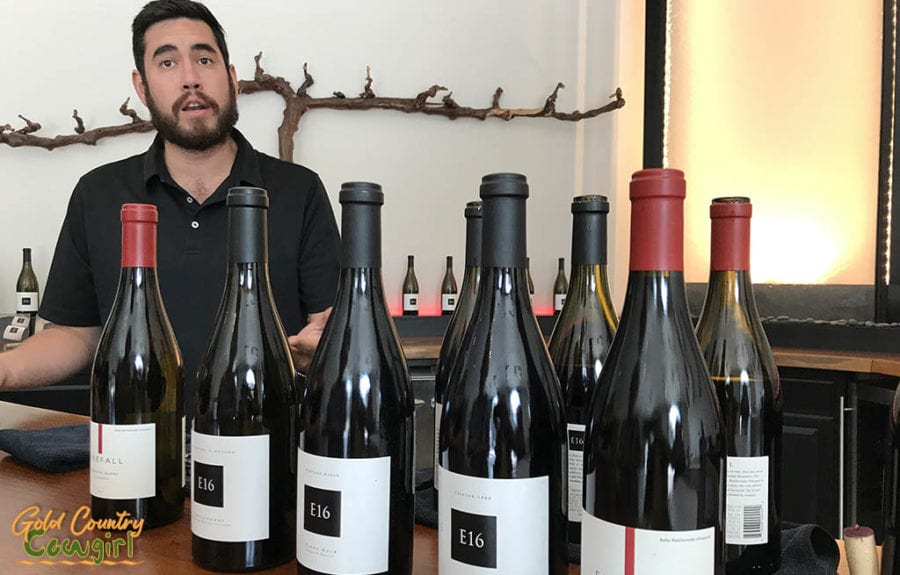 I was totally enamored with the cave, a 60-ft subterranean cavern, where they conduct private tastings by appointment. You can relax in one of the lounge areas or gather around the table for wine and food pairings. They offered the cave to us for our tasting since they had no appointments that day but we ended up at the front bar. The cave is decorated in a style that I find so cozy and inviting and I really wanted to taste in there but was out voted. One more reason to go back!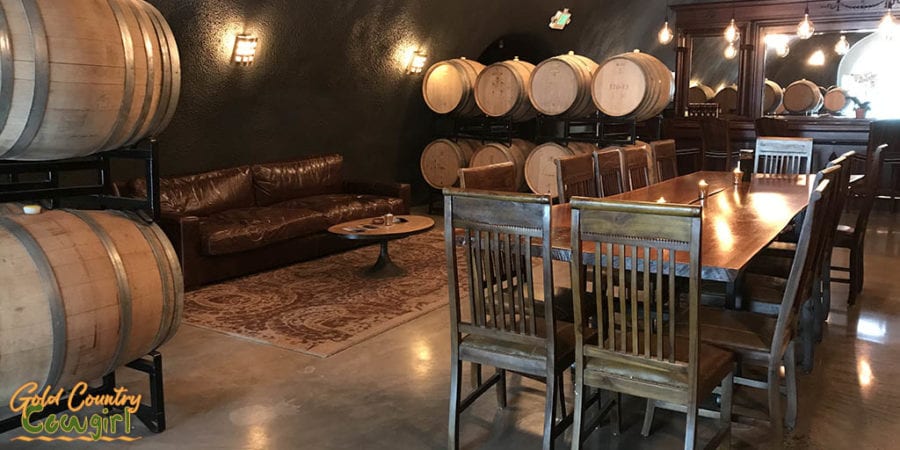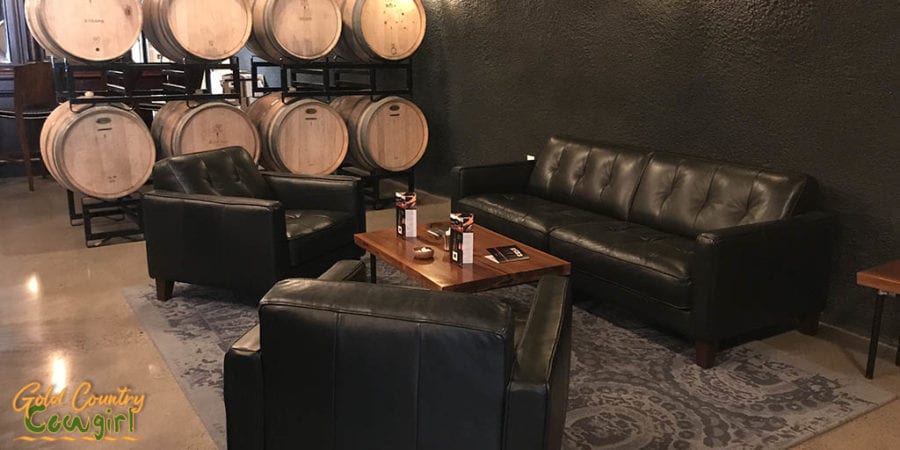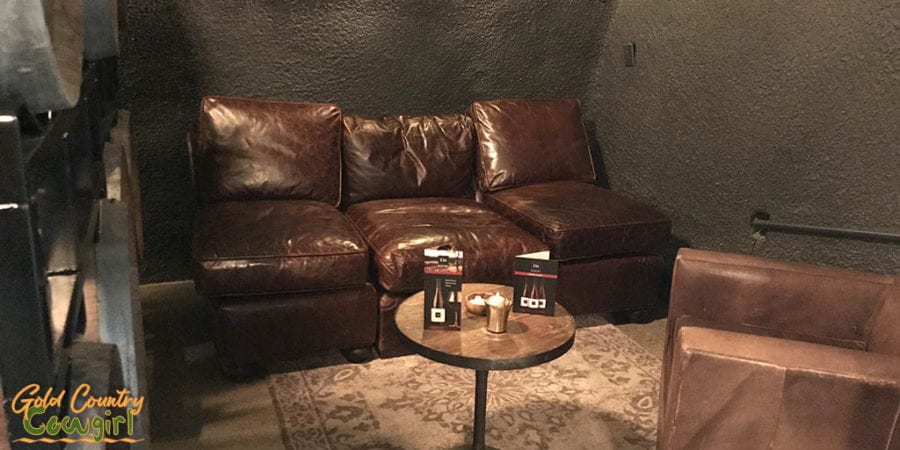 At the end of the cave is a single-piece, cherry wood bar from 1910 that came from Milwaukee, Wisconsin. It is rumored that some famous people sat at it before it moved to Somerset.
The E16 Wines — Two Labels
E16 Winery founder Robert Jones' grandfather planted grapes on a farm near Lodi, CA, in the 1940s. Jones purchased property in El Dorado County in the late 1980s where he wanted to recreate his grandfather's tradition. Grapes from the vineyard were sold to other wineries.
Jones took classes at UC Davis and began studying cool-climate pinot noir and chardonnay in the 1990s. He joined forces with winemaker Daniel Moore, one of California's most respected pinot noir producers, and they established the E16 wine program. The E16 label is strictly pinot noir and chardonnay (all rated 90 pts or more). The grapes are out-sourced from partner growers in the cooler California regions that these grapes prefer.
Once E16 was firmly established, the pair began concentrating on making Rhone varietals, from the Baby Rattlesnake Vineyard at Jones' El Dorado estate, under the Firefall label. Currently, they have grenache blanc and syrah available under this label.
The E16 wine is delicious but a little pricey for me so I took home a bottle of very tasty Firefall syrah.
The Details
E16 WINERY TASTING ROOM
8085 Perry Creek Road
Somerset, CA 95684
530-620-6200
Open Friday – Sunday 11am – 5pm
TASTING FEES
$10/person at the Front Tasting Room; $15/person for Private Cave Tastings (by appointment only)
Fee is waived with the purchase of wine
Pin It and Save for Later
Two other El Dorado County wineries you might enjoy reading about: Sentivo Vineyards and Toogood Estate Winery.
Until next time…

(Visited 726 times, 1 visits today)