When I lived in northern California, a big part of my life and this blog was visiting local wineries and writing about my experiences. I was a little disappointed when I started researching Texas wineries and learned that the closest region to my new home was about a four hour drive away. I knew that once I got back on the road in my RV, Texas Hill Country for wine tasting would be one of my first destinations.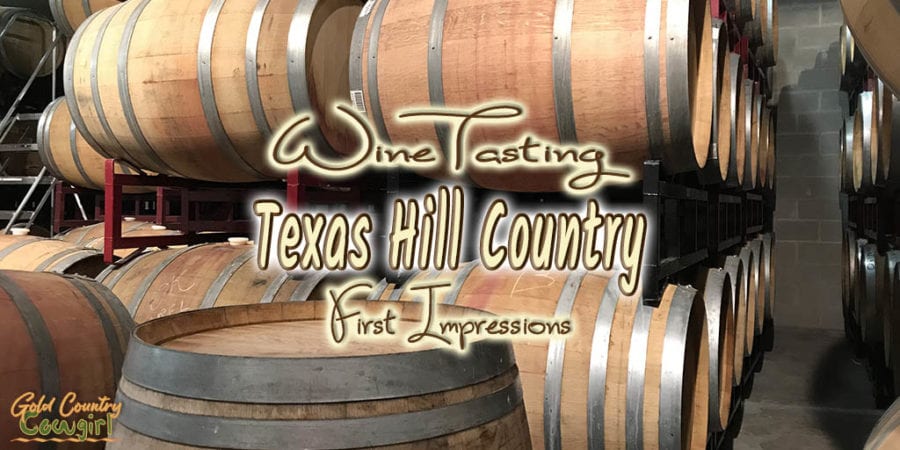 Texas Wine and Wine Tourism
If you are not familiar with Texas wine and wineries, you might be surprised to learn that Texas Hill Country is one of the most popular wine tourism destinations in the nation. With 5 million visitors a year, it is second only the Napa region in California.

Texas Hill Country is one of the most popular wine tourism destinations in the nation. With 5 million annual visitors, it is second only to the Napa region in California. Click To Tweet

Texas has three main, and very diverse, wine growing regions, encompassing eight AVAs (American Viticultural Areas). It is the fifth largest wine producing state in the US. Texas Hill Country lies in the central third of the state west of Austin and San Antonio. Although it produces only about 40% of the state's grapes, more than two thirds of the state's wine comes from the Texas Hill Country region.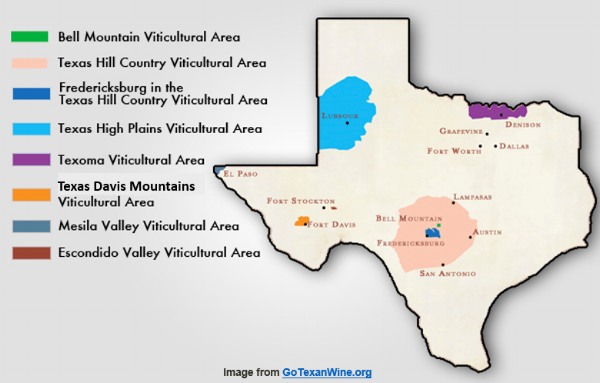 Before I arrived in Texas Hill Country, I did research and had a general plan of what I wanted to see and do. Once I arrived, however, I realized there was so much more than what I had already discovered, especially when it came to wineries. With more than 50 wineries to choose from, I was feeling a bit overwhelmed and I needed help! I sent out a plea to my wine tribe on Twitter for recommendations and they came through with awesome suggestions.

Where I Went Wine Tasting in Texas Hill Country
Wedding Oak Winery
The Wedding Oak Winery vineyard, along with their original tasting room that opened in 2012, is located in San Saba, about 70 miles north of Fredericksburg. The San Saba tasting room is in downtown as is their newest tasting room in Burnet. The Fredericksburg tasting room, which opened in March, is east on Highway 290, across from Alstadt Brewery.
I drove past the tasting room the first time. My GPS put it out in the middle of a field so watch carefully for the sign. Once inside, I was welcomed by Mike who was very friendly and knowledgeable about both the winery and the wines.
The Wine
In addition to using grapes from their own vineyard, Wedding Oak Winery partners with other growers to produce 100% Texas grown wine. They have a good selection of single varietals as well as some interesting blends. My favorite tasting was the 2015 Tempranillo Reserva but that tasting was just a tease. You have to be a wine club member to buy it! I tried to convince them to let me purchase a bottle but they stuck to their guns.
Since I couldn't purchase the Tempranillo, I settled for my second favorite – the 2015 Sangiovese ($29). This wine is 14% Tannat to give it more structure. Here's how former assistant winemaker and now winemaker, Seth Urbenek, describes it in a nutshell: medium acid with lively brightness; medium tannin balancing out the moderate acidity; medium bodied due to the moderate level of alcohol; bursting with vibrant aromas of red cherries, violets, ripe strawberry and cherry with a hint of black tea and cedar; lovely, long finish with red fruits lingering.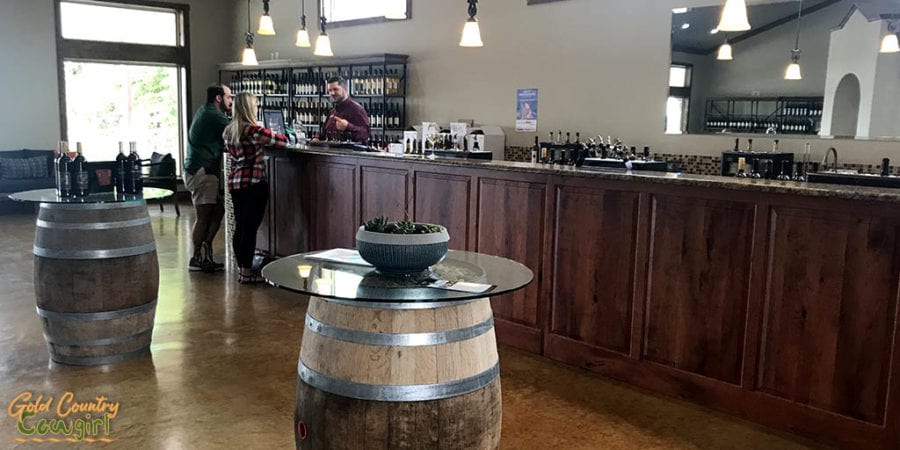 Becker Vineyards – Main Street Tasting Room
While I was exploring downtown Fredericksburg, I came across the Becker Vineyards Main Street Tasting Room. I had heard a lot about Becker Vineyards, so even though it was not on my list for this trip, I decided to take advantage of the downtown location and stopped in. The winery and vineyard is located on Highway 290, just a little east of Fredericksburg. More info on the winery will have to wait until after another visit to Texas Hill Country!
The name, though, wasn't the only lure. The scent of lavender outside was oh so beckoning. Once inside, I was surrounded by all sorts of lavender products as well as fun gadgets and decorations.
There is a 500-plant lavender field at the vineyard. Blooming season is April through May and you can stroll through the fields while you enjoy a glass of wine. Sounds divine since I love lavender. The Becker Lavender Festival is held the first weekend in May and features gardening tips, cooking demonstrations, wine tasting, and the popular vintner luncheons. Just one more reason to return to Texas Hill Country for more wine tasting!
The Wine
Speaking of wine tasting, tasting at Becker is $20 for six wines and a souvenir Riedel wine glass. This is the only place I've been (so far) that actually gives you tickets that you turn in per taste. They have a wide variety of wines ranging from dessert wines to dry reds.
Even though I only sampled reds, I had a hard time choosing six from the list of 20 offerings. I especially enjoyed the 2017 Cabernet Franc Reserve but decided to purchase the equally delightful 2015 Cabernet Sauvignon Reserve ($29.95) since it is only available at the Main Street Tasting Room. My purchase was not one of my six choices for tasting but my pourer insisted that I try it. It was my favorite of the three Cabernet Sauvignons that they offer.

Pedernales Cellars
Pedernales Cellars was high on my list of wineries to visit since it was recommended by several people, and I was not disappointed. The winery, vineyard and tasting room are a little off the beaten path but the location offers some amazing views. You can enjoy the view from the beautiful covered patio while you sip a glass of wine.
There is a tasting fee (I think it was $20) for six wines off a fixed tasting menu. The fee includes a souvenir glass. While I was enjoying my tasting, I asked my server, Ashley, about a tour. They offer barrel tasting tours by appointment only and none were scheduled for the day I visited. I asked about meeting the PR person I had been conversing with and learned that all the staff was in a meeting. Another strike out.
To my delight, during my tasting, all the staff, which included co-owner Julie Kuhlken, walked through the tasting room. My server introduced me and Julie offered to take me on a private tour! I was so appreciative that she took time out of her schedule to do that.
The Wine
Julie and her brother, David, who is also the winemaker, are co-owners of the winery they began developing in 2005. They source their 100% Texas grapes from the original Kuhlken Estate Vineyard, planted in the 1990s, as well as other Texas vineyards. They work with quite a few varieties of grapes – some as single varietals (a few reserved for members only) and many included in their blends.
After my tour, I returned to the tasting room to finish my tasting and make a purchase. I chose the 2017 GSM Melange ($35), a blend of 43% Mourvedre, 25% Grenache, 14% Cinsault, 10% Carignan, 4% Syrah, and 4% Petite Sirah.

Kuhlman Cellars
When I go wine tasting I always try to find something a little different, a little special to do, rather than just sipping wine. I'm always hoping for a tour but a wine and food pairing is especially exciting. When I saw the wine and food pairing on the Kuhlman Cellars website, I immediately made a reservation. I really don't like making reservations as I don't like to be bound by a schedule but I didn't want to miss this opportunity.
The tasting is held in a barrel room separate from the regular tasting room. I arrived a little early and they were still setting up for our group of 10. I used the time to take a few photos both inside and out.
The Wine and Food Pairing
Chef Chris Cook put together some tasty bites for our pairing. Each quarter the menu is posted on the website and you can see the description of my wine and food pairing below. The $30 fee for this Signature Pairing led by a sommelier includes five wines, five seasonal small bite food pairings, and "Wine 101" education. Our sommelier, Brandy, was so informative and entertaining that the time passed all too quickly.
Kuhlman Cellars specializes in blends of Texas grown varietals but they also have some single varetials like Viognier, Sangiovese and Merlot. I purchased the Alluve ($29) which is a blend of 28% Malbec, 24% Mourvedre, 21% Carignan, 12% Tempranillo, 10% Zinfandel and 5% Petite Sirah. It paired deliciously with the herbed almonds which I also purchased.

Signor Vineyards
I have to admit, Signor Vineyards was not on my list of wineries to visit. I was coming from another winery and trying to squeeze in one more wine tasting on my last day in Texas Hill Country. As I was driving down the highway looking for another stop, something pulled me into their driveway.
I parked and walked up the beautiful flower lined walkway towards the big white house. There was live music on the patio making the late afternoon seem very festive. The tasting room is inside the Vineyard Estate House which was designed and built by architect Isaac Maxwell. There is a stand up bar for tasting but there are also other very comfortable and inviting seating areas.
The Wine
The disappointment here is that the majority of the wines are from Oregon grapes where all of the wine is made. Even the Texas grapes are shipped to Oregon. I read elsewhere that the plan is to build a crush facility here and eventually offer all Texas wines.
Mixed tasting flights are offered from a fixed menu for $20 for 5 wines. You can also purchase charcuterie boards and wine by the glass. I decided not to purchase any wine here since I was on a quest for Texas wine made in Texas. That is certainly not to say that the wine wasn't good or worth purchasing.
You know the saying, so many wineries, so little time? Well, that sure applied to me in Texas Hill Country. Since I was driving, I limited myself to a maximum of two wineries a day. Most days, I only visited one winery after another activity. Because of that, I didn't make it to nearly as many Texas Hill Country wineries for wine tasting as I thought I would. That means I have a nice list for my next trip!
Texas Legato Winery
When I left Fredericksburg, the next stop on my journey north to Oklahoma was Texas Legato Winery in Lampasas. I had no idea until I was researching for this post that this winery is located in the very northern part of the Texas Hill Country AVA. Since it is, I'm including it here.
Read more about Texas Legato Winery: Texas Legato Winery — On the Edge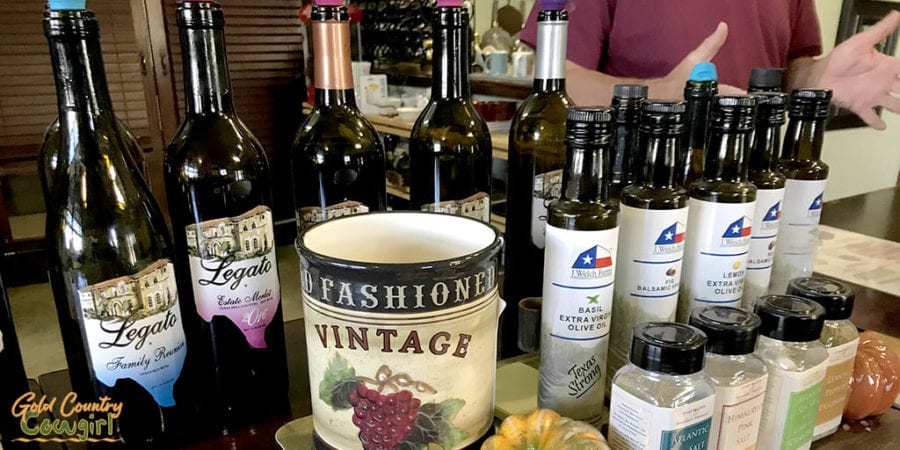 Have you visited Texas Hill Country? What wineries do you recommend? Where in the world is your favorite place to go wine tasting? I'd love to hear your thoughts in the comments below.
Until next time…
(Visited 758 times, 1 visits today)