The first time I went to Jamison's Ale House and Oyster Bar in Amador City, CA, I knew I would be going back often and would want to share it with you.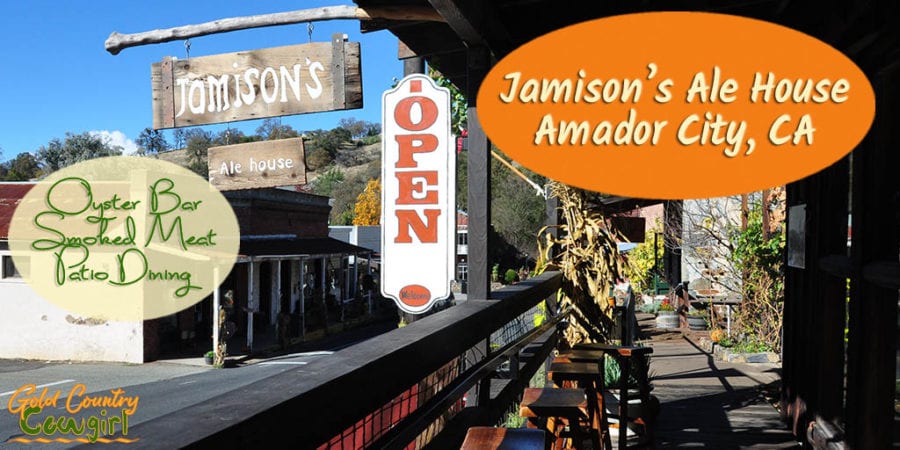 UPDATE Fall 2018: Sadly, Jamison's Ale House and Oyster Bar is permanently closed. It was sure fun while it lasted!

Jamison's Ale House
If you want to know anything about beer or home brewing, visit Jamison's Ale House and talk to co-owner Virginia Vasquez. Virginia has been judging beer for nearly 20 years, both commercial and home brew competitions. As a result, she began to appreciate how important it is to understand the ingredients, process and history of beer. She has organized pub crawls all over Northern California, blogged and written for a brewing magazine.
Seven years ago, Virginia was coming through town and stopped to visit a merchant friend. She ended up rekindling an old relationship with Michael and they got married.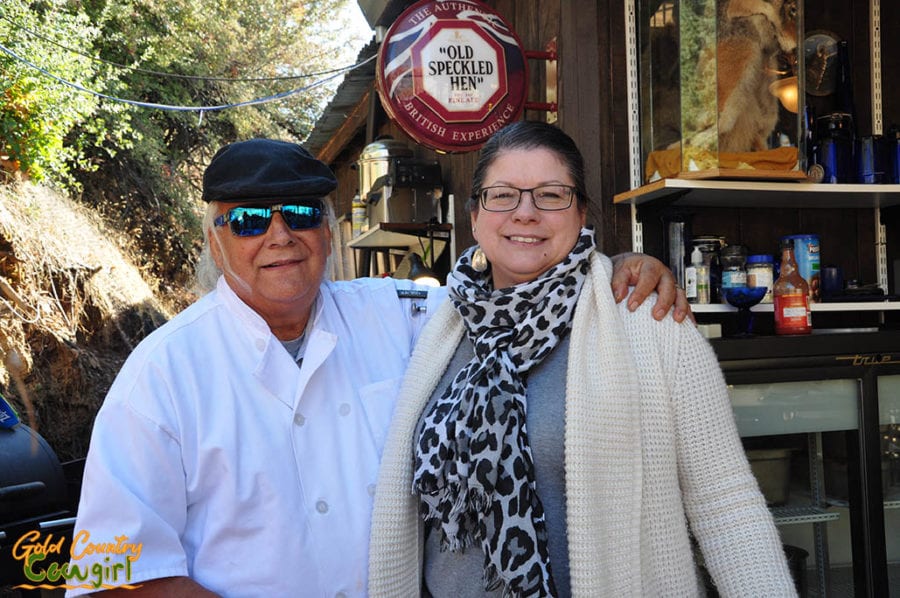 About a year ago, they had the opportunity to purchase the Ale House property. Originally, it was going to be a storefront for Michael's real estate business. Virginia had other ideas, though. She said she thought at the time, "This place cries to be an eating establishment." Virginia said to me, "I'm not a nagging person. I just threw it out there and left it in his hands."
It took a little while for Michael to come around. It meant that they both had to quit other jobs and jump in with both feet full time. They did and Virginia says, "It has been a good partnership."
Their original food model was the Rotary steak booth which Michael had cooked at for years – quick, easy and everybody loved it. From that, their menu has continued to evolve. They enjoy doing their own thing and serving things you won't find other places in the county.
You'll find things on the menu at Jamison's Ale House you won't find at other places in the county.
Click To Tweet
If you are wondering where the name came from as I did, Jamison is Virginia's maiden name. They knew Vasquez didn't sound much like an English ale house!
The Beer
Virginia didn't want to work with a distributor and have the same beers as everyone else in the county. She wanted to use her relationship with brewers to bring local beers to Jamison's Ale House.
I rarely drink beer anymore but since Jamison's is an ale house, the first time I went I decided to have a beer. They have seven (soon ten) local beers on tap which frequently change. Virginia asked me what kind of beer I like and gave me a few samples until I found what I wanted. If nothing on tap grabs you, they also have beer in bottles. If you must have wine, they do sell Drytown Cellars wine by the glass.
The Food
But I didn't come for the beer. I came for the food. I hadn't really heard much about the place so I didn't know what to expect.
You order at the counter and take your ticket outside to Michael who cooks your food fresh to order on the grill and barbecues out back. Michael has no formal training but says he has been cooking all his life.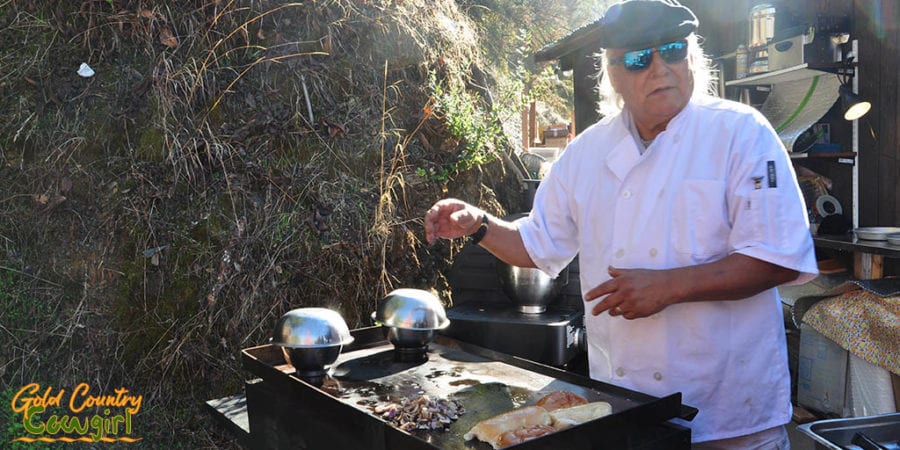 Seating is on the patio overlooking Main Street. Andrae's Bakery is across the street.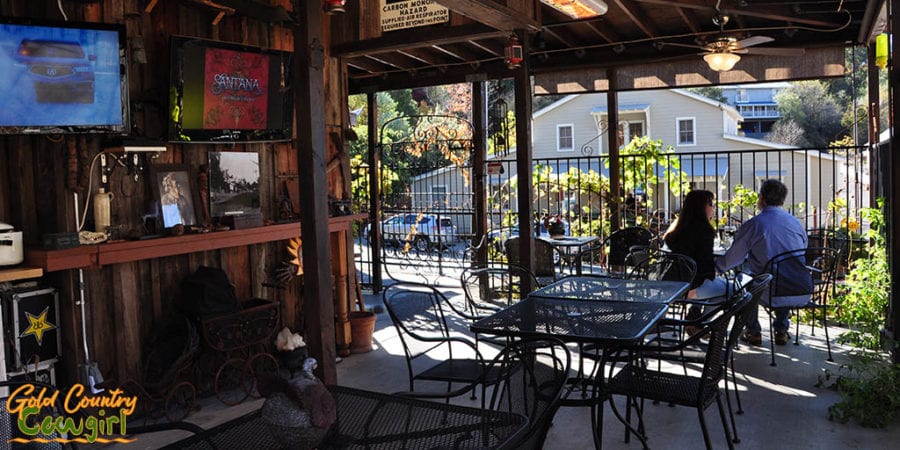 Since the weather is getting cooler, they have heaters outside and have put up a wind break to block the breezes and help hold in the heat. There's also a great fire pit that Michael keeps stoked when it's cold.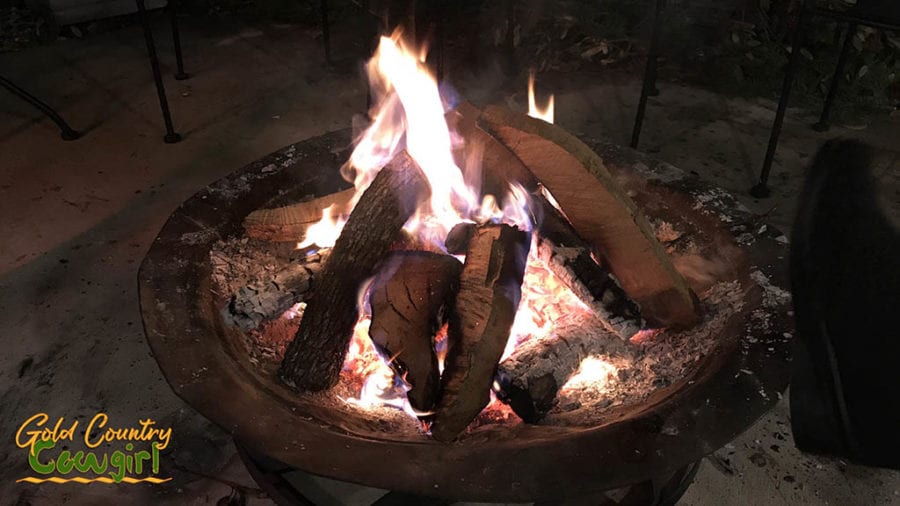 The menu is fairly small but so unique. They have oysters, both on the half shell and barbecued on the grill, and smoked meats. They always have smoked tri-tip and at least one other item. At different times when I've been there, they've had smoked lamb, salmon and goat! You can get any meat in salads, sandwiches and ploughman's plates. The menu, especially the sides, changes seasonally. 
I didn't get very adventurous my first time out because I got sucked in by the thought of a ribeye steak sandwich. Since I don't eat bread, I ordered it without the bun (which they get fresh daily from Andrae's Bakery) and it surely didn't need it!
When I went to interview Virginia and Michael for this post, Michael showed me how he prepares the oysters which, of course, are shucked fresh per order. I got to sample a couple of the barbecued ones. What a treat!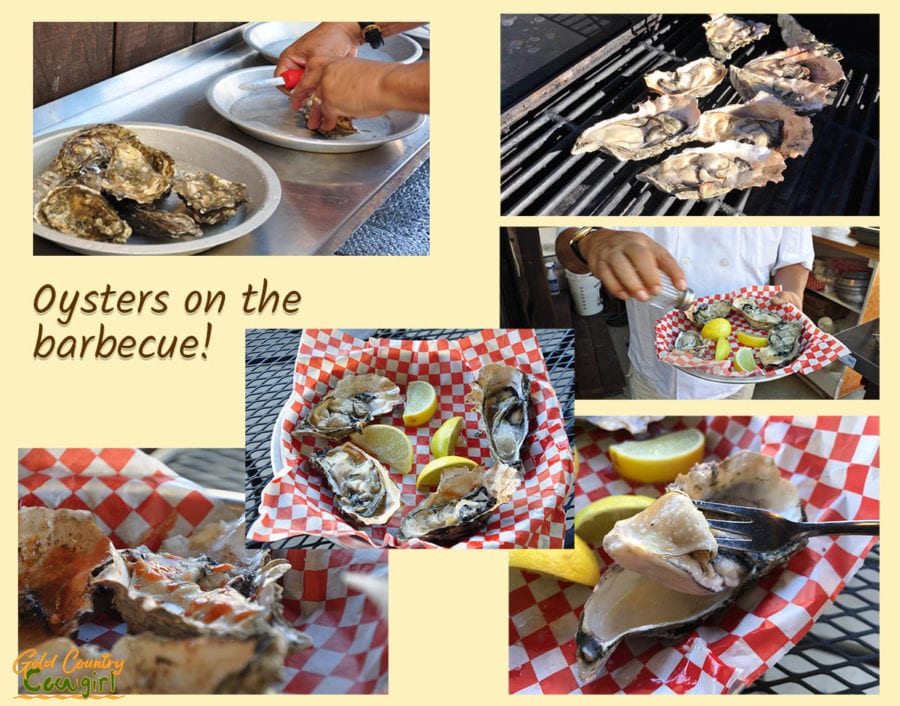 Another item they have that you don't often find is frog legs. I hadn't had frog legs since I was in Mexico years ago. They were as delicious as I remembered!
Jamison's has become one of my favorite spots to hang out. I love the outdoor patio. Michael and Virginia are such wonderful, genuine people, that you feel like you are hanging out on the patio at their home. The unique menu and local beer don't hurt either.
Entertainment
Big screen TVs on the patio display sports (if you must) as well as provide recorded music. Michael is always playing something fun.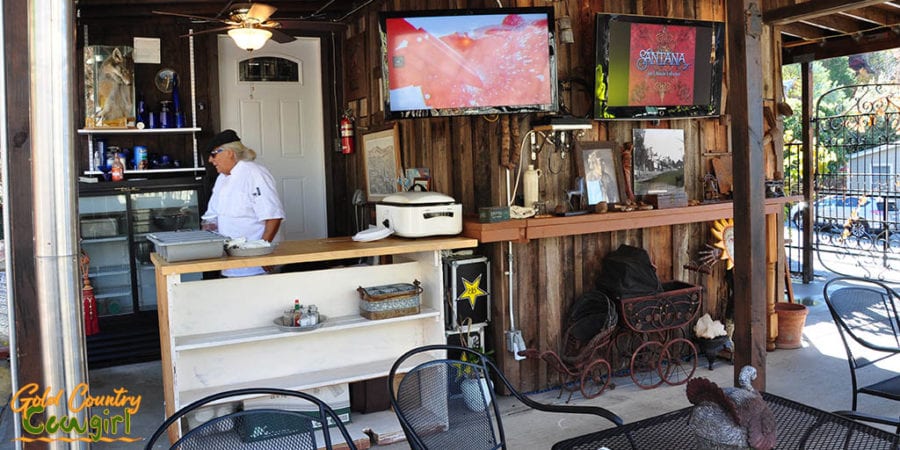 Many weekends you can enjoy live music with your meal. Check out Jamison's Facebook page for their special event schedule. Music is usually from 4-6 or 4-7 on Saturday.
The Details
Hours
11-7 Thurs-Sat
11-5 Sunday
Available for private parties Mon-Wed
Contact
209-267-8293
info@jamisonsalehouse.com
Location

Pin It and Save for Later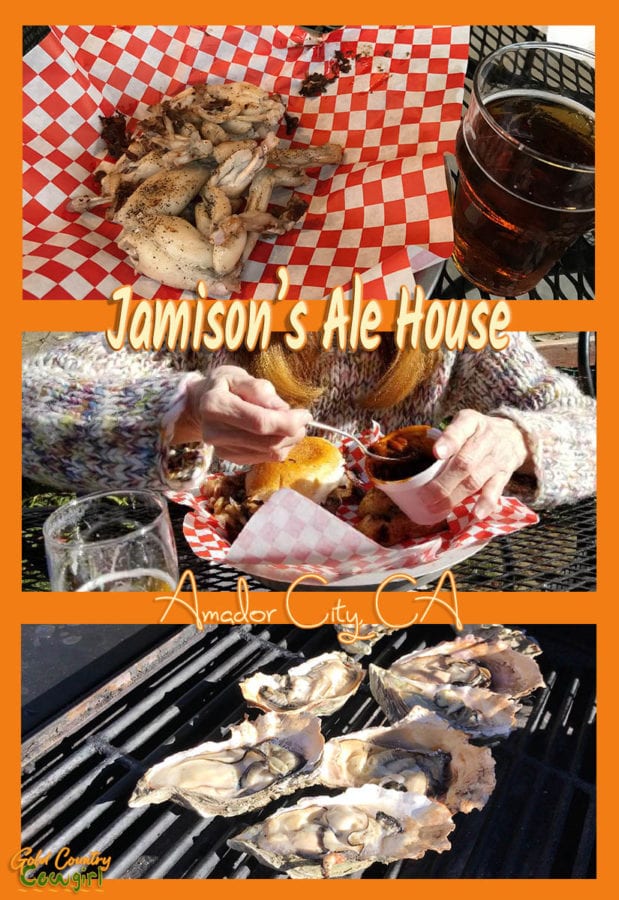 Have you been to Jamison's Ale House? Did you have the frog legs? I'd love to hear about it in the comments. If not, what's your favorite hangout spot?
Until next time…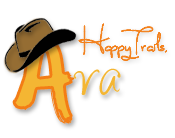 (Visited 407 times, 1 visits today)