I had planned to make an alpaca ranch in Mathis, TX, the last stop on last year's fall RV trip. It was disappointing that, in the end, it didn't work out but I planned to visit there on another trip. I was absolutely delighted to discover that there is an alpaca ranch right here in the Rio Grande Valley, barely a 30 minute drive from my home! Of course, when I learned that, I immediately made a reservation to visit Alpaquita Ranch in Raymondville.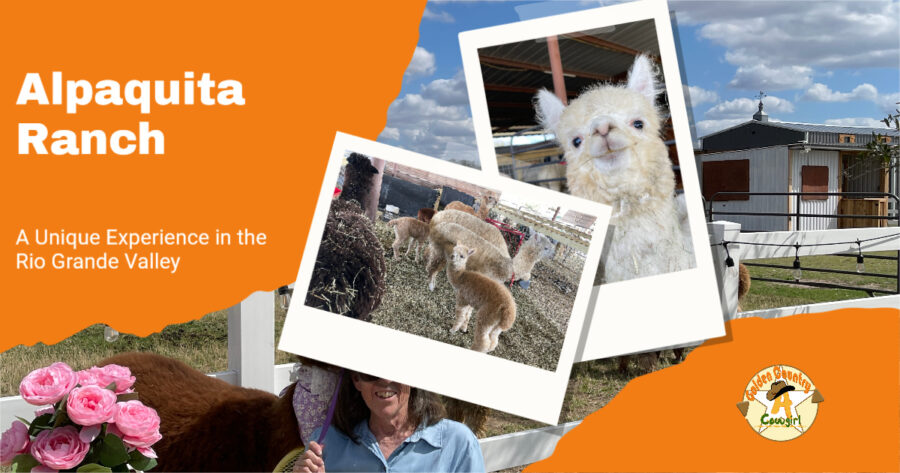 If you follow me at all, you know I am a sucker for animals and any kind of up close experience, like the elephants at The Preserve and the Exotic Resort Zoo. Although I have horses, have worked with big cats, was a pet sitter for llamas and other unusual pets, I still get excited over a new animal encounter. I had never seen alpacas up close so I was looking forward to learning more about them at the alpaca ranch in the Rio Grande Valley. I'm just a kid at heart when it comes to animals!
An Alpaca Ranch in the Rio Grande Valley
What are Alpacas?
The alpaca is a South American mammal in the camelidae family (camels, llamas, alpacas, vicuñas, and guanacos). It is similar to a llama but considerably smaller. The llama and alpaca are closely related and can successfully crossbreed.
Alpacas are known to be naturally curious, gentle and calm but they can also be shy and aloof. They are social, herd animals so they enjoy company and can even make affectionate pets. On the other hand, their larger cousin, the llama, has a slightly more aggressive nature.
How Alpaquita Ranch Started
On a visit to Peru a few years ago, Marta Cardenas, owner of Alpaquita, fell in love with alpacas. She saw people walking their alpacas to the plaza and found it interesting that you could get merchandise every time you shear them.
When she returned from Peru, she knew she needed to get some alpacas for her grandchildren. She started with seven alpacas from Montana, Dallas and some from Tennessee. The herd has now grown to 56 including four moms with crias (babies). Recently, another ranch in Texas rescued 26 alpacas from Oregon. Alpaquita took in 10 of those rescues which are all male.
The ranch was founded in 2019 but Marta didn't get the idea of hosting tours until November of 2020. She had a birthday party for her granddaughter and the photos went viral. People started contacting her about parties and tours. She researched other places that did them and decided to do it.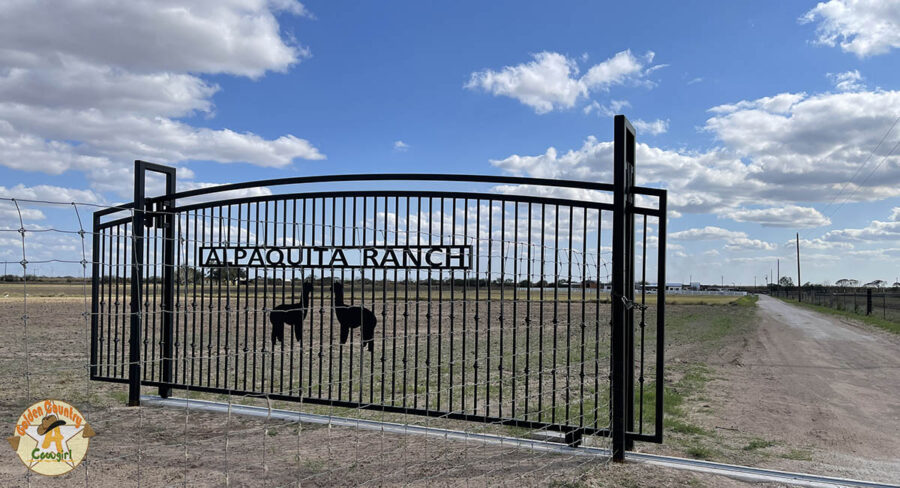 When she first had the idea, she wasn't sure anyone in the Rio Grande Valley would want to see alpacas. However, the ranch has become so popular that weekends are usually booked in advance.
Tours at the Alpaca Ranch
When you arrive at the ranch for your tour, you'll get some instructions and learn the safety rules. After this brief introduction, you'll have lots of time to walk around with an alpaca on your own (in your family group). They have lots of cute areas decorated for photos and the alpacas are dressed to party.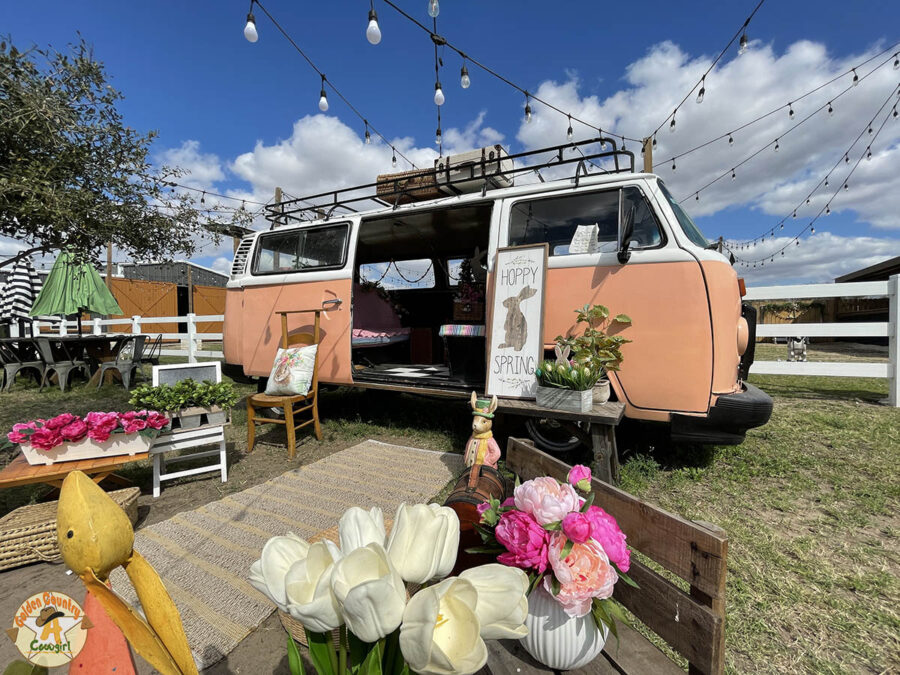 I was extremely lucky when I arrived for my reservation. There had been one other reservation besides mine but they cancelled so I was the only one in my time slot. Giovanni ended up giving me a private tour and taking photos for me while I walked Maggie. That's one of the down sides of exploring solo. It's difficult to take photos of yourself, especially with an alpaca in tow! I learned so much about alpacas and the ranch from Giovanni on the tour.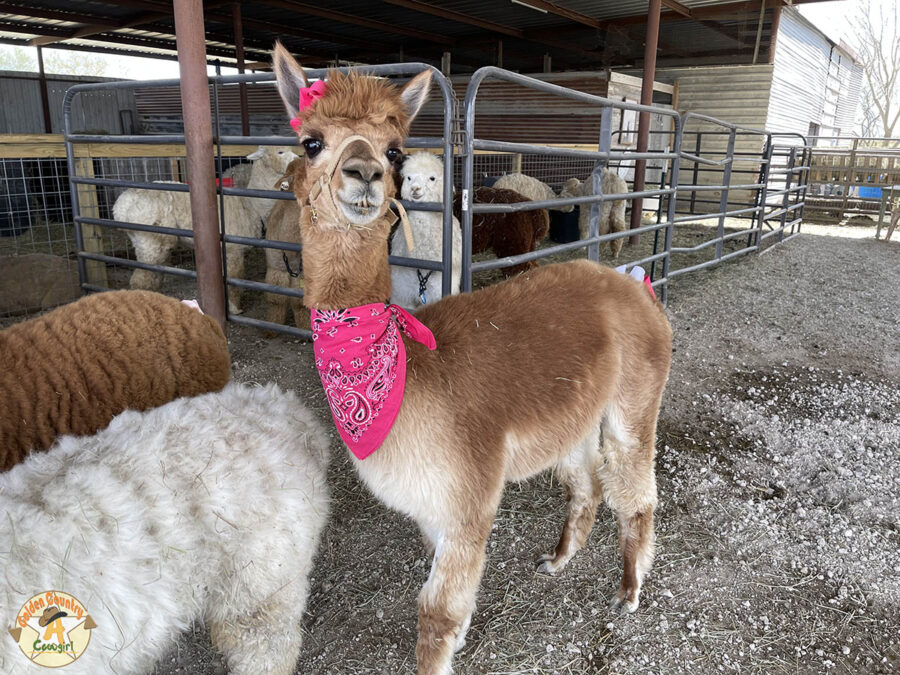 When you return from your tour, you get to feed the alpacas, and they know when it is time for that! As soon as the alpacas that stayed in the barn see you returning, they all start heading toward you.
More Than Alpacas
Other Animals
Although the alpacas are what make the ranch unique, there's lots more to see here. They have sheep, goats, rabbits, chickens, and a donkey. I read on their Facebook page that they have Scottish highland cows but I didn't see them and forgot to ask about them. I love those furry things. So much more to check out on my next visit!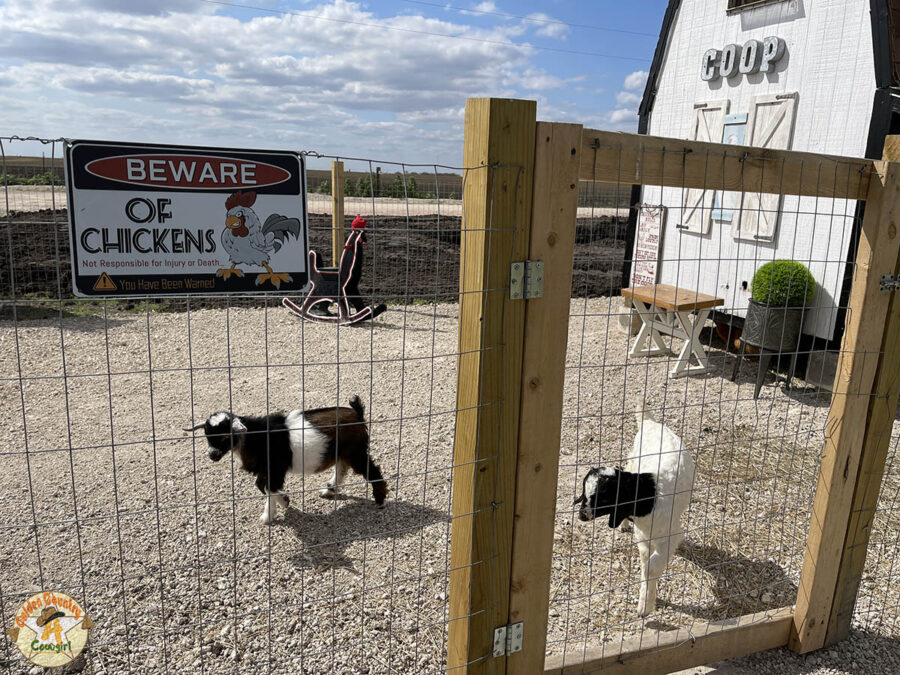 Gift Shop
In addition to all these other animals, there is a great gift shop. Since they haven't been in business that long in the scheme of fiber production, I wondered if they would have much in the way of alpaca merchandise. I was quite surprised by the quantity and variety of items. Products include felted soap, yarn, scarves, slippers, purses, gorgeous sweaters and more. All items in the shop are made from the fleece of their alpacas.
Events
There is a large barn that is perfect for events. It wasn't set up when I was there but I could see the potential for a great event.
If You Get Too Hot
Even in spring and fall, when you are walking in the sun, it can get pretty warm. They have the cutest little cottage with air conditioning where you can go to relax and cool off.
Want More Time at the Ranch?
Call them the day before your reservation and let them know you'd like to have the charcuterie plate. For an additional $10, you can enjoy a snack while relaxing on the charming deck overlooking all the pastures. You can even bring your own wine!
Changes in Progress
While I was there, a backhoe was working away at preparing the ground for a pond. What an awesome addition to an already beautiful property.
Also, there was a team of men working on a pasture, getting it ready for the sheep that will be moved there. That will leave a barn and large pasture area open which will be the new home of all the male alpacas.
The Details for Alpaquita Ranch in the Rio Grande Valley
Alpaquita is open every day except Wednesday. Tours are by reservation only and are $25 for 1.5 hours with the alpacas. Click here to make your reservation. Call (956) 821-8906 the day before your reservation to order the charcuterie plate for an additional $10.

My Final Thoughts on Alpaquita, the Alpaca Ranch in the Rio Grande Valley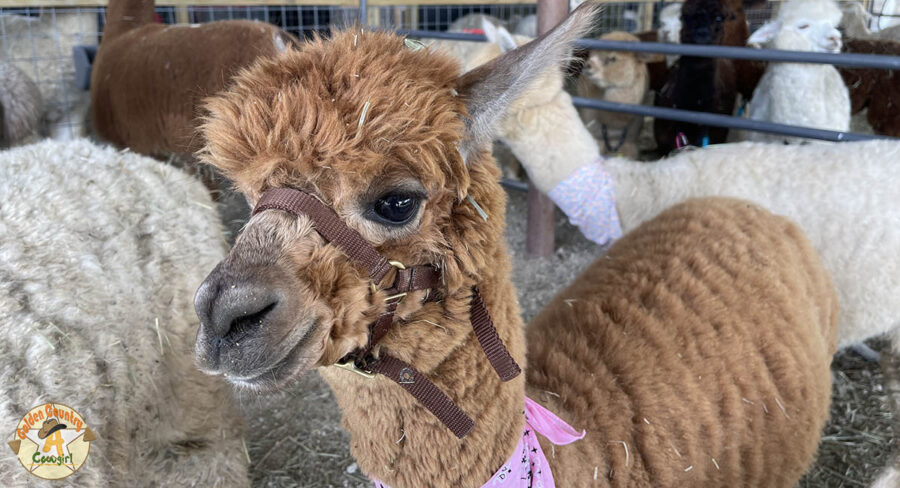 Although I had a great time there as a solo, and will definitely be going back again, this is a place that would be so much more enjoyable with a friend, or even better yet, with kids. I'm grateful there were no kids while I was there as it was much more peaceful and relaxing. However, this is a perfect place for families where kids can learn about caring for animals while having a fun time outdoors.

Until next time…
(Visited 2,560 times, 1 visits today)