When I heard that the National Parks' Senior Lifetime Pass was increasing from $20 to $80, I decided to go ahead and get mine. I was a few years past the time when I qualified but I never really thought I would use it. Other than Yosemite, there weren't many National Parks near me in northern California but I wanted to get it, just in case, before the price increase. So, who knew I would use it twice in one week on this trip, for Grand Canyon National Park and for Petrified Forest National Park.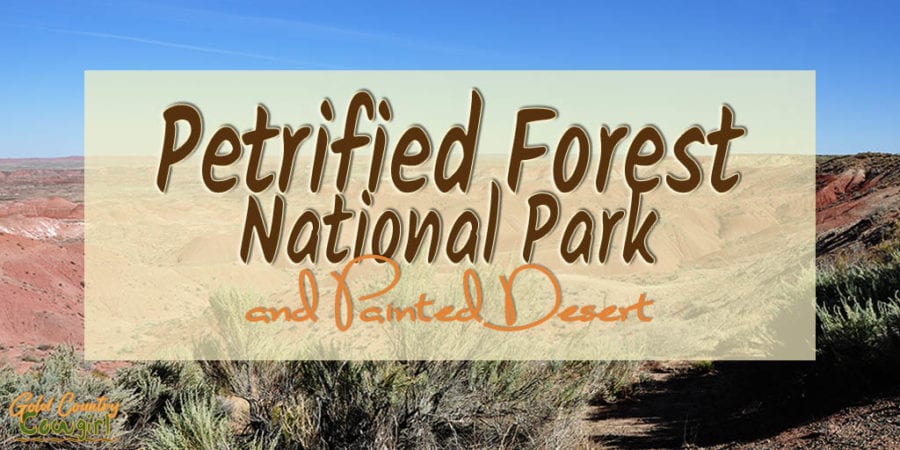 The first time I used my pass was when I went to the Grand Canyon on October 31st (Halloween). When I booked the Grand Canyon Railway, I had to either pay the National Park entrance fee ($20) or give them my park pass number. Then I had to show my pass when I picked up my ticket at the train depot.
Petrified Forest National Park
Just three days later, while I was staying in Sun Valley, Arizona, I used it when I went to the Petrified Forest National Park and Painted Desert. I hadn't really planned to visit there because it was about 20 miles away, but when the clerk at the RV park asked me if I was going, I said, "Sure, why not," and I'm so glad I did.
The park runs north of Interstate 40 then south of it to highway 180. You enter at one end and exit the other, about a 28-mile drive.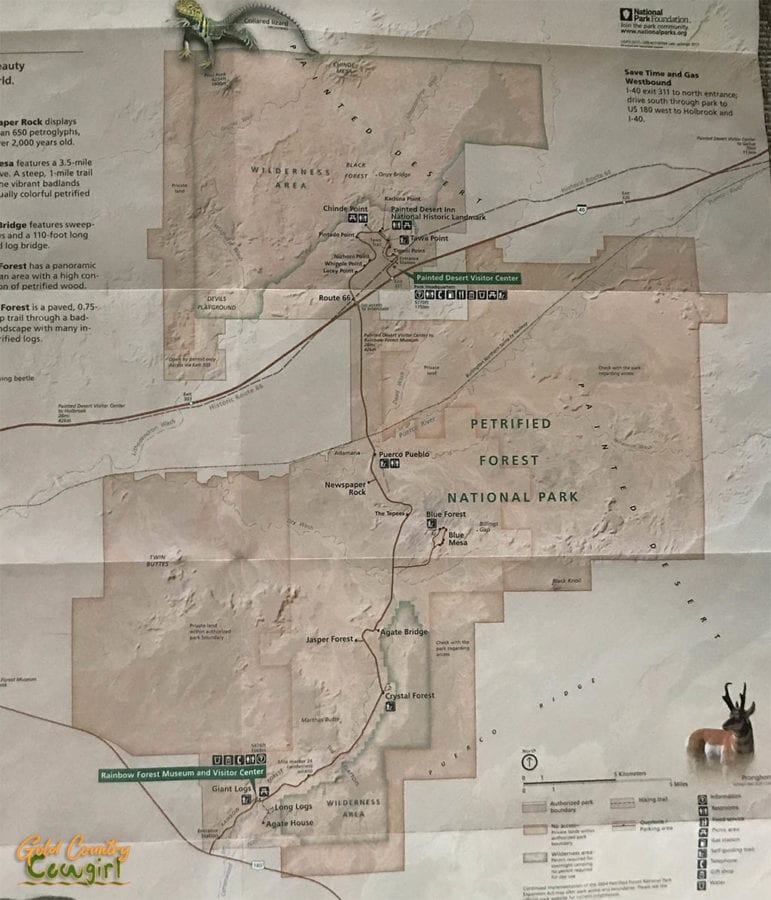 If you enter off of I-40 like I did, your first stop is the Painted Desert Visitor Center. There you can see a film about the Painted Desert, buy souvenirs or books, get a bite to eat, fill up on gas and use the restroom. Park rangers are there to answer any questions you might have.
Just past the visitor center is the entry gate where you can show your pass, like I did, or pay the $10 fee for vehicles.
Painted Desert
The first part of the road, before you cross back over I-40, is the Painted Desert area. There are multiple viewpoints along the route where you have spectacular views of the colorful landscape. The colors were created by how much or little moisture the iron in the sediment was exposed to by the climate over the years. Sometimes I wish I knew more about geology but then I guess I wouldn't be as awestruck when I learn fascinating things about our natural world.
One of the stops in this area is the Painted Desert Inn which was built in the 1920s of petrified wood and other native stone. It originally served as a tourist attraction serving meals and selling Indian arts and crafts, but it has undergone many changes since then. I spent quite some time talking to a park ranger about all those interesting changes.
Once you cross back over I-40, you are heading into the Petrified Forest area, driving through a subtly changing landscape. This is the area I found incredibly fascinating.
Ancient artifacts show that as long ago as 13,500 BC, Paleoindians hunted mammoth and bison here. The grasslands provided habitat and food for both humans and animals. A stop at the Puerco Pueblo viewpoint highlights petroglyphs and remains of Puebloan homes occupied 1250-1380 AD. I didn't realize where I was and I didn't walk the trail so I didn't get a photo of the ruins.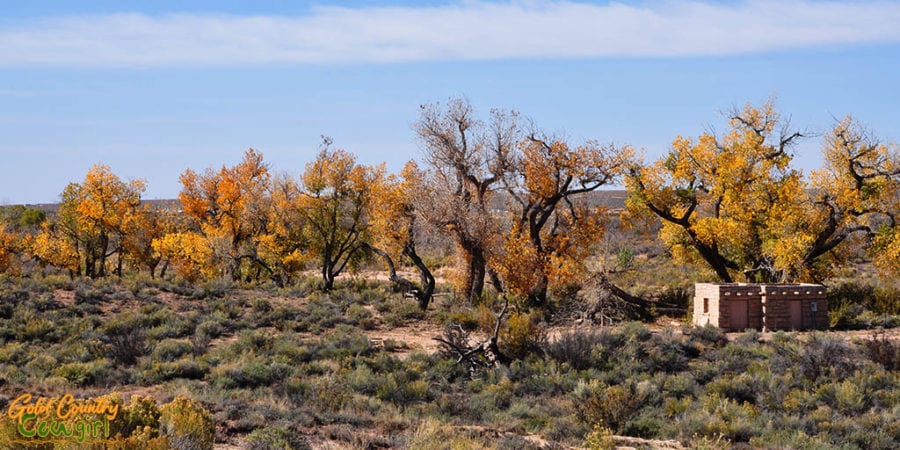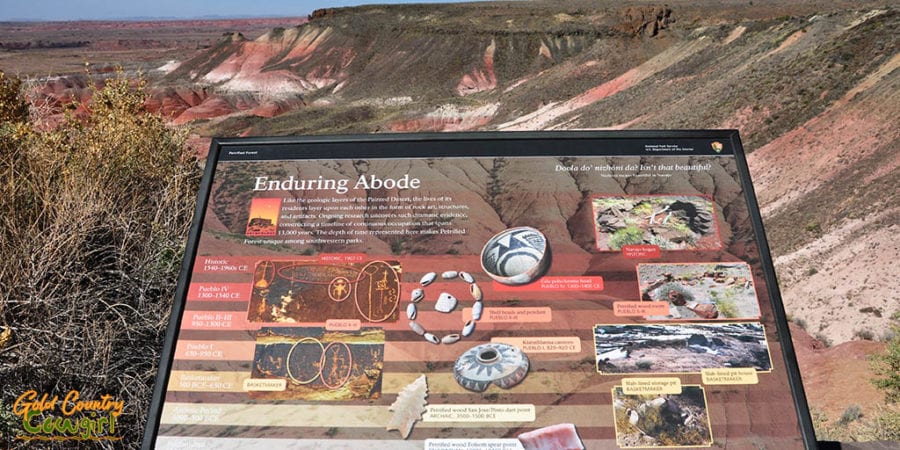 A little farther down the road is Newspaper Rock. There are more than 650 petroglyphs here and some of them are more than 2,000 years old. Researchers still can only guess at their meanings.
Many Opportunities to View Petrified Wood
I hadn't given much thought to where the petrified wood came from even though I was in the middle of desert grasslands with not a tree in sight. Long before those Paleoindians, about 225 million years ago, Arizona was just a few degrees north of the equator when it was part of the supercontinent Pangaea. It was a tropical rainforest with abundant vegetation, including 180-foot conifers. As the continents broke apart and drifted, regions uplifted and climate changed, plants and animals were buried beneath layers of sediment. Trees soaked up groundwater and silica from volcanic ash and over time crystallized into quartz. Different minerals created the rainbow of colors in the logs. In addition to the petrified wood, the area is rich in fossils and other artifacts from the Triassic era when dinosaurs roamed this area!
I stopped at almost all of the viewpoints along the way. They were all so very interesting but by far my favorite was Crystal Forest. It has a ¾ mile loop hike on a paved trail through an eerie landscape strewn with lots of petrified wood and many intact logs.
Another unique area is agate bridge where there is a 110-foot long log bridge. It has been shored up with concrete but it will all eventually be gone.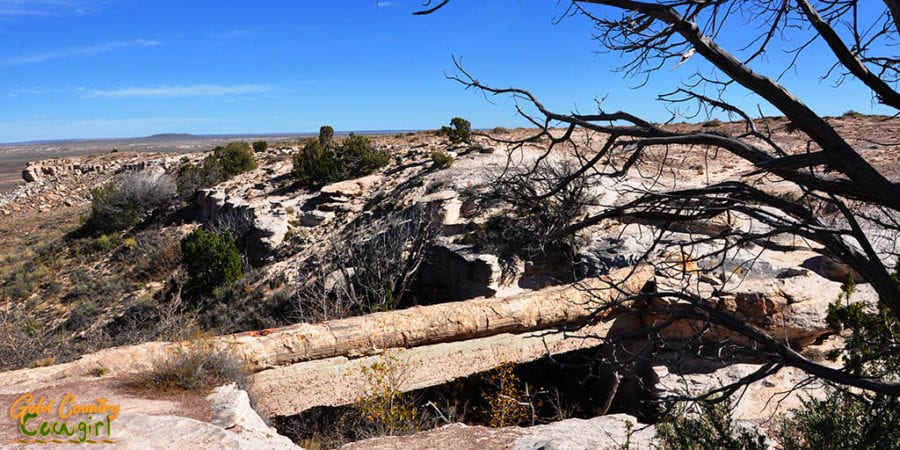 At the end of the trail is the Rainbow Forest Museum and Visitor Center. There are some extremely informative displays, fossils and skeletons here. There's access to a couple of trails, including one leading to Agate House. The two-mile trail takes you to the seven-room pueblo constructed of petrified wood, circa 950 to 1300 AD.
This turned out to be another great educational experience that I highly recommend.

Until next time…
(Visited 2,441 times, 1 visits today)