UPDATE 2/15/22: Dragon Gourmet Mushrooms is permanently closed! Ryker retired in August and sold his equipment.

Mushrooms are one of those things that I think you either love or hate. Even if you hate them, though, learning about them is pretty fascinating. When I contacted Dragon Gourmet Mushrooms in Sloughhouse, CA, and asked if they could do a tour of the mushroom farm for my cooking group, the Saucy Sisters, I was pretty excited when owner, Ryker, said yes.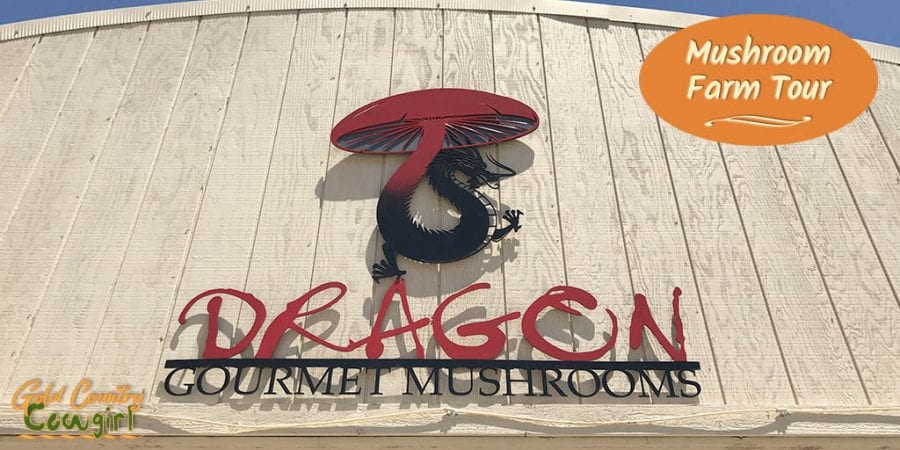 We were in the middle of a heat wave the day we went, with the temperature somewhere over 100 degrees, but eight of us were dedicated enough to brave it. Ryker and Mushroom Ninja Valarie seemed genuinely happy to have us there to share all about mushrooms with us.
Dragon Gourmet Mushroom Farm Tour
Ryker told us about how he got started as a mushroom farmer and a lot about the science of growing mushrooms. It's very different from growing plants in soil in your garden! Do they really grow in "you know what" in the dark? Not at Dragon Gourmet Mushrooms, at least.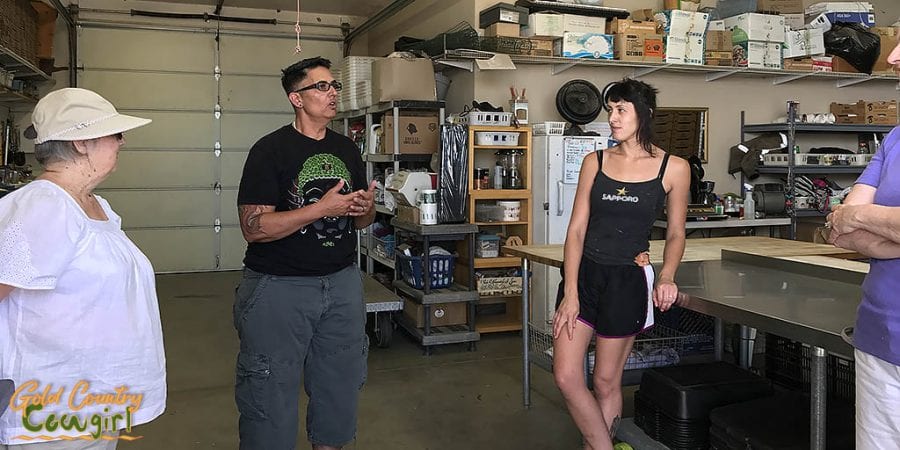 Dragon Gourmet Mushrooms is a sustainable and environmentally conscious business. They produce their mushrooms using untreated hardwood sawdust and wheat bran – no manure. Since the mushrooms grow through the top of the bag out of a sterile medium, there is nothing to "brush off" before you use them.

They grow several varieties of mushrooms at the farm. The mushrooms grow on shelves in the hoop houses. Some mushrooms prefer to grow with the bags sitting upright, others with the bags laying on their sides, like the blue oyster.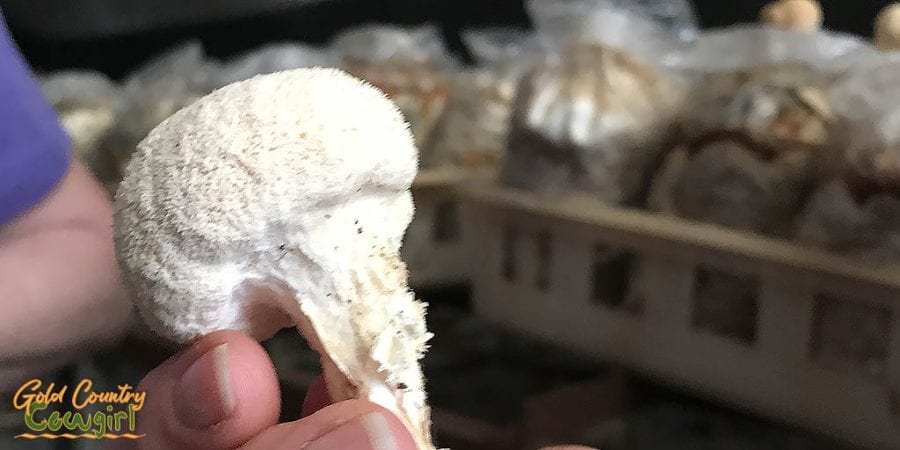 The Lion's Mane mushroom looks like a fuzzy golf ball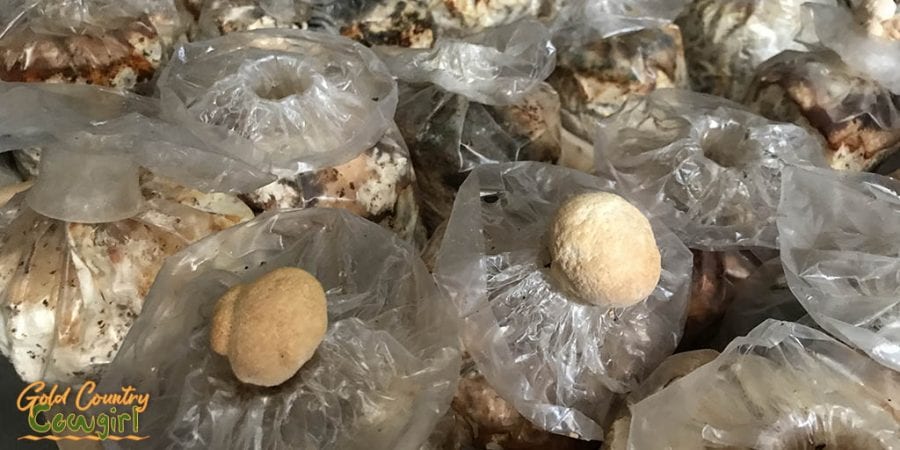 They had some great combo packs ready for us to purchase as well as some other mushroom farm memorabilia. I think everyone took home at least one combo pack.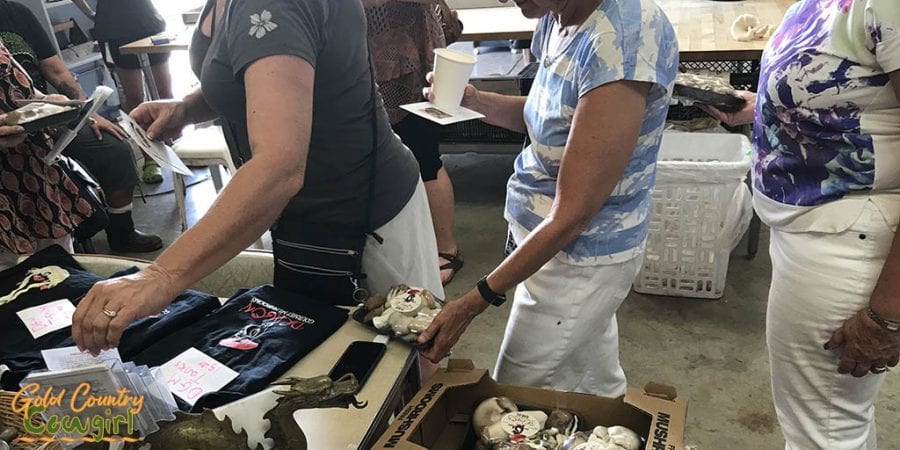 A couple of people wrote the names of the mushrooms on the package to remember them later.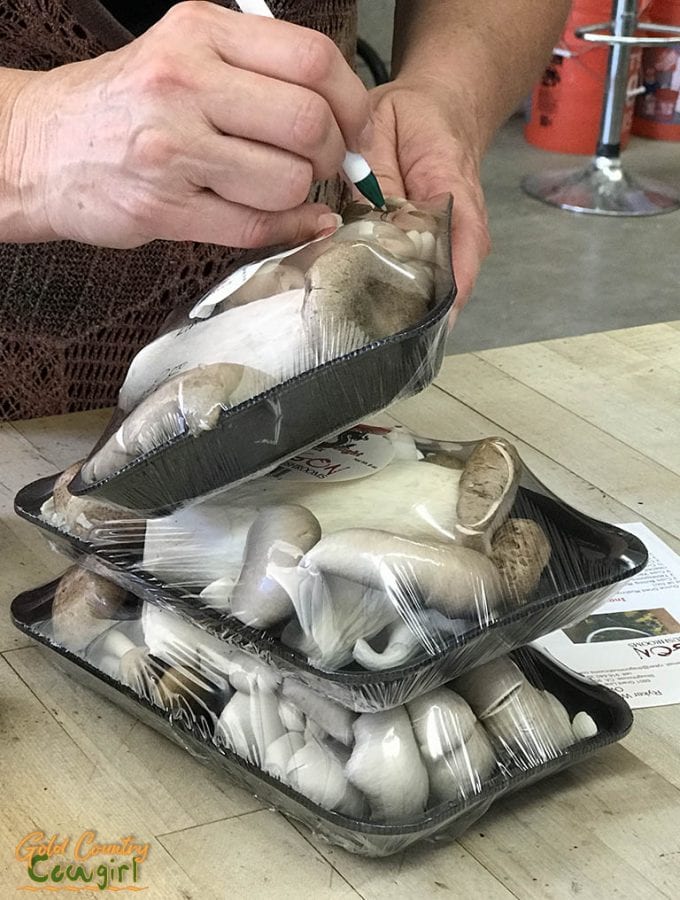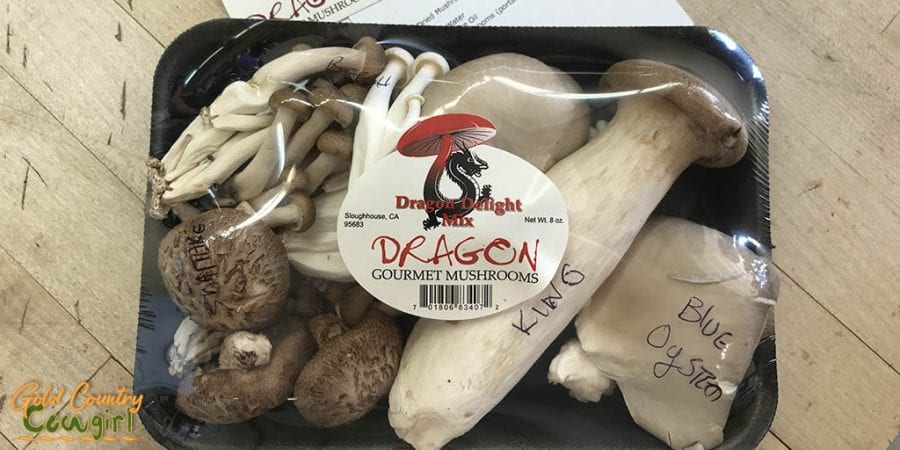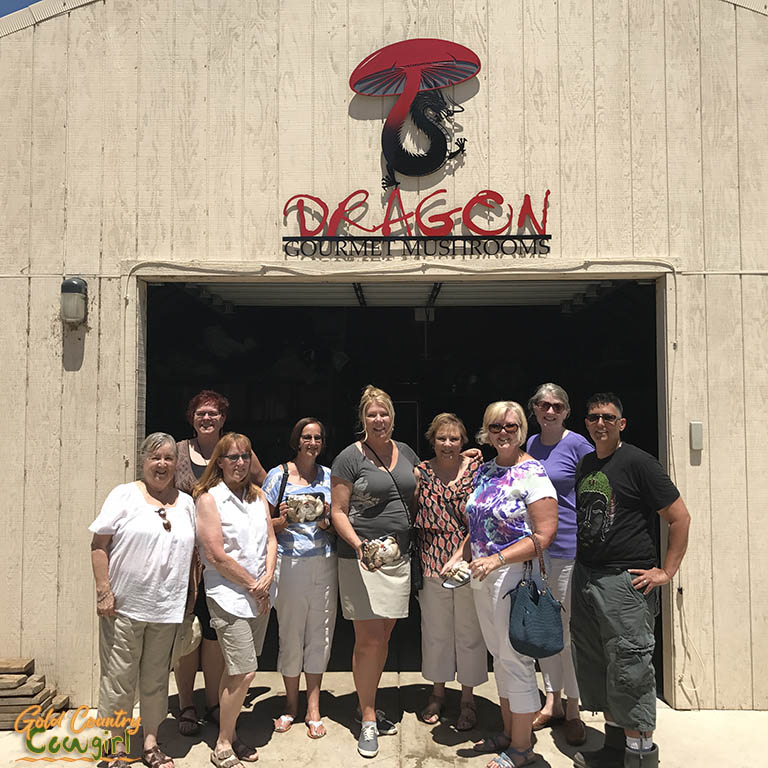 When we were leaving, I told Valarie I would be contacting her to get some details for a blog post. She said, "Oh, you're a blogger. I love to write!" I asked her if she would like to write something for the post and she quickly agreed. Here is her account of how she became a mushroom farmer.
From Mushroom Ninja Valarie
My journey as a mushroom farmer began at the turn of the millennium, when I was around 12 years old. My favorite uncle gave my cousin and me $20 to bag hot pasteurized rice straw to be hung in his small backyard grow houses.
Uncle Ryker worked as a chemist in a windowless lab for the State of California, but found his passion in an herbalism course. He decided to do some experimenting with oyster mushrooms in the suburbs of Natomas. It was a tremendous success so he set up a small stand at the downtown Farmers Market, early on Sunday mornings. I also helped sell at the farmer's market. I was an enthusiastic preteen feeling pretty cool because I had a job and I was allowed to drive my uncle's truck to the market long before any of my friends were driving.
(Visited 2,249 times, 1 visits today)