If you are like me, you see something fun and interesting to do, talk about it, then forget about it. At least that's what happens to me with a lot of things. I've been doing better so far this year, checking out event calendars at least a month ahead and actually scheduling them on my calendar.
Things are pretty quiet here in the winter. Oh, there are always things to do, but things really start to hop in the spring. There are some things I missed last year that I definitely want to do this year. Here are the events on my agenda so far for spring.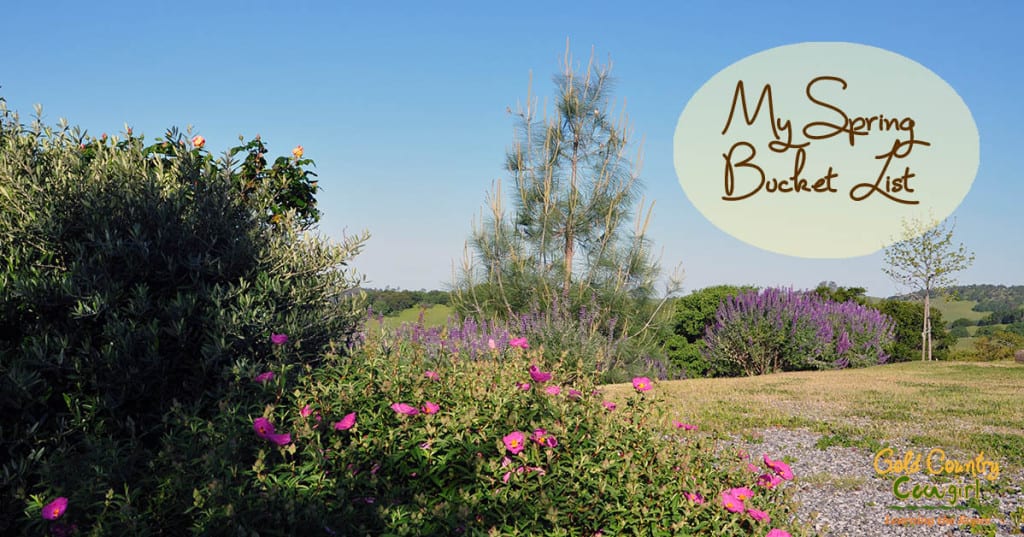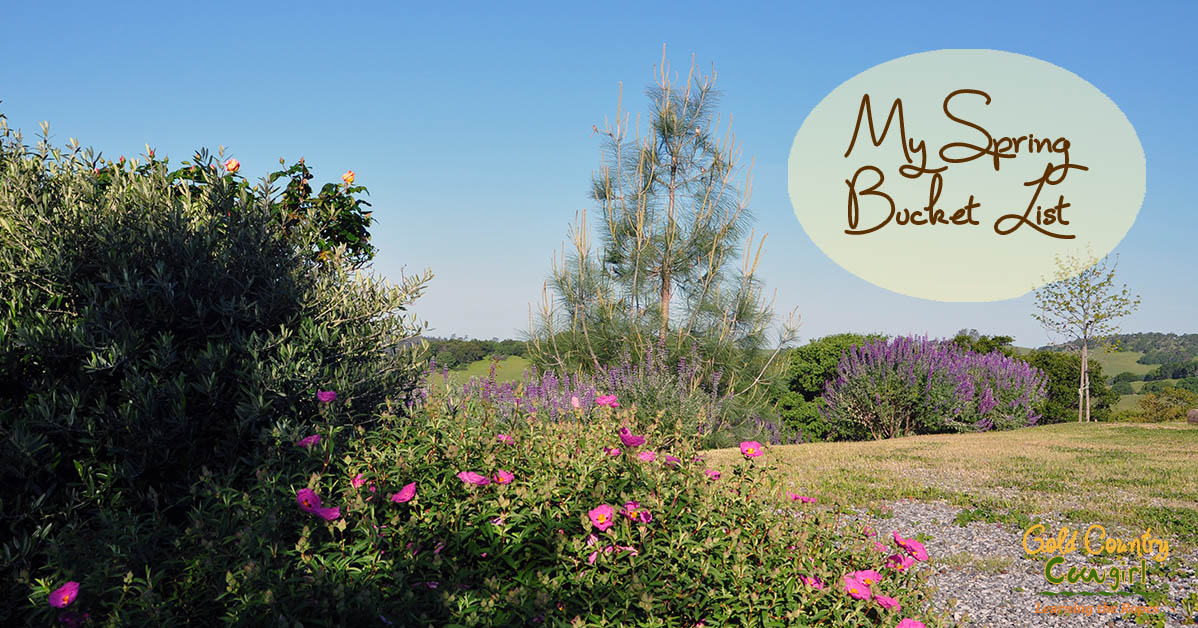 My Spring Bucket List
Start on Steiner – 4/9
Start on Steiner is a wine tasting celebration of spring put on by the nine wineries that are located on this historic trail. All 9 wineries will be offering a complimentary tasting flight along with lite bites and amazing wine specials. Collect stamps from five of the nine participating wineries for a chance to win exciting prizes!
Wildflower Train – 4/9 & 16
Railtown 1897 State Historic Park in Jamestown is open April through October with train rides on Saturdays and Sundays. There are special trains on the 9th and the 16th to see the wildflowers.
Days of 49 Wagon Train – 4/28-5/1
This is an event I missed last year and is a must do this year. History comes alive when the Kit Carson Mountain Men come to Amador County for the Days of 49. This 3rd annual wagon train with 15 horse drawn vehicles and several outriders will travel through the Shenandoah Valley, Plymouth, Amador City and Sutter Creek before ending up at the Kennedy Mine in Jackson. Each night, the public is invited to campfire entertainment at the encampments. Saturday night there is an old west show at the Kennedy Mine Amphitheater and a parade down Main Street in Jackson on Sunday.
Amador Four Fires – 5/7
Amador Four Fires Festival is a wine and food festival celebrating four wine regions that inspire the award-winning wine making and wine growing of Amador County, paired with international traditions of open flame cuisine. Activities include tastings and seminars showcasing the talent of Amador purveyors of olive oils, honeys, chocolates, artisan baked goods, ciders, cheeses, and more. Proceeds benefit the Amador County Fair Foundation and its Farm to Future Initiative
Roaring Camp – May through September
Roaring Camp is an old gold mining camp on the Mokulmne River. May through September you can see the operating gold mine and mine for your own gold. They offer cabins and tent camping. The Saturday night cookout dinner includes a tour of the museum and camp and a panning demonstration. Dinner is a New York steak BBQ and I've heard tales about the awesome fry bread.
Jeff Runquist Wines Annual Wine Club BBQ – 5/14 & 15
Most, if not all, of the wineries have a wine club. I am a member at Jeff Runquist Wines where they have an annual club barbecue. The party includes appetizers, lunch, wine and live entertainment.
Helwig at Dusk – May through September
Most Friday evenings, May through September, you can relax in Helwig Winery's beautiful outdoor pavilion and enjoy wine, dinner and live music.
Beer & Banjo Festival – 6/11
Several venues in Amador City will be showcasing different banjo styles and craft beers during the Beer and Banjo Festival. There are performances and workshops from 10 am to 4 pm then open jam begins.
Daylily Days – 6/11 & 12
Amador Flower Farm is open year round but is a special place in late spring and early summer when the 14-acre farm explodes with color. They have over 1200 varieties of day lilies and when they are in bloom it is spectacular. The day includes vendors and demonstrations. You can bring a picnic lunch and relax under the oaks after you stroll the garden paths. I love photographing flowers and got some terrific photos last year.
Celebrate the Grape – 6/12
Can't wait to Celebrate the Grape with the Godfather of Barbera, Dick Cooper, at Cooper Vineyards. It's an afternoon of wine, food and music — music by Cooper winemaker Michael Roser and Wasted Space.
Mother Lode Highland Games and Gathering – 6/18 & 19
The Mother Lode Highland Games and Gathering is a two-day event which will be held at the Amador County Fairgrounds in Plymouth. It features competitive games, music, animals, children's activities, craft & food vendors and a classic car show. I'm especially looking forward to hearing the bagpipes and seeing the sheepdog demonstrations.
Dancin' in the Street – June through August
On Saturday nights beginning June 18th, Amador City closes down Water Street and brings in live bands for music and Dancin' in the Street. Shops, restaurants and the Farmers Market stay open late for the event.
Wow, there's a lot of eating and drinking on this list, isn't there? What's on your bucket list? Maybe I'll see you around Gold Country.
Make a plan. Get up. Get out. Even if you stay close to home. What's on your bucket list?
Click To Tweet
(Visited 193 times, 1 visits today)