Start on Steiner is an association of the nine wineries located on Steiner Road in the Shenandoah Valley in California's gold country. As a group, these nine wineries hold three annual Start on Steiner events: Spring Fling in April, Summer Faire in August and Holiday Celebration in December. These events historically include complimentary tastings at each winery along with lite bites and wine specials.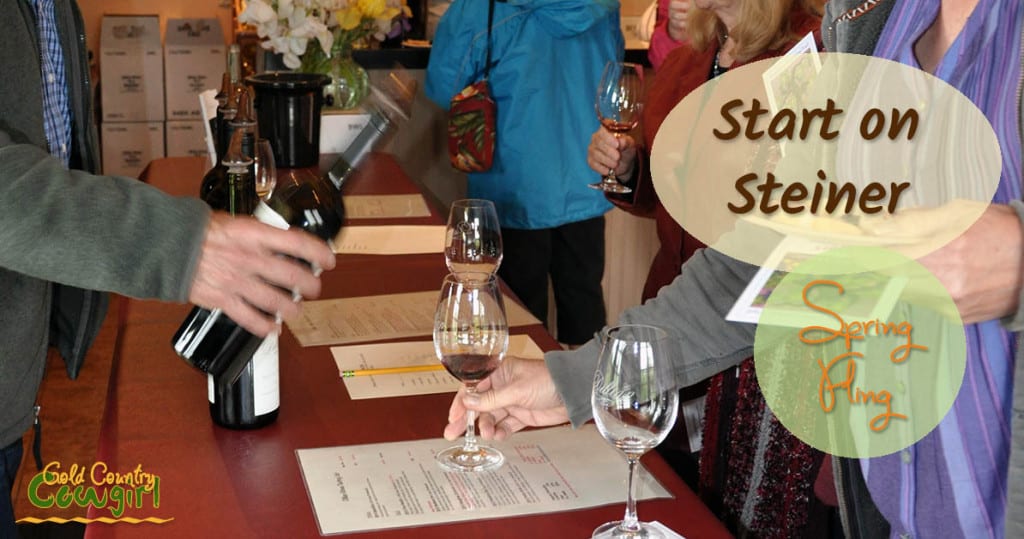 You can Start on Steiner at any of the wineries but, wherever you start at future events, be sure to pick up a passport. Once it is stamped by 5 of the 9 wineries, you can drop it off and be entered in the drawing for some great prizes. Sadly, none of us won anything.
Members of our wine-loving Vineyard Vixens, a special interest group of Mother Lode Newcomers, recently attended the Spring Fling. Eight of us carpooled from Jackson to the beautiful Shenandoah Valley outside of Plymouth, about a 25 minute drive.
The Wineries of Start on Steiner
Dillian Wines
Our first stop was at the first winery on the road, Dillian Wines. It is a small family winery specializing in Zinfandel, Barbera and Primitivo and is a favorite of some of the members of the Vineyard Vixens.
We all picked up our passports and began our tasting adventure. We knew we needed to pace ourselves if we were going to make it to five wineries so we started with some of the lite bites.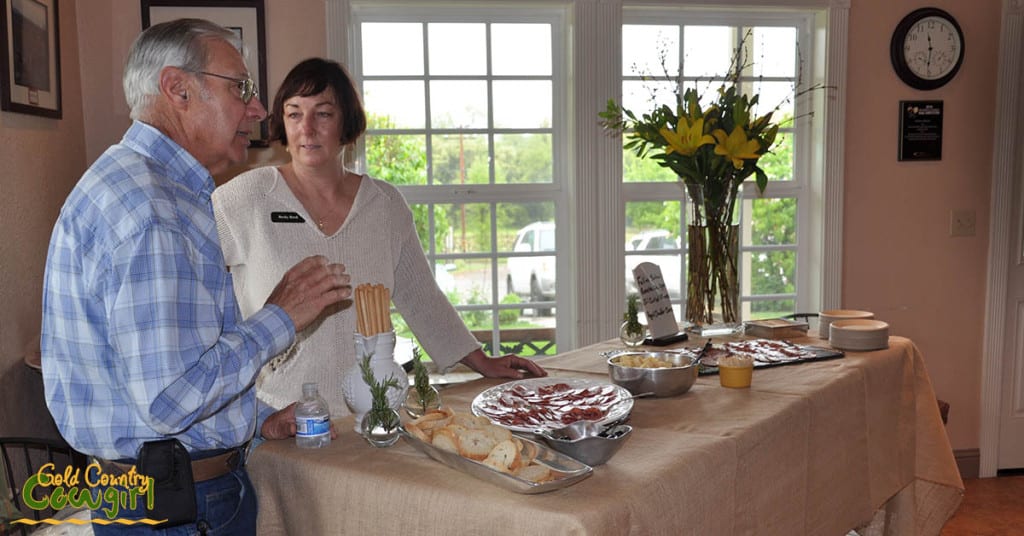 We don't always remember to get a group photo so, when someone offered to take one, we quickly assembled.
Bella Grace Vineyards
Second on the road is Bella Grace Vineyards. They had set up tents outside and a fire pit. Did I mention it was raining? Wine tasting is a perfect outing for a rainy day. Apparently, according to the sign, they have a new wine cave, but we never saw it since everything was set up outside.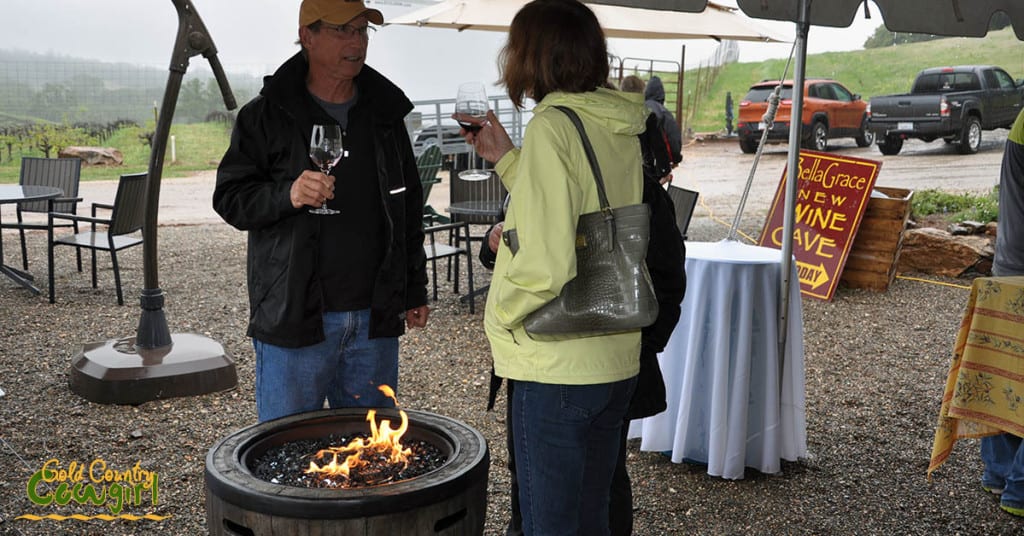 Besides great wine at Bella Grace, we got to sample their olive oil and vinegar. I loved their flavored balsamic vinegars, especially the blackberry. Their balsamic vinegars are imported from Modena, Italy, and their fresh fruit flavored vinegars are from a local California producer. You can purchase the olive oil and vinegar at the vineyard or at their tasting room in Sutter Creek.
The lamb sausage with jalapeno jelly here was awesome! Where's the photo? Hmm… I guess I got sidetracked eating.
Shenandoah Vineyards
Shenandoah Vineyards, established in 1977, was one of the first four wineries in Amador County's Shenandoah Valley. Since 1989, the Sobon family has been farming sustainably and they use a minimum of sulfites in their wines.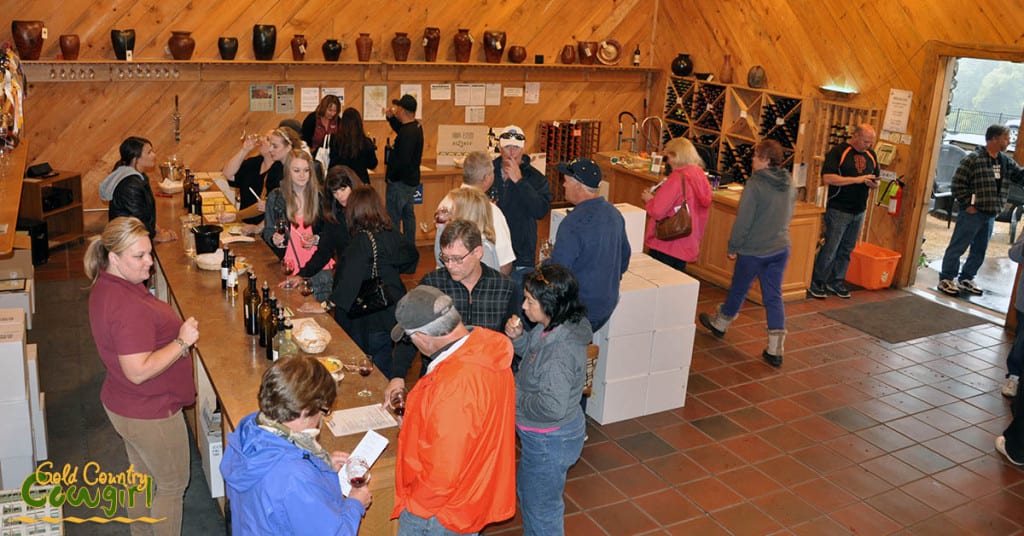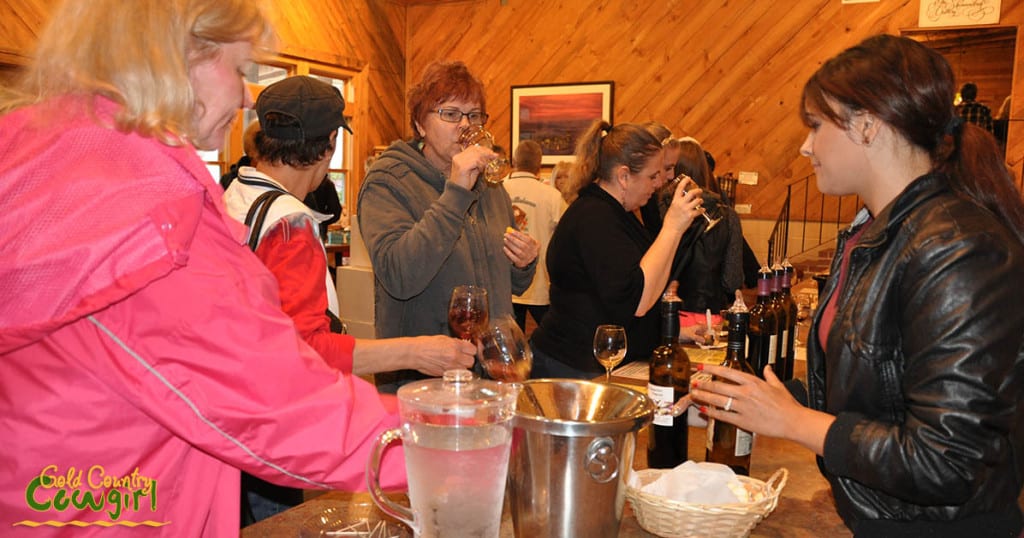 Tucked in the corner of the high-ceilinged tasting room is a gift shop.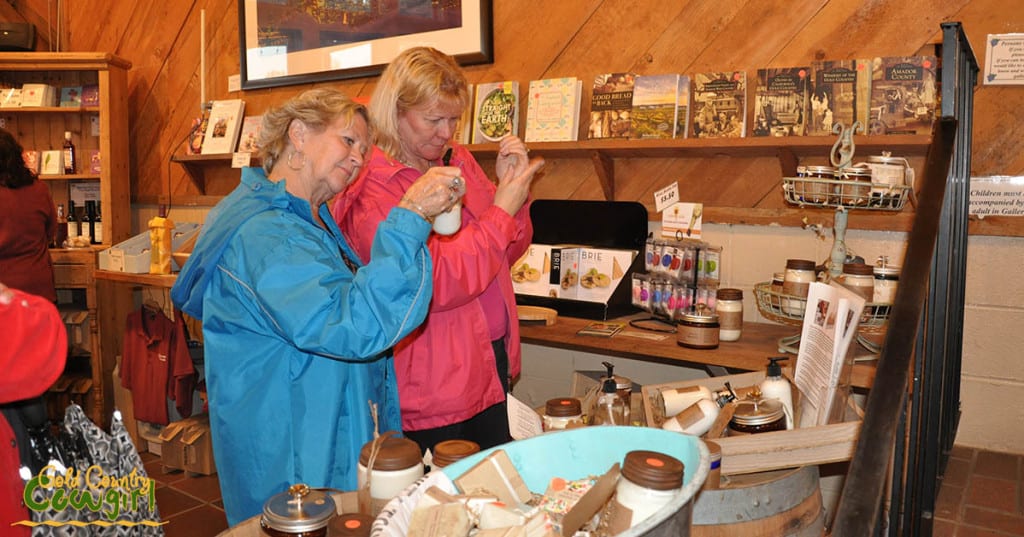 They display local and regional art in the "Shenandoah Gallery" above the wine tasting room. I loved that middle plate!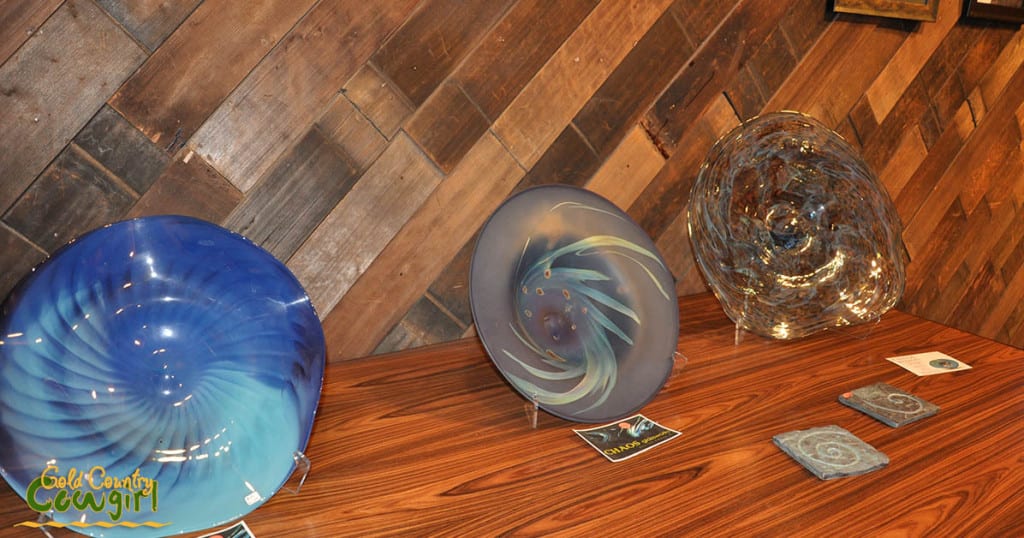 The gallery is where they set up their lite bites which consisted of plain fruit or fruit with cake and whipped cream and spring wraps.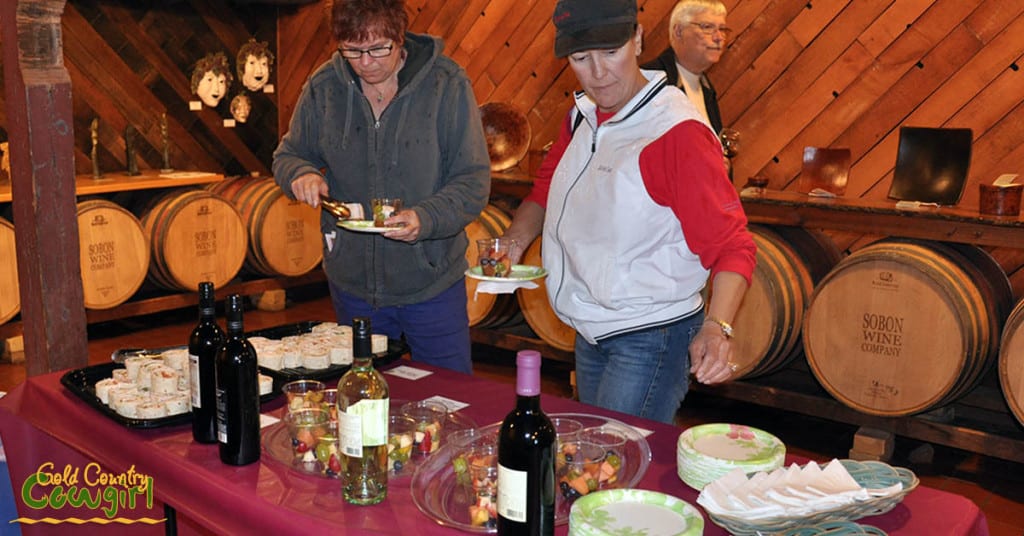 Amador Foothill Winery
Tom and Beth Jones purchased Amador Foothill Winery in the fall of 2014. In 2015, Tom launched his new label, Iron Hub, which will include Chardonnay, Zinfandel, Barbera and red blends.
I didn't care for the cheese fondue, probably because I don't like Swiss cheese, but most everyone else seemed to enjoy it.
Dobra Zemlja Winery
Dobra Zemlja (Doh-bra Zem-ya) Winery promises big reds, focusing on the wines the area is famous for: Viognier, Sangiovese, Barbera, Syrah and Zinfandel. Wine tasting is in the first wine cave in Amador County.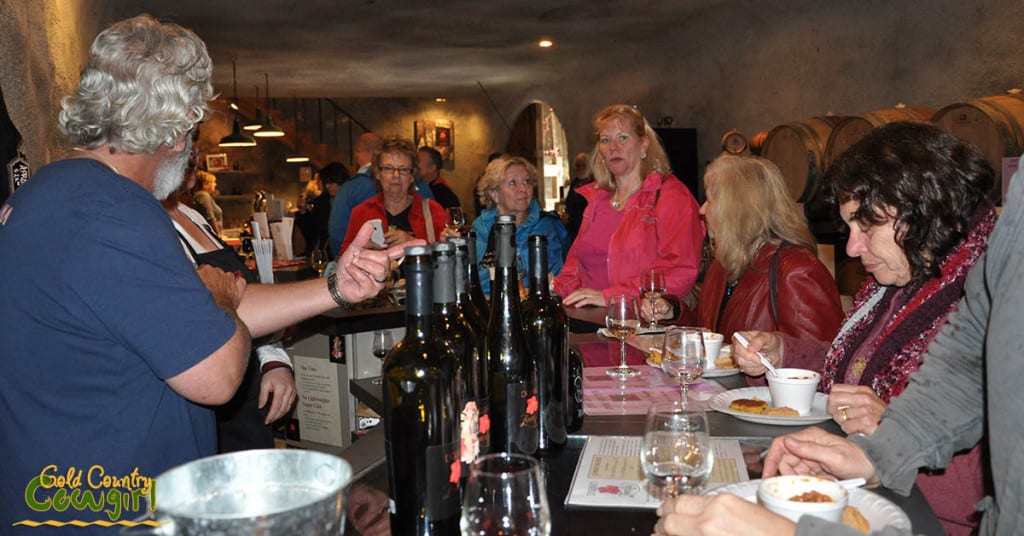 Their cowboy chili and kornbread was super! Some thought the kornbread was a little too spicy but I thought it was just right.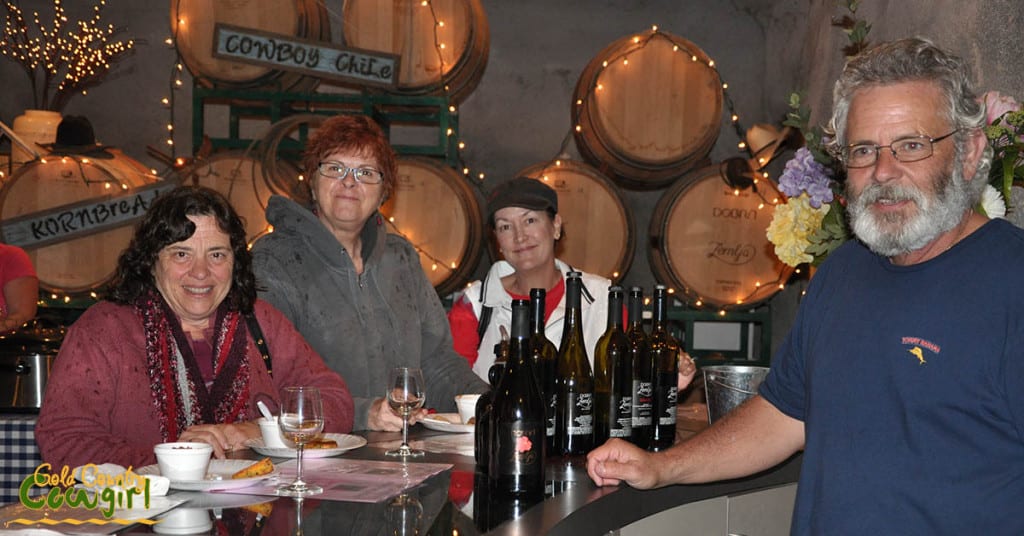 They have a beautiful picnic area here with a view of a little lake. We all agreed it would be great to come back with a picnic lunch and share  a bottle of wine, or two. After all, there are eight of us. I didn't get a photo of it since it was raining and not conducive to a very good photo but you can see how lovely it is on their website.
Dobra was our fifth winery but we didn't turn in our passports. We knew we wanted to make one more stop.
Renwood Winery
I think all eight of us had been to Renwood Winery at least once before and it is a favorite of many, including me. The winery specializes in Zinfandel made from old, dry-farmed vines. Although its actual arrival is a mystery, it is believed that California's signature grape was introduced some time during the gold rush. Some of these original "old vines" are still harvested and highly sought after.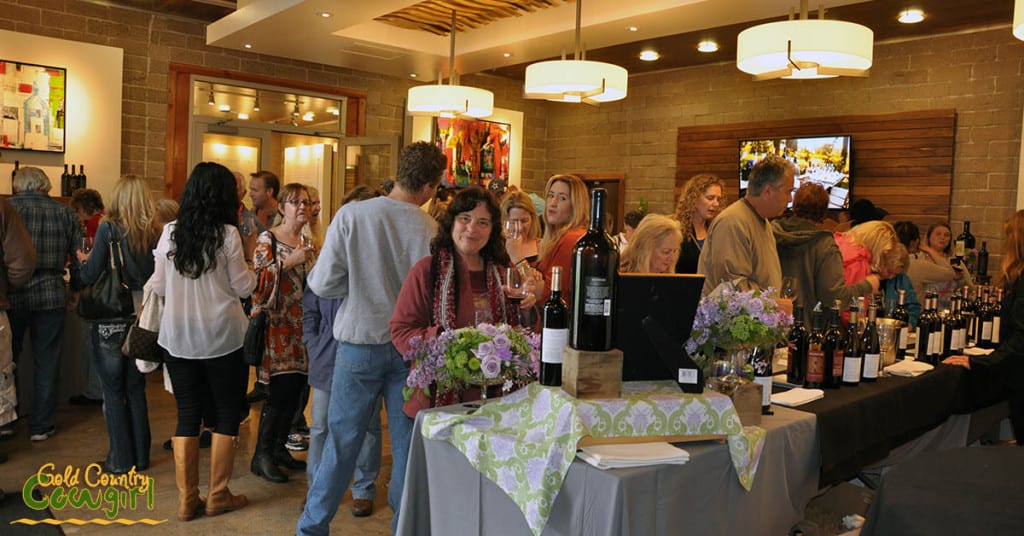 If you want to purchase wine at any of these wineries, Start on Steiner is a great time as all of them have event specials, usually on cases and half cases.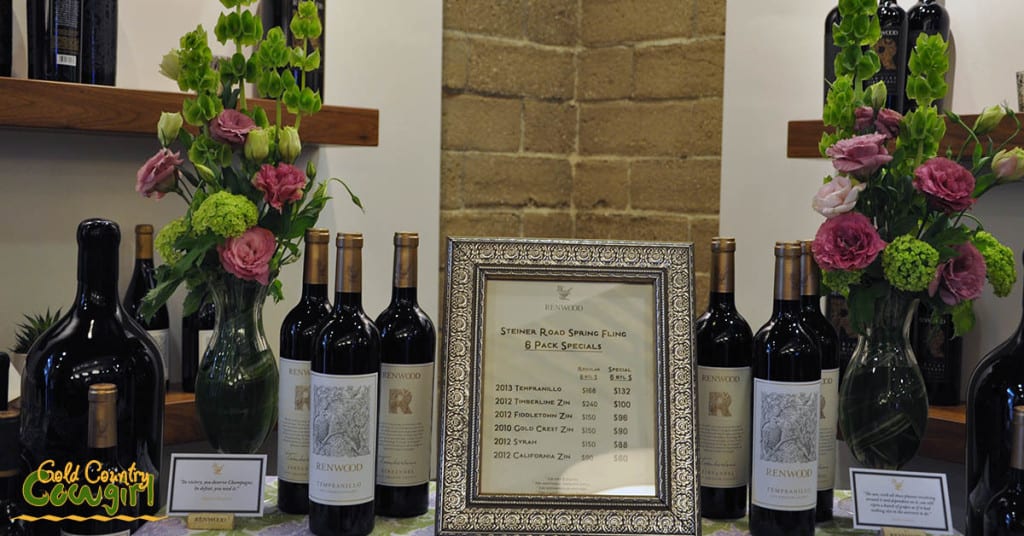 The three wineries we did not visit that are part of Start on Steiner are Charles Spinetta Winery, Deaver Vineyards and Driven Cellars.
Wine tasting is fun, relaxing and can be as educational as you want it to be. If you are a wine drinker, do you enjoy going wine tasting? Do you have a favorite winery?
Pin It and Save for Later
(Visited 391 times, 1 visits today)