I joined Harvest Hosts RV membership program to find some unique and interesting places to stay on my RV trip from northern California to southern Texas. I picked at least one intriguing place in each state and built my RV park stays around them. When I found Walker Honey Farm in Texas, I knew I needed to add it to my stops.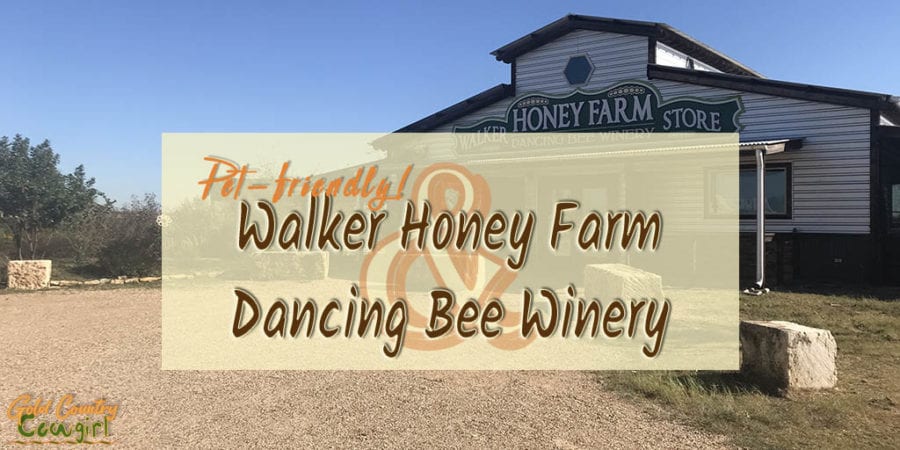 Why Walker Honey Farm? First, they were the only honey farm I came across, but more importantly, they make mead. My former significant other and I made mead for several years and I still remember how much I enjoyed it. Part of the attraction of mead, I think, is that it is pretty hard to find*. There used to be a winery in northern California that made some but I couldn't find it while I was living there. I was excited about the opportunity to check out some Texas mead.
But first, the honey farm.
Walker Honey Farm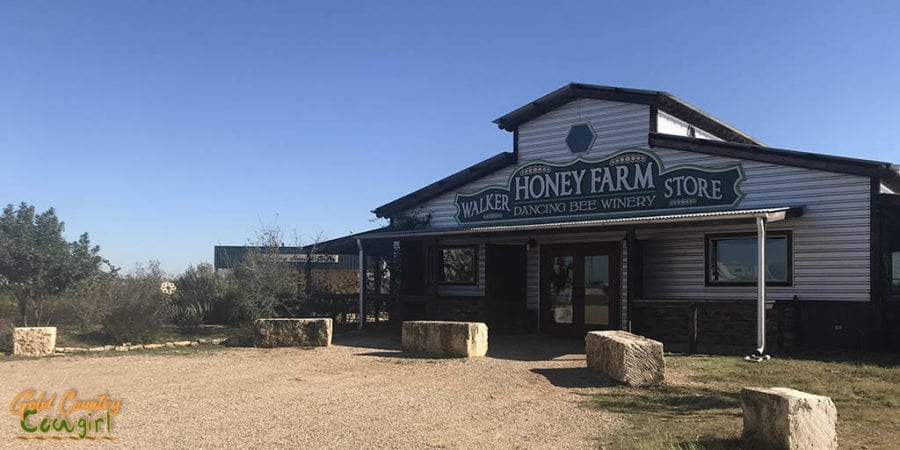 There was a chill in the air but it was a beautiful, clear day when I arrived early on a Wednesday afternoon. I found what looked like the spot I had seen in photos on the Harvest Hosts app and parked. It was a short walk to go inside to confirm I was in the right place. After a warm welcome and introductions, I went back out to open up the trailer and get the cats out of the car.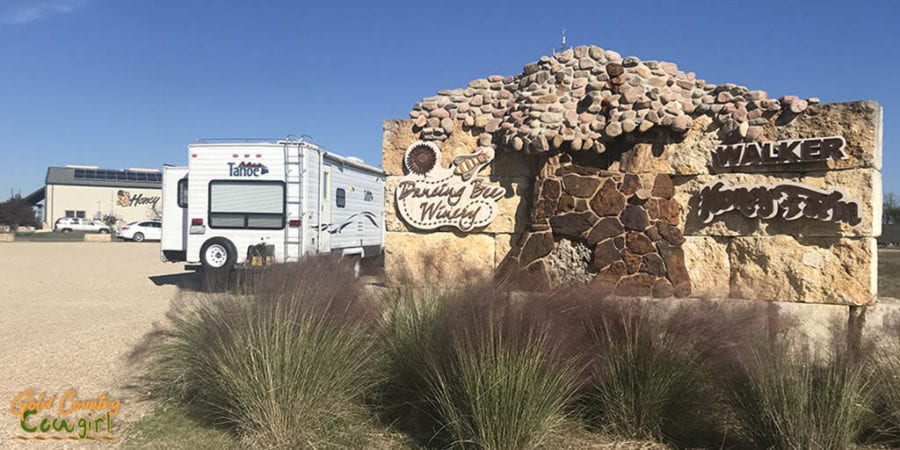 During the introductions, we had a discussion about the winery cats and my cats, and the staff was eager for me to bring mine in! Once we were settled, I got Christy's stroller out of the car and we went in to check out the store and for a tasting. Well, of course, I'm the only one who did any tasting.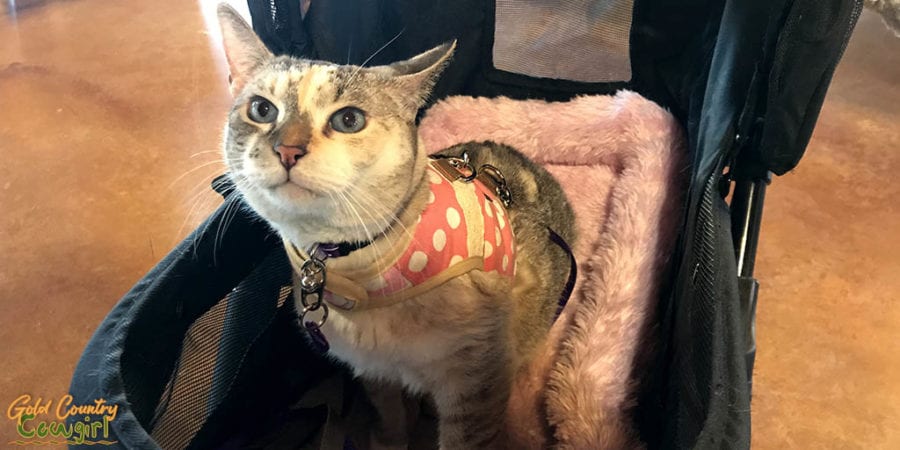 I thought it was kind of cool that the one hive they have on site is "in the store" behind glass so you can observe the bees. Did you know there are over 300 varieties of honey in the US alone? Walker Honey Farm offers samples of all the varieties they sell and usually have at least 10 available at any one time. The flavor of honey is determined by the type of flower the bees have visited and the only variety of honey available locally is central Texas wildflower honey. The rest of their honey is sourced from their other locations and other beekeeper friends.
Did you know there are over 300 varieties of honey in the US alone?
Click To Tweet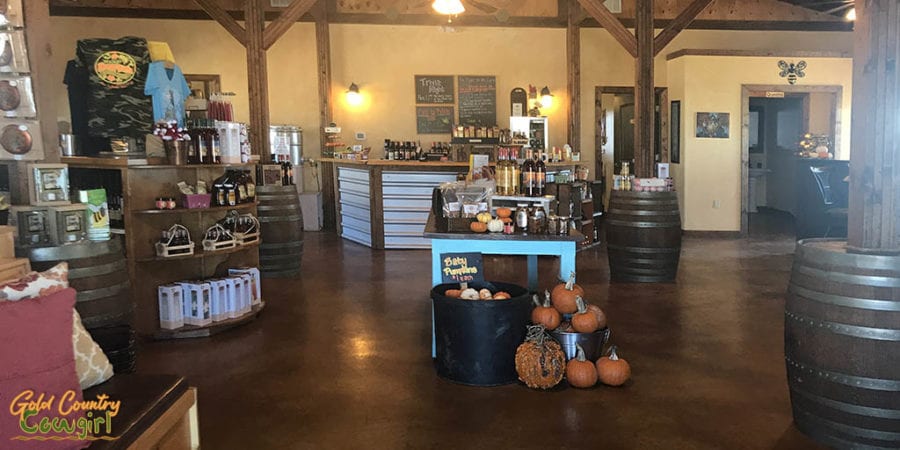 In the farm store, you can buy raw honey, specialty foods, soaps, and honey accessories. Did you eat peanut butter and honey stirred together when you were a kid? I know, I did. Did you know it comes in a jar already mixed?! Besides honey products, they sell books, beeswax candles, coffee, gift items, olive oils and vinegars, and apparel.
Dancing Bee Winery
G.C. Clint Walker, Sr. bought 150 hives of bees in 1930. The third generation of Walkers are now heading into their 88th crop year. They say, "Creating new, exciting products from honey has always been our passion." They felt honey wine was a logical expansion and Dancing Bee Winery opened in 2011. The name, Dancing Bee Winery, comes from the way that honey bees communicate with one another. Watch the video for the fascinating information about this.
Mead
Mead, which dates back at least 7,000 years, is wine made from fermented honey (honey, water and yeast) instead of grapes. Because mead is made from honey, many people think it is thick and sweet, but just like grape wine, it can be anywhere from sweet to dry. Honey wine may have other additives like fruit, hops, spices and even grapes. These, along with the variety of honey, type of yeast and aging process influence the flavor of the wine.
Because mead is made from honey, many think it is thick and sweet. But is it?
Click To Tweet
Wine Tasting at Dancing Bee Winery
After checking out all the fun merchandise in the store, I sat down to enjoy my tasting that I had been so looking forward to. The wine tasting fee of $10 for six pours is waived with the purchase of three bottles.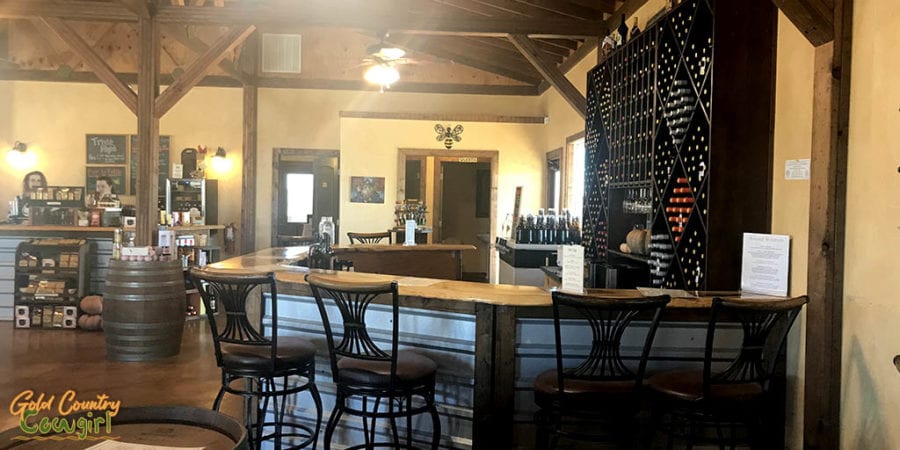 I love my bubbly so I was disappointed that the sparkling wines are only available on Friday, Saturday and Sunday. There were lots of other options, though, and it wasn't easy whittling it down to six since I had no idea what any of them tasted like. Between written descriptions and my pourer's recommendations, I finally made some selections.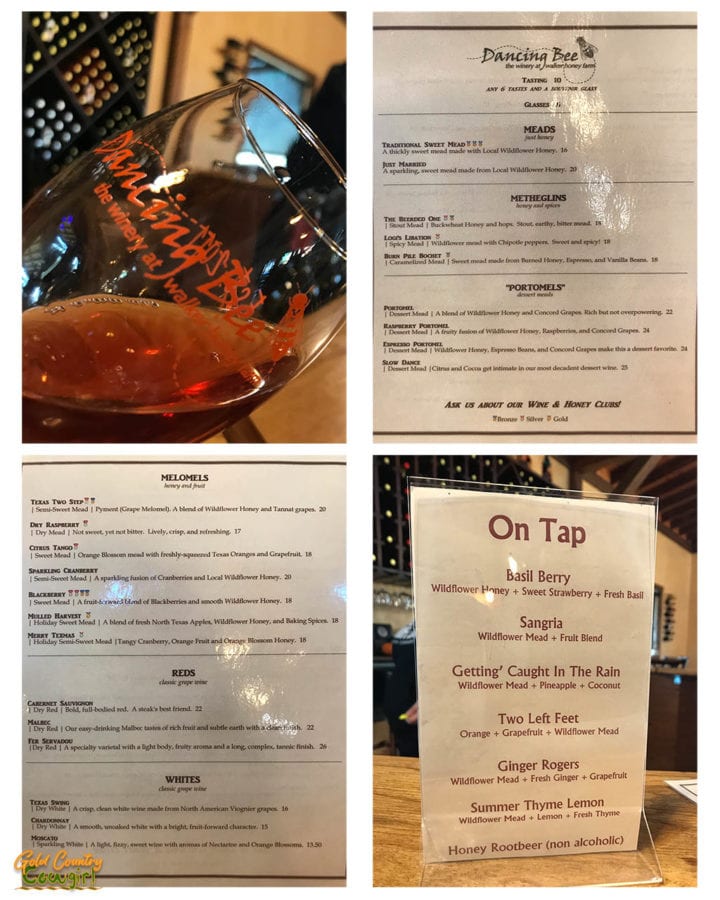 Each wine I tried was so different from the one before, it was hard to decide which I liked most. What I thought I would like best, I didn't and what I ended up purchasing was a surprise. Logi's Libation, an award-winning spicy mead, is described as "a sweet and spicy duo made with our local wildflower honey and chipotle peppers."
They also have mead on tap and sell refillable growlers. If the growlers weren't quite so expensive, I would have gotten the Basil Berry. It was the only one I tried but it was deliciously refreshing. If I lived in the area and could return to get my growler refilled, it would have been a pretty good deal, but it wasn't worth it for a one-time fill. I did get a glass of the Basil Berry to take back to the trailer to enjoy before dinner.
While I was slowly savoring my wines during my tasting, another couple, also Harvest Hosts members, came in to check in. They ended up parking on the other side of the production building and we never even saw each other except the next morning when they were walking their dog. Christy, Echo, Ocean and I enjoyed a very peaceful night.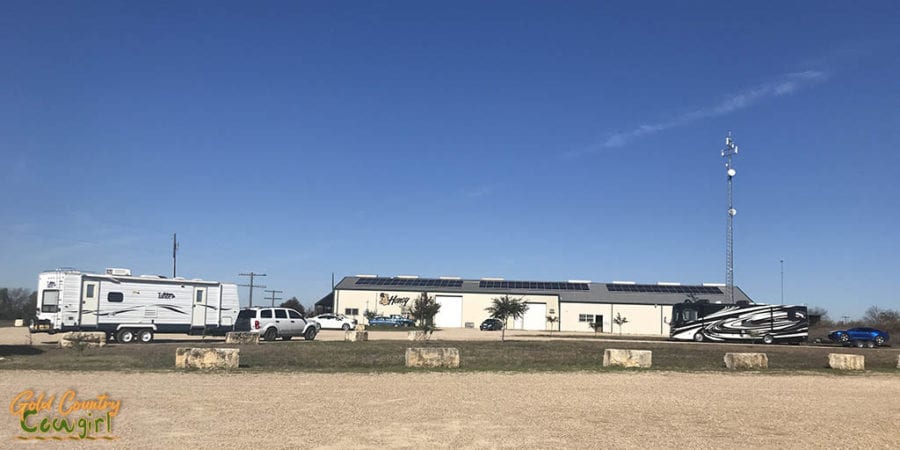 Have you tried mead? Have you ever done any home brewing of any kind?
Please remember that you must be a member of Harvest Hosts to boondock at Walker Honey Farm and Dancing Bee Winery.
*In doing research for this post, I found that mead seems to be making a comeback!
Mead: The Return of the Sweet, Ancient Flavor
Until next time…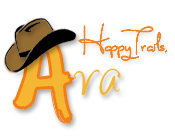 (Visited 786 times, 1 visits today)