By the time I got to San Antonio in mid-November, I had been on the road for 33 days. I had been to some amazing places and had been enjoying remarkably beautiful weather until I arrived in central Texas the week before. For almost a week it had been cloudy, drizzly, rainy and windy, so I was really happy when the day I planned to go do San Antonio sightseeing, the weather cleared for the day. The sun came out and it was in the 70s. Just in case the weather didn't hold for another day, I wanted to see the best of San Antonio in that one day.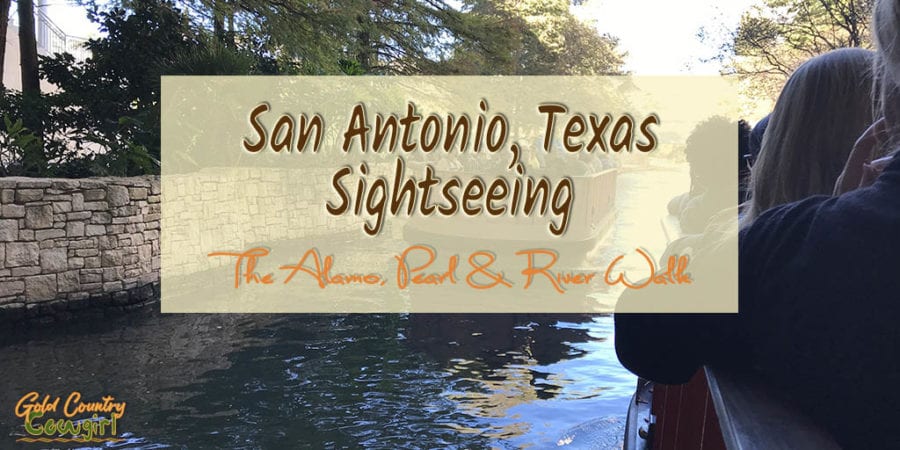 Normally, when I plan to go sightseeing in a city, I do a lot of research and know what I'm going to do when I get there. For some reason, I didn't do much research for San Antonio. Maybe I was researched out. Maybe I didn't have much enthusiasm since I wasn't expecting nice weather. All I knew about San Antonio was that I wanted to go to the Alamo and the River Walk.
Driving & Parking for Downtown San Antonio Sightseeing
I knew the Alamo was in town, but it is not just in town. It is in the middle of the BIG city. Streets are narrow and lots of them are one way. Driving in a strange place is always a little nerve wracking, even with gps.
Once I found the Alamo, parking was another matter. Parking lots weren't well marked and I didn't see rates posted anywhere. Not wanting to drive around a strange town looking for a place to park, I parked at one of the lots close to the Alamo on Crockett Street. I got a bit of a shock when I went to pay. I don't remember how much parking was for less than six hours (seems like it was $12 for 3 hours) but I knew I didn't want any less than six. Six hours was $19, but at least the lot was a convenient 5-minute walk to the Alamo.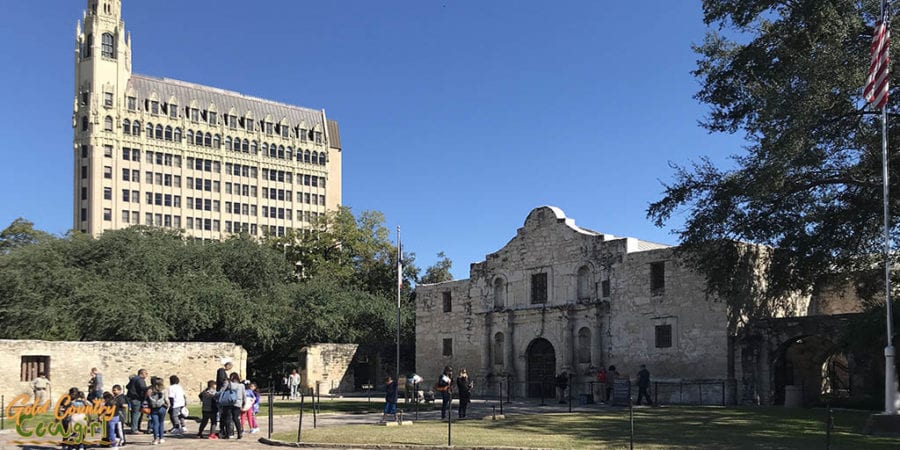 I didn't know how I was going to get around once I was finished at the Alamo but then I saw the hop-on, hop-off sightseeing bus parked in front. Buses operate on about a 20-minute schedule making 19 stops and you can get on or off anywhere you want as many times as you want. That was perfect for me so I purchased my ticket, added the Go Rio Cruises River Walk tour, and made my way inside the Alamo.
The Alamo
The iconic Alamo Mission of San Antonio is a place that should be on every visitor to San Antonio's list of must sees. The history of the Alamo dates back long before the infamous battle in 1836, during Texas' war for independence against Mexico, where Jim Bowie and Davy Crockett, among others, lost their lives. It was known as Misión San Antonio de Valero when it was founded in the 18th century, around 1718, as a Roman Catholic mission and fortress compound. It has undergone many changes over the years. I'm not here to give you a history lesson so let's just say that the Alamo's story is long and fascinating.
Entry is free to do a self-guided tour. They offer paid tours and, in hindsight, I wish I had done that. I'm sure I would have gotten much more out of the visit but the timing of the tours didn't work out for me.
There are demonstrations on the grounds at the Living History Encampment and while I was there, I saw how black powder rifles were reloaded and used. It's amazing anyone ever survived a battle!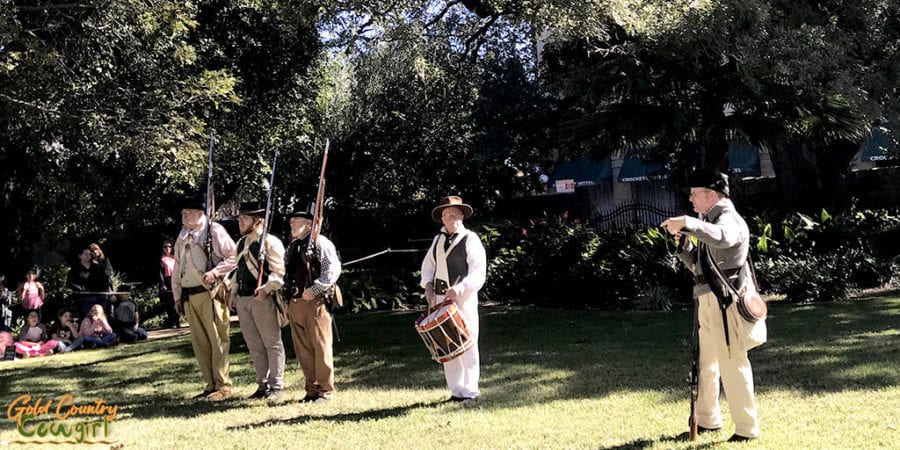 The San Antonio missions, which includes the Alamo, were designated a UNESCO World Heritage Site in 2015.

Hop-on, Hop-off Sightseeing Bus — Easiest way to see the best of San Antonio in one day!
I am so glad I stumbled across this. It made getting around to the places I wanted to go so easy. The 19 stops that the London-style, double-decker buses make include downtown, uptown and Pearl — all the best of San Antonio. A bus makes each stop every 20 minutes so there's never a long wait. Commentary from the drivers is quite entertaining and informative.
The 19 stops that the hop-on, hop-off buses make include downtown, uptown and Pearl — all the best of #SanAntonio. #travel #ustravel
Click To Tweet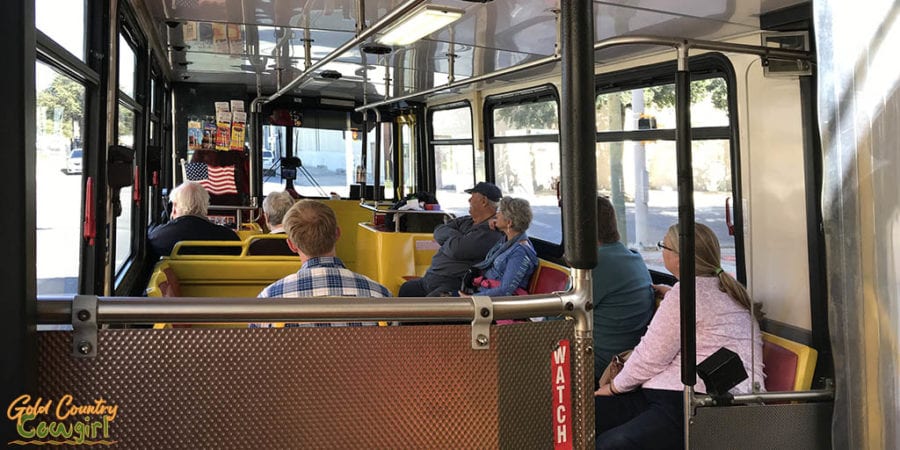 Pearl — Pearl Entertainment Complex
In all honesty, shopping is not my thing, so I had not planned to get off the bus at Pearl, but I was feeling sick and HAD to get off. Once I was feeling better, I checked out some of the shops and restaurants.
I had to photograph the menu at Merit Roasting Co. because they serve an affogato. I learned about this when I went olive oil and vinegar tasting in Murphys, California. Theirs uses espresso, they are a coffee house after all, rather than espresso balsamic vinegar. Boy, do I miss my affogatos with balsamic!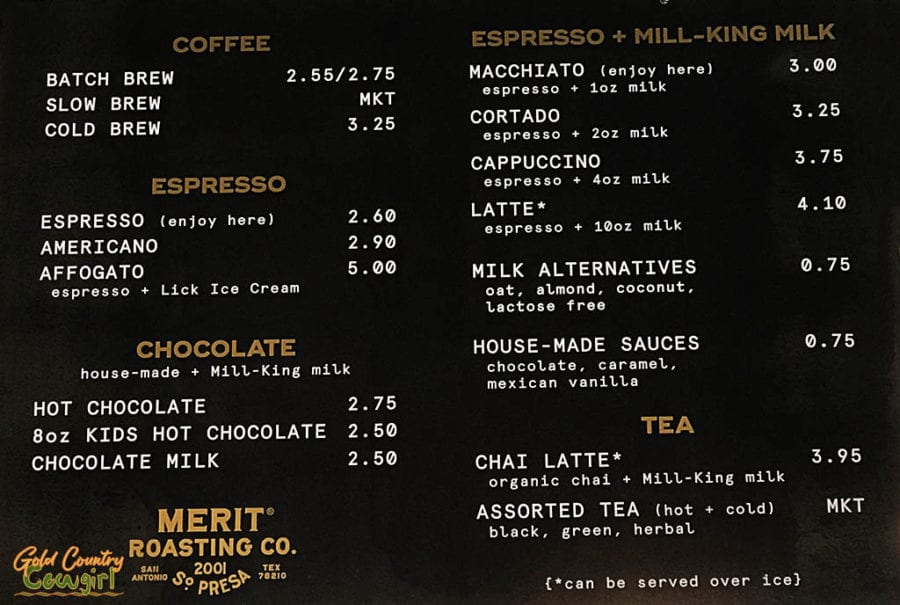 Pearl has a great city vibe, has gorgeous green spaces and is situated along the banks of the river. I'm sure it is a wonderful hangout for the locals.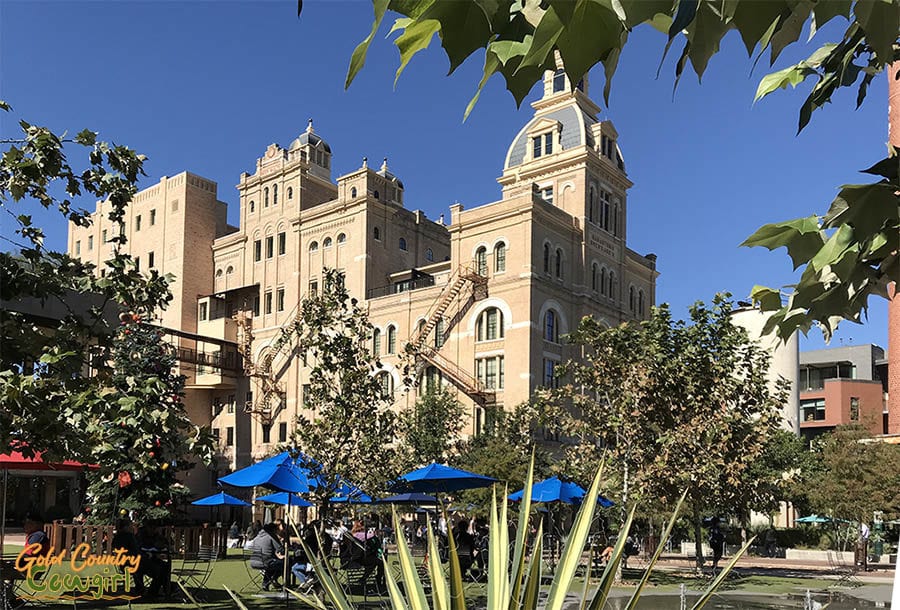 River Walk & Lunch
After a short visit to Pearl, I hopped back on the bus and headed to the River Walk. It was such a beautiful day that I rode on the top deck for the second leg of my trip between Pearl and the River Walk.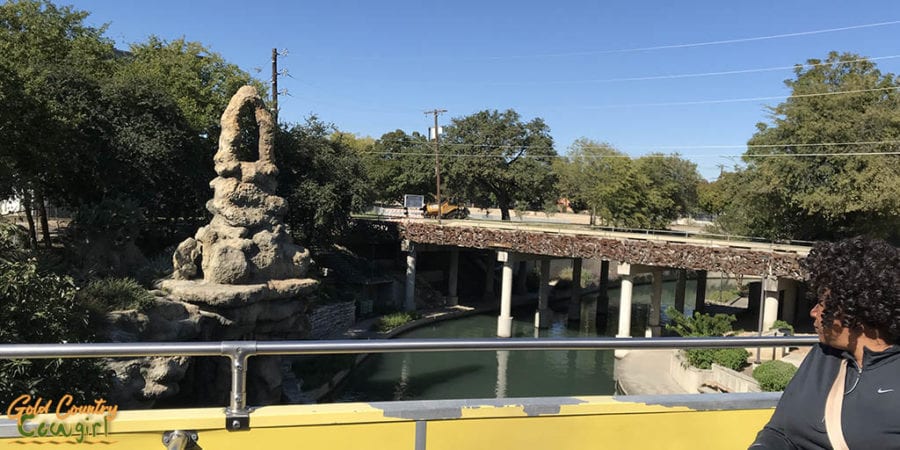 The River Walk bus stop is just a couple of blocks from an entrance to the River Walk. This particular entrance is near where the Go Rio Cruises boats board so it was very convenient.
I decided I wanted to get a bite to eat before I took the boat tour and asked for a recommendation. One of the places recommended was the Iron Cactus right next door. I chose this nice close location to maximize my time. Service was friendly and efficient, the margarita was awesome, food was very tasty, and I loved the atmosphere. Businesses are right on the river, the vegetation is lush and you can hear birds everywhere. If I had to live in a city, this would be my kind of place!
Go Rio Cruises River Cruise
I love being on the water almost more than I love trains so the river cruise is something I definitely wanted to do. I thoroughly enjoyed this information-packed, 35-minute, narrated cruise. Our boat captain had lots of stories about the history and architecture of the city. I saw so much more of the River Walk than I could have in the same amount of time walking. Of course, I didn't get to stop at places and explore further but it was a great overview of the River Walk. I made a list of things to check out and do on a return visit.
I loved the information-packed, 35-minute, narrated cruise on Go Rio Cruises river cruise. #riverwalk #sanantonio #rivercruise
Click To Tweet
After the cruise I checked out some of the gift shops. You can get alcoholic beverages to go there! I'm sure you have to consume them on the River Walk but it was just such a foreign concept to me.
Back on the Bus after Seeing some of the Best of San Antonio in Just One Day
I only had about an hour left on my parking ticket so I headed back to the bus stop. After just a few minutes, the bus arrived and I rode it the rest of the way around the tour back to the Alamo.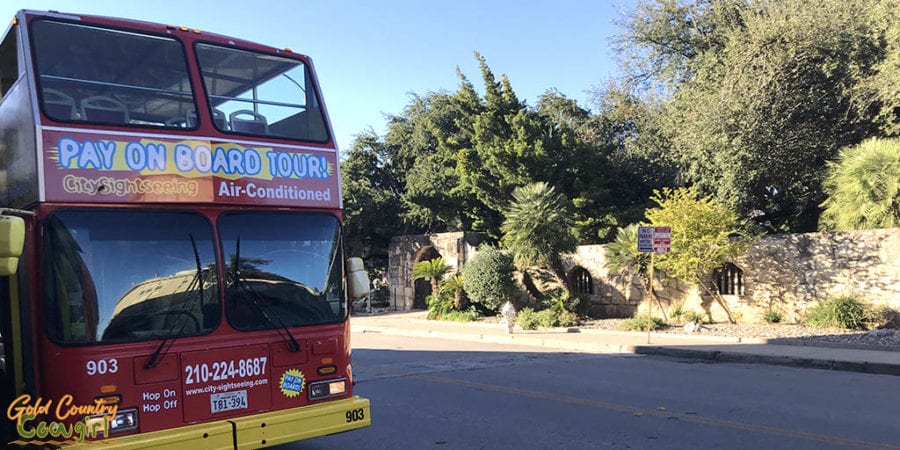 I got back to my parking spot with time to spare but not enough time to go anywhere else. Even if I did have time, thanks to that lack of research, I didn't know where else to go. At least I felt like even in just this one day I had seen some of the best San Antonio has to offer. I headed back to the RV park, my cozy trailer and my kitties, where I would figure out what to do the next day.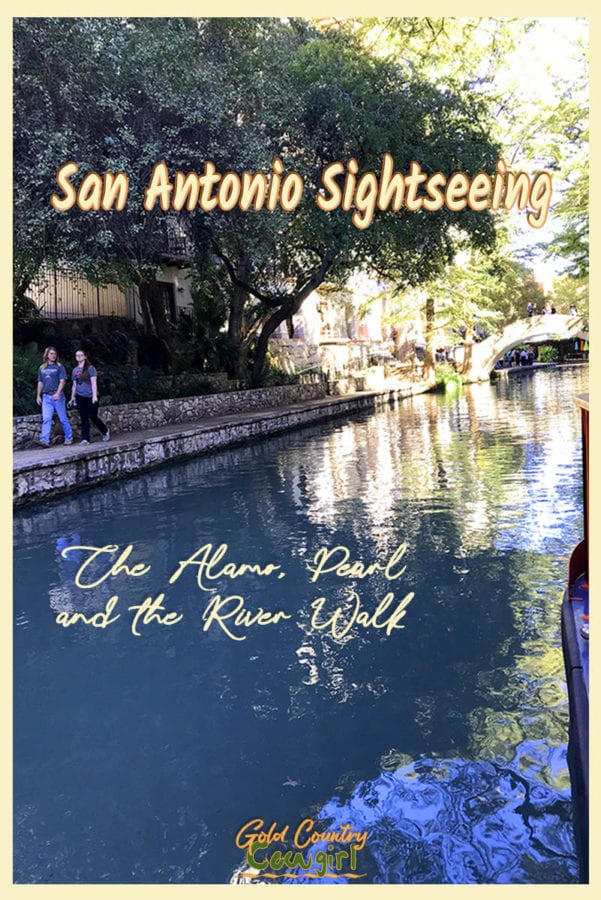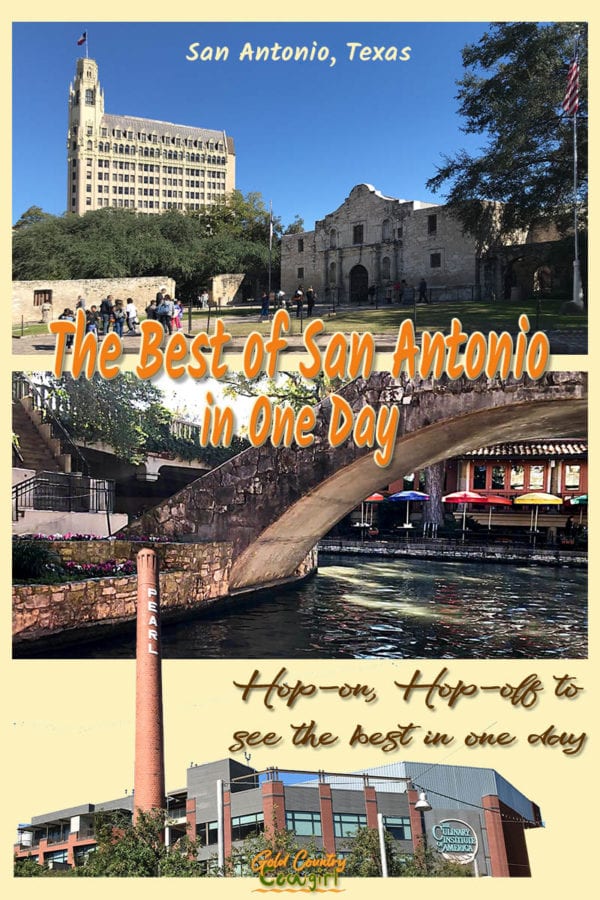 Until next time…
(Visited 2,025 times, 1 visits today)