Geocaching first came to my attention several years ago when I lived in southern California. I love scavenger hunts and solving puzzles so I thought it sounded like fun. I was about to get involved when I decided to move to rural northern California where there really weren't many geocaches. Now that I'm in Texas, there are dozens, if not hundreds of geocaches all around me. Searching for geocaches seemed like an entertaining way to learn something new about an area, so I started geocaching with Harlingen Parks and Recreation and their Geo-Quest. I think it will be fun to log geocaches in all the places I visit while I'm RVing around the US!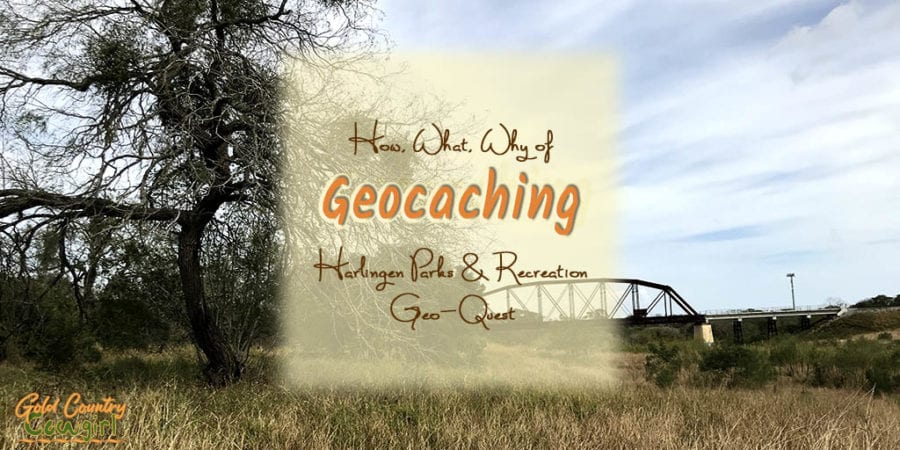 What is Geocaching?
For those who may not be aware, geocaching is an outdoor treasure hunting game using GPS coordinates to find hidden items at a specific location. Any game participant can create and hide a cache and then enter the coordinates on a geocaching website. There are several listing websites but geocaching.com is the largest and the one Harlingen Parks and Recreation uses.
#Geocaching is a fun, outdoor treasure hunting game using GPS coordinates to find hidden items at a specific location.
Click To Tweet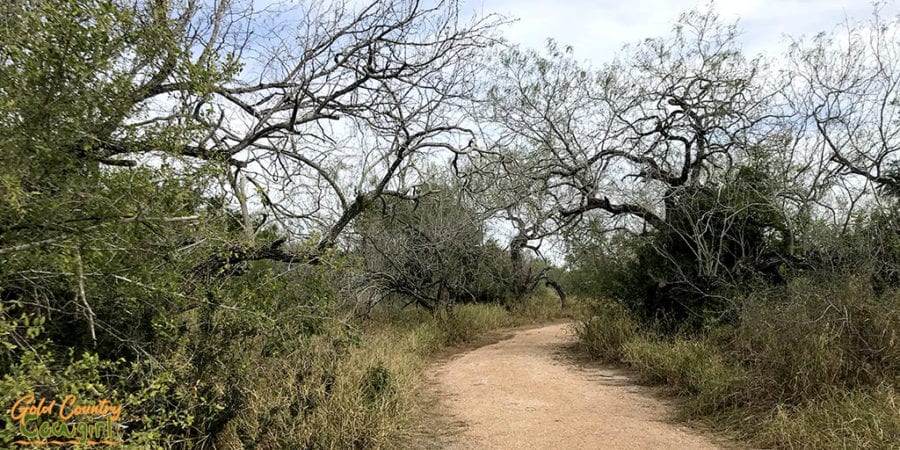 There are different kinds of geocaches but the most common is the original type. It is usually a waterproof container that contains, at the minimum, a log book. You may need your own pen or pencil to make your entry so always bring one.
Larger containers sometimes have items for trade or tracking. The items for trade are usually just small trinkets, perhaps with sentimental value, but no real cash value. If you take something from a cache, you need to replace it with something of equal or greater value — value in the sense that if you take a key chain, don't replace it with a rock.
How to Get Started Geocaching
Using a smartphone is the easiest way to geocache. Just download the geocaching app by Groundspeak, Inc., sign up for a free basic membership and you are ready to go. It's just that easy.
You can also sign up on the website and download coordinates to a GPS enabled device other than a smartphone.
The app and the website will find caches that are near your location. Each cache has a page with some details, including a rating of difficulty, terrain and size. There may be a hint to help you find it.
Getting started #geocaching is easy but finding your first cache may not be! Are you up for the challenge?
Click To Tweet
How to Find Your First Cache
The GPS coordinates will only get you within 20-30 feet of the cache. Once you are in the area, you need to put your GPS device away and start looking. Geocaches are often disguised but they will never be buried. Look for something that seems out of place. Use the app to see if there is a hint or read the latest log activity to help you find it if you are feeling stumped.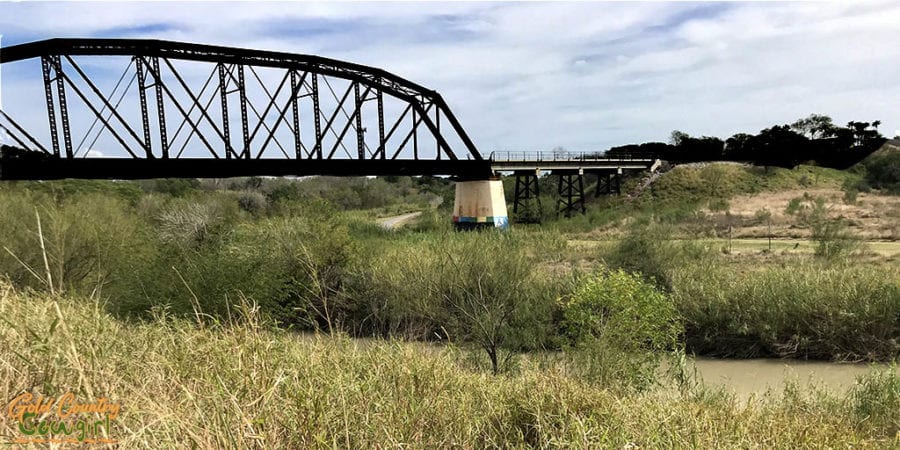 What Do You Do When You Find a Geocache?
Yay! Success. You found it. Sign the log book and enter your find on the app. If there are items for trading, have fun checking them out and making a trade. I'm looking forward to seeing what treasures are in the first one I find.
Be sure to put the cache back exactly where you discovered it so the next person can find it.
Geocaching with Harlingen Parks and Recreation Geo-Quest
Geocaching with Harlingen Parks and Recreation is designed to get you out enjoying the more than 1200 acres of public land in Harlingen. You'll visit parks, downtown and other landmarks.
Print out the Geo-Quest Passport from their website. When you find one of their caches, be sure to enter into their passport the code word you find in the geocache. Once you find 20 of their 25 caches, you can turn in your passport for a Harlingen Parks and Recreation Geocoin.
What I Learned My First Day of Geocaching
On the first day out, I decided to start with two geocaches that were near Bass Pro Shop and seemed fairly easy. Ha! I searched for the first one for about 20 minutes and gave up.
I decided to move on to the second nearby cache. I looked and looked and, finally, there it was! So I wasn't a total geocache failure. I took my photo and entered my find on the app.
A third cache I attempted was in a busy parking lot. Two cars with people in them were parked right in the area so I passed on that one. You don't want to let muggles (non-geocachers) see them as some have a tendency to remove or vandalize them. Another thing you need to be aware of is not causing public alarm by acting, what some might think, is suspicious.
As a new geocacher, I had no idea what I might be looking for when I went to each location. On the videos, you see ammo boxes, plastic containers, and other large items, but there are some really small items, too, like the one I found above. You need patience! Lots of patience. Maybe more than I have for some caches as evidenced by my very first one.
My Harlingen Parks and Rec Geocache Experience
The geocaches mentioned above are not part of the Harlingen Parks and Recreation Geo-Quest. I attempted two Harlingen Parks and Rec geocaches my first day and failed miserably at both! After failing to find the first one, I was certain I would find the second one. I headed off to its location at the Iwo Jima Memorial Museum, but no luck. I did take the opportunity to take a few more photos of the inspirational and thought-provoking monument though.
Undaunted by failure, I headed out a second day to do some hiking in a park with a Harlingen Parks and Rec geocache. (Yes, we actually had two days in a row of good weather before the wind and rain started again.) It was a perfect day for a hike — mostly cloudy, near 70 degrees with a light breeze.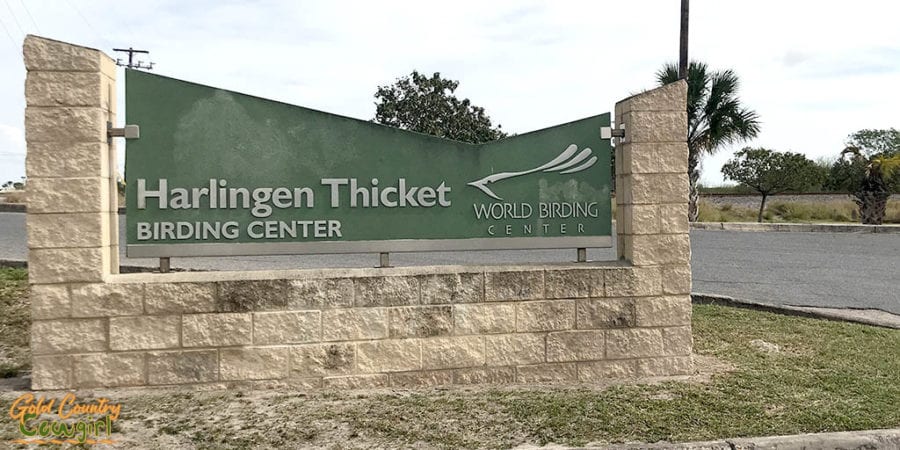 I found the coordinates with no problem but the geocache was not the same story. I looked for about 10 minutes then decided to do more of the hike and look again on my way back. On my return, I looked for another 30-40 minutes — I really didn't want to give up on this one but I just couldn't find it. Even the hint and log entries didn't help. Although I didn't find the prize, the hike was awesome.
So, I'm 0 for 3 geocaching with Harlingen Parks and Recreation and I'm starting to wonder if I really like puzzles and scavenger hunts as much as I thought I did! Seriously, though, I'm looking forward to racking up more smiley faces on my geocache map. It's a great reason to get outdoors and see some new places.
What I Learned on My Second Day of Geocaching
When I headed out for my hike, I learned that to access any information about geocaches with a difficulty or terrain rating over 2, you have to pay for the premium version of the geocaching app. It is $5.99 per month or $29.99 for a year, making it just $2.50 per month.
The cache I wanted to look for had a rating of 3 for both difficulty and terrain so I paid for one month of premium membership to check it out. Premium membership also gives you access to other types of caches like mystery and multi-caches. These require some extra sleuthing and problem solving to find.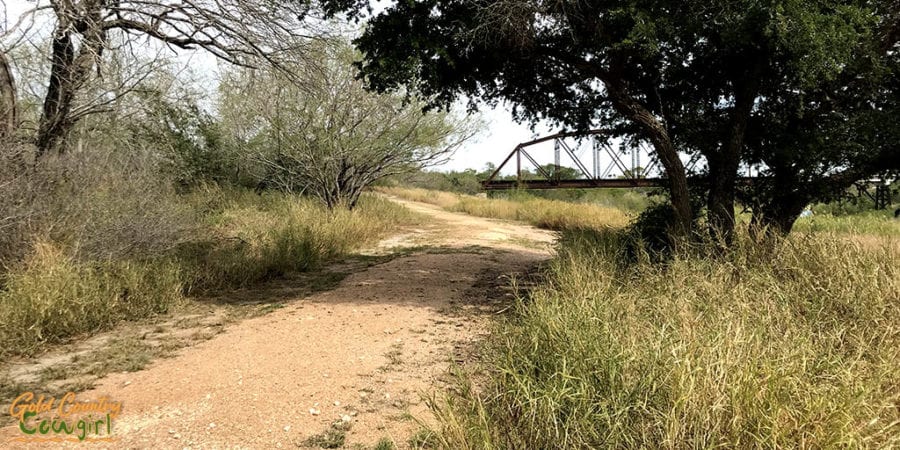 Some Fun Facts About Geocaching
The first geocache was hidden on May 3, 2000 near Beaverton, Oregon
geocaching.com,  the largest listing site, was launched in September 2000
There are geocaches in 191 countries (as of April, 2017)
Geocaching is legal in every country except North Korea
There are active geocaches on every continent
There's a geocache hidden on the International Space Station (GC1BE91)
The deepest geocache is over 7500 feet below sea level
There are more than 3 million active geocaches worldwide
The most found geocache in the world is GC189E5 in Prague
Mingo (GC30) in Kansas is the oldest (2nd placed) surviving geocache in the world
Do you go geocaching at home? Do you geocache when you travel? Have you done geocaching with Harlingen Parks and Recreation?


Until next time…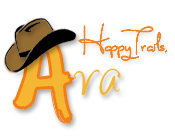 (Visited 624 times, 1 visits today)