A while back, my wine tasting group, the Vineyard Vixens, went to visit a couple of wineries in Fairplay, CA, and to pick up some futures. We had a bit of an unpleasant experience when we went to pick up our futures. Several members of our group had been wine club members at that winery and we had always been treated well and had a good time. Suddenly, since no one was a member anymore, we were treated like persona non grata. We didn't stay to taste and instead decided to visit Sentivo Vineyards which had been recommended by Mary at Gold Vine Grill where we had lunch. I am so glad we did! The staff at Sentivo Vineyards saved the day for us so that it ended very upbeat.
Our First Visit to Sentivo Vineyards
From the moment we arrived at Sentivo Vineyards we felt so welcome. Everyone was friendly and attentive. Christina took care of us and treated us like VIPs. Scott, one of the owners, was there and made it a point to come over to check on us. If I sound like I'm gushing a little, I might be. We just really appreciated the 180 degree change in the way we were treated.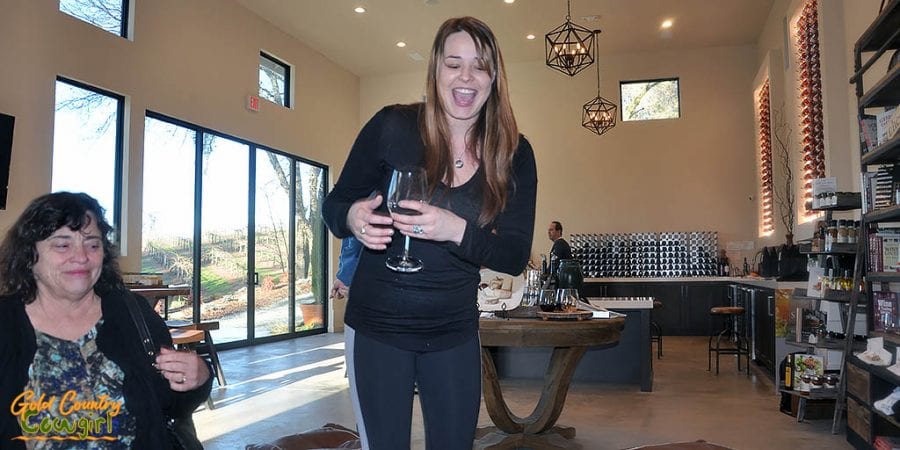 Now, don't get me wrong here. Owners and staff at most wineries (except for an occasional less than perfect experience) are friendly and pleasant and treat you well as a customer. Sentivo is a family owned business. Owners Daniela and Paul Devitt, their daughter and son-in-law, Sara and Zack Fuelling, and sister and brother-in-law, Michele and Scott London, want everyone to feel like a part of the family. Their signature toast is "To friends who are family and family who are friends." I didn't realize this was so much a part of their philosophy until after our second visit but it sure comes across from the moment you arrive.
You'll feel like family at Sentivo Vineyards in Somerset, CA.
Click To Tweet
When we arrived for that first visit, we chose to sit in the comfortable and cozy seating area rather than sit or stand at the bar. Christina kept a good eye on us and even brought us a complimentary charcuterie board.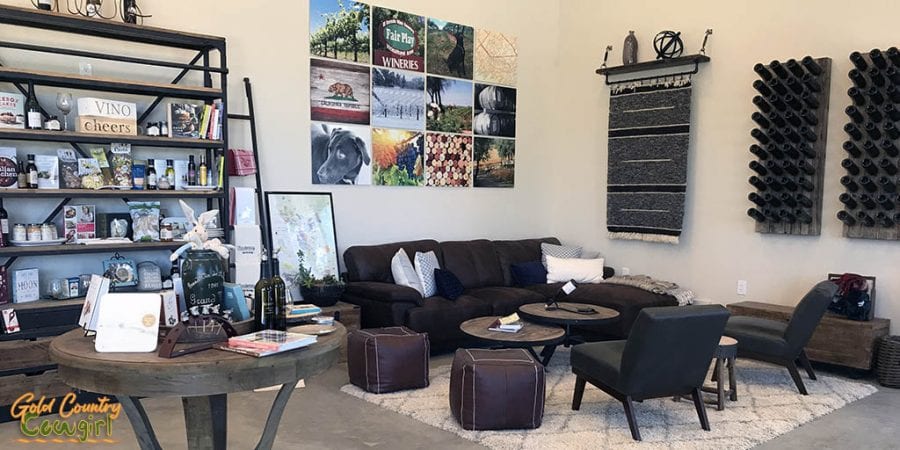 Since this visit had been kind of an after thought after visiting a couple of other wineries and was such a positive experience, I wanted to return so we could give their wines the attention they deserved.
Our Second Visit to Sentivo Vineyards
The tasting room at Sentivo Vineyards had only been open a few months when we visited in January. I was curious to see if we would receive the same warm welcome and they didn't disappoint. It was great to see Christina there and she remembered us from our previous visit.
The weather was absolutely gorgeous so we sat outside. The sky was so blue and the view was awesome. It will be even more beautiful in a few weeks when the grape vines have all their leaves.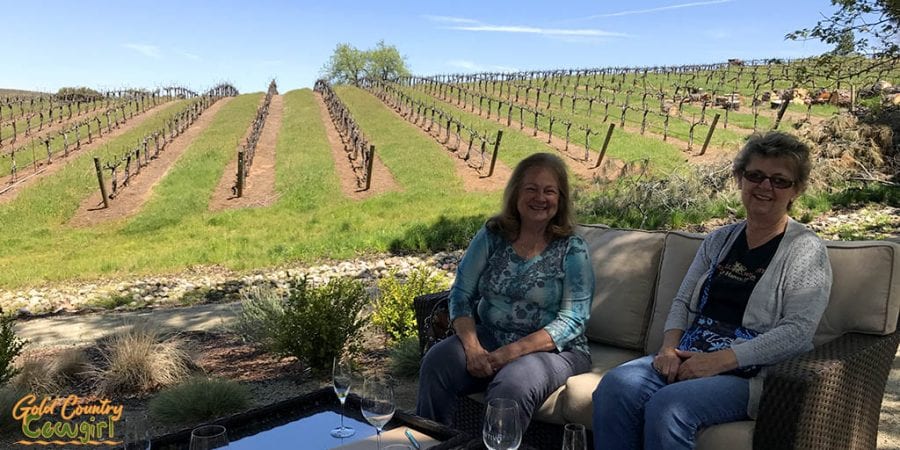 The patio is so inviting with several different seating options, including these comfortable sofas.
As soon as we got seated, Christina brought us glasses and Thomas helped her pour our first taste which was the Sentivo Brut. If you follow me at all you know I love my bubbles and this one is wonderful. I got a little behind everyone in tasting because Thomas offered me a second pour of it which I gladly accepted.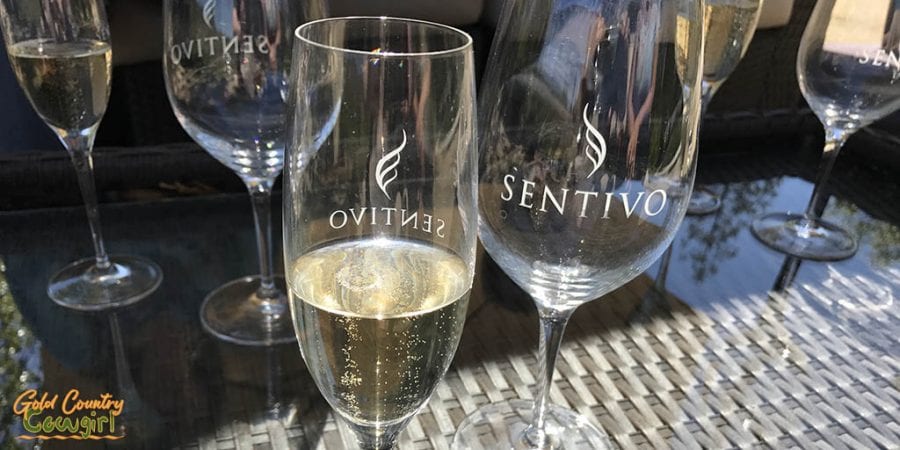 Not many wineries or tasting rooms serve food but we learned during our first visit that Sentivo Vineyards does. They have some food on hand for spur of the moment purchase, but if you want your order guaranteed you need to place your order online at least the day before your visit. The food is catered by The Cellar Wine Bar in Folsom and finished off at the winery. We each just happened to order something different so we tasted all around – well, except for my salad (really trying to stay on a ketogenic way of eating) – no one seemed very interested in trying it. Yes, I had a bite of everything even though I shouldn't have, but I just had to so I could tell you first hand that everything was fresh and delicious.
The Wine
The Syrah and Petite Sirah vines of Sentivo Vineyards were planted in 1999. The family purchased the vineyard in 2010 and had their first harvest in 2011. They produce six reds (four from estate grown grapes) and three whites. Their wines have won many awards, especially in such a short time, and I know many more are in their future.
We enjoyed all the wines, some more than others, of course, but I especially liked the Primitivo and Petite Sirah. Inventory is running low on the Primitivo so that's what came home with me.
Events
They have a couple of fun events going on during the summer. Mimosa Sundays happen very other Sunday from 10:30 to 1:30 with mimosas and a continental breakfast buffet. Fire Pit Friday Happy Hour, every other Friday from 5:00 to 8:00, sounds like a great time. You can sit around the huge fire pit while you drink delicious award winning wine and nibble on appetizers and desserts. I definitely want to check this one out when the weather gets a little warmer in the evening. Both events are $20 for non-members and $15 for wine club members. They have other special events so be sure to check their website or join their mailing list to see what's happening.

You can also book this beautiful venue, which can comfortably accommodate up to 120 guests, for a wedding or corporate party.
The Details
7460 Fairplay Road
Somerset, CA 95684
T | 916.936.3306
Hours
Friday-Sunday 11:00 am to 5:00 pm
Open Monday Holidays 11:00 am to 5:00 pm
Pin It to Save for Later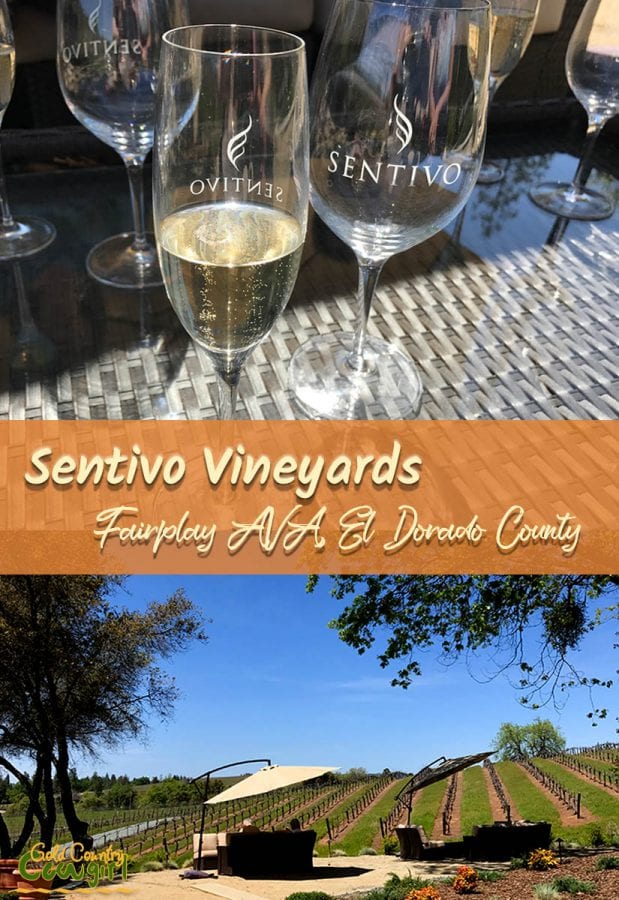 Until next time…

(Visited 594 times, 1 visits today)