Wine Tasting
When I was in my 20s and married, my former spouse and I visited north coast region wineries quite often when we traveled to see friends in Petaluma. In Southern California, we had wineries in Temecula which I visited. Somehow, in later years, wine tasting became something I no longer did even though I really enjoyed it. I hadn't been wine tasting in probably 20 years when I moved to Gold Country, so I was pleased to learn that the area has many award winning wineries.
I have heard that wine tasting in the north coast region, as well as their wines, has gotten very expensive. Some wineries there charge as much as $60 for tasting with the average being $40. Here, wine tasting is like I remember it in the 70s. It is low key, with friendly hospitality. Wine tastings are rarely more than $5 and the fee is usually waived if you buy a bottle of wine.
Shenandoah Valley
The wine region closest to me is the California Shenandoah Valley AVA which is primarily in Amador County but extends into El Dorado County. I'm just starting to learn about American Viticultural Areas (I kind of like that the acronym is AVA) and appellations. I have been to many of the Shenandoah wineries, both with and without my wine group friends, the Vineyard Vixens. Last month, I told you about the Vineyard Vixens outing to the wineries on Steiner. I thought that the Shenandoah Valley, with more than 30 wineries, was the only wine region in the area, but it turns out, to my delight, that it is just one of many.
A few months ago, the Vineyard Vixens made a trip to Lodi (another AVA) to visit a couple of wineries. This month, our outing was to Toogood Estate Winery in Fairplay where a couple of the members of the group had wine to pick up.
Fairplay
Fairplay became its own appellation in 2001 and the area has more than 20 family-owned, boutique wineries. It is just a short drive north of Shenandoah Valley into the heart of El Dorado County. You can download a brochure and map here.
Toogood Estate Winery
Paul Toogood studied both animal science and wine at Cornell University. He continued his studies at UC Davis and obtained a degree in Veterinary Medicine and a minor in Viticulture and Enology. He set up a veterinary practice in northern California but, as he says, "The winery bug came back," so he began investigating the feasibility of a vineyard and winery in the Fairplay appellation. In May 2001, Toogood Estate Winery was established on a 40-acre parcel of rolling hills with microclimates perfect for the varietals he had hand selected. Currently, 12 of the 40 acres are planted with varieties including Zinfandel, Primitivo, Tempranillo, Pinot Noir, Merlot, Cabernet Franc and Petite Sirah.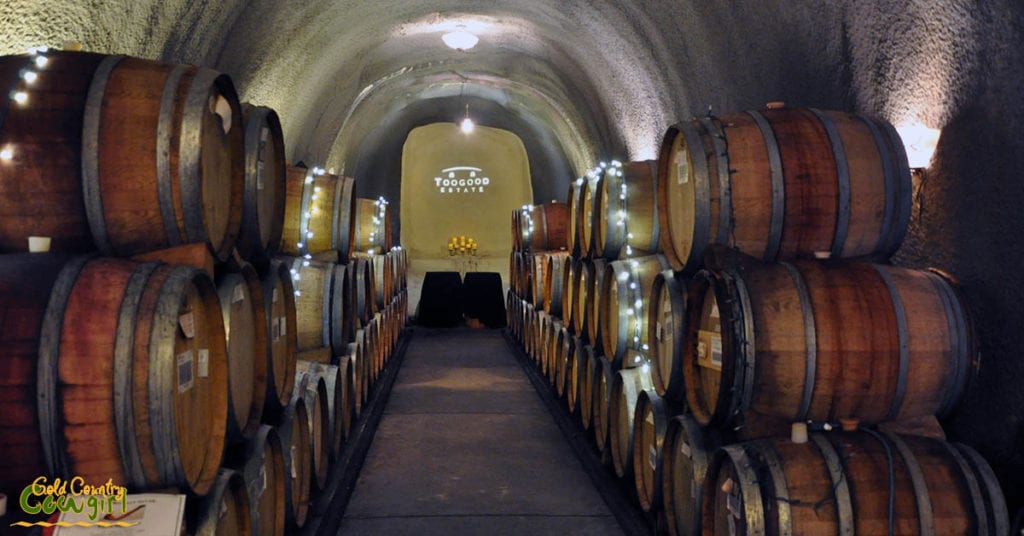 The really interesting thing about this winery is that it is all underground. Excavating the wine cave took about 9 months, beginning in September 2001. The cave provides over 5000 square feet of winery production and aging space in a delicately controlled atmosphere. The cave keeps a natural, steady temperature of 58 degrees without using any cooling equipment and the entire winery is completely solar powered.
Four years after purchasing the estate, Paul met Marco Capelli. Marco spent time in Italy and France as well as Napa valley and Australia learning the craft of winemaking. In 2005, he joined Paul at Toogood as his winemaker.
Our Wine Tasting at Toogood Estate Winery
Our group rendezvoused at the Safeway parking lot in Jackson as usual. It was great to see not one but three wonderful husbands who had agreed to be designated drivers. We carpooled to Villa Toscano Winery in the Shenandoah Valley for lunch where we met up with a couple of other members of our group.
From there, it was just a short 20 minute drive or so to Fairplay and Toogood Estate Winery.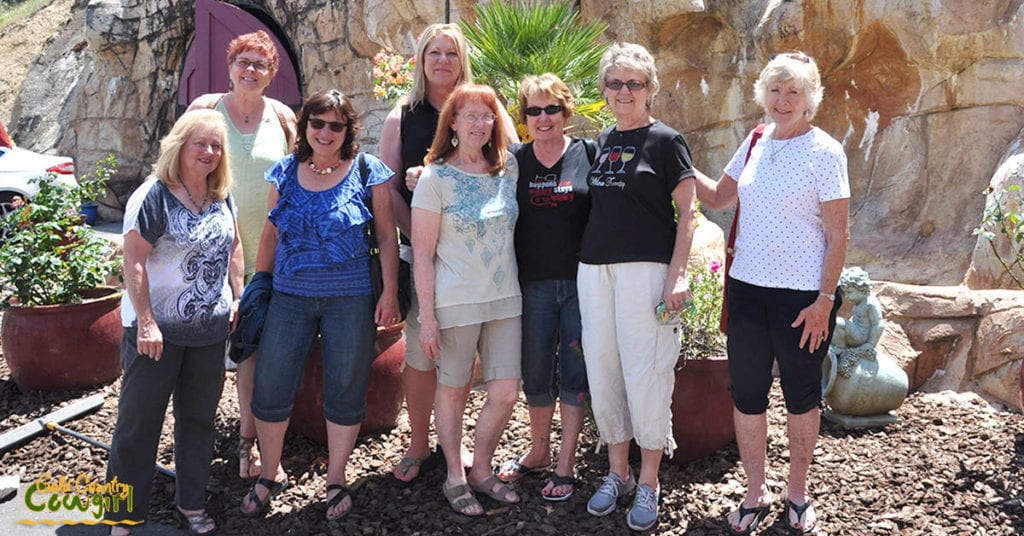 Someone reminded me to get a group shot. The entrance to the cave is the red door behind us.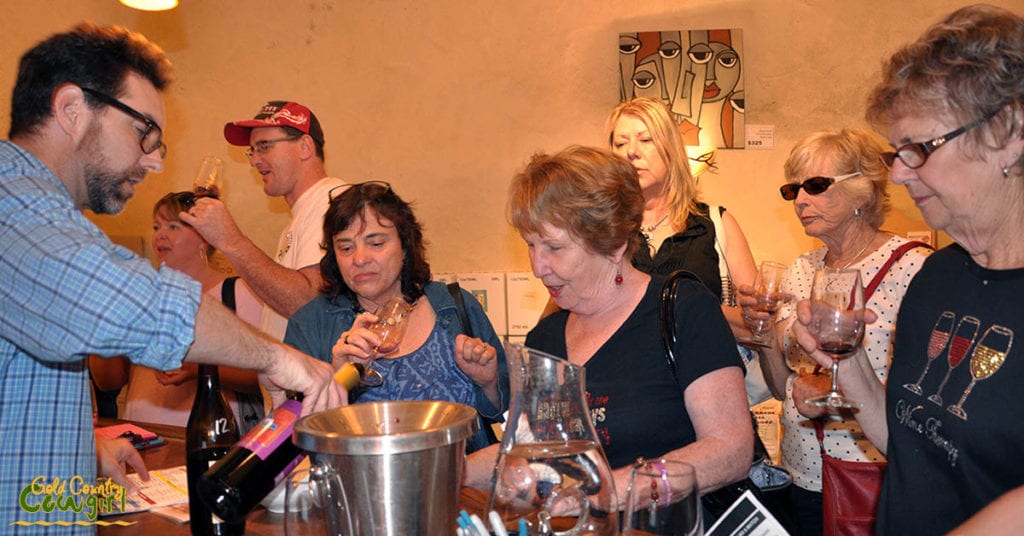 Head Vixen, Denise, is a member at Toogood and arranged the tasting for us. Dane was ready and waiting. He took excellent care of us!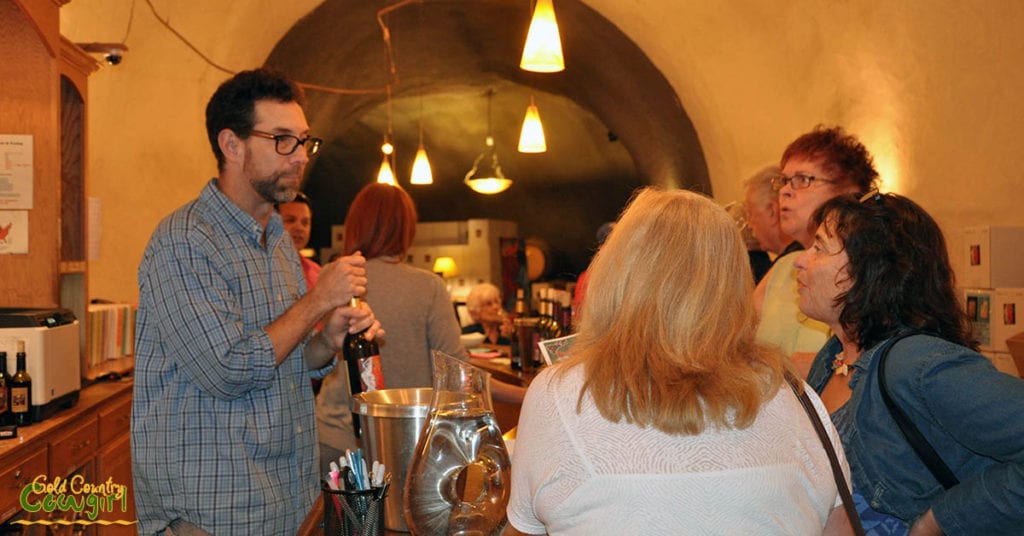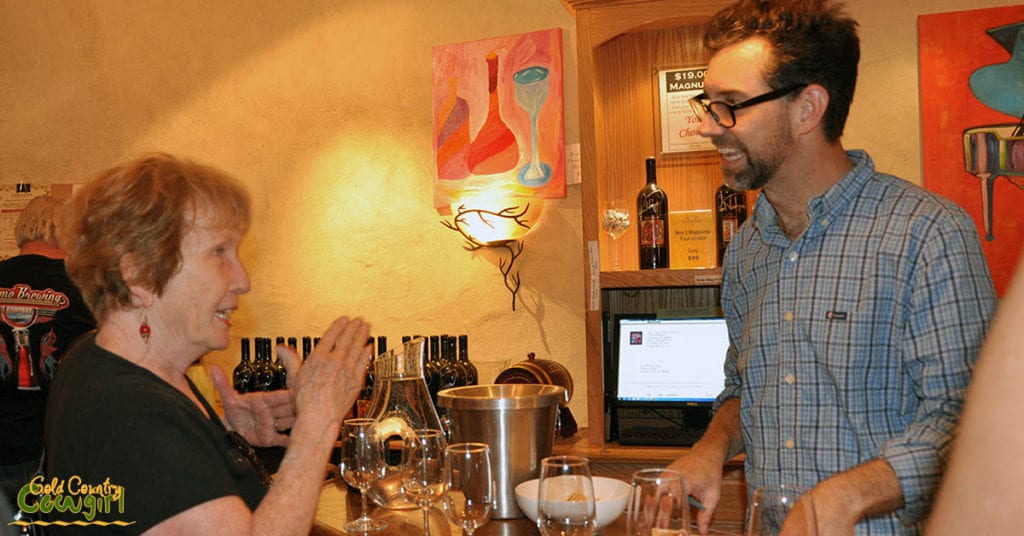 Dane was happy to answer all our questions about the wines and the winery.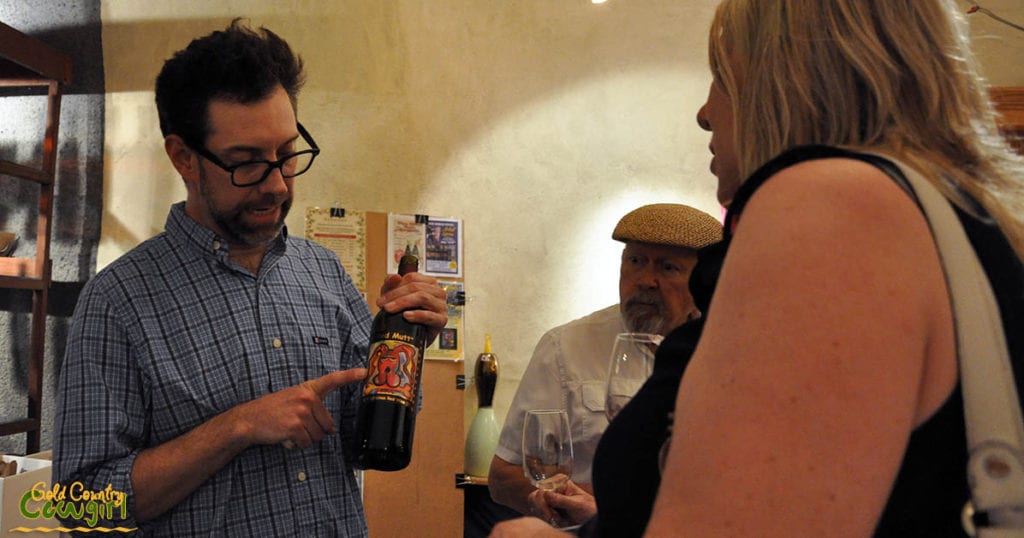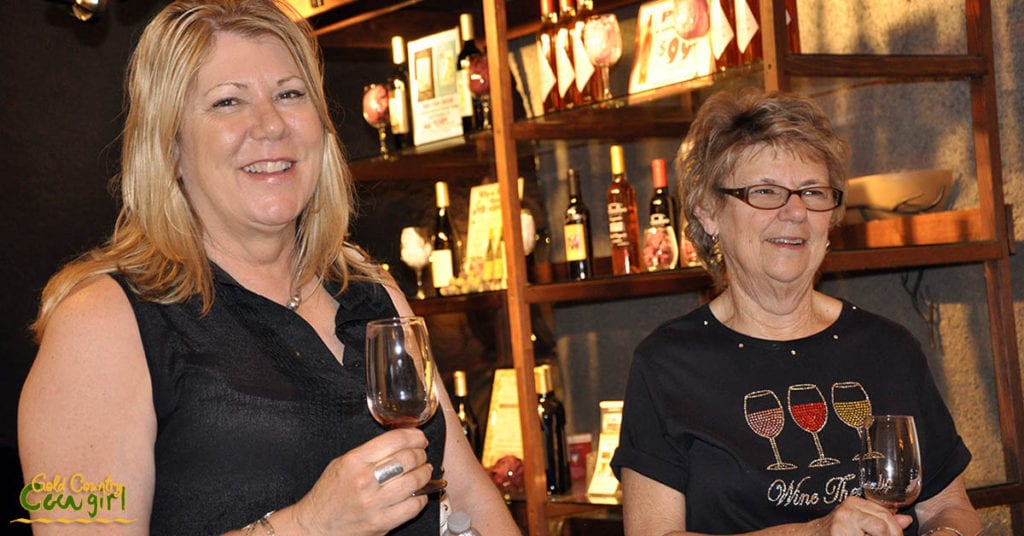 We had lots of time to visit and chat with one another — to discuss the wines, of course.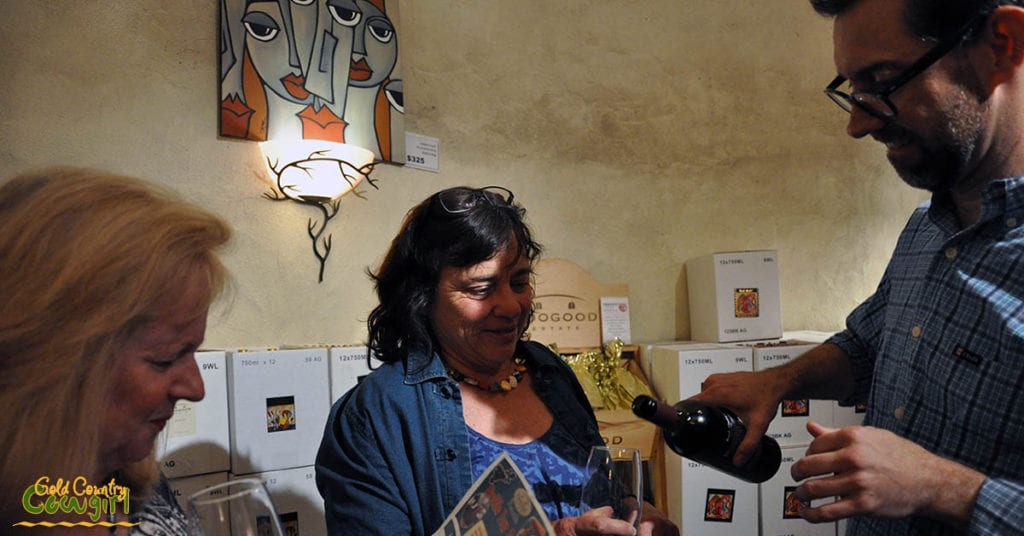 Dane made sure everyone got to taste all the wines even when we were out milling around checking things out and visiting.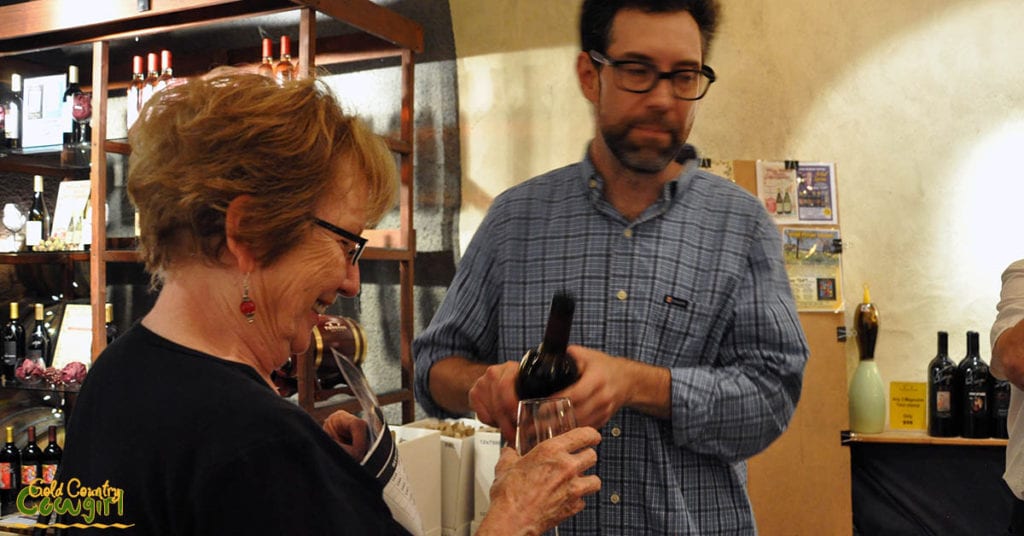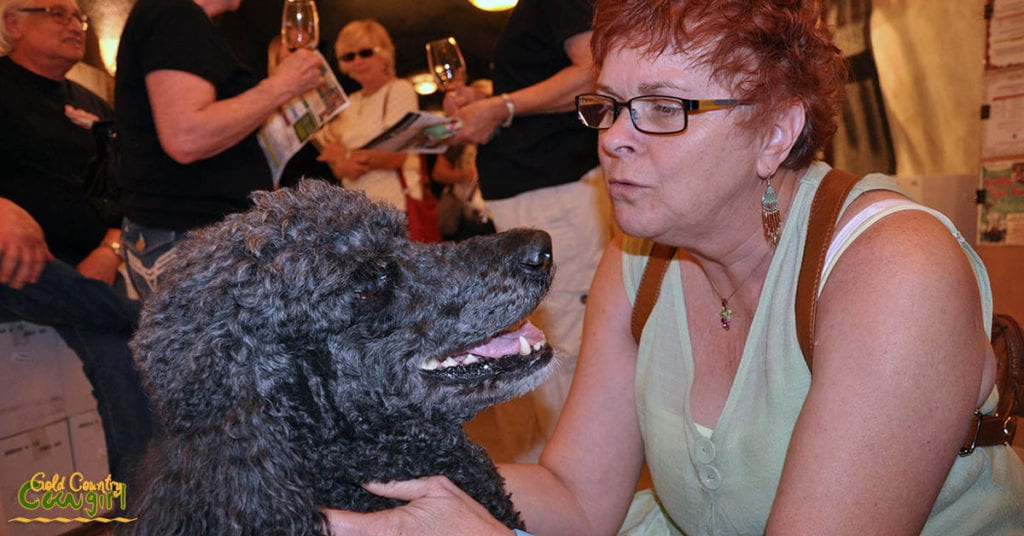 We loved meeting resident wine dog, Zin Bob, and he loved us, too! Especially after SOMEONE gave him a cracker.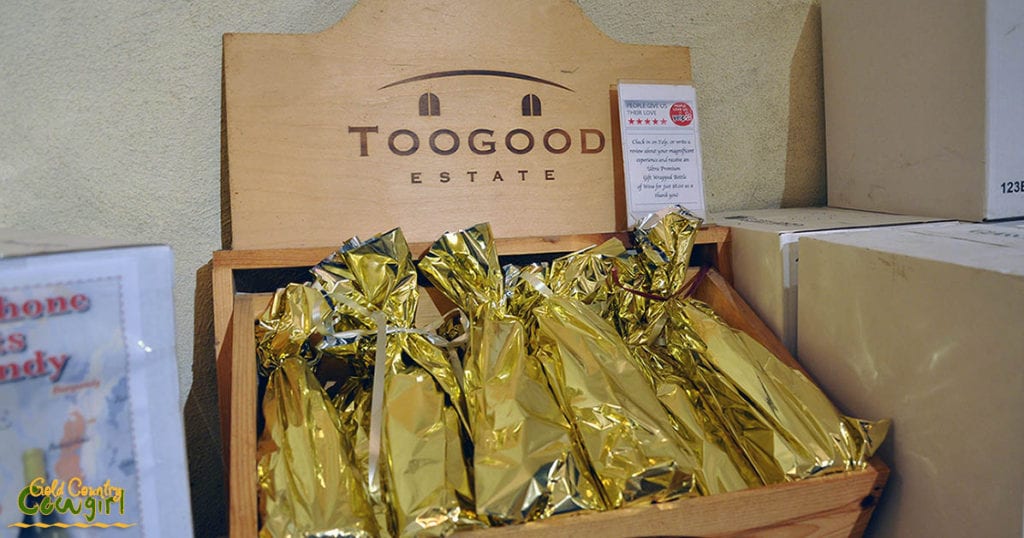 Several of us took advantage of the "surprise" bottles. These were regular wines for just $8 in exchange for a shoutout on social media. We had such a wonderful time we were more than happy to do that.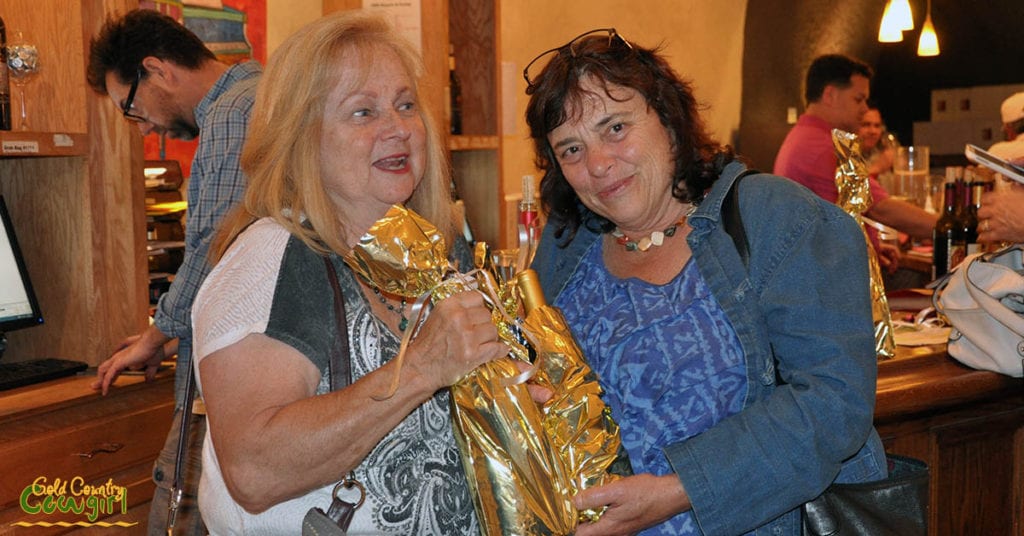 UPDATE: January 13, 2017. If you are not a wine club member at Toogood, the tasting fee is $6 and they do not apply that to a purchase of wine like all the other wineries I have been to so far.
Futures
This is something I don't remember ever hearing about in my wine tasting younger days but seems to be fairly common here. You taste unfinished wine in the barrel and decide if you want to buy it before it is bottled. Once it is bottled, you are notified and can pick it up or have it shipped. This is an opportunity to get some potentially wonderful wine for a great price.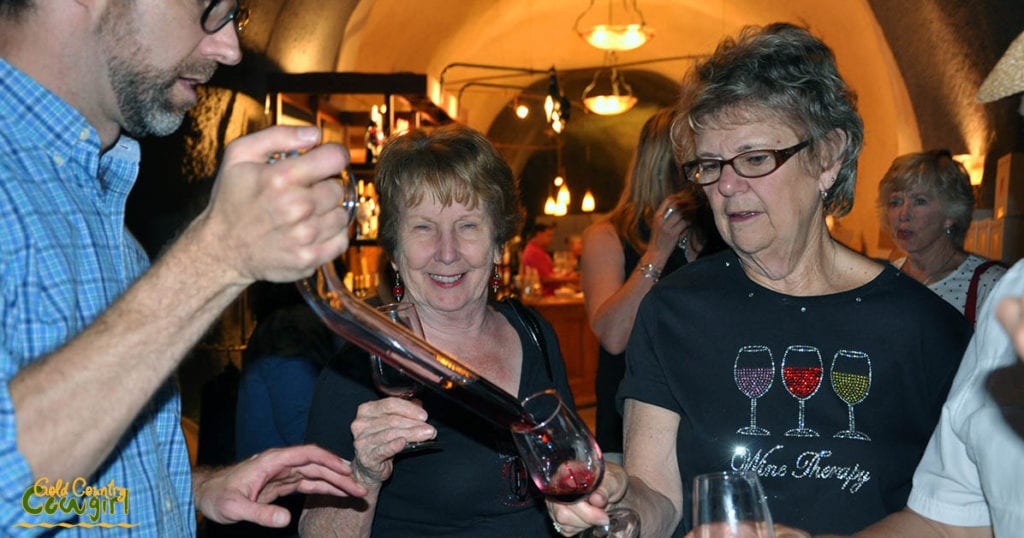 We tasted a red wine and a tawny port that was super delicious. Four of us went in on a case of the port and I'm really looking forward to receiving it!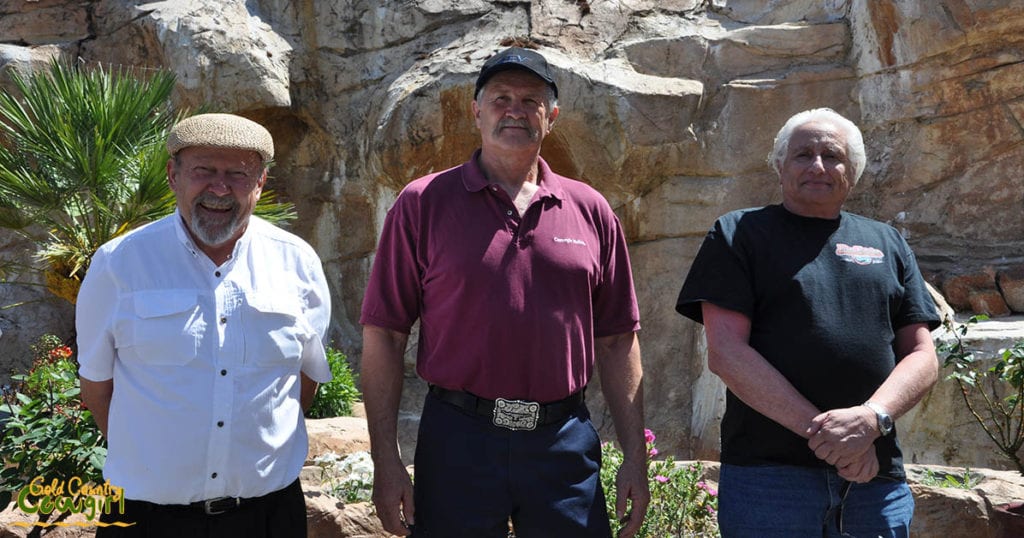 It wasn't easy but we got the husbands to agree to a group photo before we left.
Pin It and Save for Later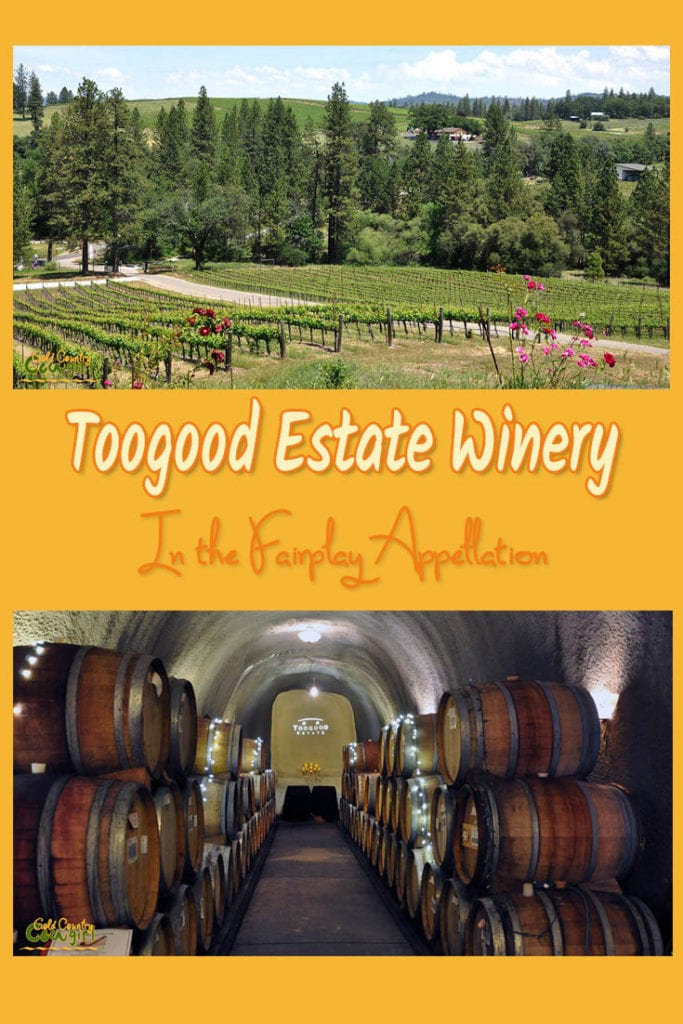 If you live in the area and are interested in joining this fun-loving group of women, just join Mother Lode Newcomers Club. It's a great way to meet new people and we'd love to have you!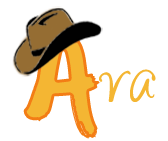 (Visited 559 times, 1 visits today)