Jump to recipe
Kelly and I were headed back up the hill after a day at Horse Expo in Sacramento. Since it was still early, we decided to stop off at Drytown Cellars. I had been wanting to get some of their Vino de Mocca ever since I first tasted it a few months ago and just kept forgetting to stop and get it. Kelly tasted it at the Divine Affair fundraising event we attended at Jackson Rancheria recently and she liked it too. Vino de Mocca is a luscious dessert wine infused with natural coffee, chocolate and orange flavors that pairs deliciously with chocolate.

Almost Local Vino de Mocca
I'm going to be heading to a pet blogging conference in about a week and I thought it would be fun to take a local wine to share with some of my blogging friends that I'll be meeting up with. Turns out, the Vino de Mocca is not as local as I thought it was, but it's unique enough that I decided to take it anyway. The owner and winemaker at Drytown Cellars, Allen Kreutzer, is also the winemaker at Kirigin Cellars in Gilroy, the home of Vino de Mocca, so it is also available at Drytown.
After years of making wine for others, Allen and his wife, Suzanne, established Drytown Cellars in 2002. Their wines have received many awards including a Double Gold/Best of Class from the El Dorado County Fair for their 2014 Chardonnay and 2013 Primitivo. They say they depend on the expertise, hard work and dedication of the grape growers and try to do them justice.
We tasted a few of the other wines while we were there and chatted with Jeff. While he was pouring for us, he mentioned making brownies with the Vino de Mocca. Well, immediately that got my wheels spinning. I thought it would be great to make something chocolate to take to the conference to share with the wine. Brownies weren't the best choice as they wouldn't be that fresh by the time I arrived. But fudge. That would be perfect. Vino de Mocca fudge!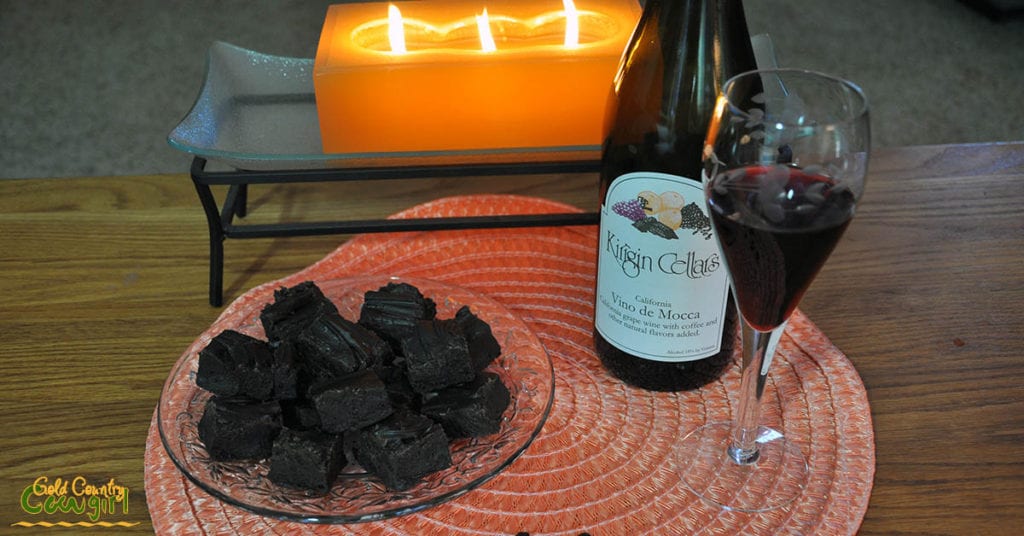 Vino de Mocca Fudge Recipe
I knew I wanted to make the old-fashioned, boiled kind of fudge that my mom taught me to make. I started scouring recipes to check out adaptations with alcohol. I never found anything that I thought sounded just right so I decided to experiment. I took my mom's recipe and made some adjustments. It turned out decadently creamy and rich. I prefer dark chocolate to milk so I used dark cocoa in my Vino de Mocca fudge recipe.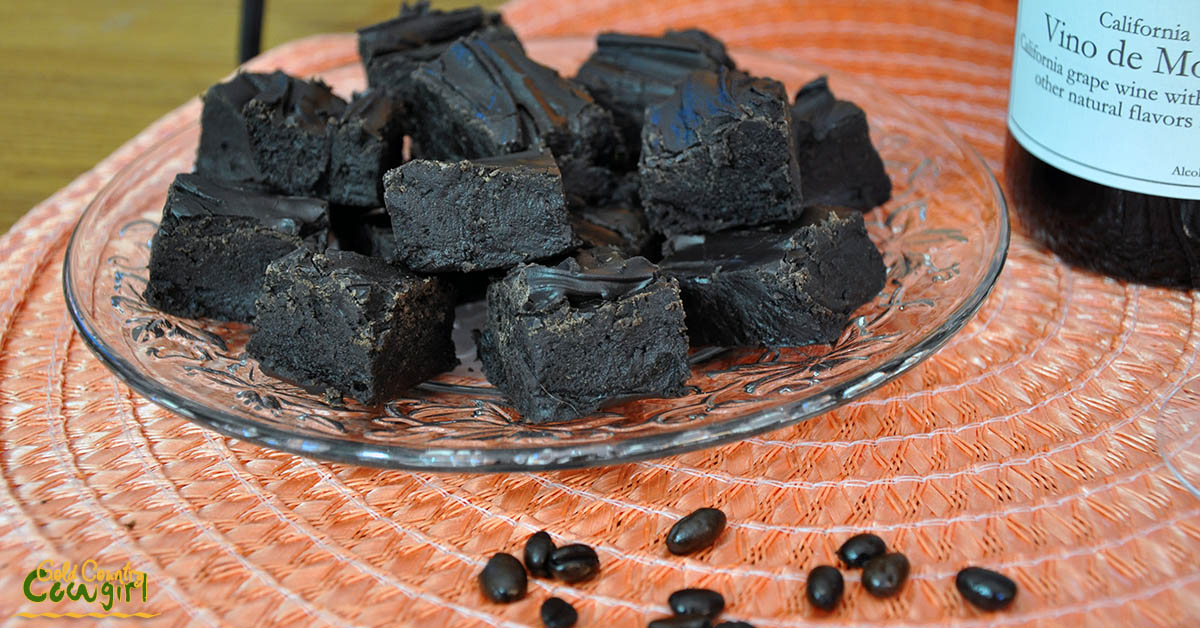 Notes
Makes about 1 3/4 pounds. If you aren't lucky enough to have a bottle of Vino de Mocca, you can substitute any good dessert wine.

Ingredients
3 cups sugar
2/3 cup cocoa
1/8 tsp. salt
1 cup evaporated milk
1/2 cup Vino de Mocca (reserve 1 tbsp.)
1 tbsp. corn syrup
1/4 cup (1 stick) butter
1 cup chopped almonds, walnuts or pecans (optional)
Instructions
Butter an 8 inch pan or line with foil that extends over the edges of the pan and butter the foil.
Mix sugar, cocoa and salt in a heavy, 4-quart saucepan. Stir in milk, corn syrup and Vino de Mocca, reserving 1 tablespoon.
Cook over medium heat, stirring constantly, until mixture comes to a full, rolling boil. Boil without stirring until mixture reaches 234 degrees F on a candy thermometer (soft ball stage) or until a small amount of mixture dropped into very cold water forms a soft ball which flattens when removed from water.
Remove from heat. Add butter and the reserved tablespoon of Vino de Mocca. Do not stir!
Cool to 110 degrees F (lukewarm). Beat with a wooden spoon until fudge begins to thicken and lose its sheen, about 7-8 minutes. If you are adding the optional nuts, stir them in here. Quickly spread in prepared pan and cool completely.
Cut into squares. Store in an airtight container at room temperature.
© 2023 Gold Country Cowgirl
This fudge is wonderful but it is a bit time consuming and labor intensive. You also must follow it exactly. I can see why my mom started making the easier versions of fudge using chips and marshmallows when she was making pounds and pounds of it for gifts at the holidays. I may come up with a version like that using the Vino de Mocca so that if I want to whip up a batch quickly, I'll have that option, but I still prefer this sugar and cocoa boiled version.
Pin It for Later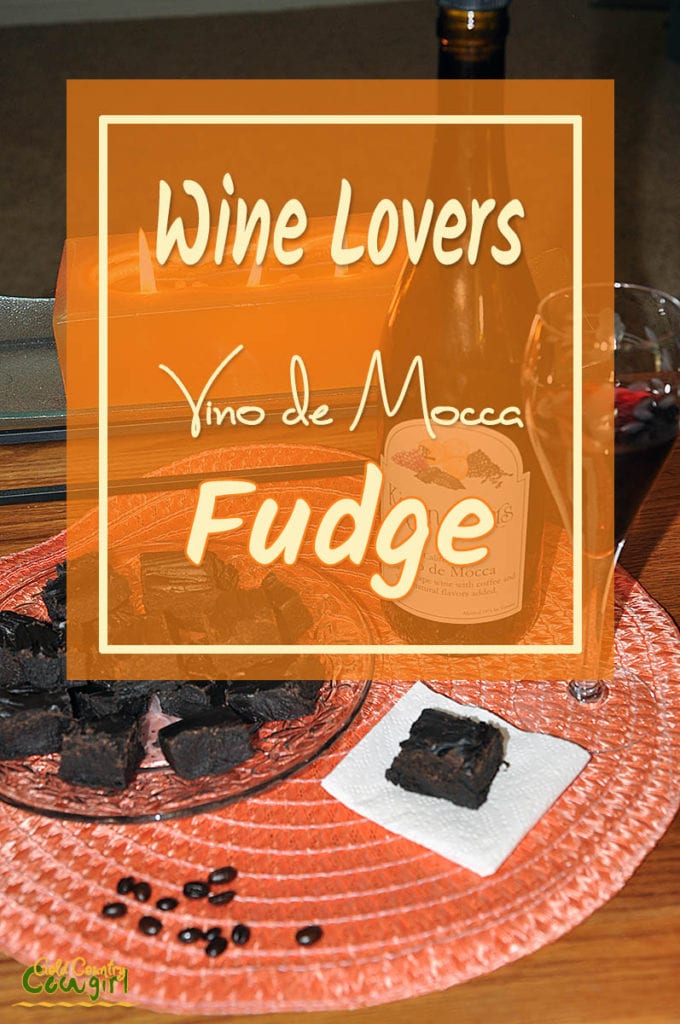 Do you have a favorite fudge recipe? Which method do you prefer? I'd love to hear about it in the comments. Let me know if you try this Vino de Mocca fudge recipe.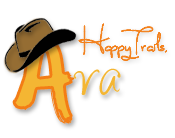 (Visited 862 times, 1 visits today)