Did you serve afternoon tea to your imaginary friends when you were a child? Although I was more of an outdoorsy kid who played with plastic horses and cowboys, I'm sure I must have had a tea party or two. But tea parties aren't just for kids. It is a wonderful way to gather together friends for an afternoon of conversation and good food.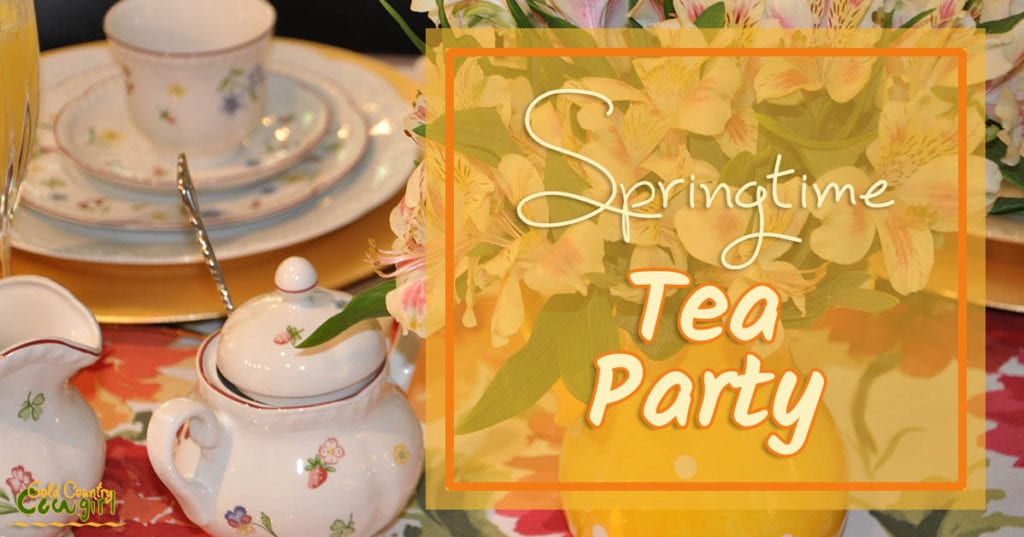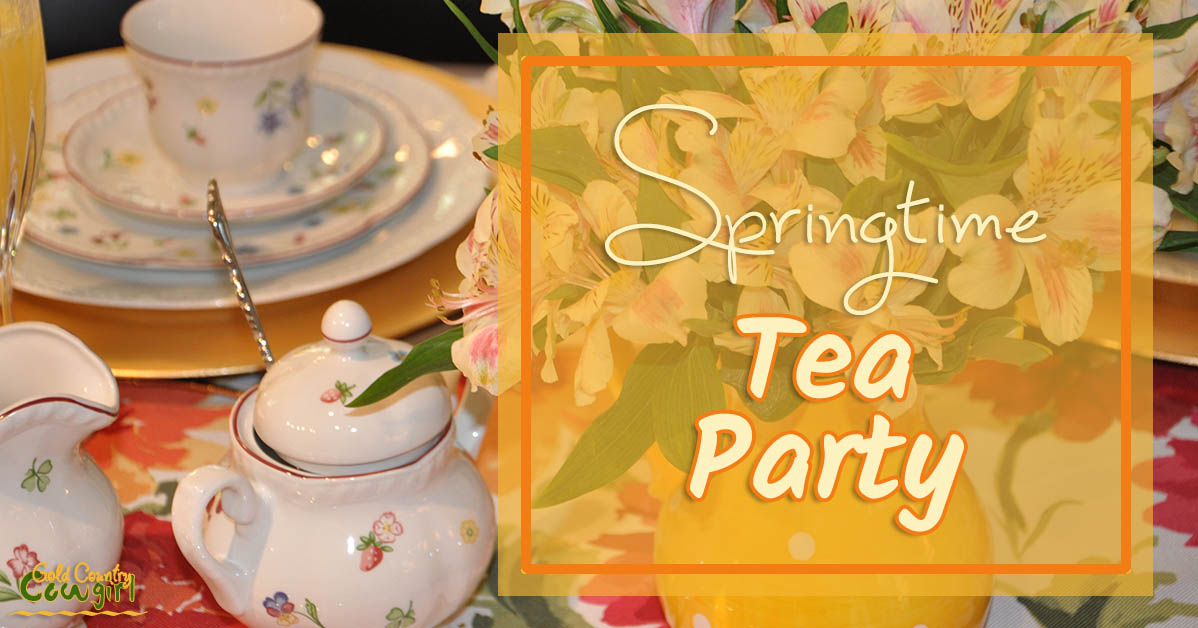 Saucy Sisters Springtime Tea Party
Every month, the Saucy Sisters, the cooking group of the Mother Lode Newcomers, get together for some sort of culinary adventure. Usually we cook at someone's house with everyone participating in the preparation, cooking and clean up. The hostess chooses a theme and menu and does all the advance work, like shopping. Often, members team up to co-host these undertakings.
We were all excited when we learned co-hostesses Lora and Debbie were planning a tea party and began thinking about our outfits and hats. What would a springtime tea party be without hats? Seeing everyone's creation was so much fun and the top three hats were awarded prizes. Here's just a sampling.
I'm always amazed at how organized everything is when we arrive at a venue. The logistics of getting an entire lunch for 15-20 people prepared by all of those 15-20 people sometimes seems mind boggling, but teams are assigned to recipes and, somehow, it all works out in the end and everyone has a great time doing it. We always learn a few things in the process.
Our tea party was no exception. The tables were gorgeous and elegantly set. Stations were set up for each recipe. And the beverage station was ready with orange juice and champagne for mimosas! Oh, and of course there was tea.
Our Tea Party Menu
The menu included tea, mimosas and wine; maple glazed and craisin-orange scones; egg salad, turkey with cranberry and cream cheese, and, of course, cucumber and watercress sandwiches; and beautiful fruit platters. As if that wasn't enough, dessert consisted of Othellos, lemon meringue bites and Vienna chocolate bars with raspberry jam.
Putting It All Together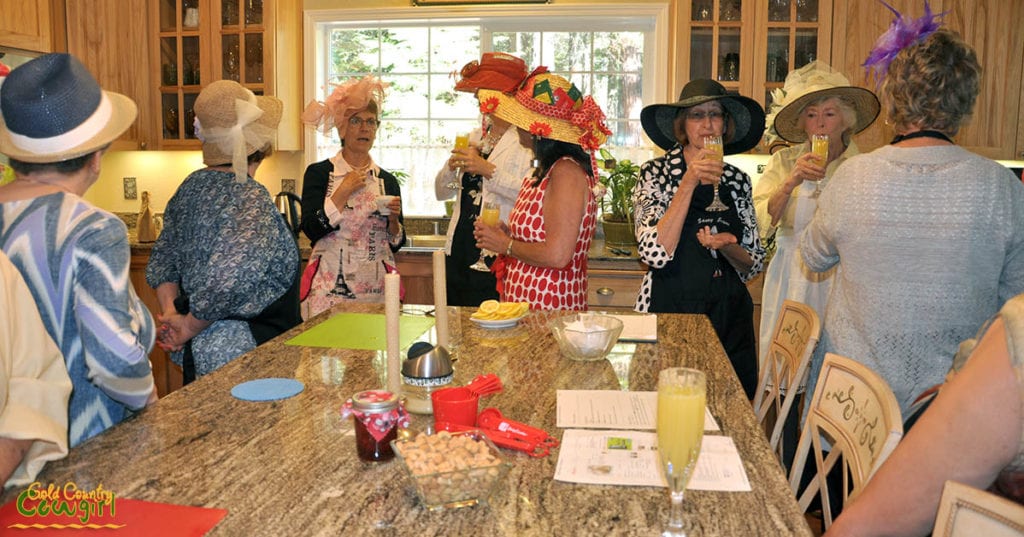 Once everyone had a liquid refreshment of their choice and had chatted for a bit, teams 1 and 2 began making the scones.
I had seen this trick before but had never tried it. The recipe called for grated, frozen butter. I'm sure this has something to do with how light and flaky the scones turned out.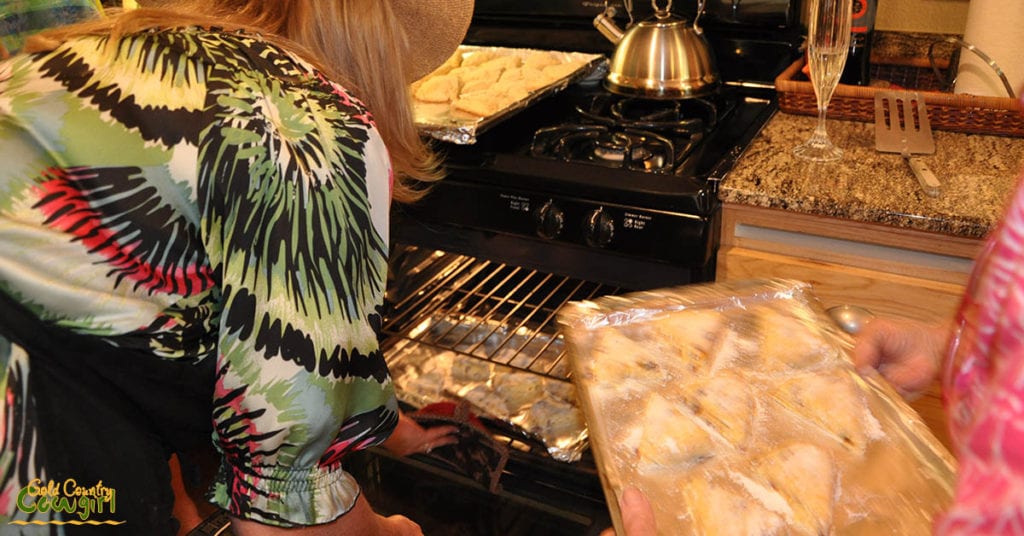 Once the scones were in the oven, teams 3, 4 and 5 went to work on the finger sandwiches. OK, I had to know. Why are they called finger sandwiches? Don't you eat almost all sandwiches with your fingers? I couldn't really find a specific answer. The suggestion I liked best was that, because they are small, you only need fingers, and not hands, to eat them.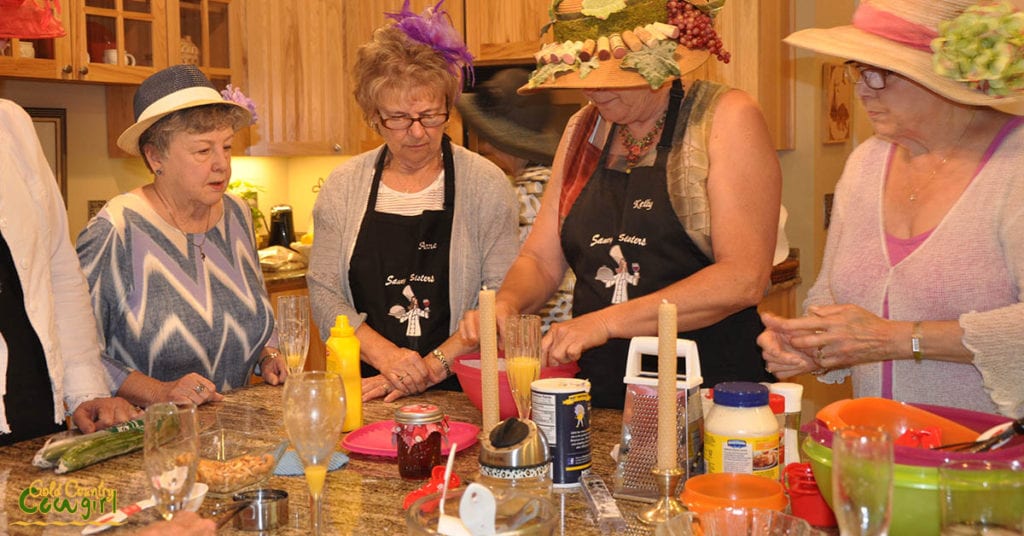 Using the box grater made quick work of the eggs — so much easier than mashing with a fork.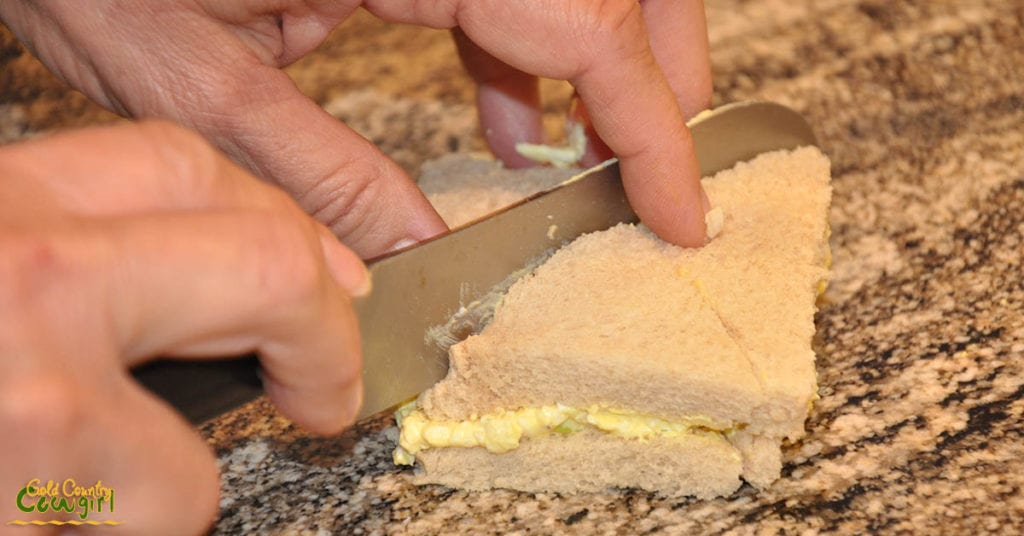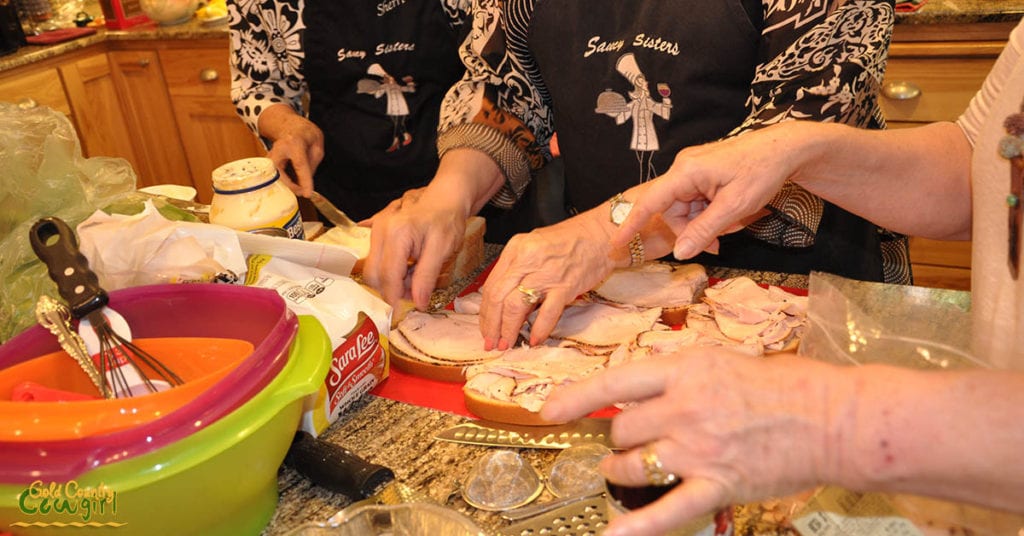 Traditionally, the crust is cut off the bread after the sandwiches are made. You lose a little filling but the sandwiches are prettier.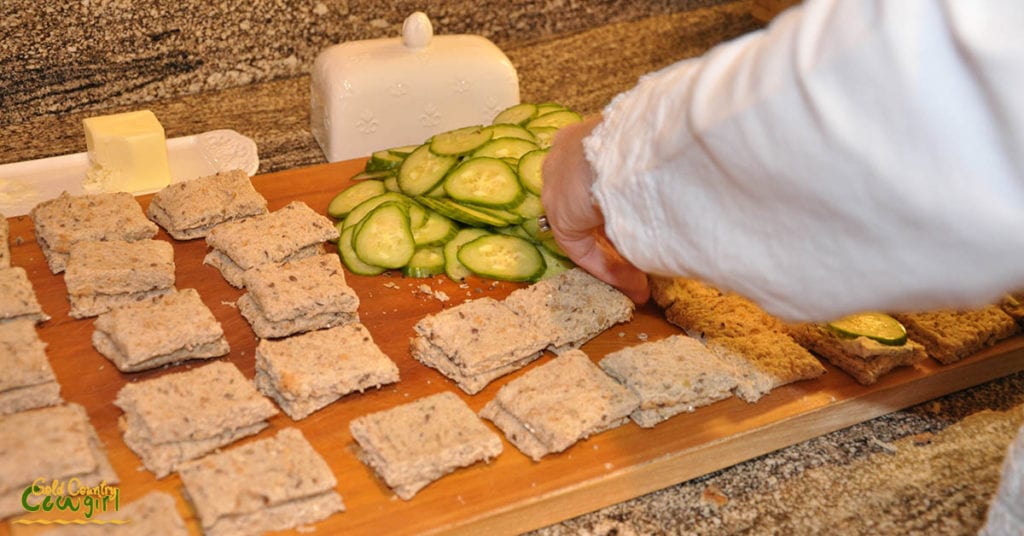 Team 6 assembled the fruit plates then everything was put out. It was a gorgeous looking feast.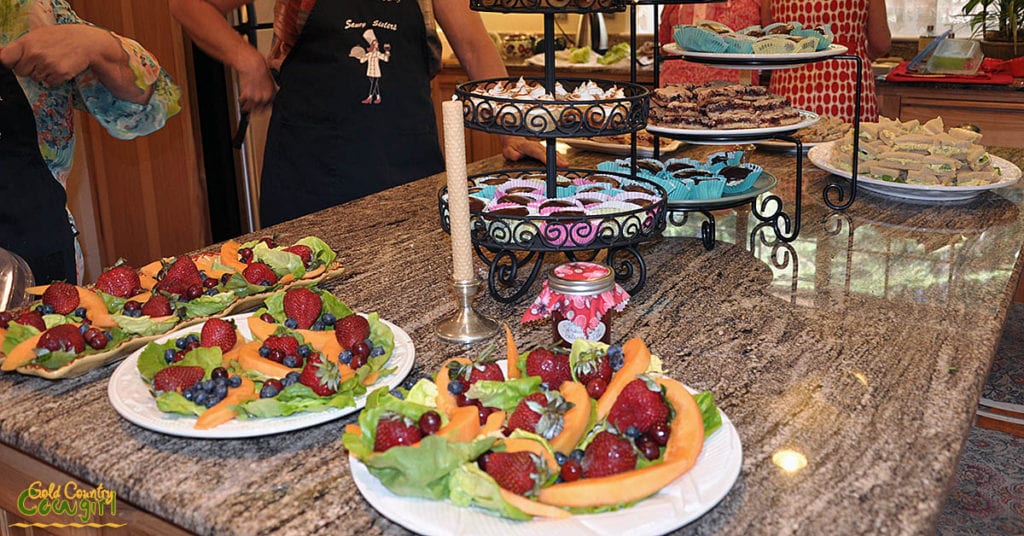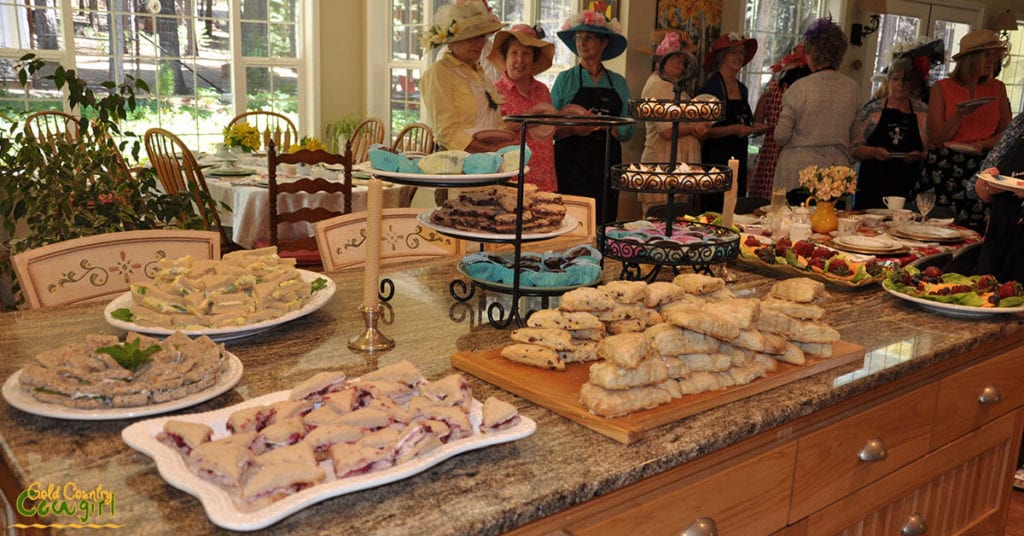 At tea, the scones are eaten first while they are still warm. Did you know there is tea etiquette? We learned the proper way to eat a scone from our co-hostess, Lora, whose mother and grandmother taught her. Scones, clotted cream, lemon curd and marmalade or jam are placed on the plate. You don't just slice it open and slather stuff on like you might a biscuit. You break off bite sized pieces and put your cream and curd on each bite.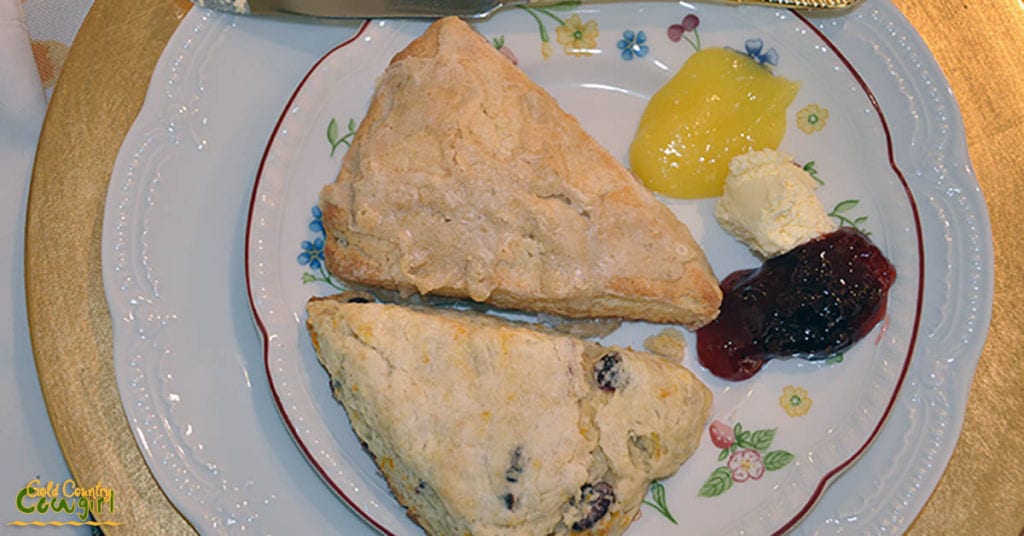 After the scones come the savory foods like the sandwiches and last the desserts. You can learn more about the history of tea parties and tea party etiquette here.
Team 7 stayed to do the clean up and didn't leave until every dish was clean.


Have you attended a tea party lately or put one on yourself? I'd love to hear about it in the comments.
Pin It to Save for Later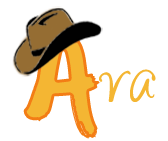 (Visited 522 times, 1 visits today)