You've heard that membership has its privileges. Well, that is very true when it comes to wine club membership at local wineries in Gold Country. Scott Harvey Wines had its February Wine Club Release Extravaganza for wine club members and their guests this past weekend pairing their wine with food from Taste Restaurant in Plymouth.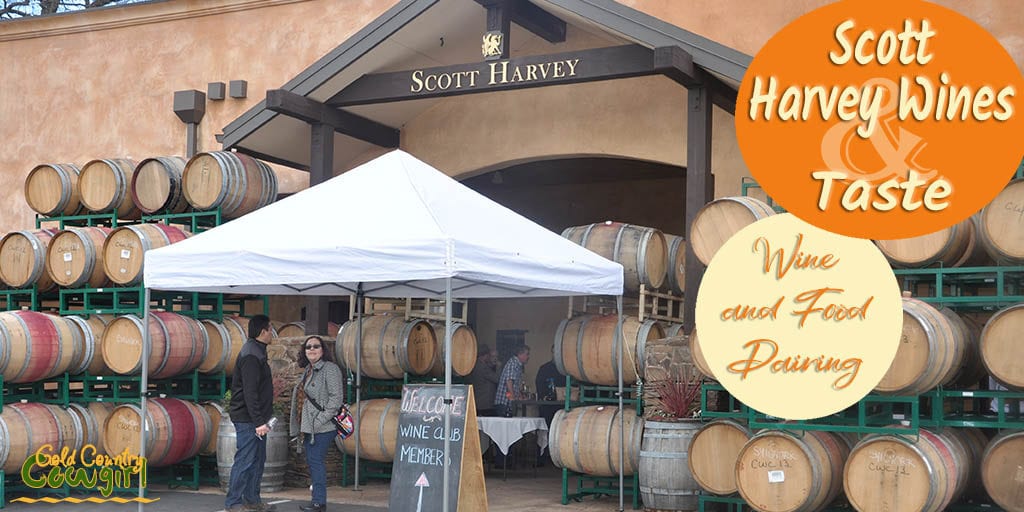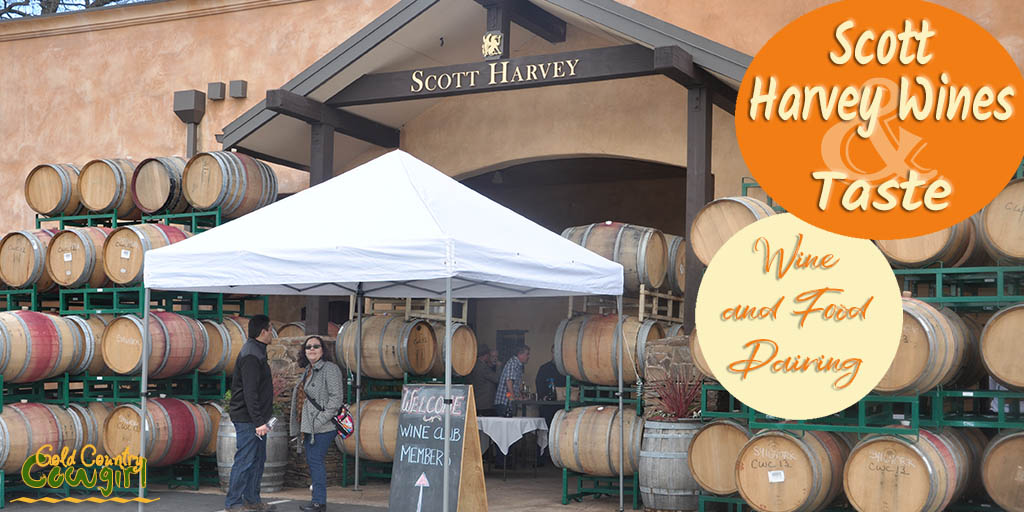 A sign outside the winery welcomed wine club members for the wine and food pairing event.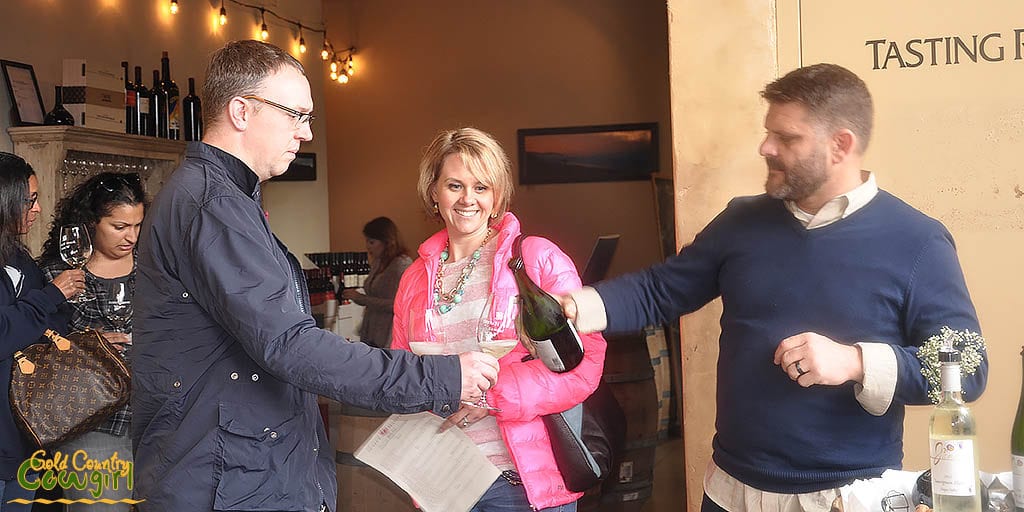 As you may know, I love my bubbly and the Jana Mendocino Blanc de Blanc is delicious. We arrived a little early and Jack poured the Blanc de Blanc for us while we waited for the food stations to finish setting up.
Wine and Food Pairing Menu
We looked over the wine and food pairing menu while we waited and were eager to get started. Mark Berkner, chef and owner of Taste, kept the Fanny Bay oysters coming once the tasting began. These grilled oysters were served with a meyer lemon foam.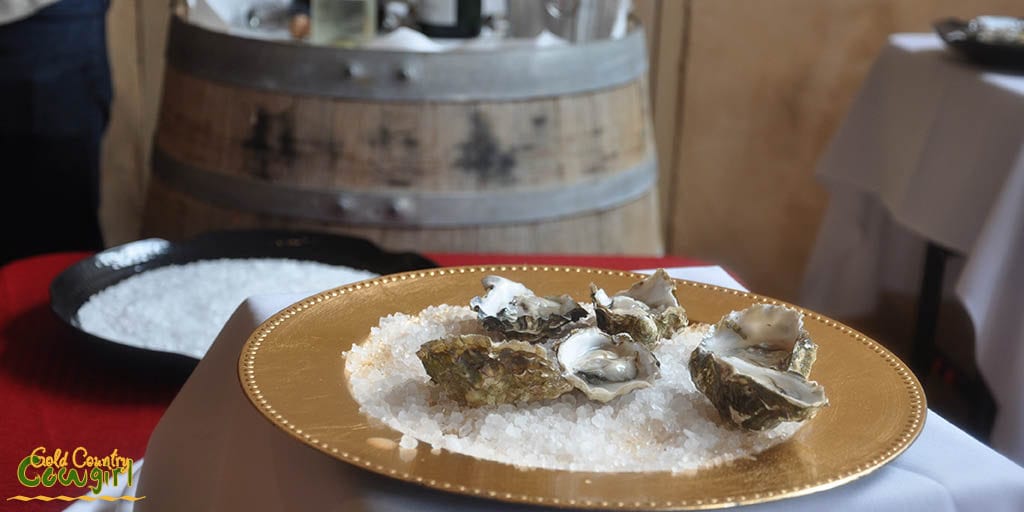 The chilled oysters on the half shell were served with a tasty mignonette. The oysters were paired with 2015 Jana Sauvignon Blanc as well as the Blanc de Blanc sparkling wine.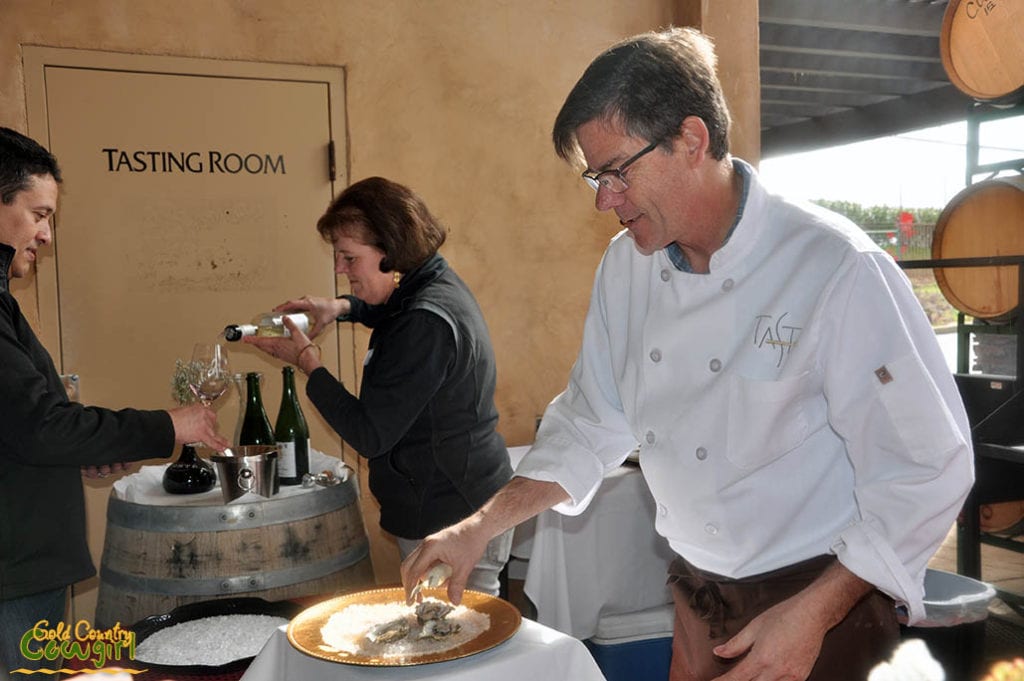 Chef Mark stayed busy shucking and grilling oysters.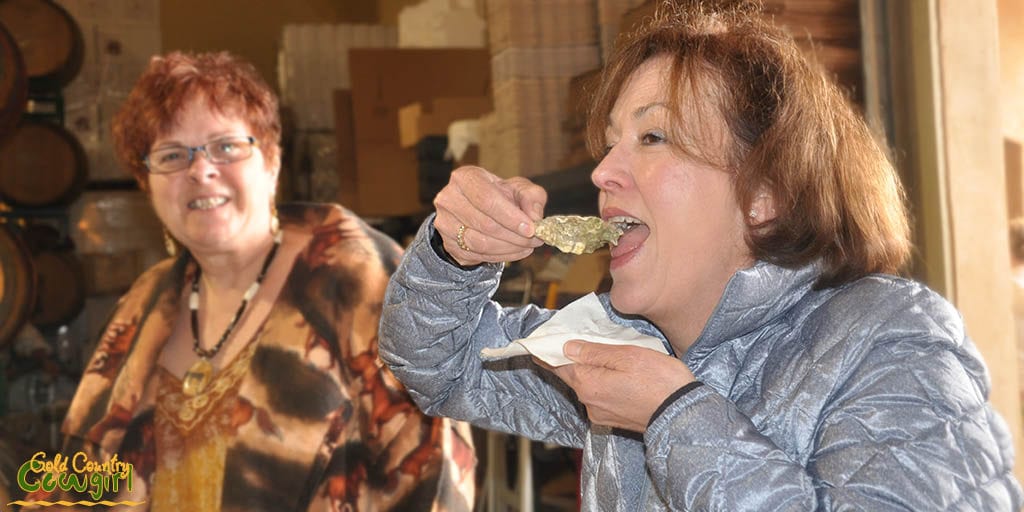 Celeste and I didn't feel guilty about eating a few extra oysters since we were the only two in our group eating them!
Wine club membership has its privileges. Check out this example! #wine #winetasting #wineandfoodpairing
Click To Tweet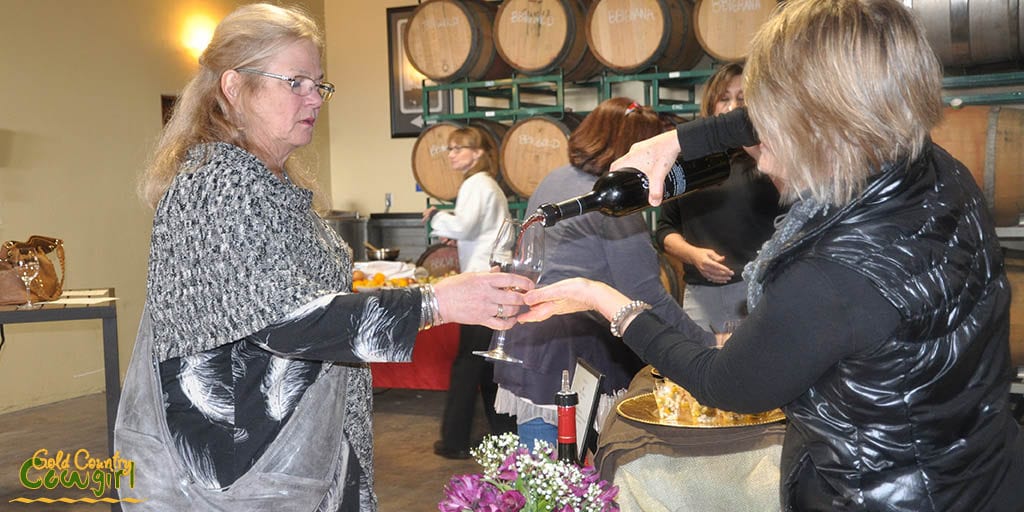 Pam is sampling the 2012 Jana Old Vine Zinfandel which, along with the 2013 Mountain Selection Zinfandel, was paired with white bean salad.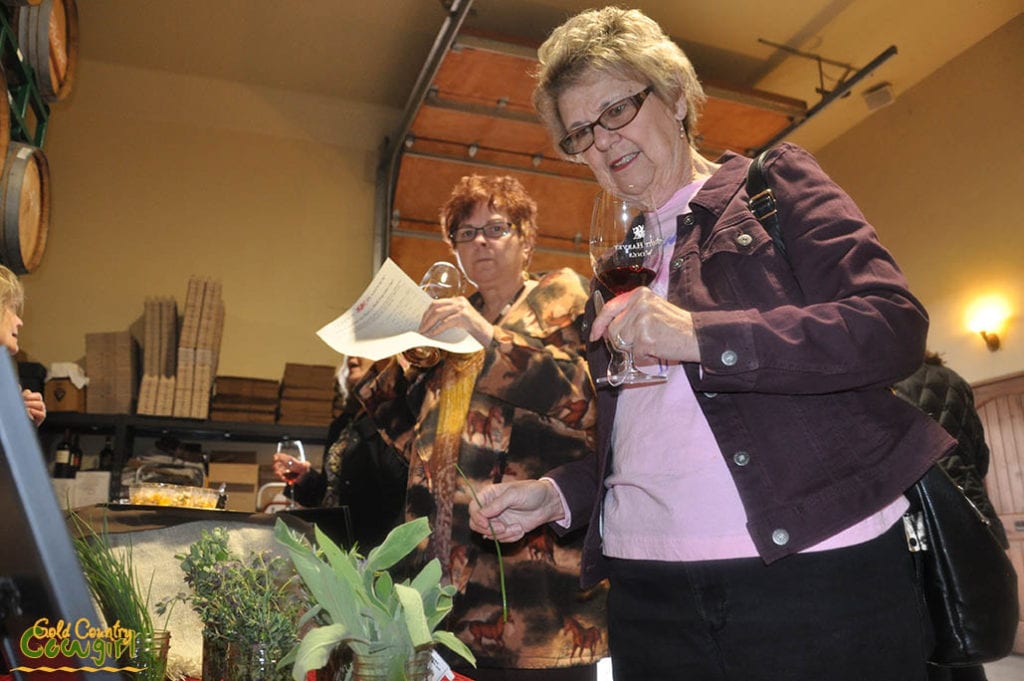 Wine and Food Pairing with Herbs
This station had an interesting experiment for us to try. Anne and Kelly are reading about food and wine pairing with herbs and choosing an herb to try with their Zinfandel. Looks like Anne has chosen chives for this go around.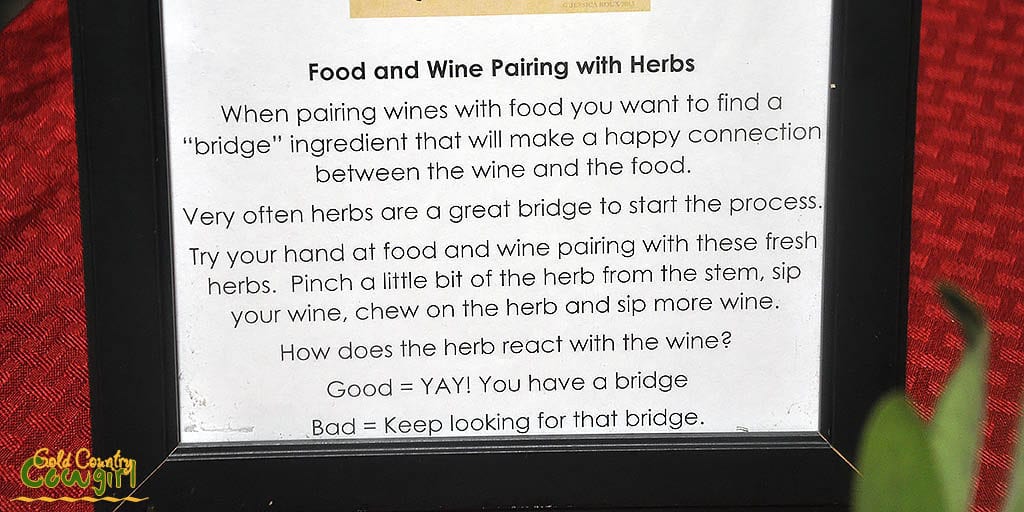 Of the three or four herbs I tried, the thyme was my favorite. Others preferred a different herb, including Anne, who liked the sage.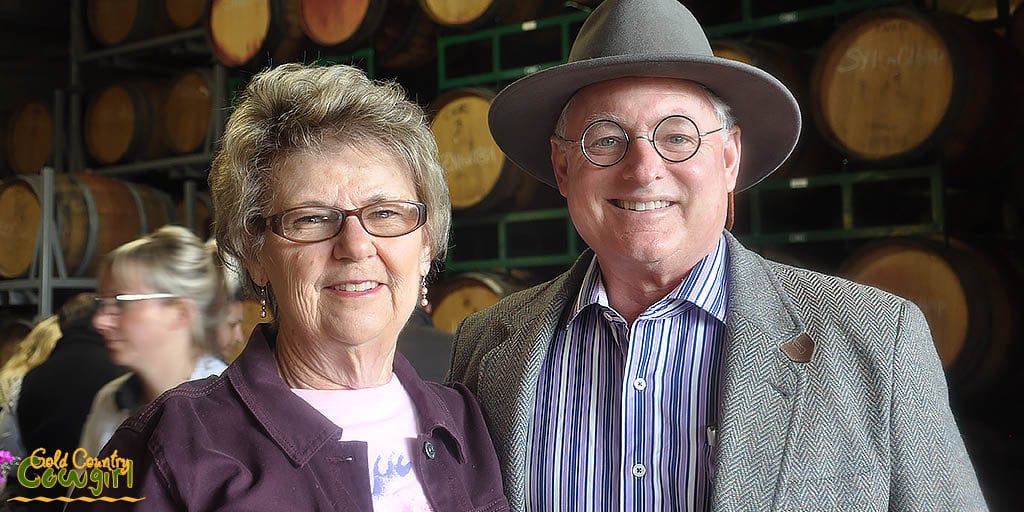 Anne (pictured here) has been a wine club member at Scott Harvey Wines for a while and introduced me to Scott Harvey.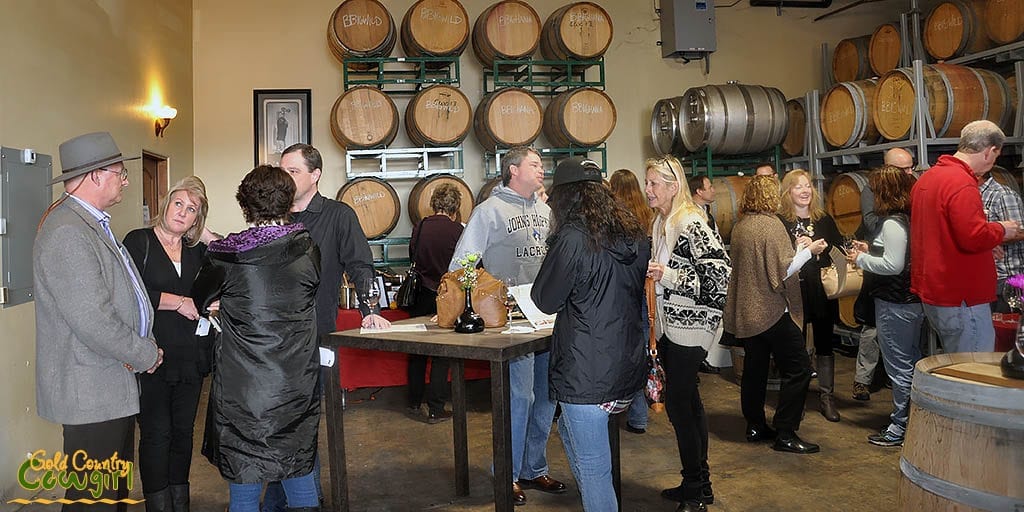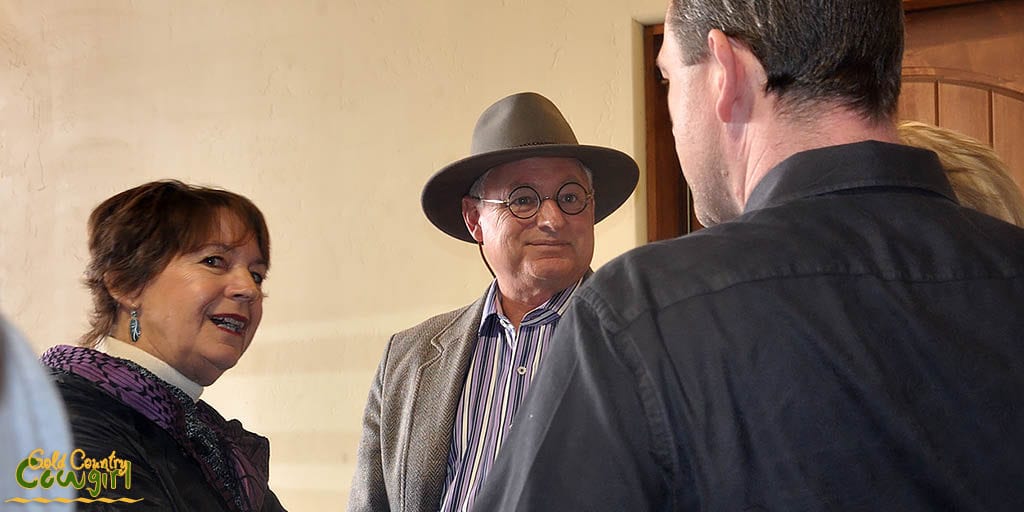 Scott and his wife, Jana, visited with club members and guests, making sure everyone was having a good time and answering questions about the wine.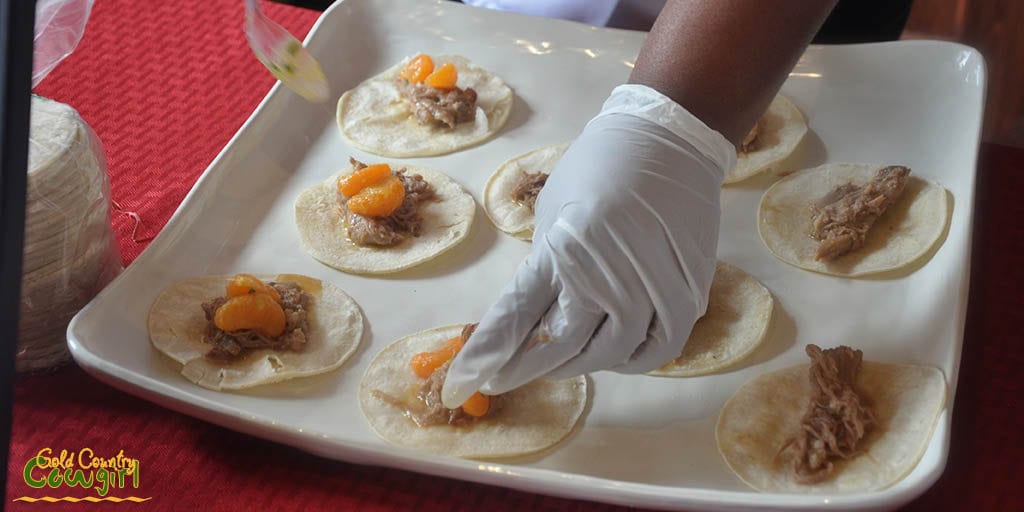 The pork carnitas tacos with mandarin oranges (who would have thought?) were paired with 2013 Mountain Selection Barbera and 2014 J&S Reserve Barbera. Gold Country is known for its Zinfandel and Barbera and it is always hard to decide what to take home, but I ended up with a bottle of the 2014 J&S Reserve Barbera. We took advantage of the case price by splitting it between three of us.
Tracey Berkner, wife of Chef Mark and co-owner of Taste, cooked up some scrumptious apple and meyer lemon chutney. I had never had meyer lemons before and am now looking forward to doing some cooking with them. They are a little like a kumquat in that you can eat the peal and all.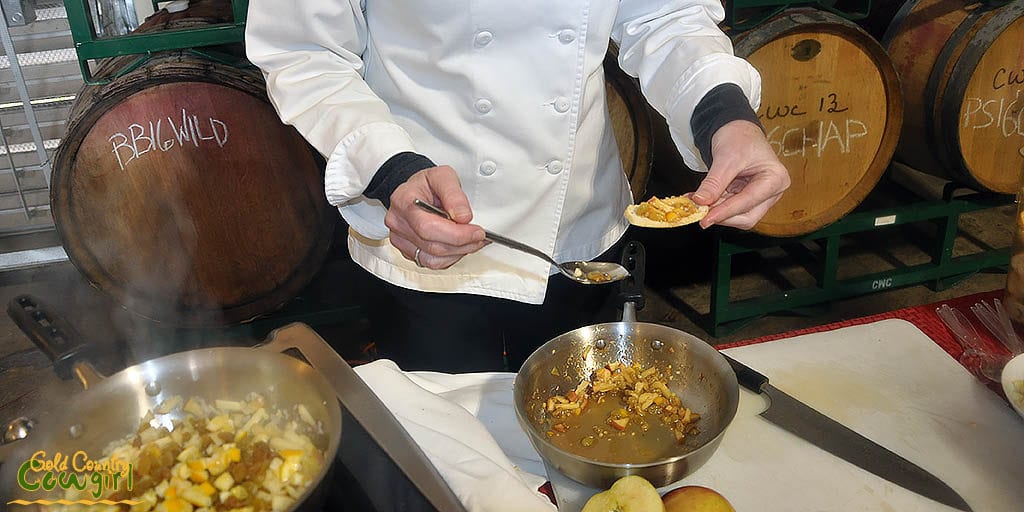 Tracey was happy to explain to us exactly what she was doing and what a chutney is. The chutney was paired with a 2014 J&S Reserve Syrah.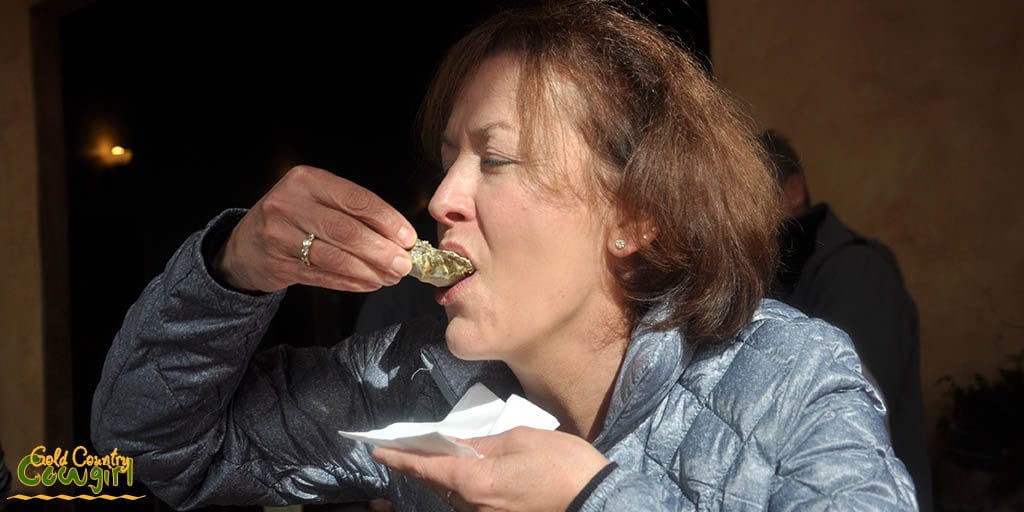 Celeste just couldn't get enough of those oysters!
We topped off the event with a tasting of Forte, their port style wine, and chocolate.
Although many wine club events are free to members and a limited number of guests, this event had a small fee, but it was well worth it.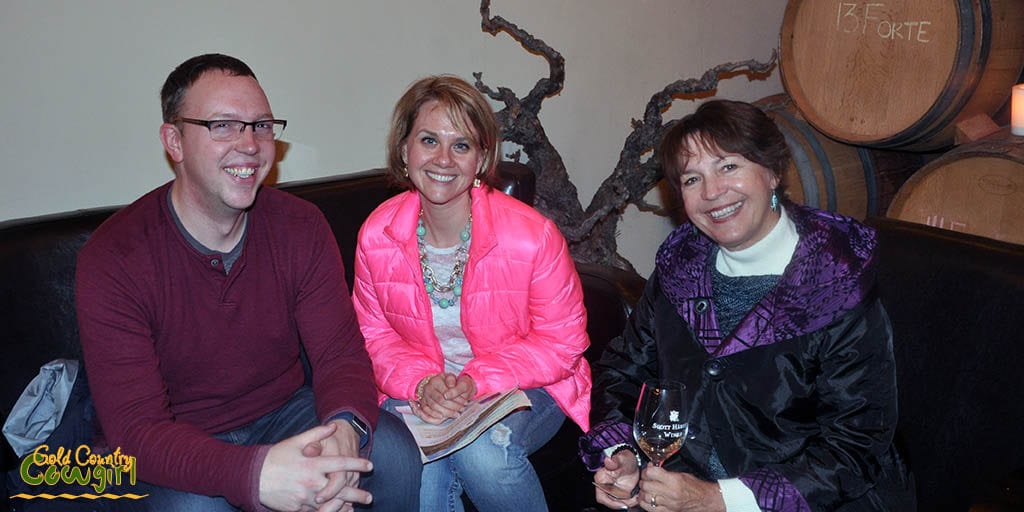 On our way out, I stopped by to introduce myself to Jana who was visiting with this couple from Wisconsin.
More About Scott Harvey and Taste
The Scott Harvey Winery and Tasting Room is located at 10861 Shenandoah Road, Plymouth, CA. They are open seven days a week from 11 am to 5 pm. Private tastings and tours are offered by reservation. They also have a tasting room in Sutter Creek which is open the same hours as the winery tasting room. Visit their website for more information. You can learn more about Jana Winery here.
Taste Restaurant, located at 9402 Main Street, Plymouth, CA, is the highest ZAGAT rated restaurant in the Sacramento area and has been selected as one of the top 100 restaurants in America by Wine Enthusiast Magazine. Dinner is served Thursday through Tuesday and lunch Friday, Saturday and Sunday. Visit their website for more information.
Have you attended a wine and food pairing event? I'd love to hear about it in the comments.

Until next time…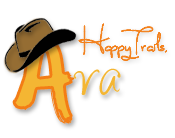 (Visited 334 times, 1 visits today)