For my recent stay in San Antonio, I purchased a 3-day hop-on hop-off ticket that included the GoRio Cruise. On the third day of my ticket, I decided to walk to the Riverwalk from Tower of the Americas, which inadvertently ended up being a walking tour of downtown San Antonio. The route I took was quite a bit more rambling than the one I've laid out below. I kept forgetting to check the map and just walked, enjoying the beautiful sunny day. I had to back track several times!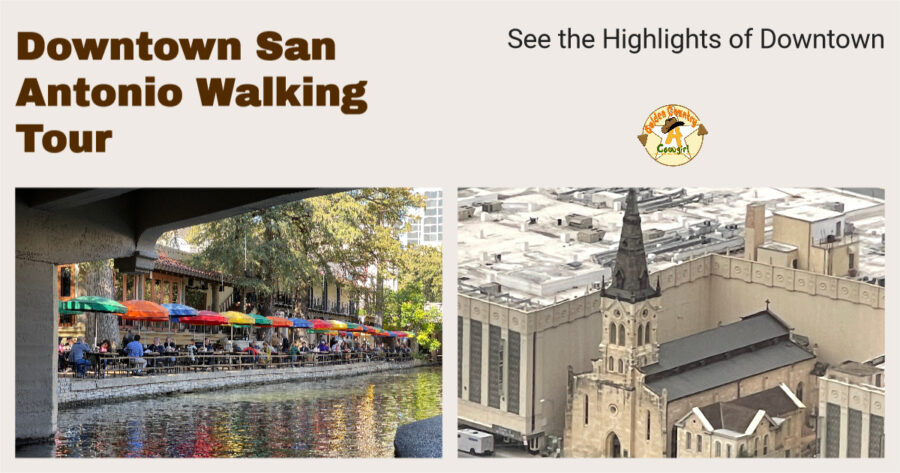 Highlights of a Downtown San Antonio Walking Tour
This walking tour of downtown San Antonio is about 2 miles plus however much you walk on the Riverwalk. Of course, if you walk back to your car at Tower of the Americas rather than take the bus, that will also add to the distance.
The earlier you start your downtown walking tour the more time you'll have at individual locations. Some are just pass by or take a quick look in. Some you may want to spend 2-3 hours exploring.
A – Tower of the Americas – Starting Point for the Downtown San Antonio Walking Tour
If you are in San Antonio on Monday through Thursday, parking at Tower of the Americas is a bargain compared to lots closer to the Riverwalk and Alamo. It's just $12 on those days but Friday through Sunday the price is about the same as the pricier lots – $20. The advantage to parking at the Tower is that it is a gated lot with an attendant so it is much more secure than most others. It's a little bit of a walk from the bus stop to the parking lot but well worth it.
The Tower doesn't open until noon so you'll want to wait until you return to your car to enter. Tickets are $16.50 for adults and includes unlimited access to the observation deck, Flags Over Texas and the 4D Theater.
You might want to consider staying for dinner at the Chart House revolving restaurant. If you just want to go to the bar or restaurant, no ticket is necessary. Watching the sunset and seeing the city come to life at night is enthralling.
Open noon to 10pm. Located at 739 E César E. Chávez Blvd.
B – St. Joseph Parish
The cornerstone of this Gothic Revival style church was laid in 1868, and it was finally completed in 1871. St. Joseph Parish was built to serve a growing community of German immigrants.
A steeple was added in 1898. Stained glass windows, imported from the Emil Frei Art Glass Factory in Munich, were installed in 1902.
In 1944, Joske's Department Store offered to purchase the church grounds to develop it commercially. The parishioners unanimously refused, so the developer built round the church on all three sides.
Today, the church serves a multi-cultural community. Spanish language mass is accompanied by mariachi music and the Liederkranz (male singing choir) sings once a month. It is considered to be an "unofficial" Texas painted church.

Open 8am to 6pm. Located at 623 E Commerce St.
C – Riverwalk entrance E Market St
To me, the Riverwalk is the crown jewel of San Antonio. Others obviously agree with me since the Riverwalk sees more than 14 million visitors a year and is San Antonio's #1 attraction.
This is one of those places where you'll want to spend some time as there is so much to see and do here. If you are in San Antonio for a few days, you may want to return to the Riverwalk and explore it in more depth. I could easily spend an entire day here! If you do have more time and want to come back, check out my post on the Downtown Reach of the Riverwalk for additional information on parking and more.
If you only have one day, I recommend taking the GoRio Cruise. You'll get a feel for what's on the Riverwalk as well as some history.
There are all types of restaurants on the Riverwalk. Depending on how early you got started, this might be a good spot for lunch.
The urban park is open 24 hours with most restaurants closing around 10pm and the bars at 2am.
The Torch of Friendship is a 65-foot tall abstract sculpture that is located at the intersection of Losoya, Market, and Alamo Streets. When you walk down Commerce from St. Joseph Parish it will be a block to your left when you reach Alamo St. It was commissioned by Mexican businessmen who lived in the United States. It represents the friendship between Mexico and the city of San Antonio and is a symbol of cooperation and shared culture.
D – The Alamo
If you think you want to have lunch on the Riverwalk but it's still early, head over to the Alamo first then go back to the Riverwalk. If you do that, there are entrances to the Riverwalk closer to the Alamo rather than walking back to Market St.
I highly recommend a tour, either the audio tour or a guided tour. Each lasts about an hour. Even with some time in the chapel and the Alamo Exhibit, you can see most everything in about two hours.
Alamo grounds are open 9am to 7pm. The church and exhibit hall 9am to 5pm. Closed Christmas Day. Located at 300 Alamo Plaza.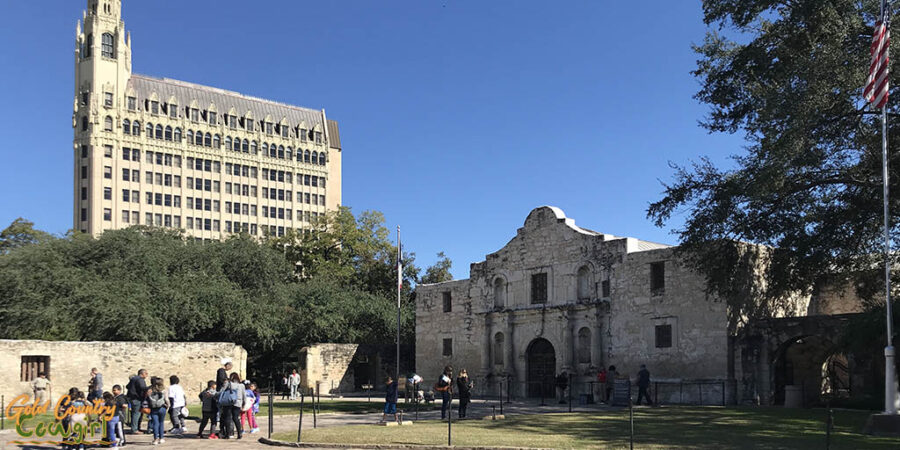 E – The Emily Morgan Hotel
The first time I visited the Alamo in 2018, I was drawn to this building that towered over the Alamo. I didn't know what it was but I just loved the looks of it. On my recent trip in 2021, I decided to do some research to learn about this intriguing building.
Architect Ralph Cameron and developer JM Nix built the 13-story Medical Arts Building in 1924. The building housed doctors' offices and a hospital for patients. In 1976 it was converted into office space.
The building didn't become the Emily Morgan Hotel until 1984. In 2012, the hotel underwent a multi-million dollar renovation and became a Doubletree by Hilton. The Emily Morgan Hotel was inducted into the Historic Hotels of America organization in 2015.
All this history may not seem that interesting but what is interesting is the building itself. From the Emily Morgan Hotel website: "The thirteen-story tower is influenced by the Gothic revival and features pieces of cast iron, unique ornamentation, and a copper roof with wood ribs. Perhaps the most interesting architectural feature of the building is the array of gargoyles that line the building, each portraying a medical ailment."
The hotel was named after folk heroine Emily West, also know as Emily Morgan. She was indentured to James Morgan and it was customary for indentured servants to carry the surname of their contract holder. While she was working at her housekeeping job, she, along with other residents, were kidnapped by Mexican cavalry. According to legend, Sam Houston's army of Texans defeated Santa Anna at the battle of San Jacinto in 18 minutes because Santa Anna was "distracted" by Emily. There's no real historical evidence of this but the legend continued to grow.
Located at 705 E Houston St. It is just around the corner from the Alamo if you want to check out the hotel lobby.
F – The Buckhorn Saloon & Museum
The Buckhorn Saloon and Museum blew me away when I visited. It was totally unexpected and fascinating. I think next to the Riverwalk, this is where you could spend a lot of time. I was there more than a couple of hours and didn't even make it to the saloon.
The Buckhorn Saloon has a bar, cafe, gift shop and two museums. It is the home of the famous Texas Ranger Museum as well as the Buckhorn Museum. The only entrance fee is for the museums which are on the upper floors.
I was fascinated by this place and wouldn't hesitate to go again. Be sure to read my post  Buckhorn Saloon and Museums – Not What I was Expecting! to decide it if is the place for you or if you want to skip this quirky attraction.
Open 365 days a year at 10am. The cafe is open Friday through Sunday. Located at 318 E Houston St. Museum entrance fee is $22.99 for adults and $16.99 for children 3-11.
G – The Last Parade
Somehow, it seems I always forget to research murals and street art when I visit a new city. Like most cities, you could spend hours on the mural trail finding them all. Since I didn't have time for that, I was pleased to run across this beauty near the Alamo.
Artist Rudy Herrera's The Last Parade is the most recent mural commissioned by the Centro San Antonio, a downtown advocacy group. The mural is 50 feet wide and stretches nearly 100 feet high on the nine-story wall. It is one of the few multi-story murals in the city. It tells the artists personal story incorporating his indigenous ancestry.
Located at East Houston Street between Navarro and Jefferson streets.
H – Tower Life Building
You can't help but notice this iconic building while on a walking tour in downtown San Antonio. Construction on this historic tower began in 1927 and it opened in 1929. The building is 404 feet tall with 31 floors. For nearly 60 years, it was San Antonio's tallest building.
This eye-catching, eight sided, neo-gothic building is made from brick and Ludowici green terra-cotta tile. Be sure to look for the gargoyles. The exterior is made of traditional materials like brick, but the inside is reinforced concrete on the lower levels and steel frame on the upper levels.
In 1953, a television transmission tower was added. When the building was renovated in 2010, the obsolete television tower was removed. The building was restored to its original design with a copper tophouse and a 100-foot flag pole.
The building was originally named the Smith-Young Tower. It was renamed the Transit Tower for the San Antonio Transit Company, which the Smith Brother purchased in 1943. It is now named for its current owner, Time Life Insurance Company.
The building was placed on the National Register of Historic Places in 1991.
Located at 310 S St Mary's St.
I – Bexar County Courthouse
The Bexar County Courthouse is the largest and oldest continuously operated historic courthouse in Texas. The cornerstone of this Romanesque Revival style building was laid in 1892 and the Courthouse was completed in 1897. It's made of native Texan granite and red sandstone. It is roofed with distinctive green and red tiles.
Since 1897, the Courthouse has had four major additions. Remodeling and expansion in 1914 and 1927 were sufficient to meet the County's space needs. Then, in 1963 and 1972, two "inappropriate" additions were added. The Courthouse Master Plan was approved in 2000. I absolutely love that the 1963 and 1972 additions were removed to restore the Courthouse to its 1927 state.
In addition, courtrooms were originally two floors in height but were divided into separate floors to use the space. They are working on restoring the courtrooms to their original double height.
The Courthouse has many historical designations, including Texas State Landmark and National Register of Historic Places.
Located at 100 Dolorosa
J – Aztec Theater
As many times as I've stood in front of the Aztec Theater waiting for the hop-on hop-off bus, I don't think I ever took a photo of it. There's a sign in front of the theater marking the location where the bus will pick you up.
When the Aztec Theater opened in 1926, it was generally considered the most elaborate example of its kind throughout the entire United States. The exterior of the theater doesn't even begin to hint at what's in store for you inside. Unfortunately, you can only enter the theater for an event but photos online are amazing.
The theater has a dotted history of closures, sales and reopenings. (Click this link for a detailed history and some photos of the interior.) In 2014, it reopened once again as a live entertainment venue. By 2015, a 51% stake was sold to Live Nation. The theater is currently managed by House of Blues Entertainment, a division of Live Nation.
Located at 104 N St Mary's St at the intersection of Commerce St.
Downtown San Antonio Walking Tour Map
My Final Thoughts on Doing a Walking Tour of Downtown San Antonio
These are just a few of the many interesting things you can see on a walking tour of downtown San Antonio. Take another route and you'll discover different intriguing sights. Whatever path you take, a walking tour is a great way to get better acquainted with a city.

Until next time…
(Visited 1,134 times, 1 visits today)