When I made my trip from California to Texas last year, Glen Rose was one of my stops in Texas (see Oakdale Park below). While I was there on that trip, it rained most of the time. In fact, the weather was so stormy that I extended my stay by a couple of days to avoid driving in the bad weather conditions. I wanted to add Glen Rose to my itinerary on this trip because there are so many interesting things to see and do that I missed on my last trip. Glen Rose is a great getaway from the Dallas/Fort Worth area or well worth a detour if you are passing nearby.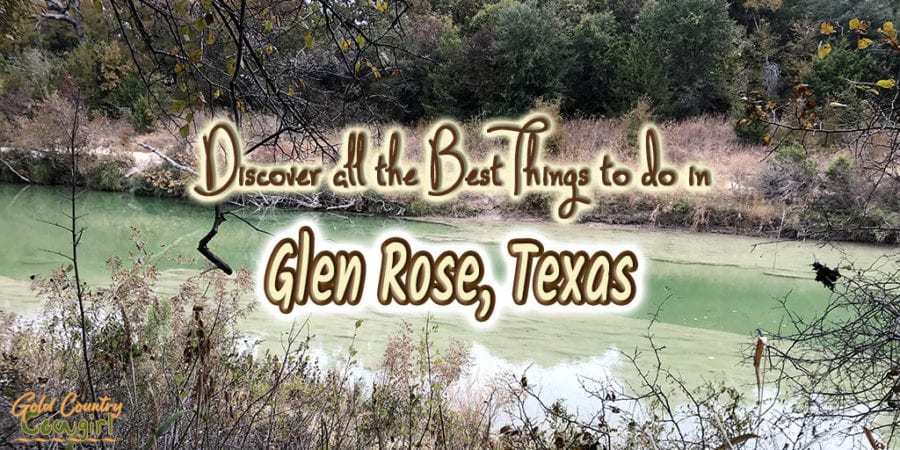 Best Attractions in Glen Rose, Texas
Fossil Rim Wildlife Center
Fossil Rim Wildlife Center is at the top of my list because wildlife, and animals in general, excite and entertain me more than just about anything. Perhaps you surmised that if you read my post about Exotic Resort Zoo in Johnson City, Texas.
Fossil Rim opens at 8:30 am every day, rain or shine, with the first safari tour leaving at 9 am. Their website says an early tour is best as that is when the animals are still hungry and will come up to the truck.
The regular safari tour, which I went on, lasts about two hours and takes you on their Gosdin Scenic Drive. This tour is $39.95 and leaves multiple times during the day. You can drive your own car on this scenic drive for $21.95 per person weekdays and $25.95 per person weekends but I highly recommend the tour. You will learn so much more about the animals and the facility from your tour guide. Katie was awesome!
The 3-hour, behind-the-scenes tour ($53.95) adds the Intensive Management Area to your itinerary. The number of visitors to this area is restricted due to the sensitive nature of some of the residents, which includes wolves and black rhinoceros.
Fossil Rim Wildlife Center is a 501(c)3 and an AZA (American Zoo & Aquarium Association) accredited facility. As such, it operates differently than Exotic Resort Zoo. The animals at Fossil Rim are not nearly as hands-on as Exotic Resort Zoo (except for the giraffes, emus and one red deer) since many of them are there as part of breeding programs for threatened or endangered species. Therefore, the experience at each facility is quite different.
Before or after your tour, you can visit the Nature Store and the Children's Animal Center. Grab a bite to eat at the Overlook Cafe and enjoy a spectacular view while you eat.
Dinosaur Valley State Park
Just a short drive down the road from Fossil Rim Wildlife Center you'll find Dinosaur Valley State Park. Stop in at the ranger station to show your Texas State Parks Pass or pay your $7 fee if you don't have one. When you enter the park, you can't miss the two huge dinosaur replicas that that were built for the 1964 New York World's Fair.
This 1500-acre park offers a variety of outdoor activities but it is probably best known for the readily visible dinosaur tracks in the Paluxy Riverbed. Over 100 million years ago, central Texas was covered by a shallow sea. Dinosaurs left footprints in the mud which were eventually covered by many layers of dirt and sediment. Over millennia, the Paluxy River eroded away these layers and finally, after a massive flood in 1908, the tracks began being discovered.
In addition to the authentic dinosaur tracks along the river, the park offers picnicking, swimming, a 17-mile trail system that includes equestrian trails, an interpretive center, a gift store and camping.
Dinosaur World
Even though I figured Dinosaur World was geared toward kids, I still wanted to check it out. I was pleasantly surprised at how much I enjoyed it. The entrance to the attraction is just outside Dinosaur Valley State Park.
Dinosaur World gives you the opportunity to walk among more than 100 life-sized dinosaur replicas. The replicas are made of fiberglass, steel and concrete. Each display gives detailed information about the name and type of dinosaur and when and where they existed.
In addition to the hundreds of dinosaurs in a natural setting, there is a museum with animatronics and a gift shop. Some activities especially for kids are the Fossil Dig, Dino Gem Excavation and the Boneyard.
The facility is open daily 9 am to 5 pm (may vary with the season) except Thanksgiving and Christmas Day. The park doesn't sell any food so you are encouraged to bring a cooler with your own snacks and drinks. Pets on a leash are welcome. Entry fee is $12.75 for adults, $10.75 for seniors and $9.75 for children 3-12. Parking is free.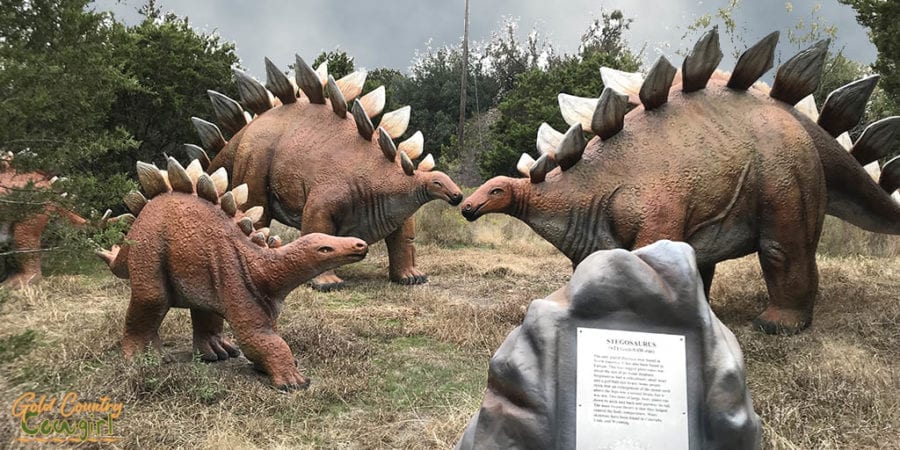 Historic Courthouse Square and Downtown Glen Rose
Like most town squares, the community of Glen Rose grew up around the county courthouse square. Today, the square is surrounded by antique and other specialty stores as well as some fun eating establishments.
The Somervell County Courthouse was built in 1893 from native limestone. The previous courthouse on this site, completed in 1882, burned in 1893 along with important records. This courthouse has a fireproof vault. The county was named for General Alexander Somervell (1796-1854) who was a Texas soldier, colonist and statesman.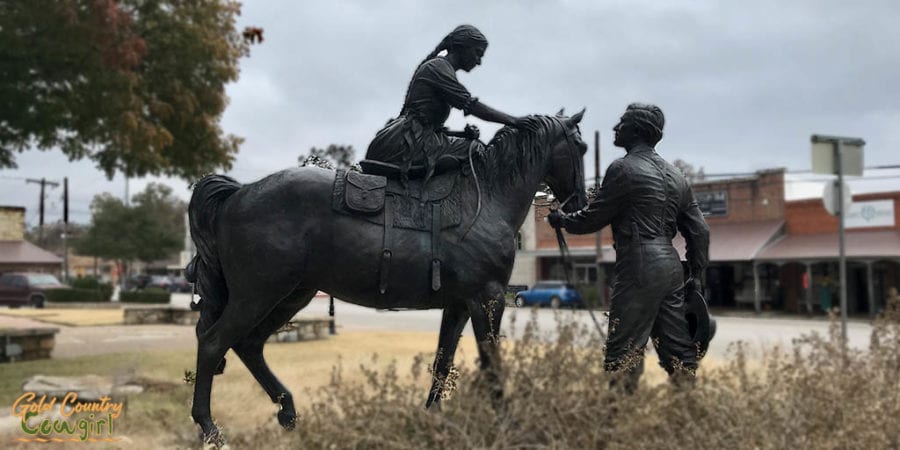 In front of the courthouse there is a bronze statue entitled "Barnard's of the Brazos – First Family of Glen Rose." This statue pays tribute to Charles and Juana Barnard, the founders of Glen Rose.
Shoo-fly Soda Shop has a full service soda bar. They serve up handmade shakes and malts, along with lots of other sweet treats. You know ice cream is my weakness!
Even though I don't eat pie anymore, I had to go in Pie Peddlers and check them out. The smell was incredible and hard to resist!
You can also find restaurants, like Riverhouse Grill, within walking distance of the town square. In spite of some hiccups there, I thoroughly enjoyed my meal and time there.

Big Rocks Park
The boulders at Big Rocks Park are HUGE. They are the result of the rise and fall of floodwaters of the Paluxy River cutting through the limestone. The river was low when I was there but this is a popular place to cool off in the heat of summer when the river is running. Entrance to the park is free and there is lots of parking. Covered tables offer a place to enjoy a picnic or just rest and take in the beauty of the river.
There's a small lake behind the dam that is stocked with rainbow trout each winter.

Oakdale Park and Plunge Pool
Last year, when I was RVing from California to Texas, I stumbled upon Oakdale Park through Passport America. I was stopping in Glen Rose, Texas, to see a friend compete in the Extreme Cowboy competition and Oakdale Park was the official campground for the event.
Oakdale Park, which opened in 1925, is a great camping and RV facility just minutes from everything in Glen Rose. From March through October, there's almost always something happening. You can enjoy the likes of free summer concerts, bluegrass jams, bluegrass and dulcimer festivals, and a chili cook-off. I seem to just miss all the festivities but may plan a trip next year to take in one of the events.
They have cabins and bunkhouses available in addition to the 120 full hook-up RV sites. They offer lots of amenities and the place is impeccably clean.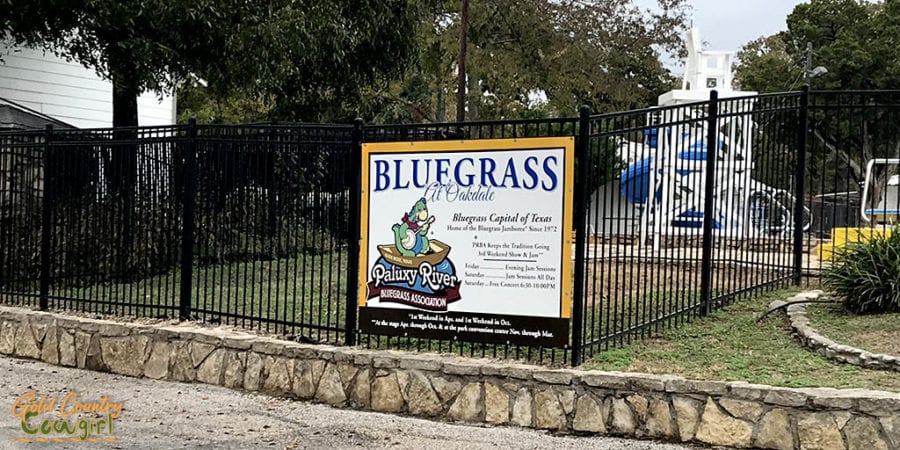 Plunge Pool
Horse and mule teams dug the 330,000 gallon pool and it is one of the largest pools in Texas. Unlike a lot of campground pools, the Plunge is a public pool. By state law, it can only be open when there are sufficient lifeguards. The lifeguards usually come from the local school so the pool is open from the end of the school year until the beginning of the next school year – usually mid-May through August – making a pretty limited season.

Attractions with Limited Hours in Glen Rose, Texas
Small towns often make it difficult for visitors to see some top attractions. If you don't visit on the weekend, you are likely out of luck to see museums staffed by volunteers.
Creation Evidence Museum
The Creation Evidence Museum is only open Thursday through Saturday 10 am to 4 pm. I braved the rain and freezing cold wind on Thursday, my last day in Glen Rose, to visit. I am not a religious person but there are lots of thought provoking displays here in support of creation over evolution. One of their main arguments is that human footprints have been found in the same layer of sediment as dinosaurs proving humans lived at the same time. These prints have supposedly been authenticated. Admission to the museum is $6.
Somervell County Museum
This county museum is only open on Friday and Saturday 11 am to 4 pm. Since my stay was from Monday through Thursday, I wasn't able to visit. I was disappointed to miss it because it has great reviews on TripAdvisor. These quaint, small-town museums are always on my list of things to see.
Barnard's Mill & Art Museum
Barnard's Mill and Art Museum are only open Saturday 10 am to 5 pm and Sunday 1 pm to 5 pm. The art museum is part of Bernard's Mill which was the first permanent structure built in the Glen Rose area by Charles Barnard. The oldest part was completed in 1860 and the newest part a mere 60 years ago. In 2007, the Mill Complex was donated to the Somervell History Foundation.

Have you visited Glen Rose? If so, what was your favorite thing about the area? I'd love to hear from you in the comments below!
Until next time…
(Visited 3,949 times, 1 visits today)