Car trouble. The possibility is always in the back of my mind when I'm traveling. I don't dwell on it but I know it is a possibility. On the Friday before Veteran's Day, I had planned to boondock for just one night at Apache Pass through Harvest Hosts. My car had other ideas.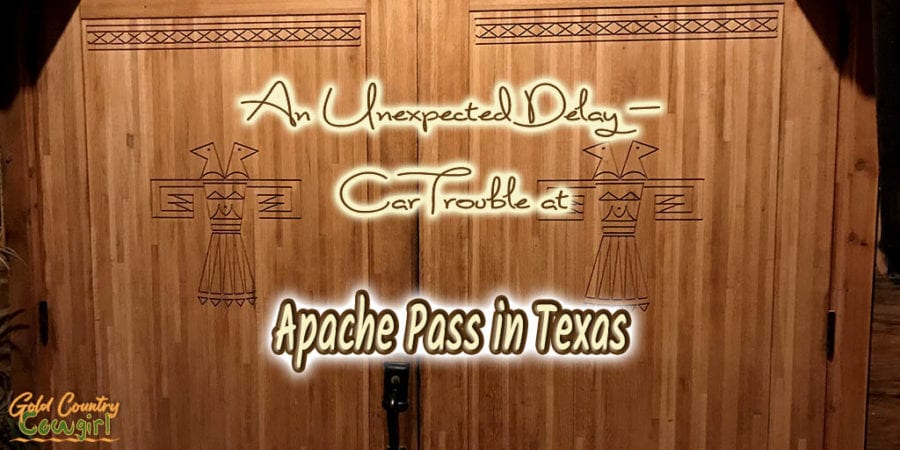 Apache Pass
Apache Pass is a 1,000-acre working pecan and hay production farm on the San Gabriel River near Rockdale, Texas. There is an event center, the Steakhouse, the Icehouse (a more casual restaurant), an RV park, and an airpark with three runways. A 325-foot suspension bridge that was hand built by the owners spans the river. The property has been in the Worley family since the 1800s but has only been developed over the past 15 years or so.
Apache Pass was a little confusing to me. On the Harvest Hosts write up, it sounds like Apache Pass is the town but their official address is in nearby Rockdale. To make things more confusing, it is actually located in Downtown Texas which was designated an unincorporated community in 2009. At any rate, when you call, you will get excellent, explicit directions.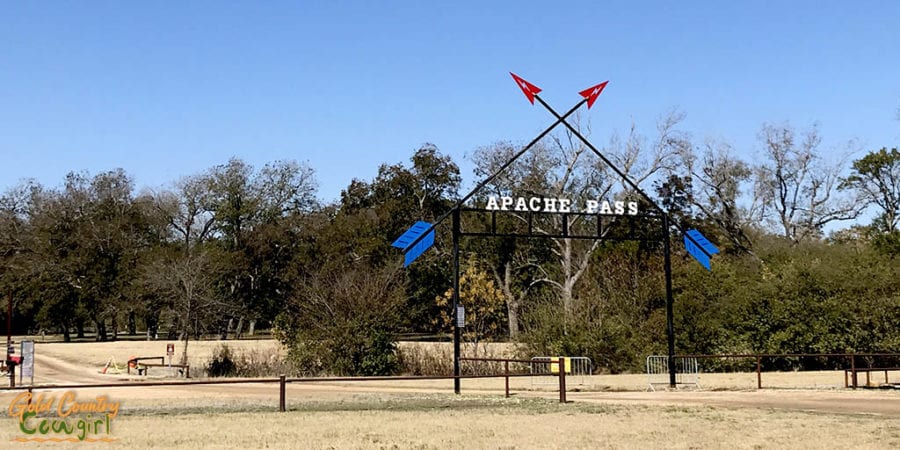 Why I Stayed in the RV Park at Apache Pass
When I called to make a reservation for my stay, the manager, Richard, told me that there had been too much rain to park near the river. In addition to the boondocking spots near the river, they also have an RV park across the highway where they give Harvest Hosts members electric hookup for $10 per night. My fresh water shutoff valve had a slow leak so, since I was going to be in the RV park, I opted for a full hookup site. This turned out to be a very lucky decision.

There is an RV park across the highway in addition to the boondocking spots by the river. #rvtravel #usatravel #boondocking Click To Tweet

I had planned my itinerary so that I would arrive at Apache Pass on Friday afternoon. I wanted to have dinner at the steakhouse and it is only open Friday and Saturday. Dinner Friday night at the steakhouse started out on a bad note but the food was delicious and almost made up for the way I was treated when I arrived.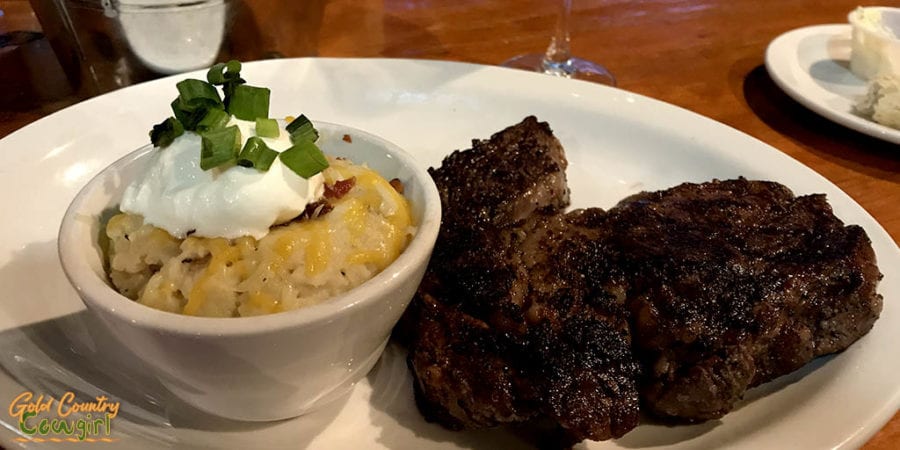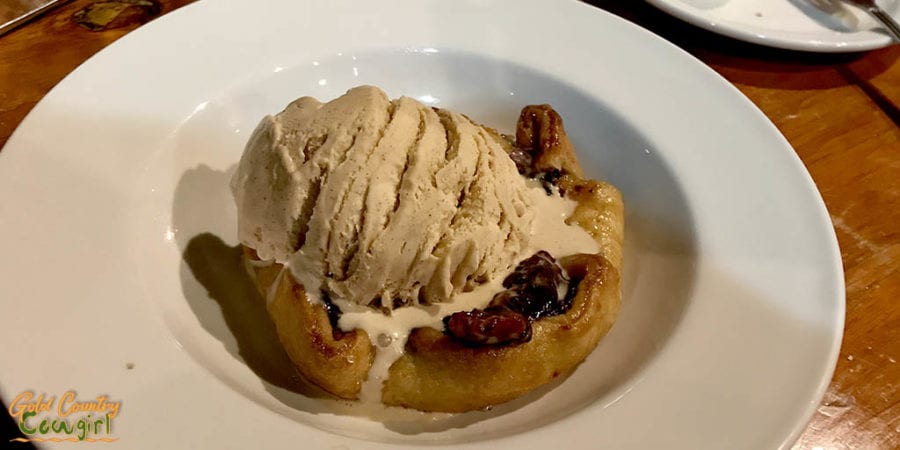 It was absolutely gorgeous the next morning and I almost hated to leave. A self-fulfilling prophecy perhaps?
The Delay Begins
The next morning, I disconnected and packed up the trailer, loaded the cats in the car and got ready to head out. It was chilly so I started the car so it could warm up. Phone reception was spotty so I moved about 30 feet away to use the RV office WiFi to get directions for my next destination. I had my back to the car no more than a few minutes and when I turned around, smoke was pouring from the engine compartment! I ran back and shut it off. Fortunately, the smoke stopped and there was no actual fire.
AAA couldn't get there until around 3pm. It was Saturday. Saturday of a holiday weekend. And I had to tell them where to take it. I had to research that. No place was going to be able to repair it in a few hours on a Saturday afternoon. What an utter feeling of helplessness and frustration. I took a deep breath and decided to wait until Tuesday to have it towed.
Partial Success
A bit later that afternoon, Richard offered to take a look at it. I had sent a photo to a friend and he and Richard both agreed that it was the fuel injector coil. Richard said he could change it and even went to the auto parts store to get the part.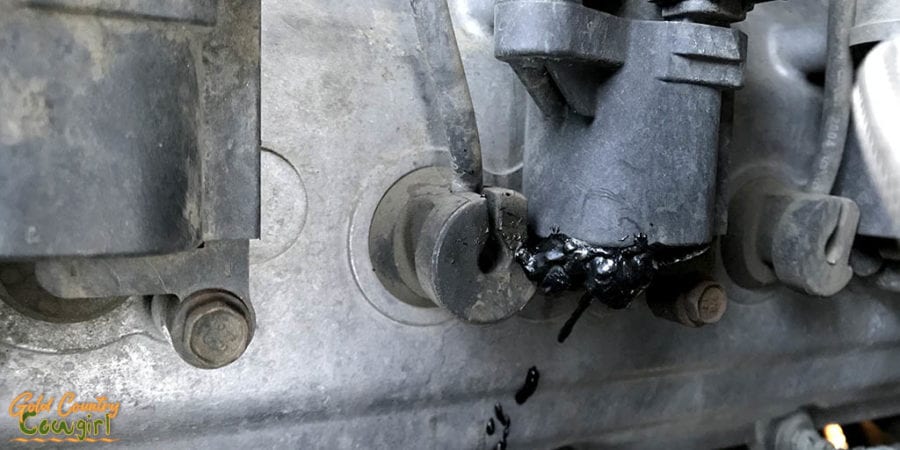 Richard and Cody, another resident in the park, changed the part fairly quickly. I started the car up and within just a minute or two you could smell it burning again. Richard called his son who is a mechanic. He said there was probably a short somewhere, so my hopes of just a one day delay were dashed. One good thing is they just disconnected that injector coil so I could drive the car to the shop rather than calling and waiting on AAA on Tuesday.
This is where that lucky decision to take a full hookup site comes in. My batteries and fresh water would never have lasted. Also, it got quite cold, in the 20s at night and 40s during the day, so it was nice being able to run my electric heaters to supplement my propane heat. And with the length of time I would be there, at least until Wednesday, I would need to dump my tanks. With my car out of commission, I couldn't move to another space, although I'm sure someone there would have helped me do that. I'm just glad I didn't have to deal with that too.
The Holiday Weekend at Apache Pass
When things don't go to plan, you just have to make the best of the situation. Fortunately, I had stocked up on supplies and meat for the cats before I left Glen Rose. I can make do for myself but the cats have to have their meat.
The sunrise on Sunday was beautiful and the cats enjoyed the sunshine that day. Then the weather turned. The cold front that was moving in across the country hit and it was gloomy, drizzly and cold. It stayed that way the entire rest of the week until the day I left! I never made it across the highway to see the river or the rest of the facility so I will try to include Apache Pass on another trip in that direction. There's definitely a lot more to see and do there than I realized.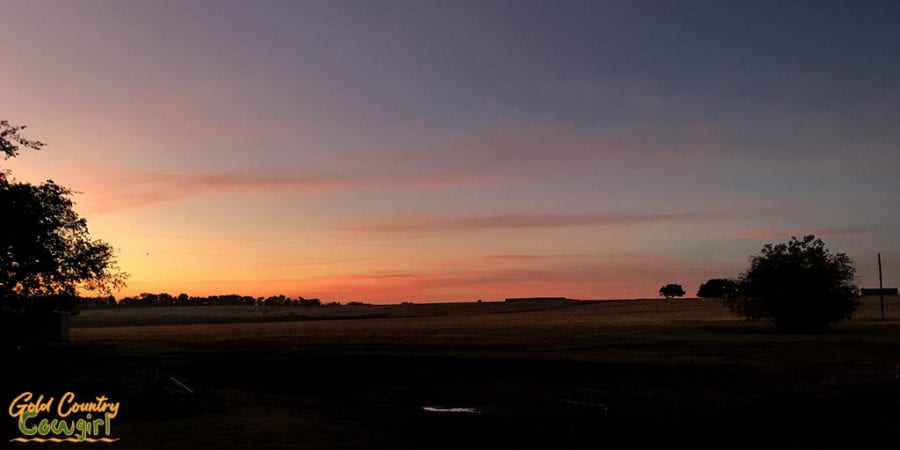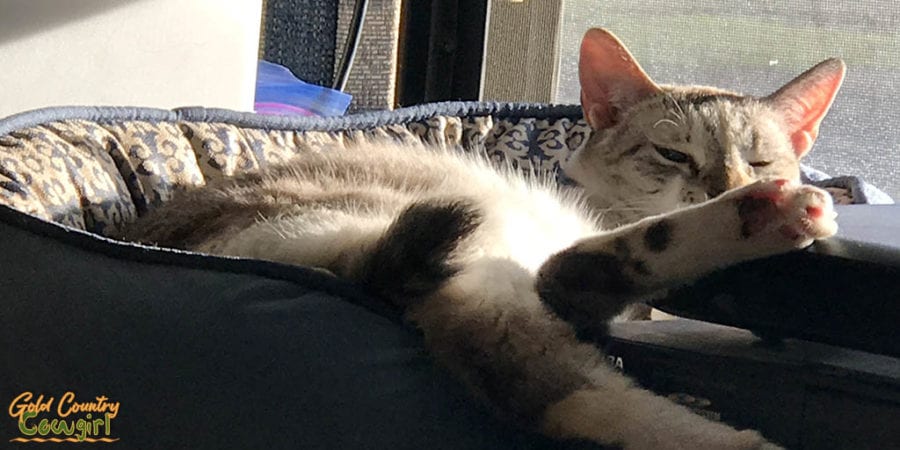 Even on those gray, wet, dreary days, I still had an awesome view of the pond and the visiting birds out my back window.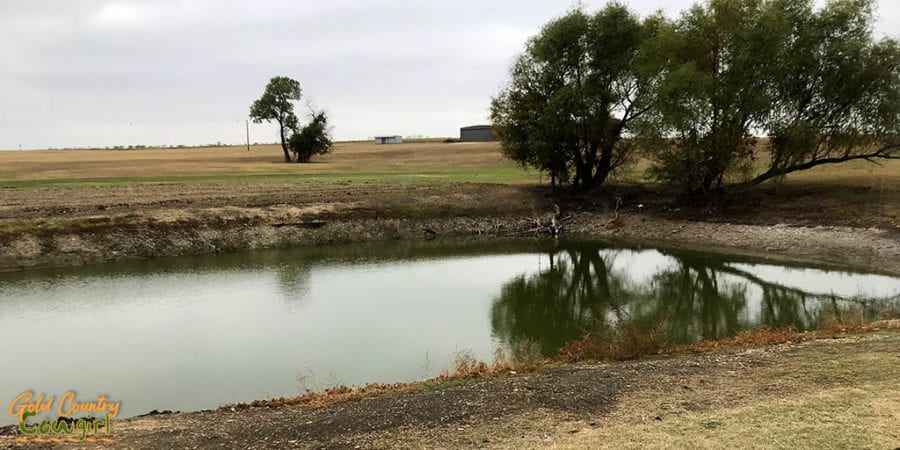 What better thing is there to do when the weather is uncooperative than to eat and drink champagne?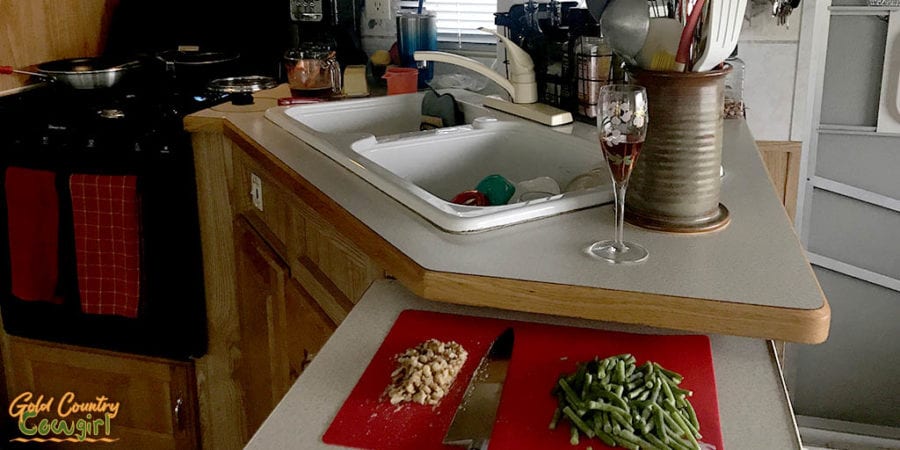 Off to the Mechanic
I found a mechanic that had great reviews on both Google and Yelp so I felt pretty comfortable using him. When I called him on Tuesday morning, he said he couldn't look at it until the afternoon. Visions of more delays were dancing in my head. I explained my situation and he said to bring it in and he would work it in as soon as he could. Thank goodness for Richard who gave me a ride since there is no such thing as a taxi or even Uber in the area.
Later that afternoon, the mechanic called to tell me he had indeed found a short in the wiring harness. He had to pull the manifold and couldn't have it finished until Wednesday. That was totally awesome! I would be able to pick up the car, do some shopping and leave on Thursday.
I did pick up the car and do some shopping but I didn't leave on Thursday. The weather was still pretty miserable and windy, and I was a little emotionally drained, so I decided to wait until Friday to leave Apache Pass. I have to admit that by this time, though, I was really getting cabin fever! I had been cooped up for a week.
A Change in Plans
From Apache Pass, I had planned to boondock at a winery in Weimar. After my week of captivity at Apache Pass, I just wanted to go somewhere with full hookups for a few days where I could get out and do some sightseeing. After a bit of research, I decided to head for Schulenburg. Thankfully, my trip there was uneventful.
I am so, so grateful that my car trouble happened at an RV park and not somewhere along the road. And a huge shout out to Richard. He was awesome! I would love to give Apache Pass a five star review on Harvest Hosts but I didn't get to see much of it. Richard, however, definitely deserves five stars.

I am so, so grateful that my car trouble happened at an RV park and not somewhere along the road. #rvlife #rvtravel #usatravel Click To Tweet

Additional reading: HISTORY OF APACHE PASS, MILAM COUNTY, TEXAS
Until next time…
(Visited 517 times, 1 visits today)