When you are single, cooking for one can sometimes be a challenge. Sure, I like casseroles, soups and roasts and have my freezer stocked with leftover meals, but a single person can't cook like that every night. The freezer would be overflowing in no time. And what do you do if you forgot to start the slow cooker or even take something out to thaw? Of course, you can thaw one of your leftover meals in the microwave but what if you want something fresh and simple?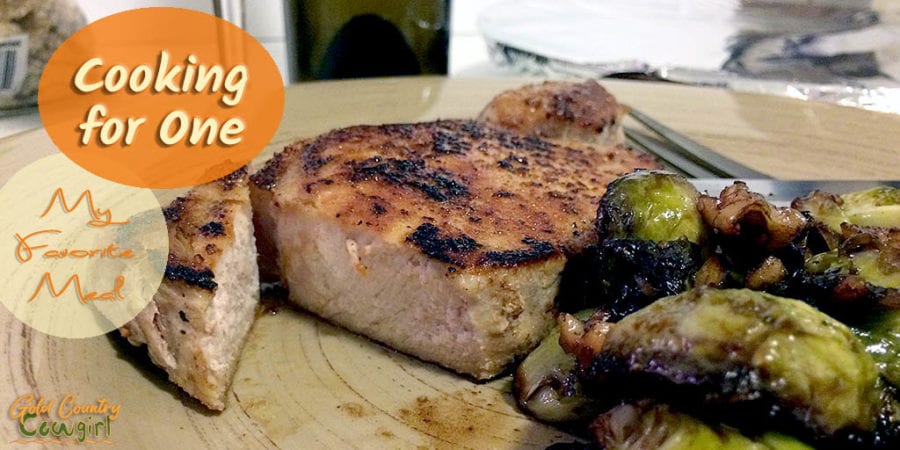 Originally posted on February 4, 2017, updated June 3, 2020
When I buy chicken thighs/breasts, pork chops or salmon, I lay them out in a single layer on a cookie sheet to freeze. Once they are frozen, I seal them with my FoodSaver. I can take them out one or two at a time and they thaw pretty quickly, but I can also give them a little help thawing in the microwave if I want to use them right away. Using these to cook my favorite meal makes it pretty quick and very easy when you are cooking for one.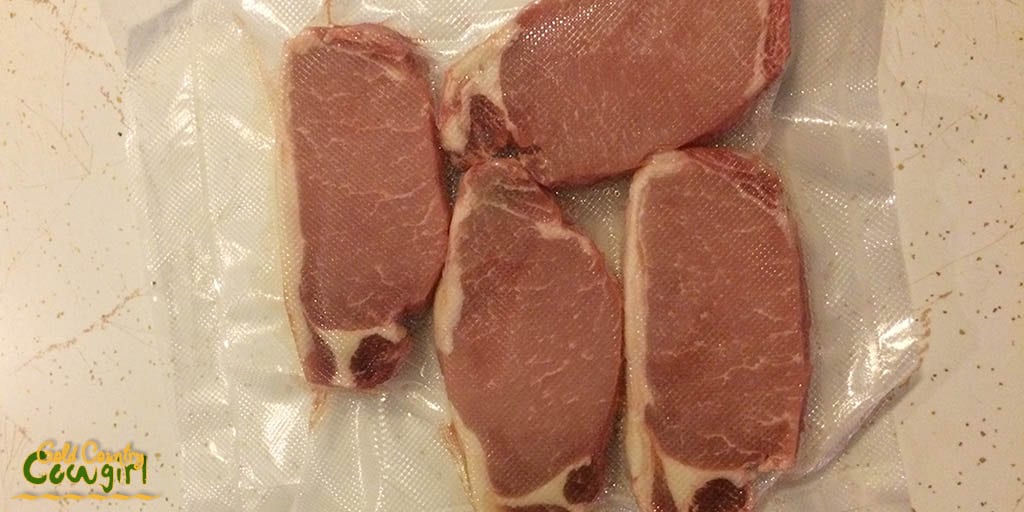 My Favorite Meal When Cooking for One
My favorite vegetables for this meal are asparagus, broccoli or Brussels sprouts but you can use any vegetables you like. Just be aware that some may cook quicker than my favorites (like summer squash) and you'll need to adjust cooking time by adding them later if you don't want mushy vegetables. I usually use a single vegetable but you could use a combination.
Check out this super quick, easy and versatile one skillet meal. #skilletmeal #onedishmeal
Click To Tweet
At our last Saucy Sisters cooking club meeting we made sheet-pan meals. This is a similar idea to my favorite meal and is great for a family, but I prefer my skillet method for one or two. You get a much better caramelization on the meat and therefore more flavor.
Skillet Dinner — Cooking for One
Season your meat. I season mine with salt, pepper and granulated garlic but this is up to you and your tastes. Experiment with different herbs and spices for a totally different flavor for each meal.
While your oven is preheating to 325 degrees, prep your vegetables by cutting them into bite size pieces.
When your oven is up to temperature, heat an oven proof skillet (I love my cast iron) to screaming hot. Put in a small amount of oil to coat the bottom of the pan and give it a few seconds to get really hot.
Place your meat on one side of the skillet and time for 2 minutes. Be sure your meat is pretty dry or it won't brown properly. I pat mine dry with a paper towel before I season it.
As soon as you put your meat in, add your vegetables to the other half of the skillet. I usually pour a little more olive oil over the vegetables, depending on how much is already in the skillet, and salt and pepper them a little.
After two minutes, turn your meat and time for 1 minute more. Stir the vegetables.
Put your skillet in the oven for 10-15 minutes depending on the type and thickness of your meat. I put my 1″ thick pork chops or salmon in for 10 minutes and a chicken thigh for about 15 minutes.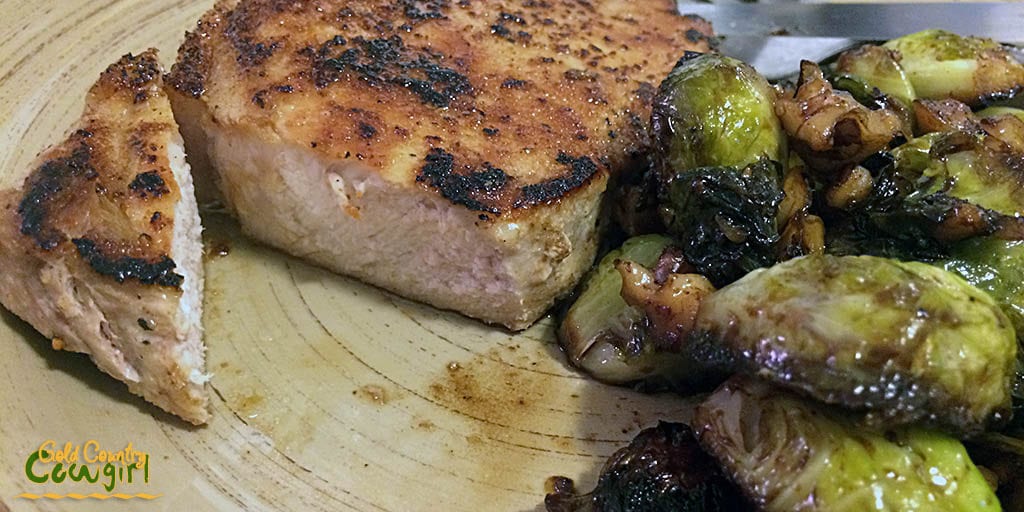 This is my favorite, favorite meal – pork chops with Brussels Sprouts and walnuts. I add the walnuts just before I put the skillet in the oven. When I take the skillet out of the oven, I remove the chops to rest and then finish the sprouts with balsamic vinegar on top of the stove. This cleans up all the browned bits from the chops and is oh, so flavorful! Yum!!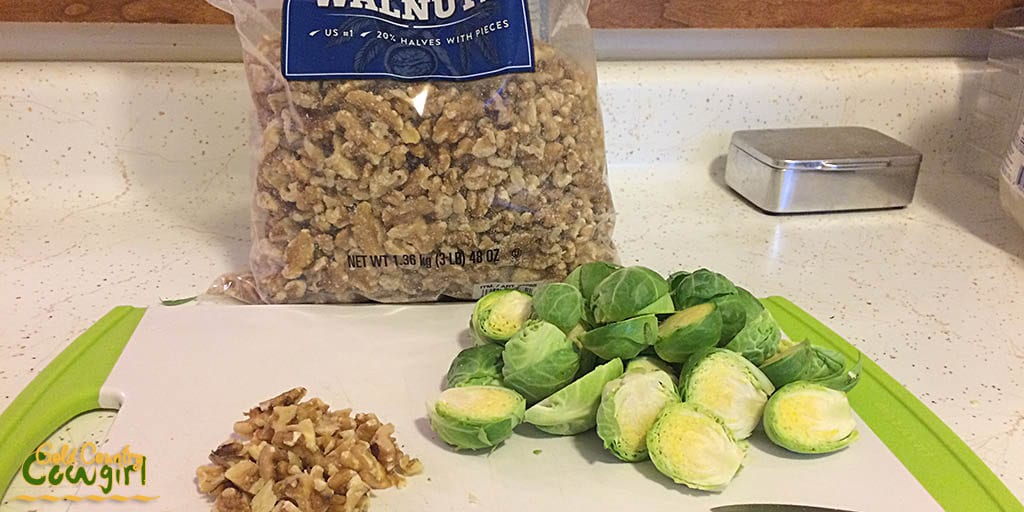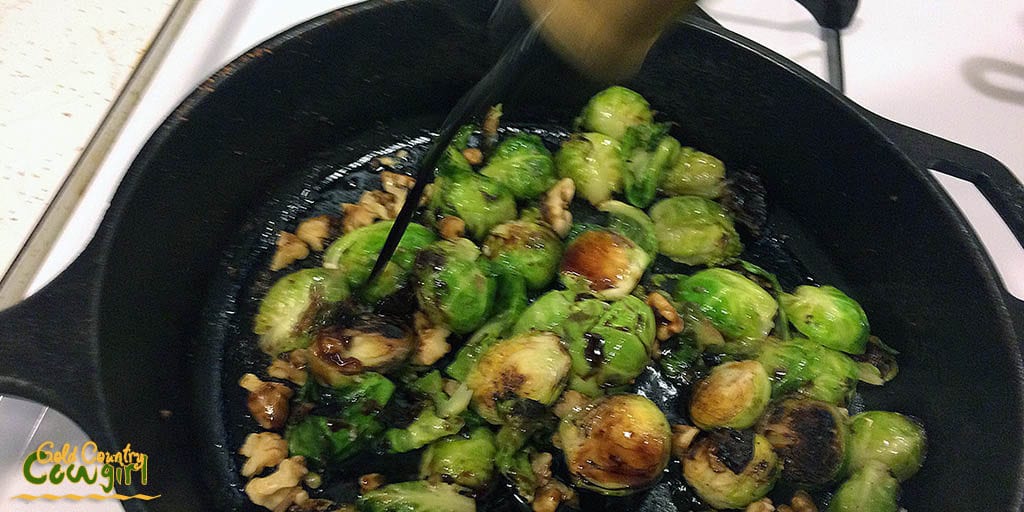 Although I say this is cooking for one, it also works great for two. I always cook double so I have leftovers for lunch. You can cut your meat up and put it on a salad or make a sandwich. Leftover vegetables are delicious in a frittata.
A bonus for this method is that there is very little clean up — a cutting board, a few utensils and a skillet. This is especially important in an RV!
How Did this Work for Me in the RV?
When I first published this post back on February 4, 2017, I had not yet begun my RV adventure. I didn't want to use (read afraid to use) my RV oven but I still wanted to make meat and veggies my favorite way. I experimented with just covering the skillet to finish off cooking. It's not quite the same but works pretty well. Just turn the heat down to medium low and make sure you don't overcook things. Of course, if you are not like me and you do use your RV oven, just follow the above instructions.
Even in my house at my home base in Texas I have gotten away from using the oven. It's big, takes a long time to heat up and heats up the house. This is not a good thing when your air conditioner is battling outdoor temperatures over 100 and fairly high humidity.
When I heard about the AirFryer 360 oven, I thought this might be a good solution for me. I originally bought it with the intention of putting it in the RV. I had to test it out first, though, and liked it so much, it has a permanent place in my kitchen. It is so versatile that I use it almost every day, including for multiple variations of this meal. I will definitely be putting it in the RV when I hit the road later this year, even if I can't find a really convenient spot for it.
Have you tried this skillet method or sheet-pan cooking? What are your thoughts on it? I'd love to hear in the comments!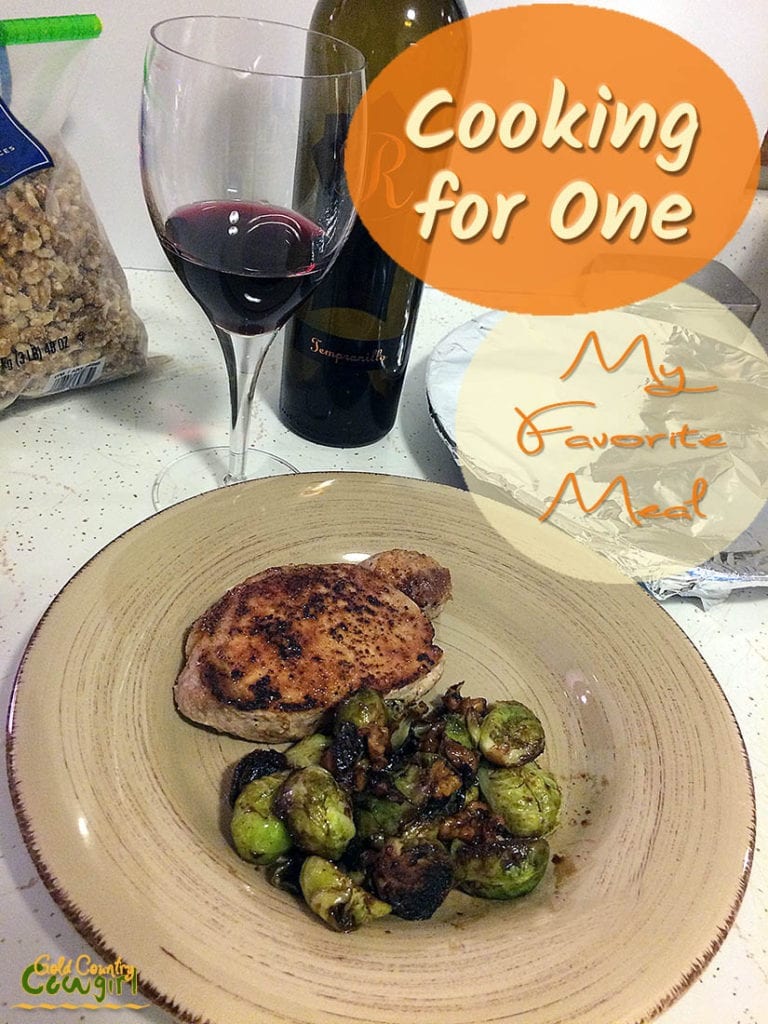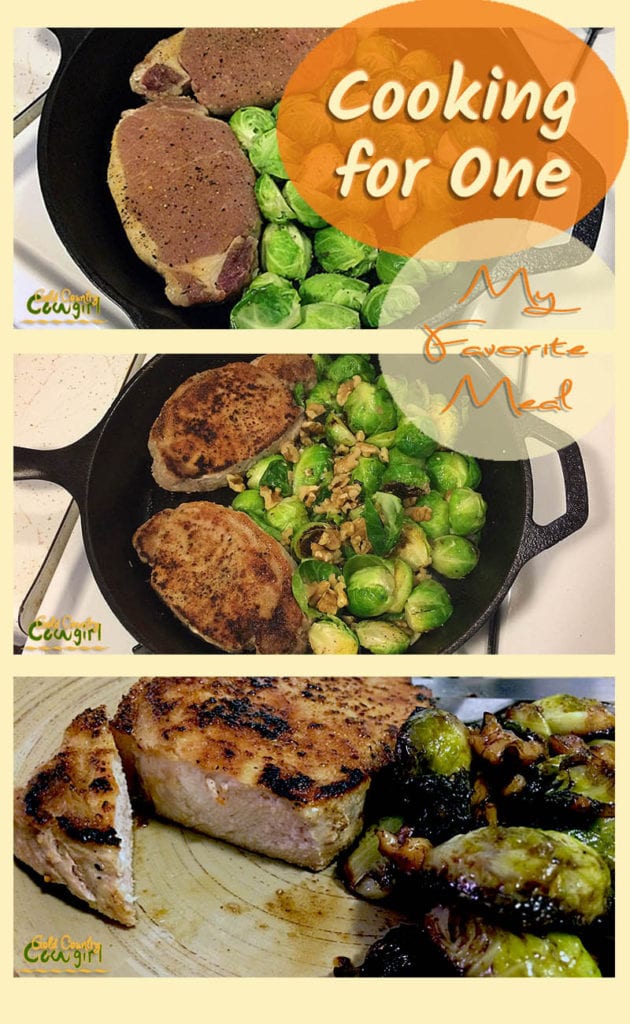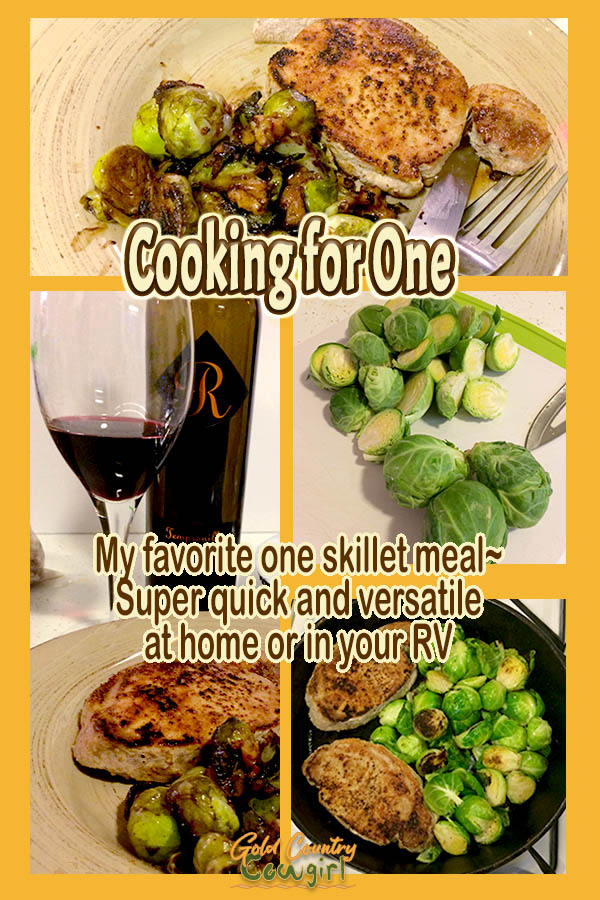 Until next time…
(Visited 396 times, 1 visits today)