A while back, while I was downsizing my house to move into my trailer, I wrote about the things I had on hand that I thought would be RV must haves. When I look back on the list, it is interesting to see what I actually used, what I didn't need or miss, and what I wish I'd had. What do you think were my most useful RV must haves?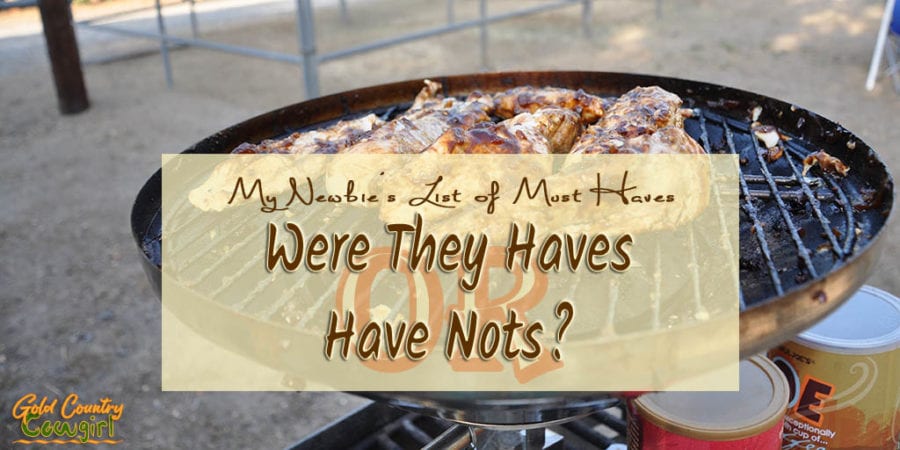 See what I actually used, what I didn't need or miss, and what I wish I'd had that were on my original must have list. #rvlife #rvmusthaves
Click To Tweet
My Most Useful RV Must Haves
Before I left, I read lots of posts about how people mostly cook outside their rig. I took that to heart and took my portable gas grill as well as electric gadgets that could be plugged in outside. Most of the time though, it was too cold to cook outside. Yes, I guess I'm wimping here. On nice days, by the time I got back from sightseeing, I didn't feel like taking anything outside. It was just easier to pull out a cast iron skillet or grill pan and cook on my stove. I guess I should have put these on my original RV must have list but, for me, these items just go without saying!
Disclaimer: This post contains affiliate links. If you make a purchase after clicking on a link, I will receive a fee at no extra cost to you.
These were my most useful RV must haves from my original list:
Instant Pot
My Instant Pot was used the most of any kitchen item I took along. It is so versatile that it was hard not to use it. I used it to hard boil eggs, cook meatballs in pasta sauce and to bake a meatloaf, among other things. Mine is the Instant Pot Mini which is perfect for one or two people or to cook a side dish.
Cuisinart
I took the Cuisinart food processor to make my cats' raw food. I have a big commercial grinder that I usually use for that and I was skeptical that the food processor would work well but it did an awesome job. It also makes quick work of grating a lot of cheese which I did several times. Since I was cooking just for me, I didn't need to chop large quantities of things so I mostly did my chopping by hand.
Immersion Blender
I used the immersion blender quite a bit to blend and thicken sauces and gravies and the little chopper chopped lots of garlic. It's also perfect for blending my cream and coconut oil into my coffee when I'm drinking bullet coffee. It makes it so nice and frothy.
Cuisinart Griddler
I used the Cuisinart Griddler a couple of times early on but eventually just started cooking on my stove. If I cooked a normal breakfast, like pancakes, I know I would use it more. I think I might use it more in the future when I cook outside but, since it does basically the same thing as the outdoor gas grill, I'm not sure. I'll give this one some more time to see if I keep it in the trailer.
DeWalt 20V Drill
I didn't use my drill as much as I thought I would but I wouldn't be without it. You just never know when it will come in handy. I thought I would use it most to put my stabilizers up and down. I bought the drill attachment but I never even took it out of the package. Working the stabilizers is really quite easy and the drill would have been more trouble than it was worth to use it for this.
Goal Zero
My Goal Zero quit charging a long time ago and I didn't know if I was going to be able to get it fixed for the trip, so I totally forgot to put it in my original post. At first, it seemed like a bad fuse was all that was wrong with it. Replacing the fuse allowed it to attempt to charge but it just wouldn't hold the charge. I needed to replace the internal battery and I wasn't sure if it was worth it. After some research on what I might replace the Goal Zero with, I decided a new battery was the cheaper way to go. I even found a super deal on a third-party battery on Amazon.
The Goal Zero was one of the most reassuring and useful items to have along. It kept my laptop, iPad and phones charged when I was boondocking. I was even able to watch TV on my iPad.
Battery Charger/Air Compressor
I purchased one of these eons ago and, like the Goal Zero, it had quit holding a charge some time ago. It was just collecting dust in my garage so I gave it away when I downsized. During my trip, I was excited when a friend gifted me one. I never needed to use it for backup power or for anything to do with the car, but I did use it to blow up the tires on Christy's stroller. The unit lives in the car and will be put to good use in the future as a back up to my Goal Zero during longer bookdocking stays where I can't fire up the generator.
RV Must Haves I Didn't Use
VitaMix
I took this with the idea that I would make soup and desserts in it. The VitaMix is great for whipping up a quick, healthy soup like broccoli cheddar or a frozen fruit dessert. Frankly, I just completely forgot about making those and it never came out of the cabinet. It was a result of failure to meal plan! In spite of not using it, I would not take it out. I will plan better and use it on future trips.
Portable Gas Grill
Several times I thought about getting this out, but again, it was either too cold or I was too tired. On future trips, especially during spring and summer, I envision using my gas grill a lot because I love to barbecue. Also, I plan to stay a little longer at most locations on future trips so there will be more leisure time.
What I Didn't Miss Having
Keurig
I loved all the Keurigs I've had over the years but I didn't really miss having one in the trailer. It would just have taken up too much space and it was somehow satisfying using the very simple pour over system I purchased. It takes up no room and weighs next to nothing. The coffee does seem a little weak, no matter how much coffee I use, so I may consider an AeroPress for future trips. Keurig has a new, much smaller model, but it does require electricity where the other two options don't.
FoodSaver
As I suspected, I didn't really miss having the FoodSaver in the trailer. I purchased smaller portions and used them before they spoiled. It would be nice to have one at my new home base and it will probably be useful when I go full time.
What I Wish I'd Had
Shark Vacuum
Oh, how I missed my Shark vacuum cleaner. Forty days on the road was more than enough to know that I need to move this near the top of my most useful RV must haves! I debated on whether or not to keep it and decided to let it go. The trailer came with a small canister vacuum that didn't take up much space so I decided to make do with that. What a mistake! The vacuum worked fairly well but is so small that it had to be emptied really often and was difficult to open. The design is also pretty poor, in my opinion. It kept turning over so it didn't work until you uprighted it. My plan is to replace this vacuum with a Shark cordless before my next trip.
Like anything in life, the RV lifestyle is a learning experience. I know I will continue to refine, and possibly continue to downsize, as I experience more of it. What are your most useful RV must haves?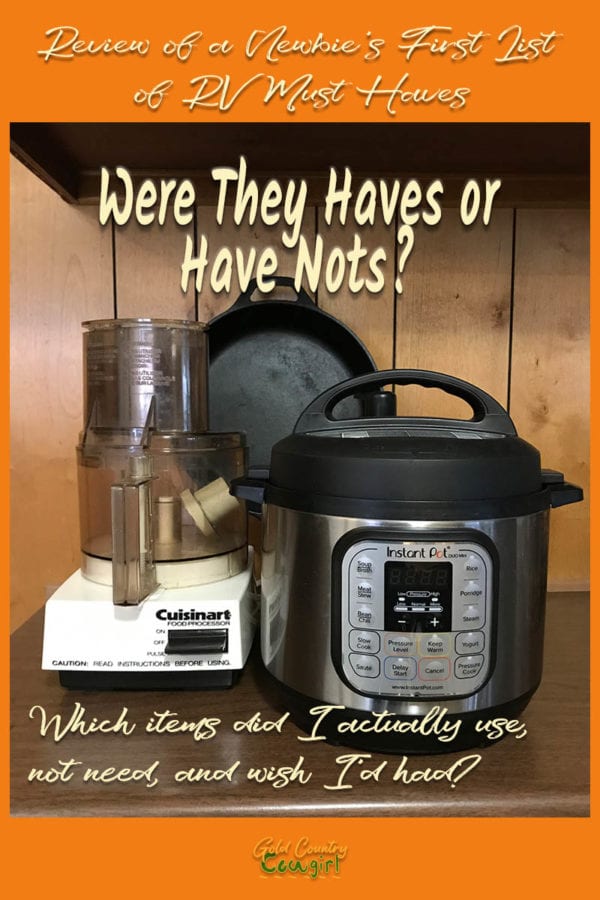 Until next time…
(Visited 276 times, 1 visits today)