Jump to recipe
Several weeks ago, the Vineyard Vixens had a pasta dish for lunch at Villa Toscano that we all just loved. Executive Chef, Tim Benham, explained his process to us and told us the ingredients but didn't give us any specific amounts. I played with the recipe and tweaked it until I came up with a version that I find quite yummy. I'm calling my version of this delicious dish Pasta with Pumpkin Cream, Butternut Squash and Chicken Sausage. The original dish had an even longer name!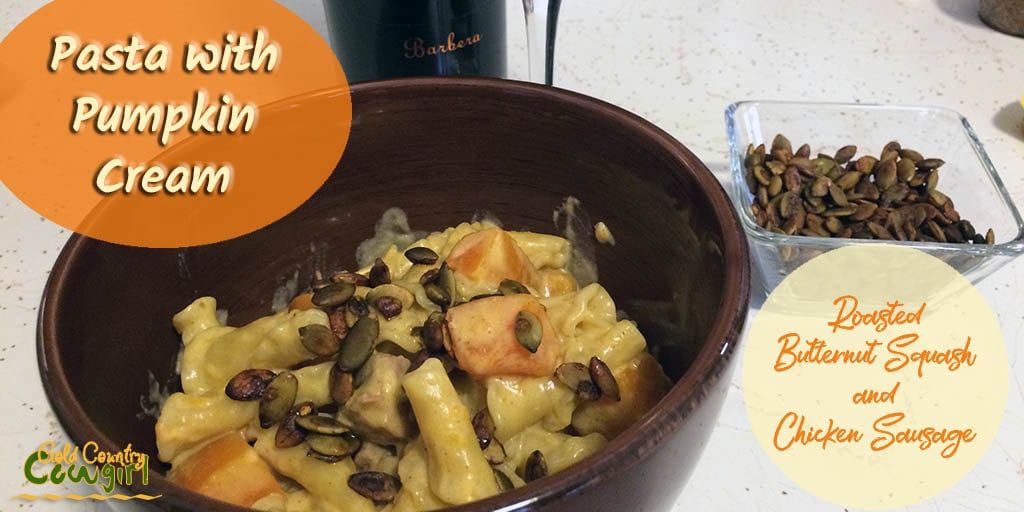 One of the ingredients of the dish is soy sauce soaked, roasted pumpkin seeds. There weren't any on the portion I got from the buffet at Villa Toscano so I didn't get to taste them. I thought this sounded like an odd ingredient but, what the heck, he's the chef, right? So I made them. You just might want to make up a bunch for a snack on their own. They are delightfully salty and crunchy. The dish itself is a little on the sweet and mild side so they add a wonderful saltiness and texture.
You might think I'm a little late getting a pumpkin recipe out and you may be right, but I say pumpkin isn't just for fall. Canned pumpkin and even butternut squash are available year round and this dish would be great any night of the week for a relatively quick dinner.
Pumpkin isn't just for fall. This pasta dish would be great any night of the week for a relatively quick dinner. #pasta #pumpkin
Click To Tweet
Pasta with Pumpkin Cream
Prepping the Butternut Squash and Pumpkin Seeds
I have always been a little intimidated by butternut squash so I always bought the pre-prepped squash at the market. The first time I made this recipe, I roasted the squash as it came and I decided that I didn't like the pieces that large in the finished pasta. It kind of overpowered everything. The next time I wanted to make this recipe, the market didn't have any pre-prepped squash! Oh, no. Well, I decided I am a big girl cook and could handle a whole squash.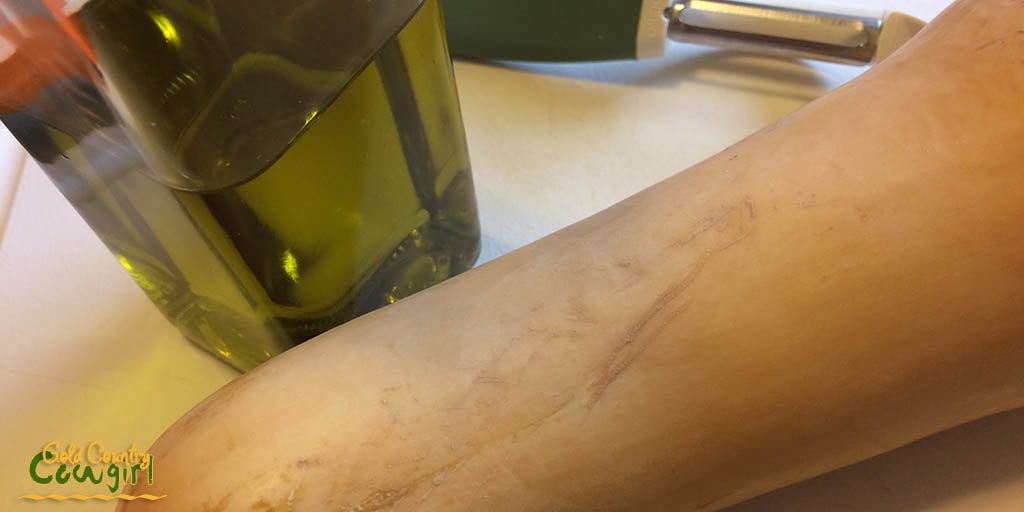 OK, so it was really pretty easy. I just sliced the ends off, peeled it with a peeler, cut it in half, scooped out the seeds and diced it up. I expected it to be much harder to peel and cut.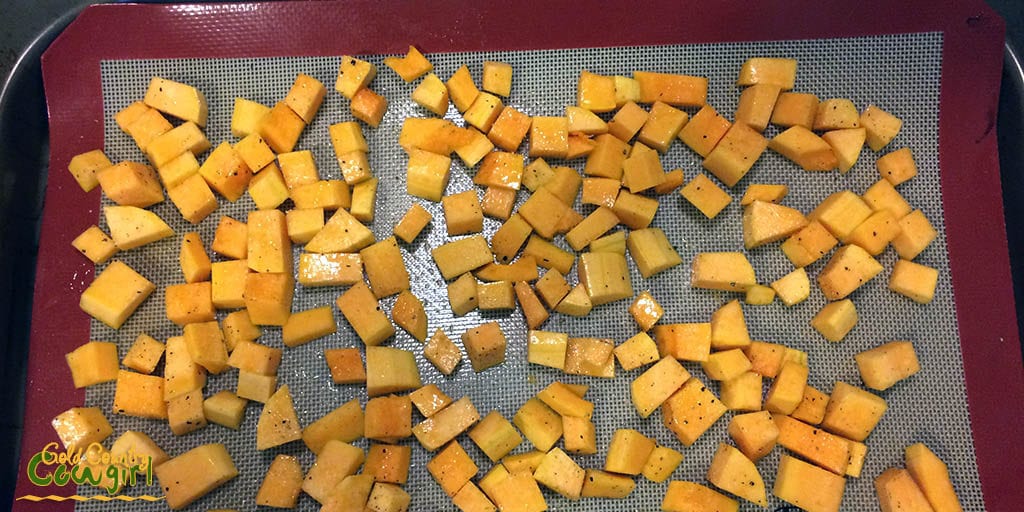 I know some people put their vegetables to be roasted directly on the baking sheet then pour on the olive oil and mix it up by hand. I don't mind getting my hands in my food when I'm cooking but I just find that when you put it in a bowl and stir it, it gets coated with the oil and seasonings more evenly. Make sure the squash is in a single layer so it will roast and not steam. I like to use a silicon mat on my baking sheets. It makes clean up a breeze.
One squash usually makes more than the 2 cups called for in the recipe. I keep the extra in the fridge and add it to frittatas, salads, sandwiches, etc.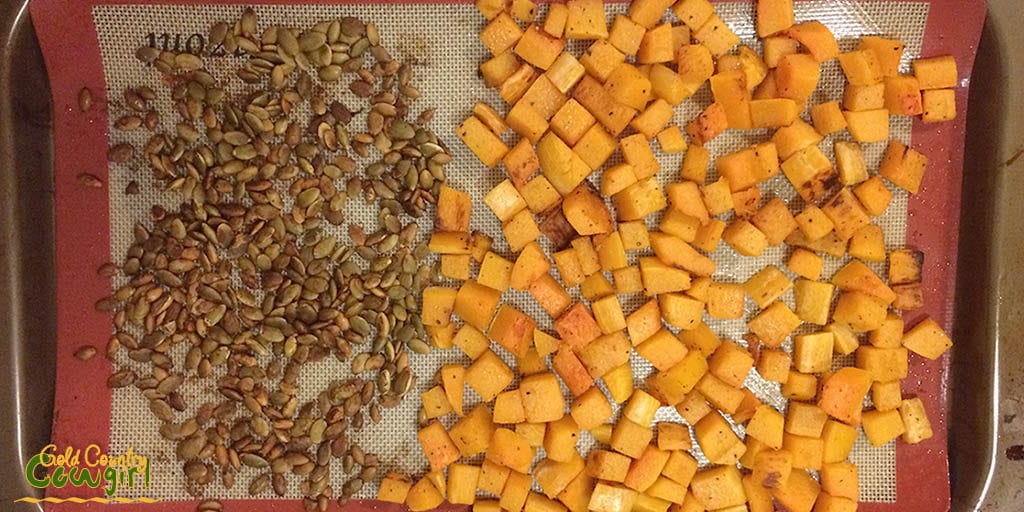 After about 20 minutes of roasting, I pull the squash out, stir it and push it to one side a little. I put the pumpkin seeds on and roast for another 10 minutes or so. They smell wonderful as they start browning.
Making the Pumpkin Cream Sauce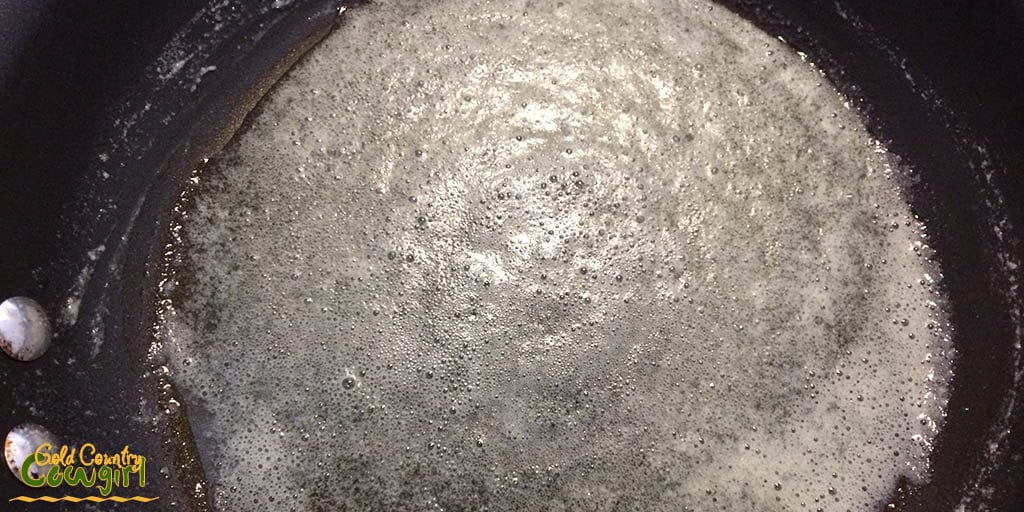 While the squash is roasting, I start the sauce. Browning the butter gives it a terrific nutty flavor, just be careful not to burn it. Heat the butter over medium heat. As the butter melts, it will start to foam. It will gradually turn a toasty brown color and will have a nutty aroma.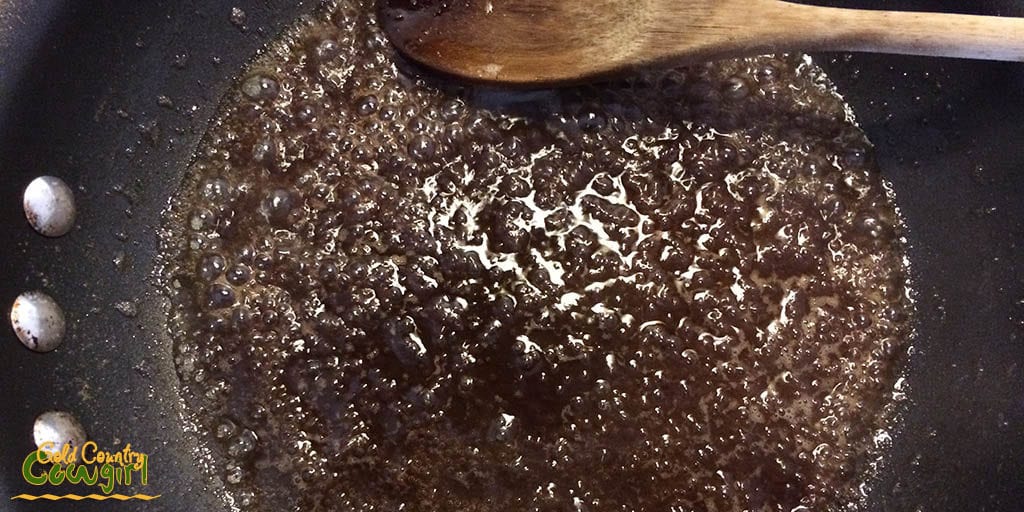 Once the butter is brown, add the white balsamic vinegar. Be careful. It will bubble and may splatter. (I usually start the pasta about now.)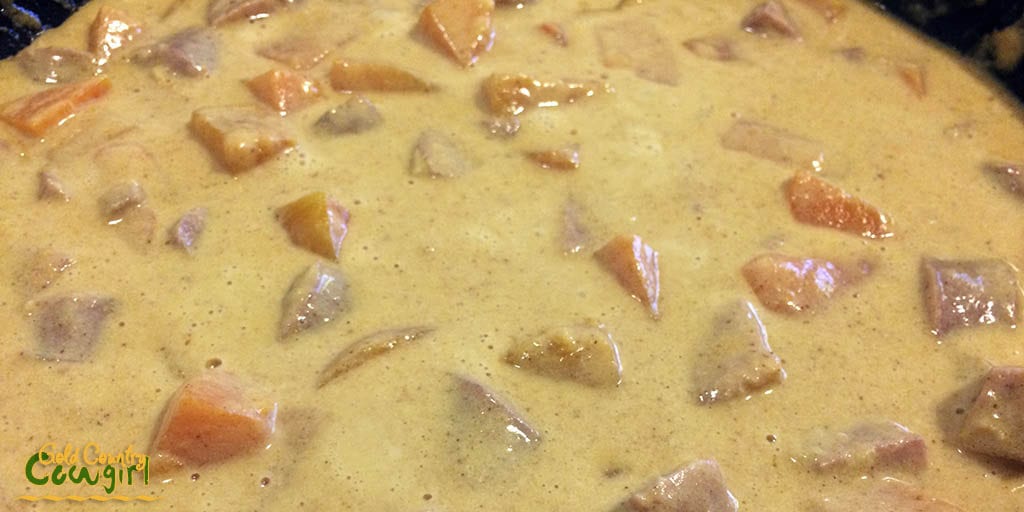 Add the cream, half and half or milk, pumpkin and nutmeg. I use a nutmeg grinder and put about 10 turns of the grinder in. Heat until the mixture bubbles and slightly thickens. Add the butternut squash and sausage. Heat until warmed through. Pour the sauce over the drained pasta. Sauce will be a little thin.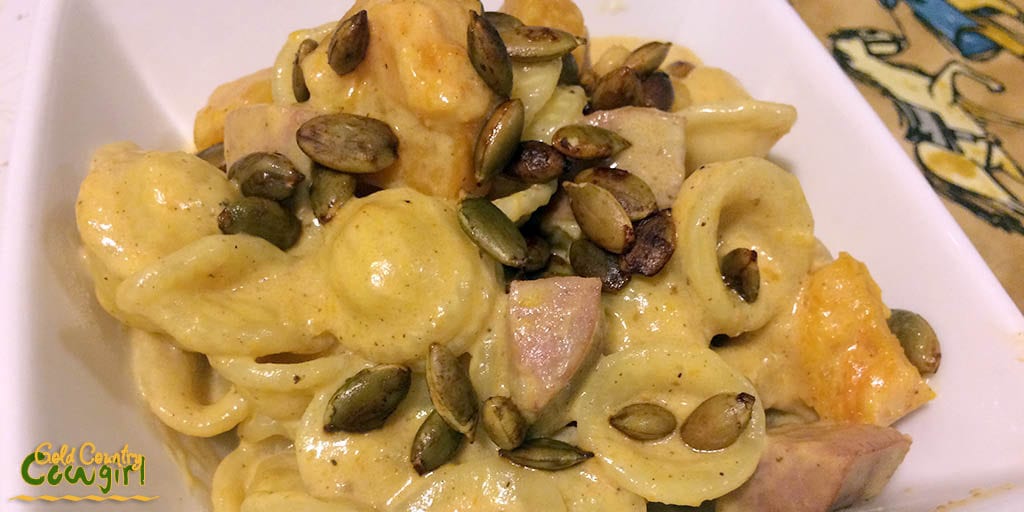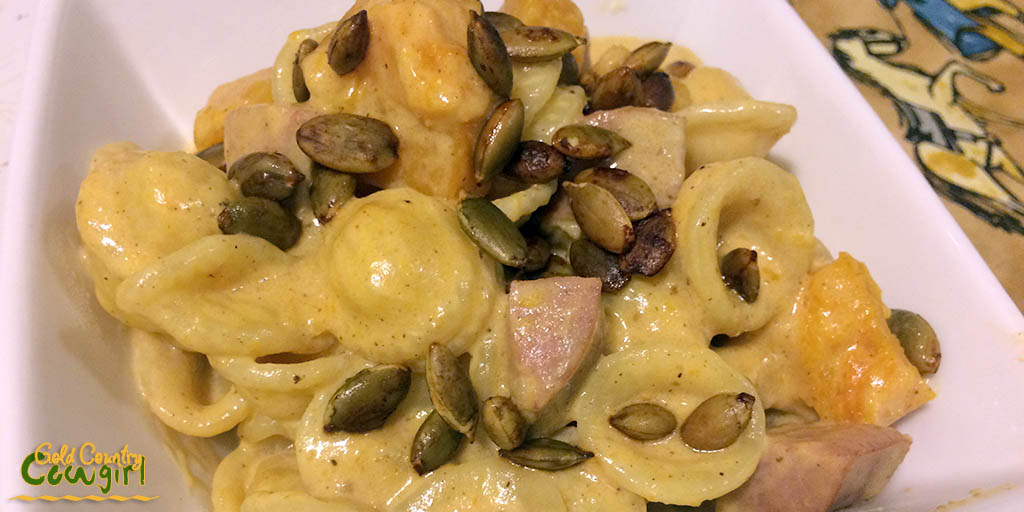 Put in serving dishes and top with some of the roasted pumpkin seeds.
Pasta with Pumpkin Cream, Butternut Squash and Chicken Sausage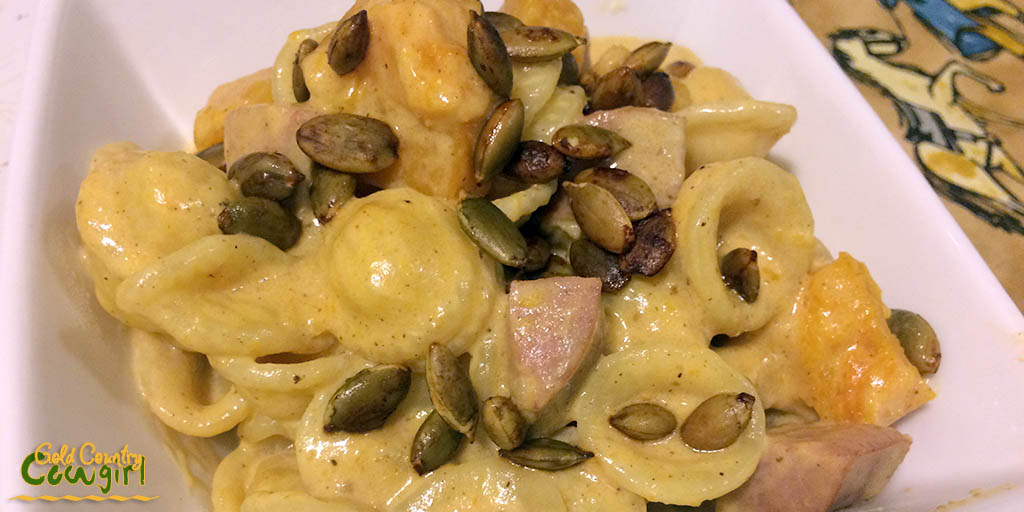 Ingredients
For the Sauce:
1/2 stick butter
1 Tbsp. white balsamic vinegar
3/4 cup heavy cream
3/4 cup milk or half and half
1/2 cup canned pumpkin
Nutmeg, a pinch or a few turns of a grinder
2 cups roasted butternut squash
2 chicken and apple sausages, diced
For the roasted squash:
1 small to medium butternut squash
1 Tbsp. olive oil
Salt and pepper
For the roasted pumpkin seeds:
1 cup raw pumpkin seeds (pepitas)
1 Tbsp. soy sauce
Instructions
Cook the pasta to al dente according to package directions while you make the sauce.
Brown the butter in a skillet, being careful not to burn it. Deglaze the pan with the white balsamic vinegar.
Add the cream, half and half or milk, pumpkin and nutmeg. Stir and heat until bubbly and slightly thickened.
Add the sausage and roasted squash to skillet and stir. Heat just until heated through.
Pour sauce over drained pasta and stir.
Garnish each dish with some of the roasted pumpkin seeds.
For the roasted squash and pumpkin seeds:
Dice the butternut squash into about 1/2 inch dice, Put in a bowl, add olive oil, salt and pepper and stir.
Place on a baking sheet and roast in a 400 oven for 20-30 minutes. Length of time will depend on the size of your dice.
Cover the pumpkin seeds with the soy sauce and stir. Place on a baking sheet and roast in 400 degree oven for about 10 minutes. Watch them closely so they don't burn.
© 2023 Gold Country Cowgirl
Am I the only one who likes leftover pasta for breakfast? I bet I'm not and this one is especially suited for that. I love to add some cinnamon, brown sugar and a little milk if it needs thinning. Better than any bowl of oatmeal!
Pin It and Save for Later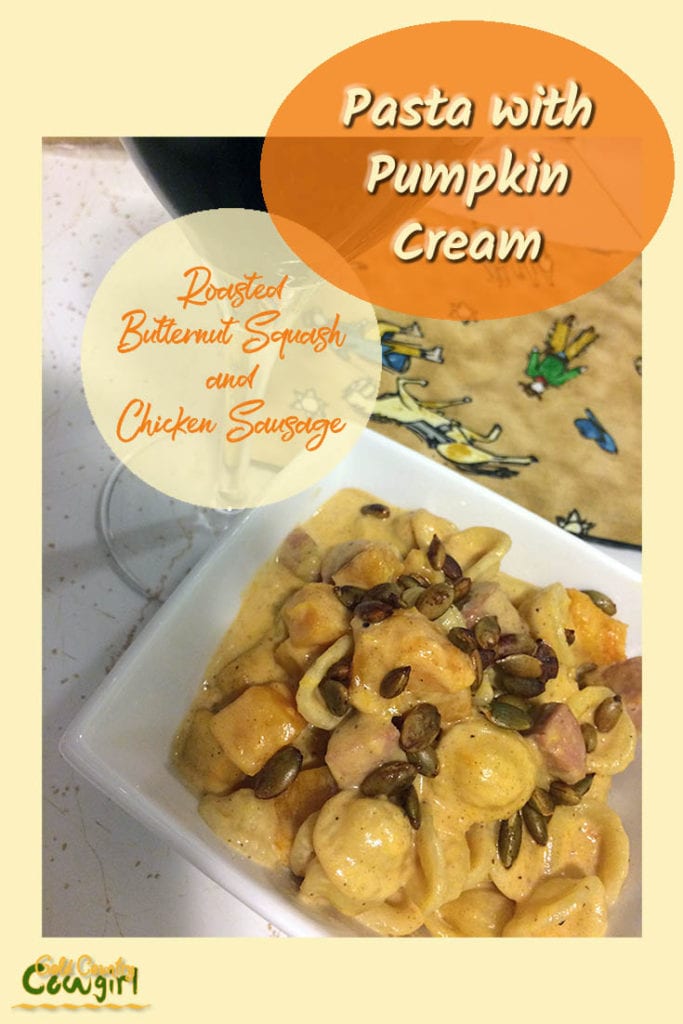 Until next time…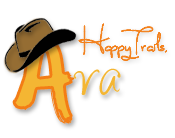 (Visited 551 times, 1 visits today)