When you visit Texas Hill Country, you can go wine tasting to your heart's content. But did you know you can also visit distilleries, often for a tour and tasting? There are several spread out all across Texas Hill Country so no matter what your plans are while you are in Hill Country, you can add one (or more) to your itinerary. On my recent RV trip, I spent a few days in Dripping Springs and visited Dripping Springs Distilling for a tour and tasting.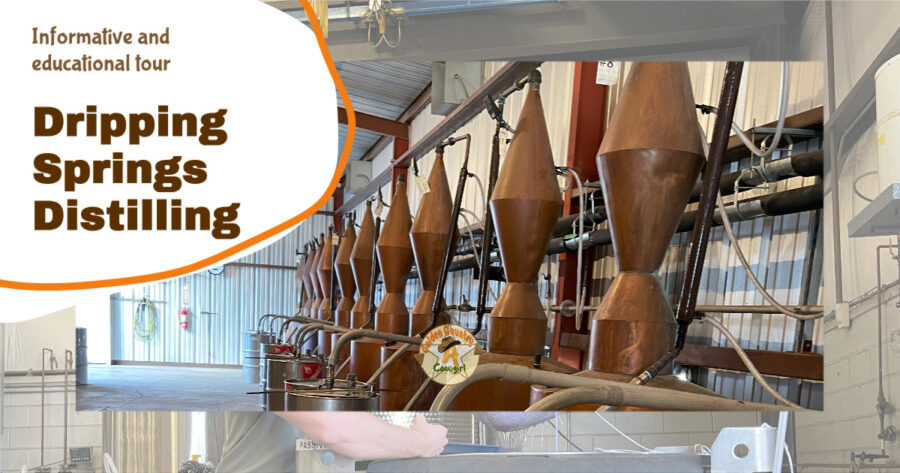 I spent most of my life in California and a few years in Nevada. Both places have fairly liberal alcohol laws. You could buy alcohol pretty much anywhere – the corner gas station, the neighborhood grocery store, Walmart, Costco – and at almost any time, day or night. It wasn't quite the same when I moved to Texas.
In Texas, these places can only sell beer and wine. You have to go to a "package store" to buy hard alcohol and only during certain hours. So when I needed vodka, I made my first trip to the Bottle Shop, our neighborhood liquor store. That's where I first discovered Dripping Springs Vodka. I like to buy local when I can so I was petty pleased to find a Texas vodka.
I knew that on my fall RV trip I would be visiting Dripping Springs for the Clinton Anderson Walkabout Tour. It was a perfect opportunity to add a tour and tasting at Dripping Springs Distilling to my itinerary.
The Tour and Tasting at Dripping Springs Distilling
Talon made our very educational tour and tasting at Dripping Springs Distilling so much fun! We learned about the history of the company, the equipment and the processes, including the bottling line.
After the tour, we tasted all three spirits available at the distillery – vodka, gin and bourbon.
Dripping Springs Vodka
The Kelleher brothers, Gary and Kevin, founded San Luis Spirits in 2005. They built Dripping Springs Vodka, the first distillery in Texas Hill Country, and sold their first bottle of vodka in 2007. They were, and still are, committed to producing quality hand-crafted vodka made from the purest ingredients.
Dripping Springs Vodka won Gold Best in Class and the Vodka Purity Trophy at the International Wine & Spirit Competition in 2008. The IWSC is the world's largest and most prestigious Liquor and Wine competition. Dripping Springs Vodka is the only American Vodka to have won the Vodka Purity Trophy in 50 years of the IWSC.
Both Dripping Springs Vodka and Dripping Springs Texas Orange Vodka are made from sweet, non-GMO, Midwestern corn which is micro-distilled 20 times in copper pot stills in small 50-gallon batches. It is then mixed with pure, mineral-rich artesian spring water from the Texas Hill Country. This brings it to the proper alcohol level and contributes to the mouthfeel and texture of the vodka. Finally, it goes through a clarifying filtration through Swedish activated charcoal.
Dripping Springs Orange Vodka is infused with Texas oranges that are hand-zested at the distillery.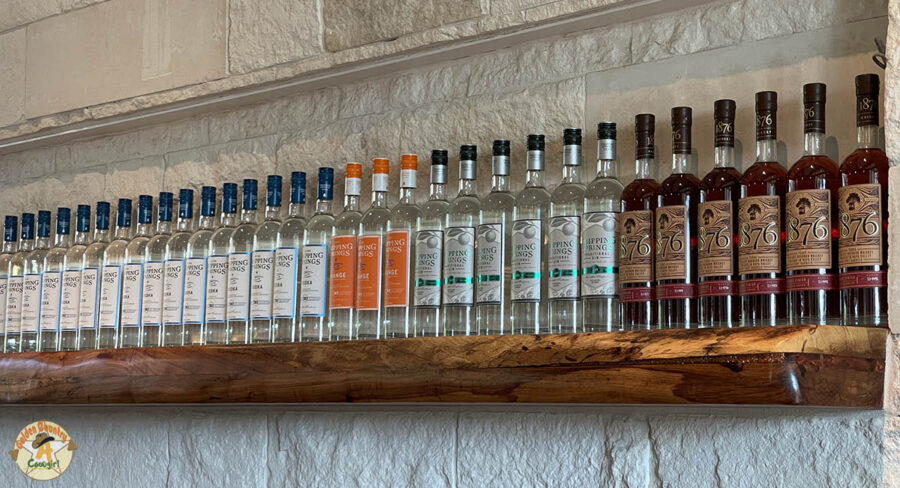 Dripping Springs Gin
For years, they concentrated on perfecting their vodka. In 2014, the Kelleher brothers introduced Dripping Springs Artisan Gin and Dripping Springs Traditional Gin. Both gins are made in small, 40-gallon batches in their proprietary copper pot stills.
Learning more about botanicals after the tour
The Artisan Gin is a lighter (85 proof) spirit for drinkers looking for a soft, flavorful gin enjoyed over ice or in a classic Dry Martini. The Traditional Gin is a juniper-forward London style dry gin with a Texas twist. It is aimed at gin and tonic drinkers or those who want a gin that will hold up in any cocktail.
Bourbon
Some time around 2017, the brothers added bourbon to their portfolio. "1876 Texas Bourbon is distilled, barreled and bottled in Texas using 80% yellow #2 Texas corn and 20% Secale Cereale Oklahoma winter rye. This blend is triple distilled and aged in new, white American oak then refined to 85 proof with Hill Country Artesian Spring Water. The end result is a rich and balanced Bourbon with flavors of rye toast, caramel and vanilla with just a hint of smoke."
In addition to the regular bourbon, they have port barrel finished bourbon. It starts with 3-5 year aged 1876 Texas Straight Bourbon at cask strength which then undergoes a second 8-week barrel aging in port wine barrels from Napa, California.
I've never been much of a bourbon drinker so that is what I was most interested in tasting. I thoroughly enjoyed it and purchased a bottle of each. Interesting note: You can only purchase two bottles of alcohol (total) at the distillery.
After your tour and tasting, you can visit the beautiful new Distillers Bar and try some of the awesome cocktails made with Dripping Springs Distilling spirits. Take your drink outside to the patio or enjoy it under the oak trees on the gorgeous grounds.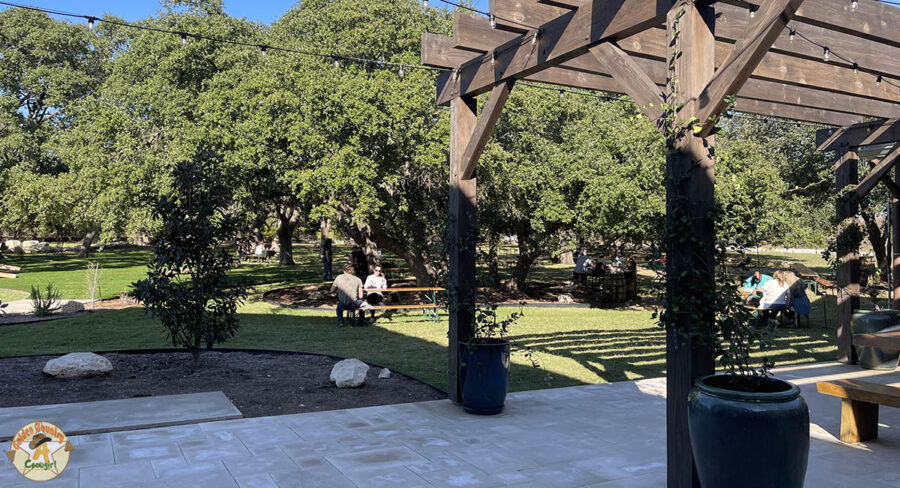 The Details for Dripping Springs Tour and Tasting
TOUR SCHEDULE
Tours currently cost $23.00 each and include a distillery tour, tasting, and souvenir shot glass! Walk-ins are welcome but the tours tend to fill up so advance reservations are recommended. The tour schedule seems to change so I have not included anything concrete here. It is just best to go online and pick a time that fits with your schedule. Reservations are very easy to do on any of the Dripping Springs Distilling websites.
TASTING ROOM HOURS
Monday-Saturday 11am-5pm
Tastings include a sample of our 3 vodkas, 2 gins, 2 bourbons, and a souvenir shot glass! Walk-ins are welcome.
Follow Dripping Springs Distilling's Facebook page to keep up to date on tours and tastings, events, giveaways, recipes and more.

(Visited 859 times, 1 visits today)