When I was researching what to do in Fredericksburg and Texas Hill Country, several times I came across Wildseed Farms in the list of top recommended attractions. It sounded to me like it was just a large nursery and gift shop so I didn't put it on my list of things to do. As luck would have it, I came across it after another plan fell through so I pulled into the large parking lot to check it out. Calling it a nursery and gift shop doesn't begin to do it justice!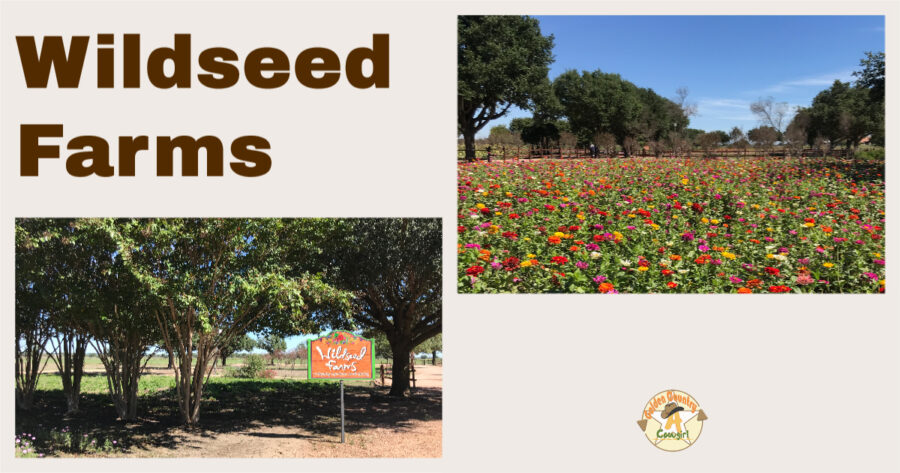 Calling Wildseed Farms a nursery and gift shop doesn't begin to do it justice! Click To Tweet
Display Gardens and Walking Trail
Wildseed Farms was established in 1983 by John R. Thomas to fulfill the demand for high quality and less expensive wildflower seeds. The farm has over 200 cultivated acres of wildflowers planted at this location and over 800 additional acres at other Texas locations making it the largest working wildflower farm in the US.
Mr. Thomas and Wildseed Farms pioneered the idea of planting wildflowers in rows and developed machinery to plant and harvest the tiny seeds. As a result of their efforts, you can see fields of wildflowers blooming there from March through October. I was there mid-October and the fields were winding down but there was still plenty of color.
You can see the grapevines beyond the flower fields in these photos. Read about the Vineyard below.

There is a 1/2-mile walking trail through the display gardens where you can get an idea of the flowers you might want to grow. What you will see, of course, depends on the time of year you visit.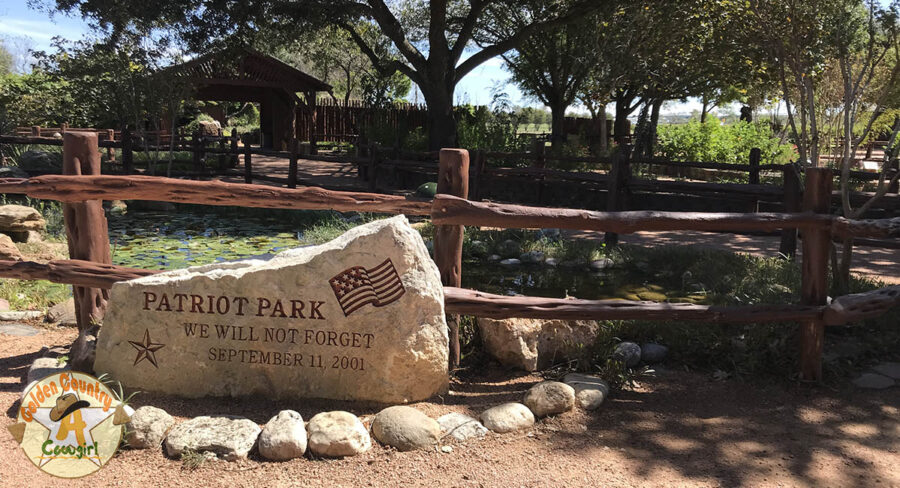 Nursery Plants and Pottery
The nursery is one of the largest in Central Texas and always has a wide selection of live plants and gardening supplies. They have glazed pottery as well as hand painted pottery from Mexico.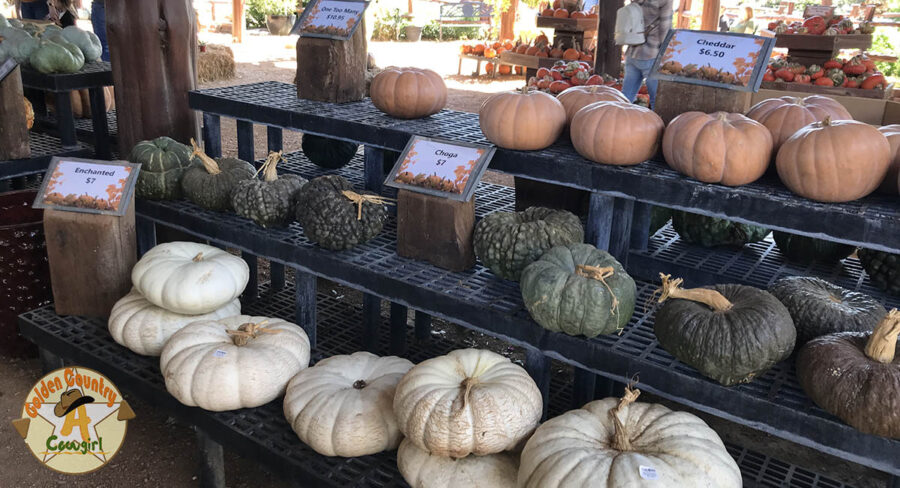 Wildseed Farms Gift Shop
The Wildseed Farms Gift Shop is quite large with several rooms. In addition to some of the more common souvenirs like t-shirts and hats, the gift shop had some really beautiful and unique things. Sadly, they are not my cup of tea so I didn't think to photograph any of them. While you are there, don't forget to purchases some wildflower seeds for your home garden and flower beds. They even have special regional mixes for anywhere in the US.
Food and Drink at Wildseed Farms
Brewbonnet Biergarten
At the Brewbonnet Biergarten you can enjoy snacks, a cold beer and ice cream. Their famous peach ice cream is made from local peaches who some say are the sweetest in the country. Lots of Texas made products, like canned vegetables, salsas and dip mixes are available for sampling and, of course, purchasing.
Wildseed Vineyards and Tasting Room
The wine tasting room at Wildseed Farms is what surprised me the most. I saw no mention of this in anything I read about them. Perhaps that's because it is fairly new.
The wine tasting room at Wildseed Farms is what surprised me the most.
Click To Tweet
In 2015, the family decided to put their farming experience to the test and planted their first grapevines. The vineyard currently has 28 planted acres. An additional 12 acres of Malbec, Grenache, and two clones of Cabernet Sauvignon will be planted in 2022.
They started wine production in 2019 and opened the tasting room in spring of 2021. They have a full range of wines with four white and a rose coming from the estate. Currently, their reds are sourced from other Texas Hill Country and High Plains vineyards.
The tasting room is a cute open space with friendly staff. I was tempted but I had just done a wine tasting and had another to do later. I put this on my list of wines for next time.
Related: Best Wineries in Fredericksburg, Texas
Butterfly Garden at Wildseed Farms
The butterfly garden was especially enjoyable. I watched monarchs and a few other species play in the flowers for quite some time. The plants in the garden are a food source as well as an aid to their reproduction.
I just missed the Monarch Celebration on October 9th which commemorates the monarchs' annual migration to Mexico. They have a "tag and release" program and provide free demonstrations at this event. Can you imagine "tagging" a butterfly? I would love to see how this is done!
Have you ever heard of tagging a butterfly? Learn about it at Wildseed Farms Monarch Celebration in October.
Click To Tweet
Related: Quinta Mazatlan Celebrates the Monarch Butterfly
The Details
Retail Store: 830-990-1393
Hours
Sunday thru Friday – 9:30 am to 5:00 pm
Saturday – 9:30 am to 6:00 pm
Walking Trail closes 30 minutes prior to closure
Tasting Room: 830-990-6684
Hours:
Monday – Friday 10:00 am to 5:00 pm
Saturday – 10:00 am to 6:00 pm
Sunday – 11:00 am to 5:00 pm
Seed/Catalog Department: 800-848-0078
Open Monday-Friday, 8-5 CDT
Follow their Facebook page to keep up to date on events and other happenings.
My Final Thoughts
It is easy now to see why 450,000 people a year visit Wildseed Farms and why it is among the top local attractions. This was a relaxing, peaceful and beautiful place to visit while still having lots to do. Next time I'll have to try their wine.

Until next time…
(Visited 380 times, 1 visits today)