One of the destinations on my recent RV trip was southern Oklahoma to visit a friend. I had planned to boondock at a couple of spots in Oklahoma but the weather turned bitterly cold a few days earlier, so I decided to find RV parks instead. I figured they would make better bases of operations while I got at least a little taste of Oklahoma during the few days I planned to be in Durant and Ardmore.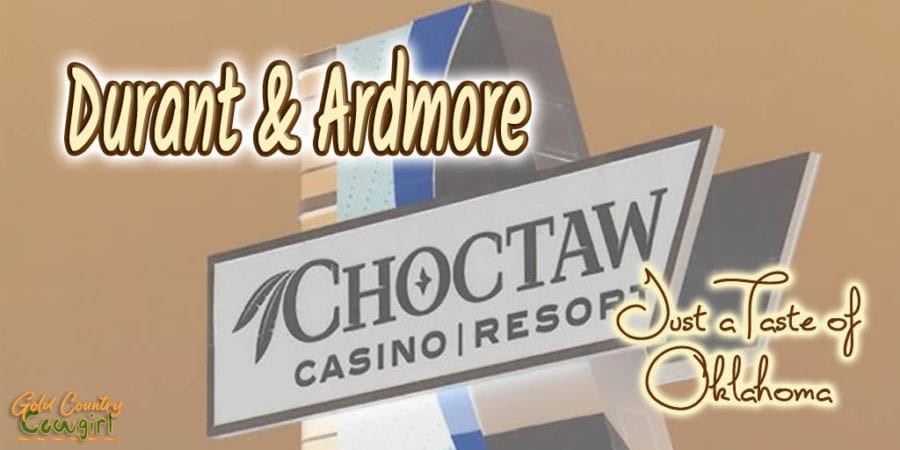 Durant, Oklahoma
Durant/Choctaw Casino KOA
I've never stayed at a KOA campground or a casino so I thought the Durant/Choctaw Casino KOA sounded promising. I later read on their website that they are "the #1 KOA RV park in all of the country."
I think KOA only accepts their own discount card, Value Kard Rewards. Even though I had originally planned to stay just two nights, the card is only $30 for a 10% discount so I figured it might at least pay for itself during the year. Besides being freezing cold when I arrived, it started raining. There was no point in moving on to try to see or do anything anywhere else so I extended my reservation for two more nights. Since I ended up staying four nights, I saved just under $20 off my $45 per night rate.
RV Park Amenities
Due to the rain, I really didn't get an opportunity to enjoy most of what this RV park has to offer outdoors, like the putting green, fire pit and my personal barbecue grill. I think I just missed the heated saltwater pool which is open May through October. Fortunately, between the RV park and the casino, they have lots to offer indoors.
At the RV park, there is the most amazing bathroom and laundry I have seen at a campground. Even though I had gone over to do laundry, eight spotless showers with great pressure and lots of hot water were the first things to catch my attention. The laundry area was equally impressive, both in size and amenities that included a 60″ TV with cable.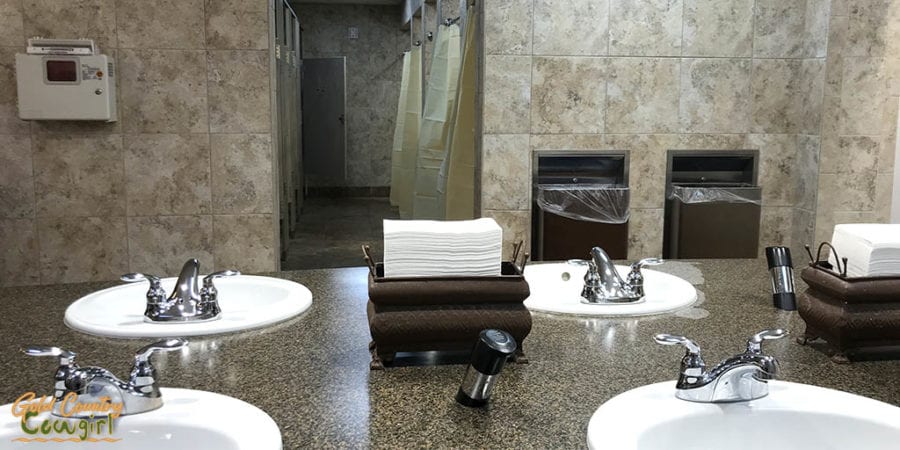 Although the weather kept me in for the most part, the cats and I hunkered down and I enjoyed the cable TV and free WiFi. You can always go shopping in the rain and the RV park is close to town with lots of options.
Chocktaw Casino
Choctaw Casinos and Resorts is a chain of eight Indian casinos located throughout Oklahoma. They are owned and operated by the Choctaw Nation of Oklahoma. The casino in Durant, which opened in 2006, is the original location.
There is a free shuttle from the RV park to the neighboring casino. I took advantage of this service to get out for a while. The weather was so wet and dreary that I didn't even bother to take any outdoor photos. I regret that now since I don't have any photos of the casino.
It was lunch time so I decided to see what they had in the way of food. Although it was meal time, several places that looked interesting were closed, including Gilley's. I ended up at the Grand Cafe which is really just a coffee shop style restaurant. Since I wasn't terribly hungry, I only ordered chicken wings so I didn't get much of a feel for what the food is really like. I thought about having dinner at the steakhouse but it was quite pricey. I knew my small appetite couldn't justify the cost.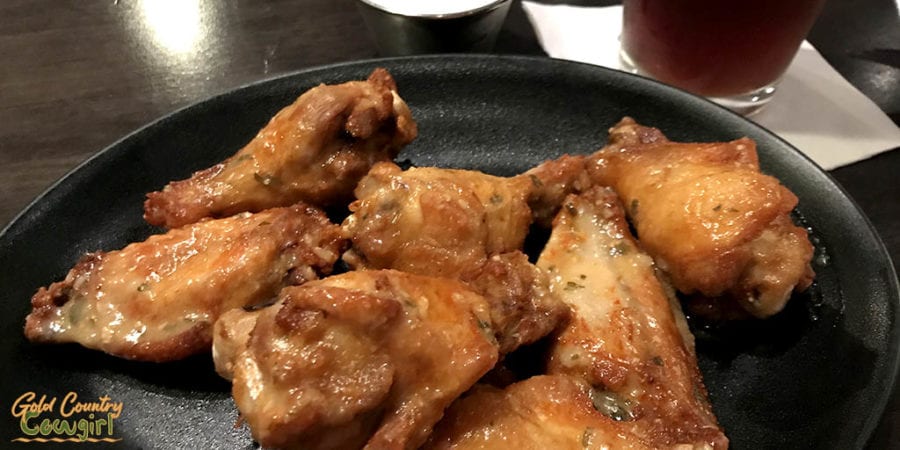 Even if you are not into gambling, which I wasn't that day, you'll still find lots to do at Choctaw Casino. In addition to the 12 restaurants and other bars and lounges, there are first-run movie theaters, bowling lanes, arcade games, a spa, pools and hot tubs. You can go line dancing or even ride a bull at Gilley's. If you aren't staying in the RV park, the hotel has more than 700 rooms and is a AAA Four-Diamond rated entertainment destination.
As I was walking around the casino, I saw lots of posters advertising upcoming shows. I was surprised by the number of top artists that are scheduled at the casino over the next few months.
Tasting some Oklahoma Wine
One of my goals when I'm traveling is to taste wine at local wineries. Wine tasting is always a good inclement weather activity so in the pouring rain I headed to Blue River Valley Winery. Blue River is in Caddo, OK, just a few miles from Durant/Choctaw Casino KOA.
I've done most of my wine tasting over the years in California where dry wines are prevalent. There aren't many wines labeled sweet or even semi-sweet but that is very common in this part of the country. You'll also find a lot of fruit wines and fruit blends.
Blue River Valley Winery
Diane and W. H. (Hillary) Dean, owners of Blue River Valley Winery, opened their boutique winery in 2015. Hillary was behind the counter when I arrived and we immediately struck up a conversation about wine. Of course, he asked me if I preferred sweet or dry. When I told him dry, he said he did too. I said, "Then why all the sweet wine?" His reply? "If I didn't make sweet, I wouldn't be able to stay in business."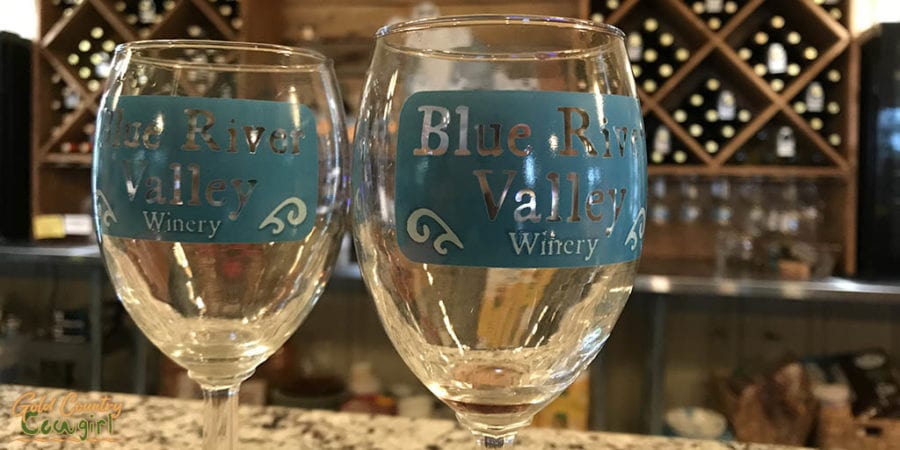 Hillary makes his wines from concentrate from California. I tried several of the semi-sweet and fruit blends and actually enjoyed a few of them. They only offer four "dry" wines including a Gewurztraminer and a Riesling. The two dry reds are a Merlot and a red wine blend. Their wine is so reasonably priced that I ended up purchasing six bottles.
There's no charge for the first four tastings then they are $1.25 each after that. You can purchase wine by the glass as well as meat and cheese plates or chicken salad sandwiches. They are open Tuesday through Saturday 11 am until 6 pm (8 pm on Friday and Saturday). Friday night from 5-8 is Cajun night. You can enjoy a house cooked Cajun meal for $10. They host special events and frequently have live entertainment.
The tasting room is cozy with cute decor. There are large picture windows that look out over the valley but I could barely see out of them through the rain. I could see the ducks and geese huddled by the nearby pond and even they were trying to get out of the weather.
While I was doing my tasting, Hillary's wife returned from an errand. She had their dog with her and I fell in love. Many years ago I had a Scottish terrier and when I learned they came in blond (wheaten) I dreamed of having one someday. Back when I got my Scottie, they were quite rare.
Ardmore, Oklahoma
After four days in Durant, I moved on to an RV park in Ardmore, Oklahoma, closer to where my friend lives. We were blogging friends online for a while before we finally met at a pet blogging conference in Nashville in 2015. I hadn't seen her since then but we had kept in touch.
We were both pretty excited to get together. I spent some time at her apartment meeting her new-to-me cat and getting reacquainted with her other cat that I met in Nashville.
Food with Friends
I think it is a given that when friends get together, food has to be involved. After the short visit, we headed back to Ardmore (about a 30 minute drive from her home) for lunch. She lives in one of those small, rural towns that doesn't really have any restaurants. Ardmore is the closest town with shopping and food establishments.
Lunch at Cafe Alley
After consulting both Yelp and TripAdvisor, I selected Cafe Alley for lunch, which was highly rated on both platforms. This is one time I definitely was not disappointed by the reviews.
We had a bit of difficulty figuring out where the entrance is to Cafe Alley. As we drove by, it looked like the entrance was in the front but the parking is in the back. We walked all the way around only to learn there is an unmarked door in the back off the parking lot.
Even though it was barely noon, there was already a wait. I always take that as a good sign. After about ten minutes we were seated in a nice booth.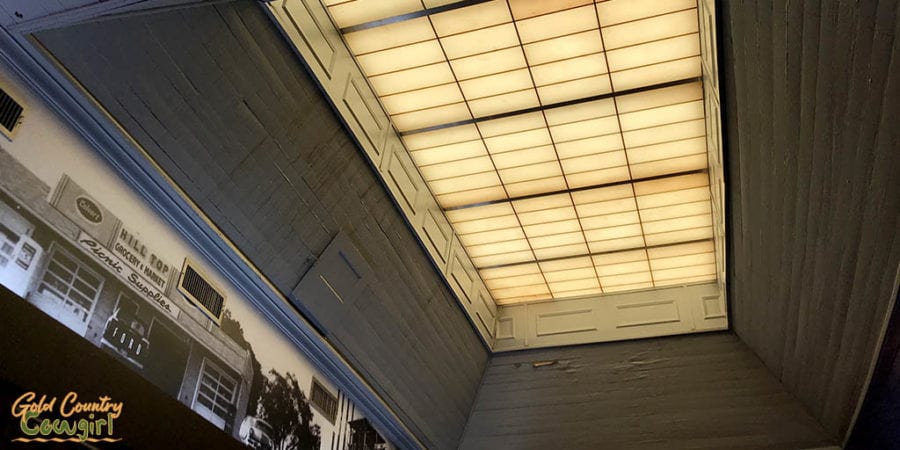 Our server was very cheerful and helpful. I ordered the mustard crusted pork chop which she confirmed was one of their most popular dishes. My friend made a few major modifications to her dish and our server took her order without batting an eye.
The food was delicious, the atmosphere was fun (the location used to be a meat processing plant), and service was perfect. These things all contributed to an excellent lunch experience. If I lived in Ardmore, this could easily be a regular spot for me.
Steakhouse Dinner
The next day, we had dinner at Santa Fe Cattle Co. I was craving a steak so this is the place my friend recommended. I was expecting a similarly awesome meal to the one I had at Texas Roadhouse in Harlingen. Unfortunately, that was not the case. My meal looked great but my steak was tough and gristley. I sent it back once but the second was no better. Even my asparagus was stringy. I didn't send my steak back again but only ate a few bites of it. I have to tell you, though, that they have absolutely divine rolls!
Final Thoughts
If the weather had been a little warmer and a little drier, there are a few other things I would have done while I was in Durant.
I always try to take a walk down Main Street in small towns and the historic district of Durant is supposed to be quite charming.
I really wanted to visit the Fort Washita Historic Site & Museum. Fort Washita was established in 1842 to protect the Choctaw Nation from the Plains Indians. There are exhibits at the Visitor Center as well as reconstructed buildings and ruins.
The Three Rivers Museum has exhibits depicting the history of Durant from 1873 to the present.
Oklahoma has a rich Native American history and heritage that I would love to learn more about. There are 39 recognized tribes in Oklahoma – third after Alaska and California. For me, that's a great reason to return to Oklahoma!
Have you been to Durant or Ardmore, Oklahoma? What is your favorite thing to do in a new place?
Until next time…
(Visited 1,067 times, 1 visits today)