Amtrak — Sacramento to San Francisco — who knew? Certainly not me. At least not until recently. I've lived here for more than three years and didn't know you could take Amtrak from Sacramento to San Francisco.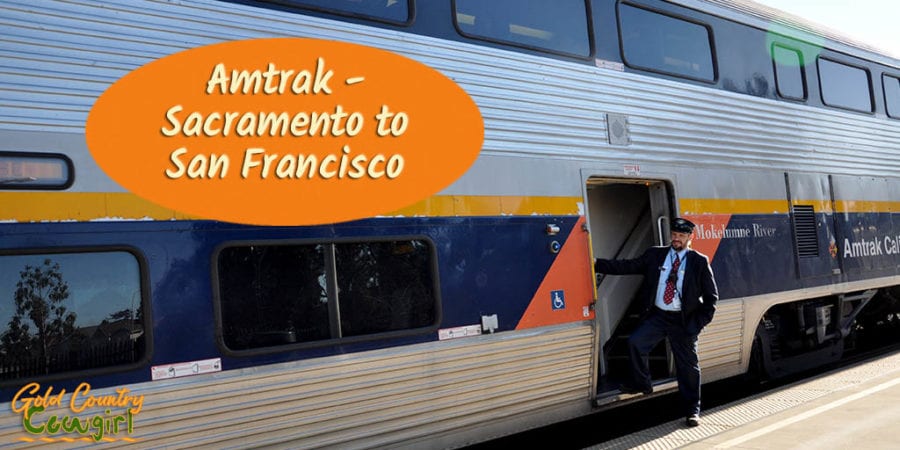 San Francisco is about a three hour drive and 130 miles from where I live in Amador County. Then there's the traffic and the parking. When I learned from a client that you could take the train, I was quite eager to try it out because I LOVE riding the train, which you can read about here and here.
It was on my mind for a few months but I just didn't have a specific reason to go. When I received an invitation to ZinEX (hold that thought for another post), which was held in San Francisco on January 20th, I thought it would be the perfect opportunity to see just how riding the train would work out.
The Sacramento Amtrak Station
My friend, Denise, and I left just after 6 am to catch the 8:10 train. There was no traffic and parking, right in front of the station for $10 per day, was a breeze, so we arrived about 40 minutes early.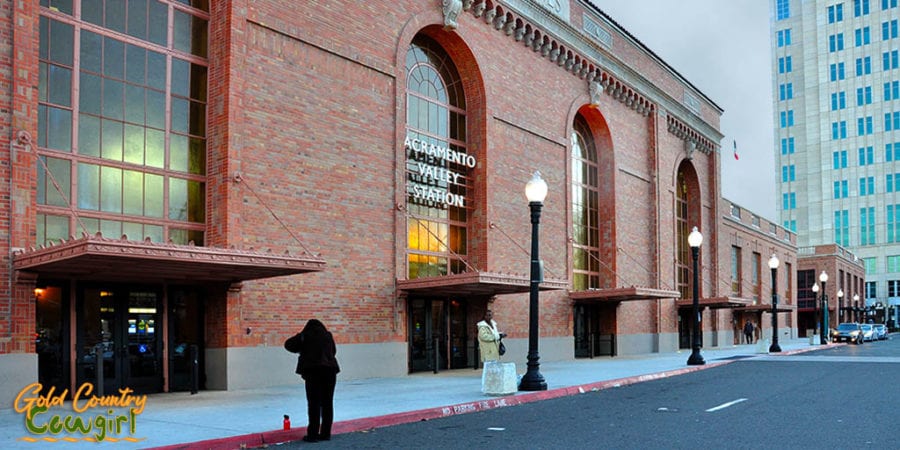 I had purchased our tickets online so we just had to wait for our departure time. There is a Starbucks just a couple of doors down and there are vending machines at the station if you need a beverage or a snack while you wait. The station is very clean including the restrooms.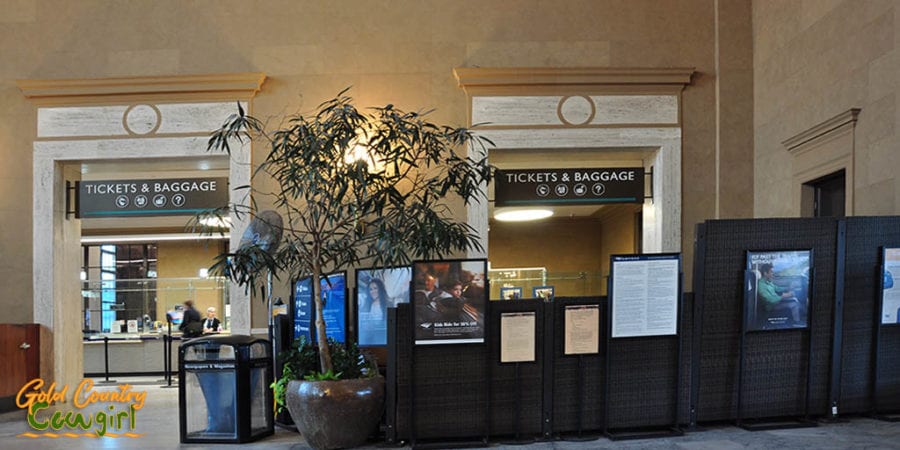 The boarding platform is about a 10 minute walk from the station but they have carts if you need assistance. It was a cold morning and we knew we'd be doing lots of walking once we were in the city so we decided to take the cart.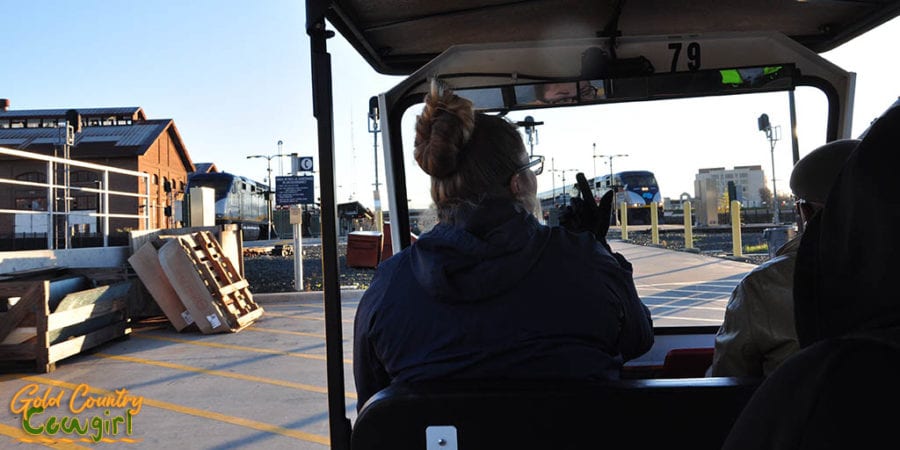 When we arrived at the platform, the train was there ready for us to board. The carts don't take you down until almost time to board so you aren't waiting out in the elements, which we appreciated with the temperature at 35 degrees.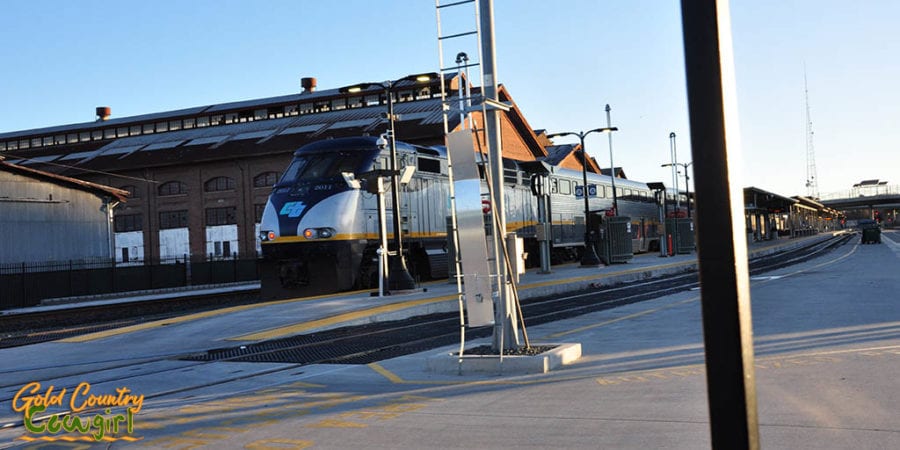 Riding Amtrak from Sacramento to San Francisco
I wasn't quite like a kid getting on a ride at Disneyland, but I was pretty excited when we boarded. We had the car almost entirely to ourselves. We picked facing seats with a table and got comfortable for the hour and a half ride to the BART station in Richmond.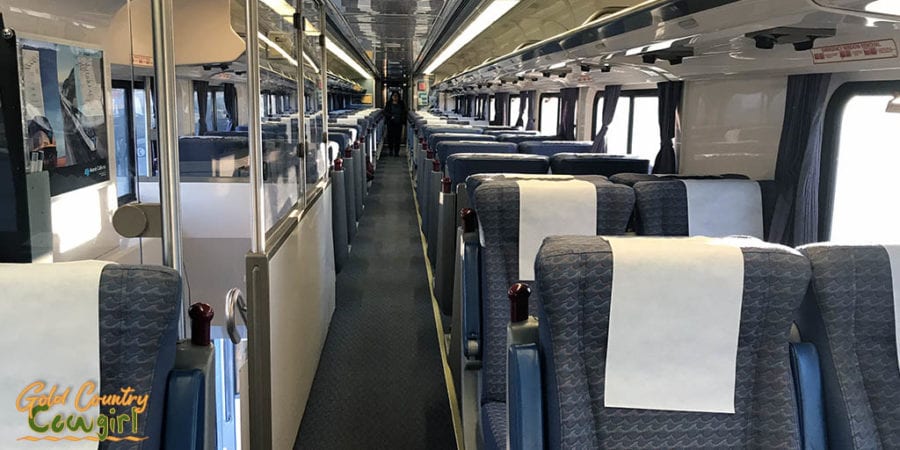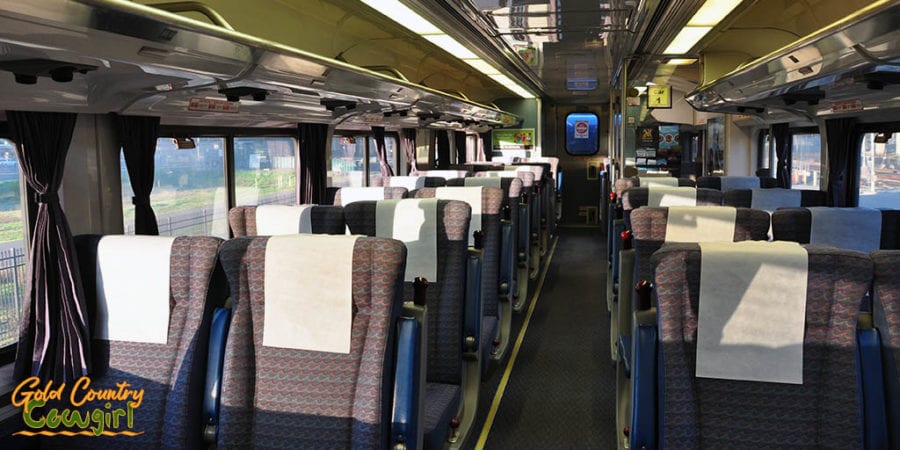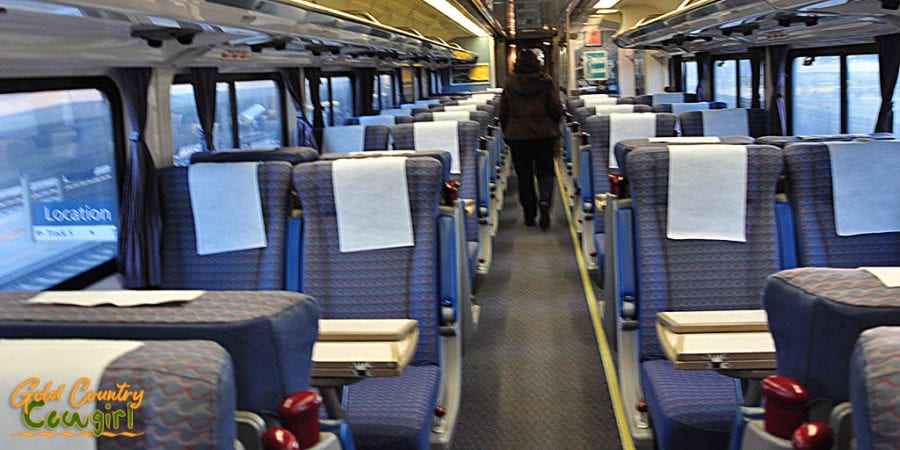 While Denise took a nap, I entertained myself reading emails, following up on social media, checking out the scenery and experimenting with snapping a few selfies.
You can take the train to a couple of other stations, depending on your final destination, and transfer to a bus for one inclusive fare but I wanted to ride BART. BART was an additional $10.60 round trip from Richmond to the Embarcadero station.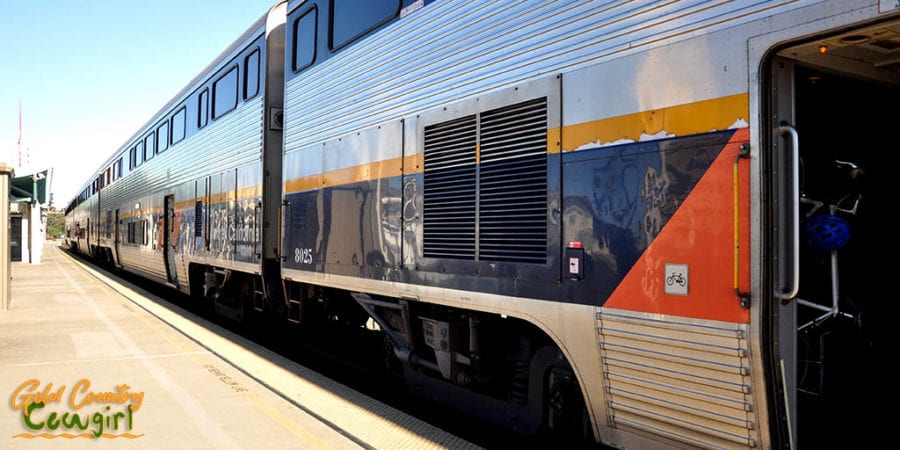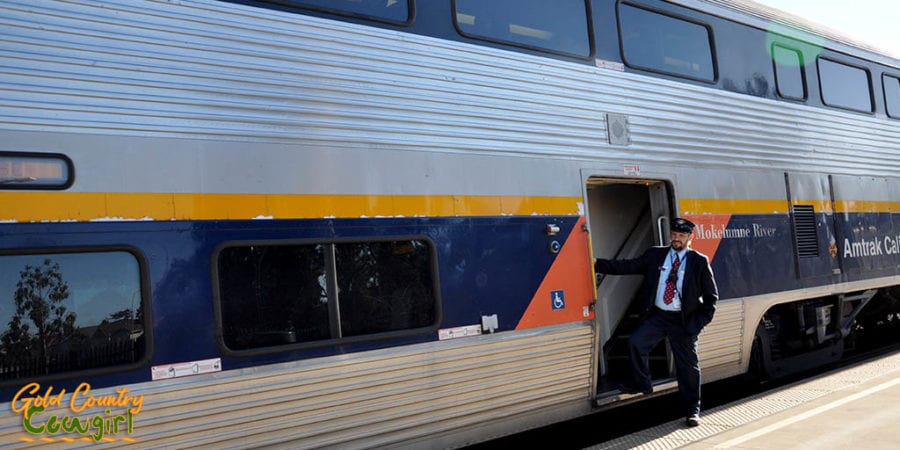 Transferring to BART
At the Richmond station, BART is literally a few steps away and down a staircase. We got in what we hoped was the right line to buy our BART tickets. The tickets are all automated and we had no idea what we were doing. However, with a little help from the people behind us in line, like most things, it was easy once you knew how to do it.
We just missed what we thought was our correct train. While we were discussing what to do, another passenger told us about transferring trains and by the time we were on our way home that evening, we didn't care that we got on the totally wrong line. We felt like pros at transferring and getting where we needed to go.
A Walk with a View
From the Embarcadero station, we walked the short distance to the Ferry Building and did a quick walk through. It was getting close to the start of our event so we needed to head out on our mile walk to the Pier 27 Event Center. The walk was along the Embarcadero with great views of the harbor. I guess I was enjoying the views so much I forgot to take photos!
We had planned to spend some time at the Ferry Building on the way home but it was so crowded then that you couldn't even get close to the shops. I don't do well in crowds!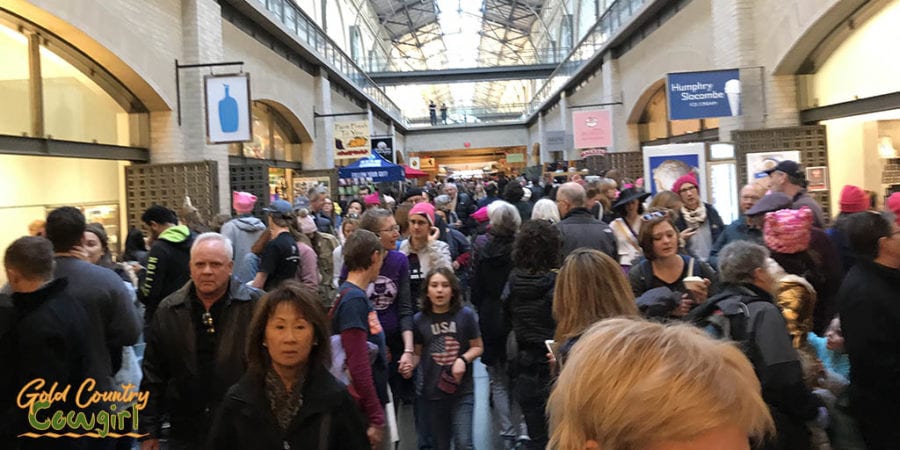 The return home in the evening went as smoothly as our morning trip, except for ending up in the middle of the women's march (speaking of crowds!) by the entrance to the Embarcadero BART station. Even that didn't disrupt our trip. It was interesting to watch for a while then we headed on down to board our BART train.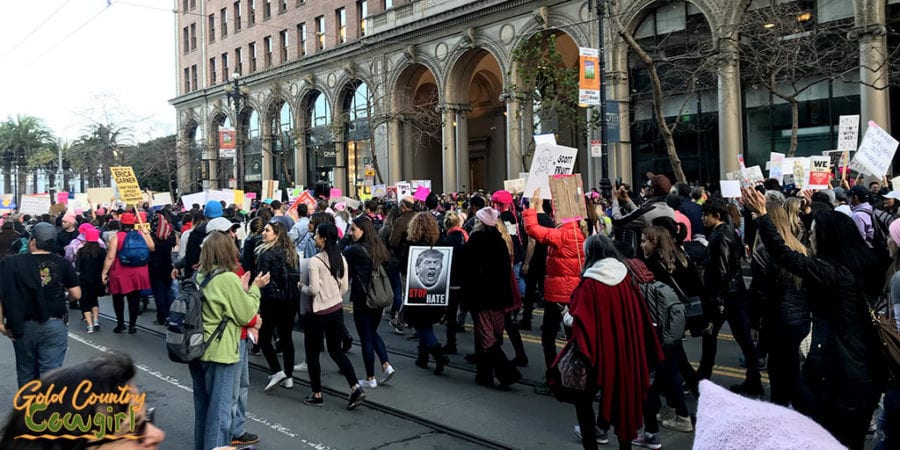 Find some awesome things to do while you are in San Francisco
The Trip Home on Amtrak from San Francisco to Sacramento
Since we didn't spend any time at the Ferry Building as planned, we got back to the Richmond station way before our scheduled return train at 6:30. We had about a half hour wait for the 5:30 train. We weren't sure if we could just take the earlier train but there is no ticket office at the Richmond station so there was no one to ask. Turns out that since the Capitol Corridor train is a commuter train, there was no issue taking a different one.
Denise and I both marveled at how everything came off without a hitch. Taking Amtrak from Sacramento to San Francisco is fun and easy. I can't wait for a reason to do it again!
Do you enjoy taking the train? Have you taken Amtrak from Sacramento to San Francisco? I'd love to hear about your favorite train trip in the comments.
Until next time…
(Visited 3,836 times, 1 visits today)