Ever since the Saucy Sisters baked pizza in a wood-fired oven for one of our meetings, I've really been craving pizza. I hardly ever have pizza for a couple of reasons. First, it isn't the most low-calorie food. Second, as a single person, I always have so much left over. I do like leftover pizza but baking pizza fresh is so much better.
I don't have an outdoor oven yet, and probably won't get one until next spring. It's been so hot I haven't wanted to turn on the oven so I experimented with a couple of other ways of baking pizza.
The Pizza Dough
To make this a really simple process, you could buy already made pizza dough or frozen dough but I like doing things from scratch — most of the time. Ever since I discovered the Artisan Bread in Five Minutes a Day way of making bread, I have been reluctant to try any other methods as this one is so easy. You just pull a ball the size you want off of the dough stored in your refrigerator and let it rest for about 40 minutes before baking. I made a batch of the basic recipe which made about 6 or 7 pizzas and a loaf of bread.
No Sauce? No Problem!
The first time I made pizza, I used a bunch of home grown tomatoes and made a cooked sauce which made two or three pizzas. When I went to make the next one, I realized I had no sauce. No problem. I had grape tomatoes, basil and garlic. I put them in my little stick blender and then spread the fresh, fragrant concoction on my dough. Another time I made pesto with basil, garlic and walnuts.
The Toppings
I'm sure I don't need to tell you that the topping options for pizza are almost endless. I often use leftover meat or vegetables and I always have cheese on hand. Speaking of cheese, I like string cheese. It is so frustrating to me when I get string cheese that won't string. I bought a huge package, probably at Costco, and it doesn't string. It has been sitting in the back of my cheese drawer for months. Fortunately, since it is vacuum sealed, it is still good and has become the perfect cheese for my pizzas. I just pull out a couple of little packages and cut them into rounds.
Putting it Together
Each method of cooking begins the same. I flatten out the dough by hand then try to slip in into my pre-heated cast iron skillet. This is a little tricky off the cutting board and would be easier with a pizza peel. I usually have to adjust the crust some, flattening it out again in the skillet. I turn the burner down to low while I put on my toppings and let the dough begin to rise and cook.
Baking Pizza on the Stovetop
Once the toppings are on, turn the heat back to medium high and cover the skillet. Cook it for 8-10 minutes without removing the lid. Remove the lid and finish under the broiler for 2-3 minutes, until the top of the crust is crisp and the cheese is thoroughly melted and browning. Cool for a few minutes before you cut it.
Baking Pizza in the Oven
We had a couple of days when the weather cooled down so I did try this method. Preheat your oven to 450 degrees while you prep your toppings. I don't have a pizza stone so I used the same method as above, starting on the stovetop in my cast iron skillet. Once your toppings are on, place the skillet in your pre-heated oven and bake for 15-20 minutes until the cheese is melted and bubbling and the crust is brown. Cool before cutting. This was actually my least favorite way to cook the pizza. The oven had to be on for a long time and it took quite a while to cook.
Baking Pizza on the Barbecue
This is by far my favorite method. The barbecue gets much hotter than you can get your oven so it cooks more like a pizza oven. Preheat your barbecue for 15-20 minutes while you prep your toppings. Start on the stove as above then place your skillet on the barbecue. Your pizza should cook in about 10-12 minutes. I let mine get a little burnt on the bottom because I wasn't prepared for how quickly it would cook.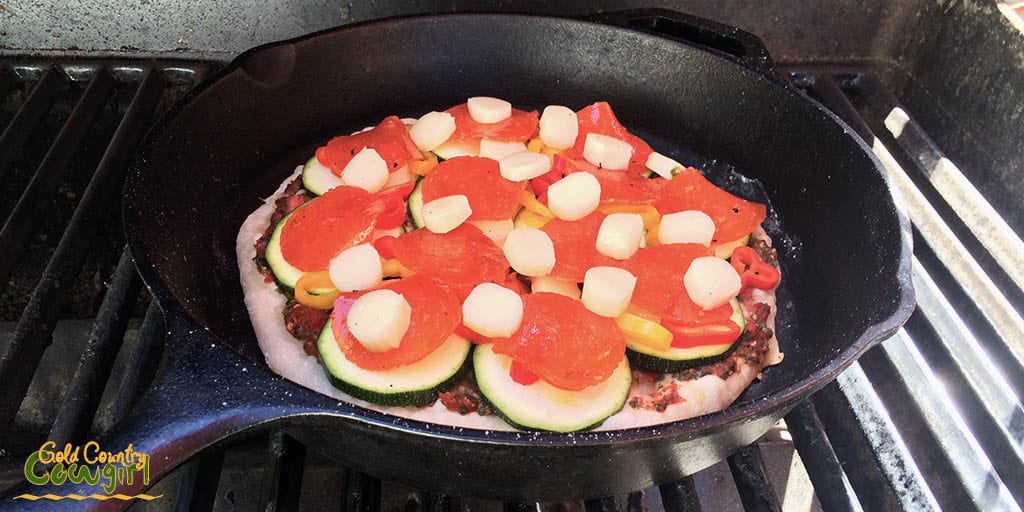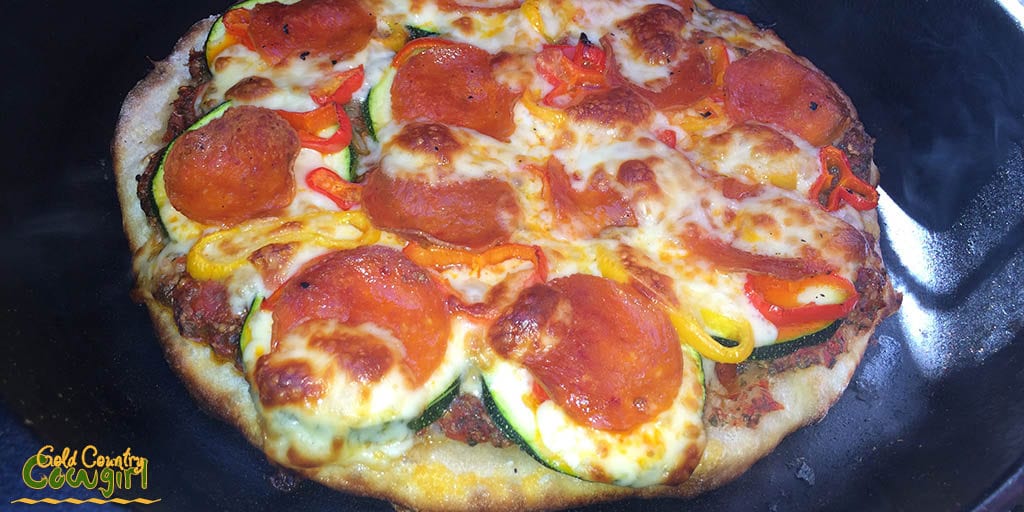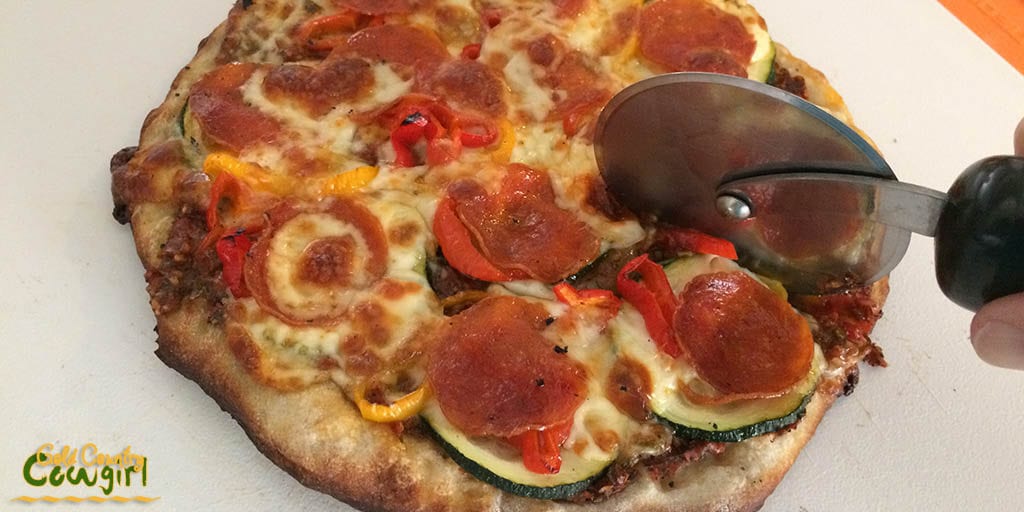 What I love about baking pizza fresh is that I can control exactly what and how much goes on it. Since I don't drown it in cheese it is not terribly high in calories. I could make it even lower using low fat cheese but that just isn't me! This slightly larger than personal size pizza is not much different than a sandwich.
Do you make pizza at home? What is your favorite way to cook it?
(Visited 1,288 times, 1 visits today)